Follow my blog with Bloglovin
Can you believe it is November already?! October flew by so quickly! This week's beauty mix is all about OLIVE!! Olive is one of my favorite colors, especially in Fall. If you looked at my wardrobe, you would find mostly olive and mauve/pink and lots of neutrals!
If you are new to the blog, the Beauty Mix Series is a collaboration with 3 other beauty bloggers, Jasmine, Ashleigh and Lily. We post new looks every Friday, so be sure to follow us on the blog and social media for the latest updates. You can subscribe to my blog via email here, or follow me on Bloglovin' here! You can see last week's Smokey eye look here.
Sooo…I did not film this look this time! I know, I know! So, if you love seeing my videos and want me to recreate this look in a video, let me know in the comments below and I'd be happy to make one for you all! Subscribe to my YouTube Channel here for notifications on future uploads!
Now, on to the look. This week, I used some new products on the eyes, the Tarte Cosmetics Rainforest of the Sea Collection Eye Shadow Palette Volume II (which you may have seen on my Instagram stories recently) and the Dose of Colors Desi x Katy Collab Eye Shadow Palette "The Girls". I knew right away when I got "the Girls" palette that I would be using the shade "Harpoon" for this olive look.
*Disclaimer- this post contains some affiliate links. Thank you for supporting my blog*
I used a combination of the lighter and darker browns from the Rainforest of the Sea Volume II palette to create the base color before adding the olive shade.


When using Harpoon from "The Girls" palette, you are supposed to apply it with a damp finger. I have tried applying it with a dry eyeshadow brush and it definitely did not work, so when I used a damp finger this time I was shocked at the color payoff! I'm definitely obsessed!
Products Used for this Olive Look
Eyes:
Mac Prolongwear Paint Pot in Soft Ochre
Tarte Rainforest of the Sea Volume II
Dose of Colors Desi x Katy Collab – Harpoon – The Girls Palette – (they will not be restocking after this batch is sold out, so get it while you can) Similar color to Harpoon here.
Tarte Shape Tape Concealer – Light
Maybelline Curvitude Liner in Black
Stila HUGE Extreme Lash Mascara
Lashes – Lash Extensions – Glimpse Lash
Eyebrows:
Anastasia Beverly Hills Dip Brow – Taupe
Face:
Covergirl Vitalist Healthy Elixir
Tarte Shape Tape Concealer – Light
Nyx HD Setting Powder – Banana
Physician's Formula Butter Bronzer
Tarte Amazonian Clay 12 hour blush – Paaarty
Becca Highlighter – Champagne Pop
Nyx Matte Setting Spray
Lips:
Nyx Liquid Suede – Sandstorm
Don't forget to check out the other beautiful ladies looks below. Unfortunately Lily wasn't able to do her look this week, but she will be back next week. You can see all of her past looks here though.


Jasmine's Olive Look | Ashleigh's Olive Look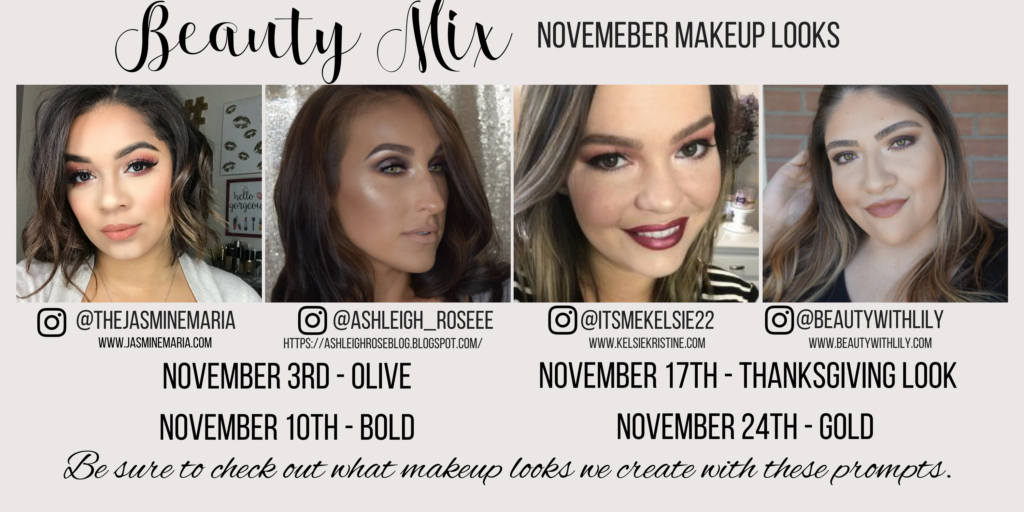 Thanks for reading! Until next time,


Snapchat: @itsmekelsie22 |Â Facebook: Kelsie Kristine
Instagram: @itsmkelsie22Â  |Â Â Twitter: @itsmekelsie22
YouTube  | Become an Influenster  |  Join FabFitFun

Follow our looks on Pinterest here.