-This post is powered by BrandBacker-
Happy Monday! I hope you all had a great weekend! I've been sharing a lot of skincare on the blog lately, from acne treatments to my morning routine, and if you follow me on social media or watch my Instagram stories, you know I love a good face mask. I've been trying a new mask lately from Exuviance and want to share it with you all.
I love a good sheet mask, but there's nothing like a good deep cleansing mask that really gets in those pores and sucks out all of those impurities. I've been trying out the Exuviance Detox Mud Treatment mask and after using it several times over the last week, here are my thoughts.
A Little About My Skin
My skin type is combination- I get oily around my t-zone and dry everywhere else, and sometimes even dry and oily in the same spots! My skin does what it wants, when it wants. But, who's skin is perfect all of the time anyway?! If yours is, then you must have magic powers & you can go ahead and pass some off to me immediately! 😉
All jokes aside, masks are so good for your skin. There are so many different types of masks out there, from hydrating masks, exfoliating masks, brightening masks, detox masks, and so much more. Depending on your type of skin, you can choose the right masks for you!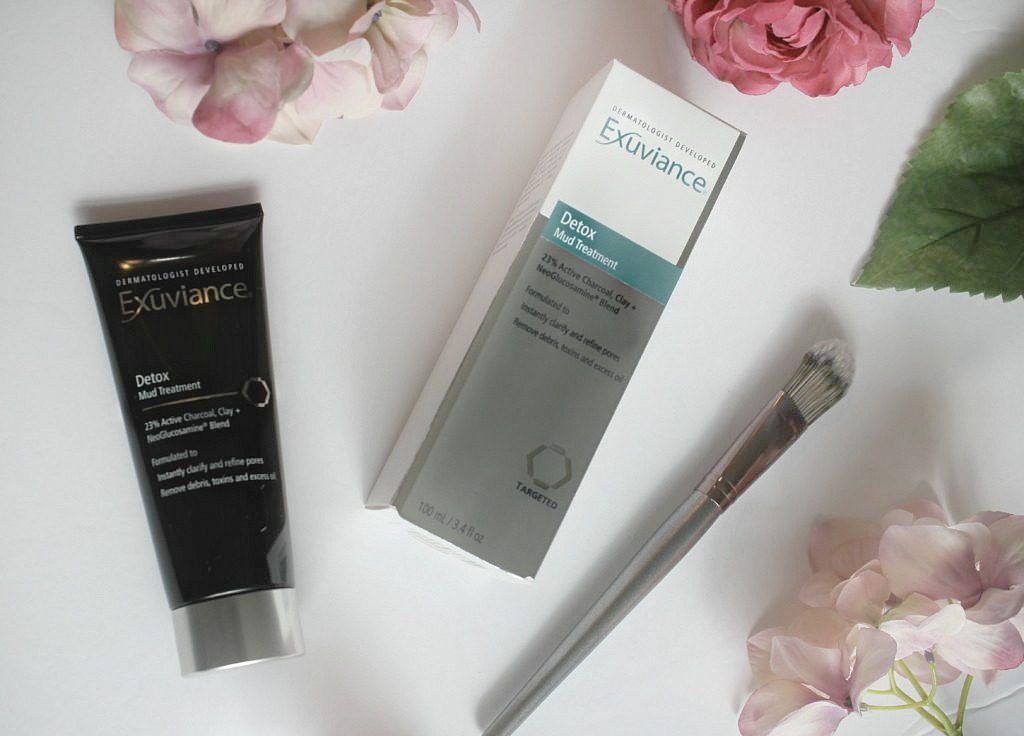 About this Mask
The Exuviance Detox Mud Treatment mask is a wash-off mask and has active charcoal, clay and NeoGlucosamine® that is supposed to instantly clarify and refine your pores and also absorb excess oil and debris.
According to the Exuviance site, "Exuviance skin care is clinically proven to reduce lines and wrinkles, increase firmness, smooth texture and even skin tone with a patented bionic blend of highly evolved Polyhydroxy and Alpha Hydroxy acids." It also states that the detox mud mask is ideal for congested, oily, or blemish-prone skin. The formula is paraben-free, oil-free, and a non-irritating formula, recommended use is two or three times per week, which is typically how often I use masks on my skin.
Ingredients: Aqua/Water/Eau, Kaolin, Glycerin,Charcoal Powder, Acetyl Glucosamine, Illite, Decyl Glucoside, Bentonite, Butylene Glycol, Arginine, Dimethicone, Citric Acid, Arctium Lappa Root Extract, Melia Azadirachta Leaf Extract, Montmorillonite, Lecithin, Polyacrylate-13, Polyisobutene, Disodium EDTA, Polysorbate 20, Xanthan Gum, Phenoxyethanol, Chlorphenesin, Methylparaben, Parfum (Fragrance).
You can find this mask here: http://www.exuviance.com/
My Thoughts
I've never used anything products from NeoStrata or Exuviance, but after using this product over the last week or so, I am definitely loving it! The scent of the mask is amazing! It's similar to most charcoal mask scents, but there's just something about it that reminds me of being at a spa. Once the mask is on the skin, it feels like butter, so smooth and creamy. They recommend putting a thin, even layer on with your fingers, but I like to use a makeup brush to apply it on the face. I find it makes less of a mess and is an easier cleanup! If you have longer nails, this is especially helpful. Once the mask dries, you can feel all of the dirt and impurities being pulled from your skin. Charcoal masks are definitely one of my favorites.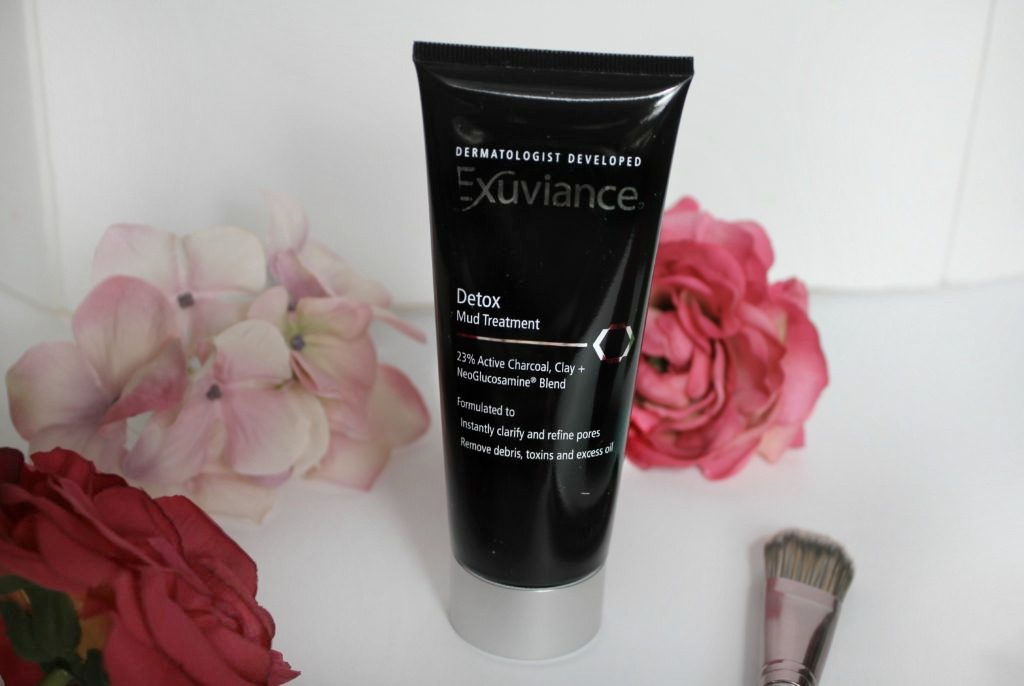 The price of this mask is $49, and you get 3.4 fl oz in the bottle. I would say this mask is similar to the GlamGlow SuperMud mask, but is much more affordable. You can get 2 times the amount of product from Exuviance for $20 less than GlamGlow. Don't get me wrong, I totally love my GlamGlow, but when you can find a dupe that's much more inexpensive and still has great quality and results, then why not? I would definitely recommend trying this guy out! If you do, let me know your thoughts, I'd love to hear them.

Thanks for reading! Until next time,


Snapchat: @itsmekelsie22 |Â Facebook: Kelsie Kristine
Instagram: @itsmkelsie22Â  |Â Â Twitter: @itsmekelsie22
YouTube  | Become an Influenster  |  Join FabFitFun