Happy Friday! I hope your bellies are full of yummy Thanksgiving food! I'm sure you're all out shopping or hanging out online getting some great Black Friday deals! This week's beauty mix collab with Jasmine, Ashleigh, and Lily is all about the GOLD! I decided to be a little extra with the gold this week, trying out some new products! I used a rose gold glitter and shimmer liner on my eyes that I am now obsessed with! Hope you enjoy!

The GOLD Look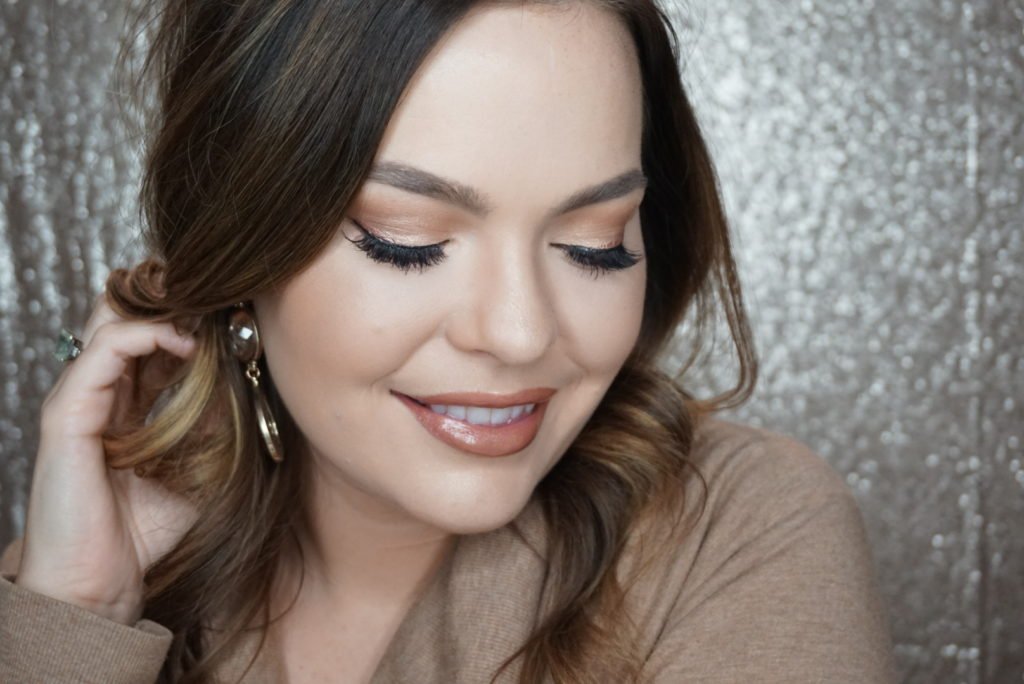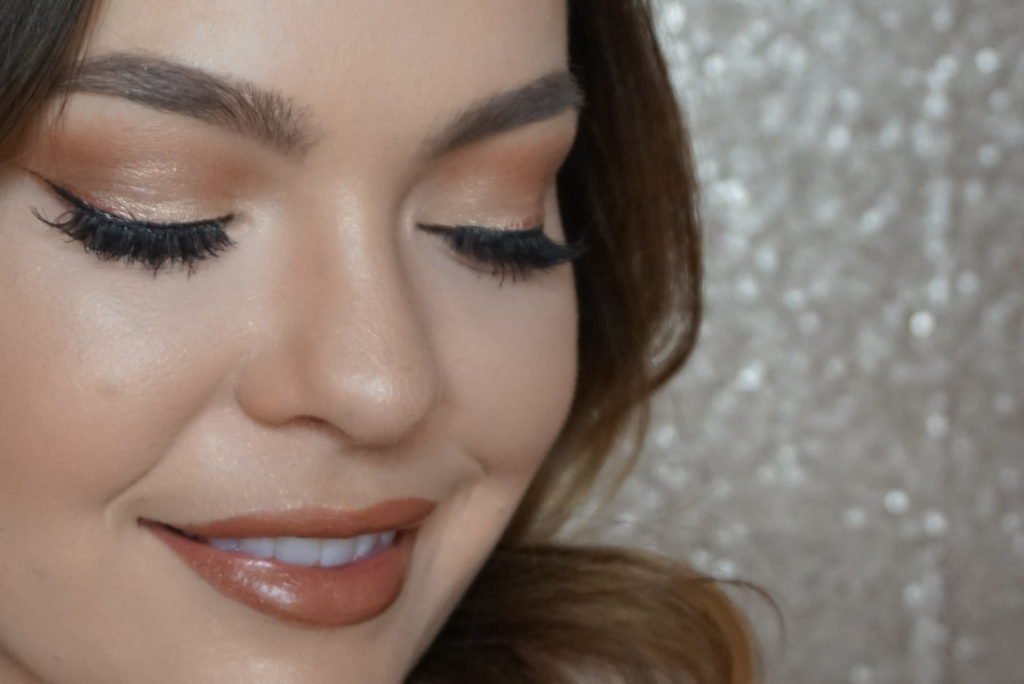 Products Used
*Disclaimer- some links are affiliate links.
Face
Primer Water-Evian Mineral Spray
Primer – Laura Mercier Foundation Primer
Foundation – Estee Lauder Double Wear
Concealer – Tarte Shape Tape in Light
Setting Powder and Bronzer – Anastasia Beverly Hills Contour Hit in Light/Medium
Highlighter – Becca Champagne Pop
Blush – Milani Baked Blush – Luminoso

Eyes + Brows
Eyebrows – Anastasia Beverly Hills Dipbrow pomade in taupe
Eye Base- Mac Prolongwear Paint Pot – Soft Ochre
Eyes – Morphe 25B palette, Tarte Shape Tape in Light , Dose of Colors "The Girls" palette (DesixKaty Collab)- use damp finger to apply the shade Suz – I used the Evian Mineral Spray on my finger to dampen.
Liner – Maybelline Curvitude for black liner, then I used both sides of the TarteistPro Eye Jewels Glitter Liner in Rose Gold to go around the black liner and create a second wing.
Mascara – Loreal Voluminous Lash Paradise
Lashes – Glimpse Lash (I just did a post on my lash extensions)- my lashes are finally getting a little thinner, so I added some false lashes over top of my lash extensions – I used Ardell Wispies.

Lips:
Mac Whirl Lipstick as base, then went in with the Becca Champagne pop highlighter to dust the center of my lips, then I used the Jouer Lip Topper in Skinny Dip for a gold sheen to the lips.

Brushes Used
Morphe M439 – foundation
Morphe Sponge – Concealer
Morphe MB30 – M459 is similar- Nose Contour
Morphe M518 – eyes
Morphe M510 – eyes
BH Cosmetics Vegan Brushes – contour and eyes
Ulta Blush Brush – Blush
Sephora Concealer Brush
Real Techniques Setting Brush – Highlighter
Anastasia Beverly Hills – Duo Brush #12 – eyebrows

Did you miss a Beauty Mix post?! You can check them all out on my Beauty Mix Series page.
Don't forget to check out Jasmine, Lily and Ashley's gold looks below! My favorite part of the beauty mix looks is seeing what each person decides to do for their look each week- not everyone's looks are the same and that's the beauty of it!
Jasmine's Gold Makeup Look | Lily's Gold Makeup Look | Ashleigh's Gold Makeup Look
Thanks for reading! Don't forget to subscribe for updates right to your inbox (no spam here!) and any other goodies as they come!

FOLLOW ME ON SOCIAL:

 
 
 


Snapchat: @itsmekelsie22
Become an Influenster
Join FabFitFun