Happy Friday beauties! This is my first post now that it's Summer and it makes me so happy that it's finally arrived! I'm kicking off this first post of the summer with a beauty post! I have my go-to products for my everyday makeup routine, but I wanted to highlight a few products in my makeup routine that are MUST-HAVES for those warm, humid summer months!
Wisconsin summers can be hot and sticky! I love the heat, but the downfall is the humidity! Especially when it comes to makeup, humidity can melt your face off in a heartbeat. Here are 10 products that I LOVE to include in my makeup routine for the summer!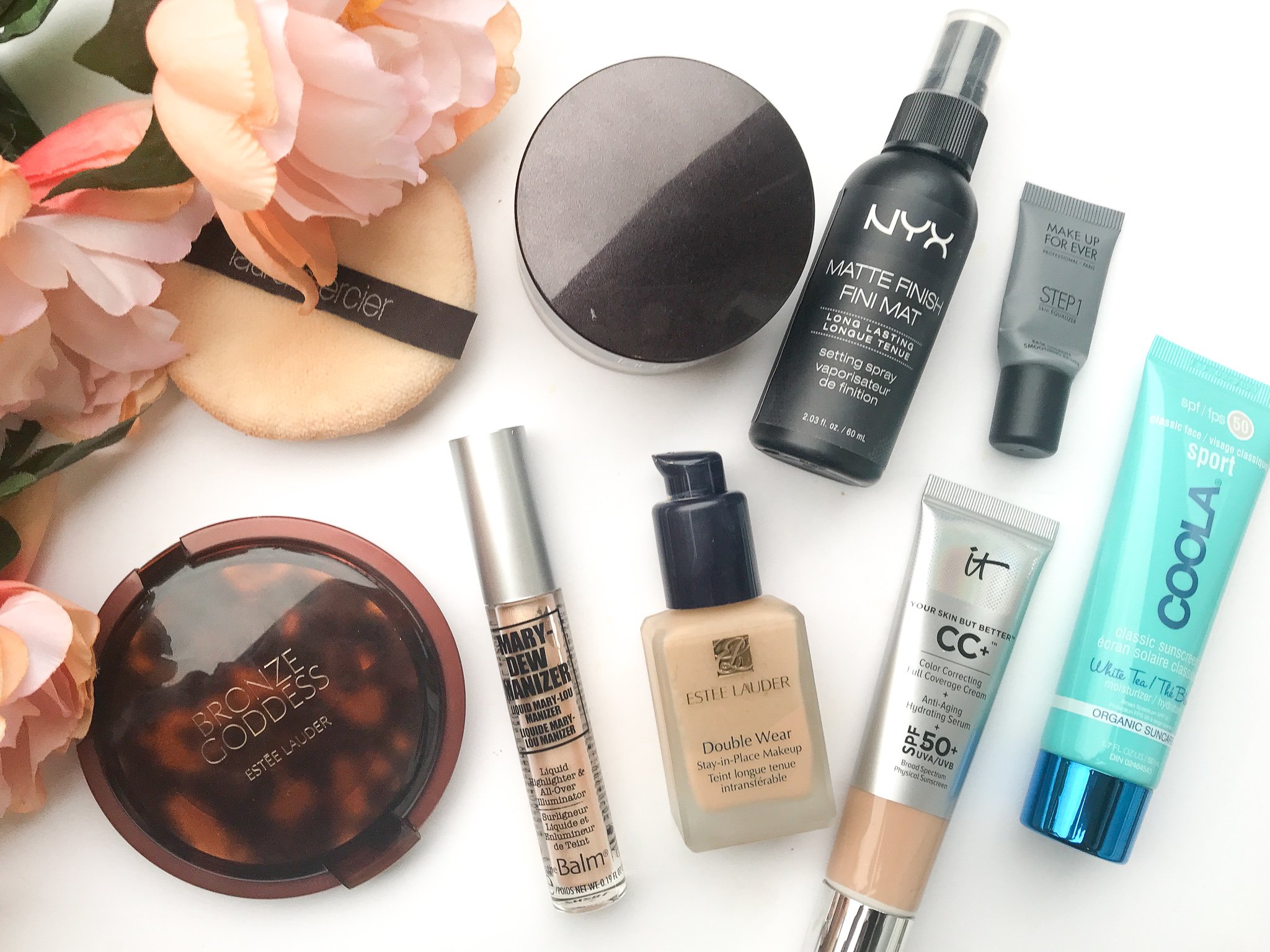 Mattifying Primer – I LOVE using the MAKEUP FOREVER Step 1 Skin Equalizer Primer – it has worked the best for me on minimizing the look of pores and also mattifying the skin!
SPF Moisturizer – I used to NEVER be one to wear sunscreen because I wanted all the sun I could get, especially on my face and I am TOTALLY regretting that now that sun spots and freckles are apparent! If you're not using a foundation that has an SPF in it and you'll be enjoying some time in the sun, you definitely want to wear an SPF under your foundation. This Coola Classic Face Sport Sunscreen Moisturizer is and SPF and moisturizer in one. It smells amazing (White Tea scent) and has SPF 50. This one is water resistant for up to 80 minutes as well. I received this in my FabFitFun Summer Box and have been loving it!
Mattifying Foundation – over top of the sunscreen moisturizer, my go-to foundation in the summer is actually my go-to year round as of right now, the Estee Lauder Double Wear Stay In Place Makeup! It doesn't budge on the face, even when sweating. Out of all of the foundations I've tried, this one seems to last the longest! I guess that's why it's called "Stay In Place Foundation".
CC CREAM – On days when I'm heading to the pool or just know that I'm going to be outside a lot, I LOVEE using my CC cream instead of the sunscreen/foundation combo! A CC Cream is a color correcting cream with anti-aging properties and also SPF! My favorite, It Cosmetics Your Skin But Better CC Cream has SPF 50+ so it's perfect! The coverage of this cream is no joke too! You only need a little product and it covers so much!
[bctt tweet="8 MUST-HAVE Makeup Products for Your Summer Makeup Routine! Don't let that makeup "melt-off" this Summer!" username="itsmekelsie22″]
Setting Powder – in addition to a matte foundation, the KEY to keeping your foundation from melting off is a great setting powder! I swear by my Laura Mercier Transluscent setting powder – as much as I've heard mixed reviews, it still seems to work the best for me as far as keeping my face matte! I also use it with the velour pouf!
Bronzer – In addition to self-tanner, another way to look bronzy and sun-kissed in the summer is with a good bronzer. The Estee Lauder Bronze Goddess is by far my fav! It has almost a red undertone to it to make it look like you have a little bit like you have a sunburn, but in a good way!
Liquid Highlighter Рas much as I would say avoid a liquid highlighter in the summer, I still like to use a regular powder highlight, but I also love to use a liquid highlighter on the cheek bones, as well as on my shoulders and d̩colletage for that extra summer glow!
Setting Spray – The last and final step to setting everything in your summer makeup routine is a great setting spray!! Look for matte setting sprays. My favorites are Urban Decay All Nighter, but a drugstore brand that I really use everyday is the NYX Matte Finish Setting Spray! It doesn't work quite as well as the UD All Nighter, but it's a fraction of the cost and still pretty decent!

What are your must-have makeup products for your summer makeup routine? Is there anything you have to have? Let me know in the comments below!
I'm thinking of doing a "What's In My Beach Bag" post or maybe even a pool day makeup look for my YouTube channel. I can even share a must-have post on skin care products for the summer! Let me know what you all would like to see!
Until next time beauties,