Happy Friday beauties!! In my last YouTube makeup tutorial (my collab with Brianna Fox), I asked if you guys wanted to see a SWEAT PROOF makeup look and a lot of you said you did, so I am here to share it! I received the new Bobbi Brown Primer Plus Mattifier and the Bobbi Brown Skin Long Wear Weightless Foundation to try and after seeing Nicole Guerriero's Sweat Proof Makeup Look video, it made me want to share my own!
[Don't forget that TODAY is the day that the Nordstrom Anniversary Sale is open to the public and I've rounded up all of my picks and the best deals all on one page for you to shop! ]
When I first tried the primer and foundation combo together, I was so impressed! I actually got a ton of compliments on my makeup too! It looked so smooth, yet not too full coverage either. It did feel a little thick while putting it on and not as weightless as they said it's supposed to but once it was on, it was totally fine! It's hard to explain, but if you've tried it, you know what I mean! As far as lasting through heat and sweat, this stuff is a WINNER! I wore it for over 14 hours the first time, through humidity and sweat and my makeup looked perfect at the end of the day. No touch ups or powder were necessary! I've never tried a foundation that hasn't needed at least a little touch up throughout the day. So impressed!! I will admit though, as long as you take the proper steps to prep and complete your makeup look (like I mentioned in my Must-Have Summer Makeup post) then you should have a pretty fool proof sweat proof makeup look!
Summer Sweat Proof Makeup Look + Tutorial! #getthelook #sweatproofmakeup
Click To Tweet
The Makeup Look + Video Tutorial
As you'll see in the video, I had to take the entire look off and start over because I had some issues with the first look I did. I think the second look turned out great still, but I also didn't go all out because I was short on time from starting over. Yes, it's ANOTHER brown makeup look, but the face makeup is the star of this post, the eye look is just a bonus! ;)Â Â I decided on no lashes for this look because when it's hot, you definitely don't want to worry about them coming off. I am still using my favorite lash serum too and it's been helping a lot!
*Disclaimer: This post contains affiliate links. Some clicks/purchases may result in a small commission to keeping my blog/YouTube running at no additional cost to you.*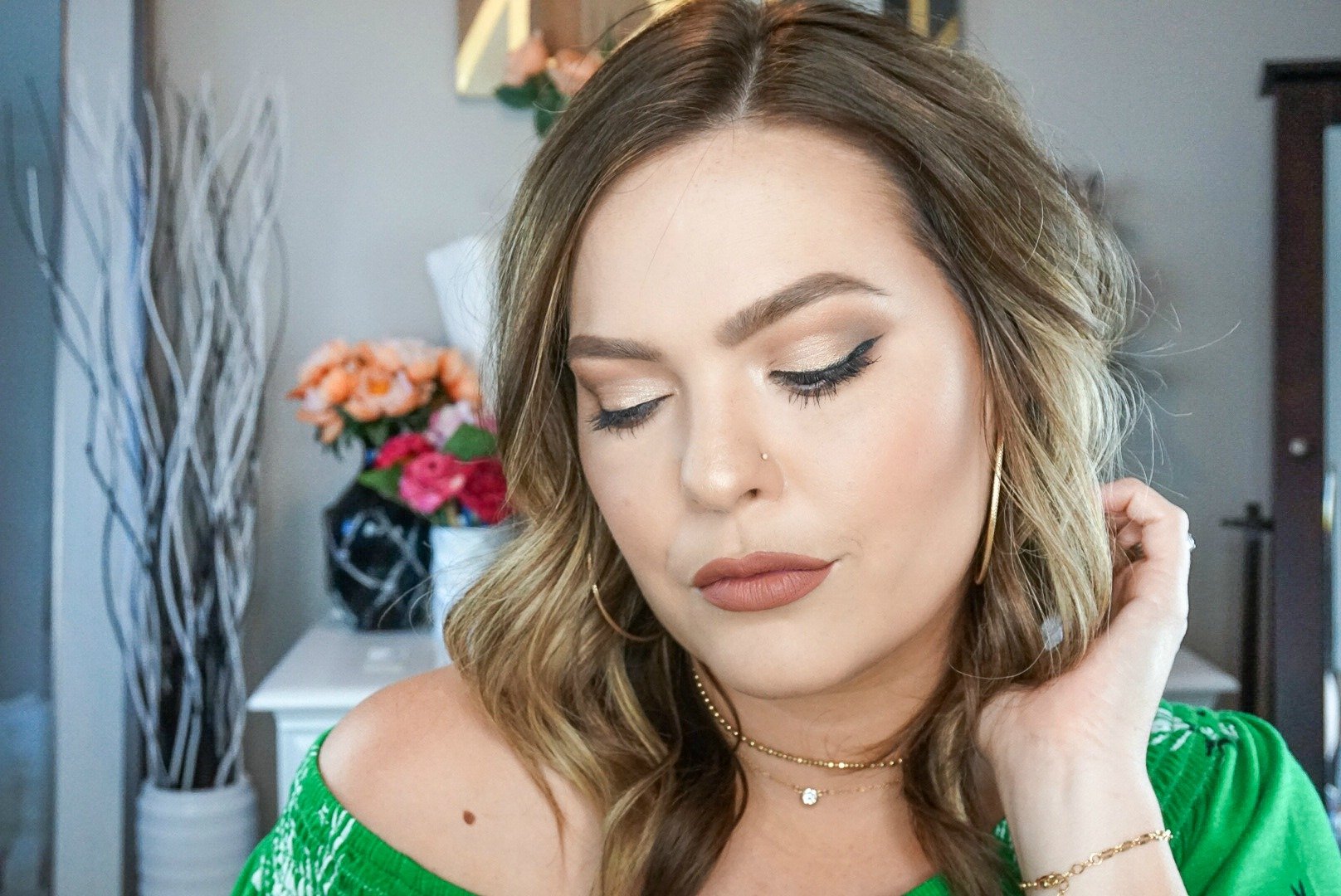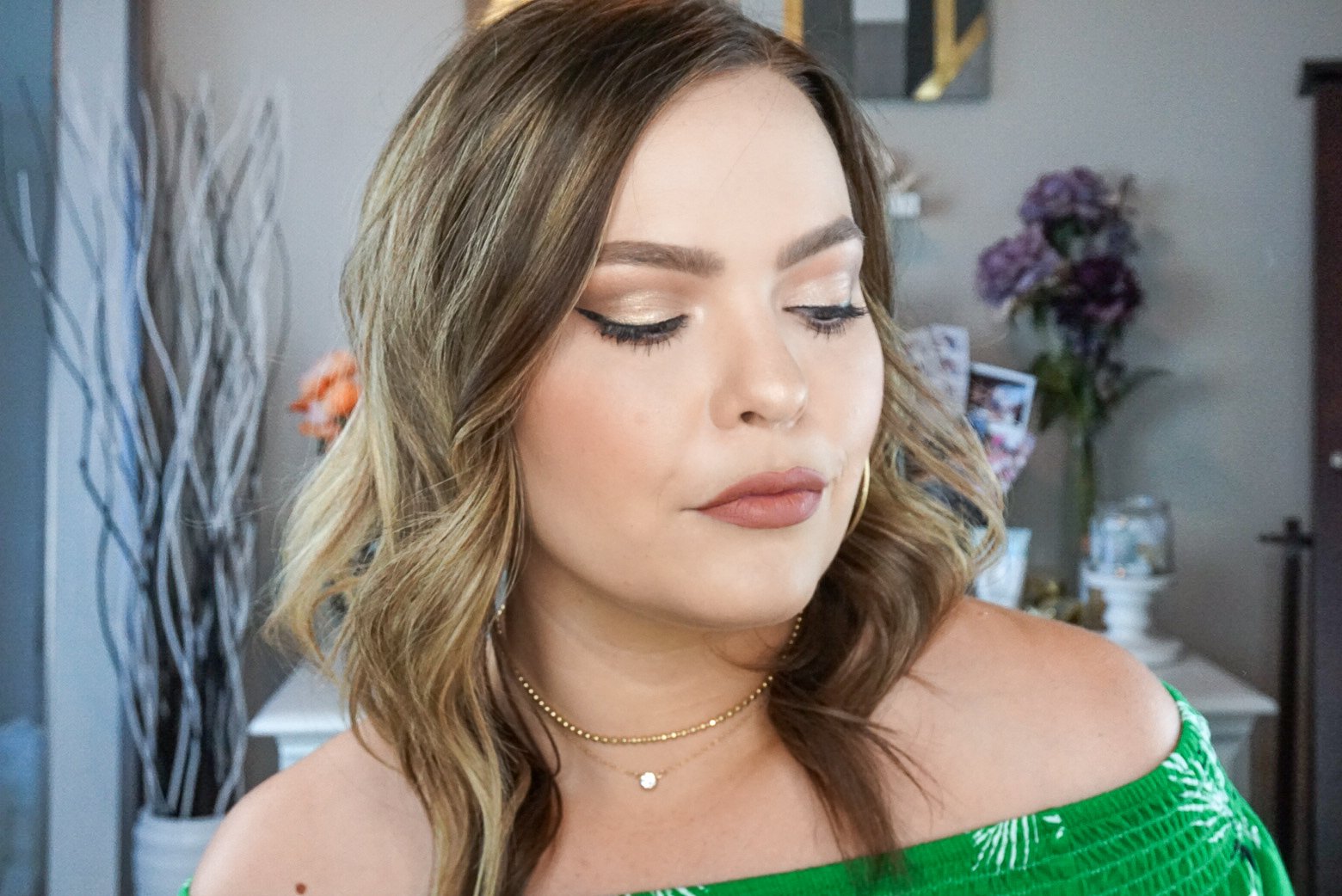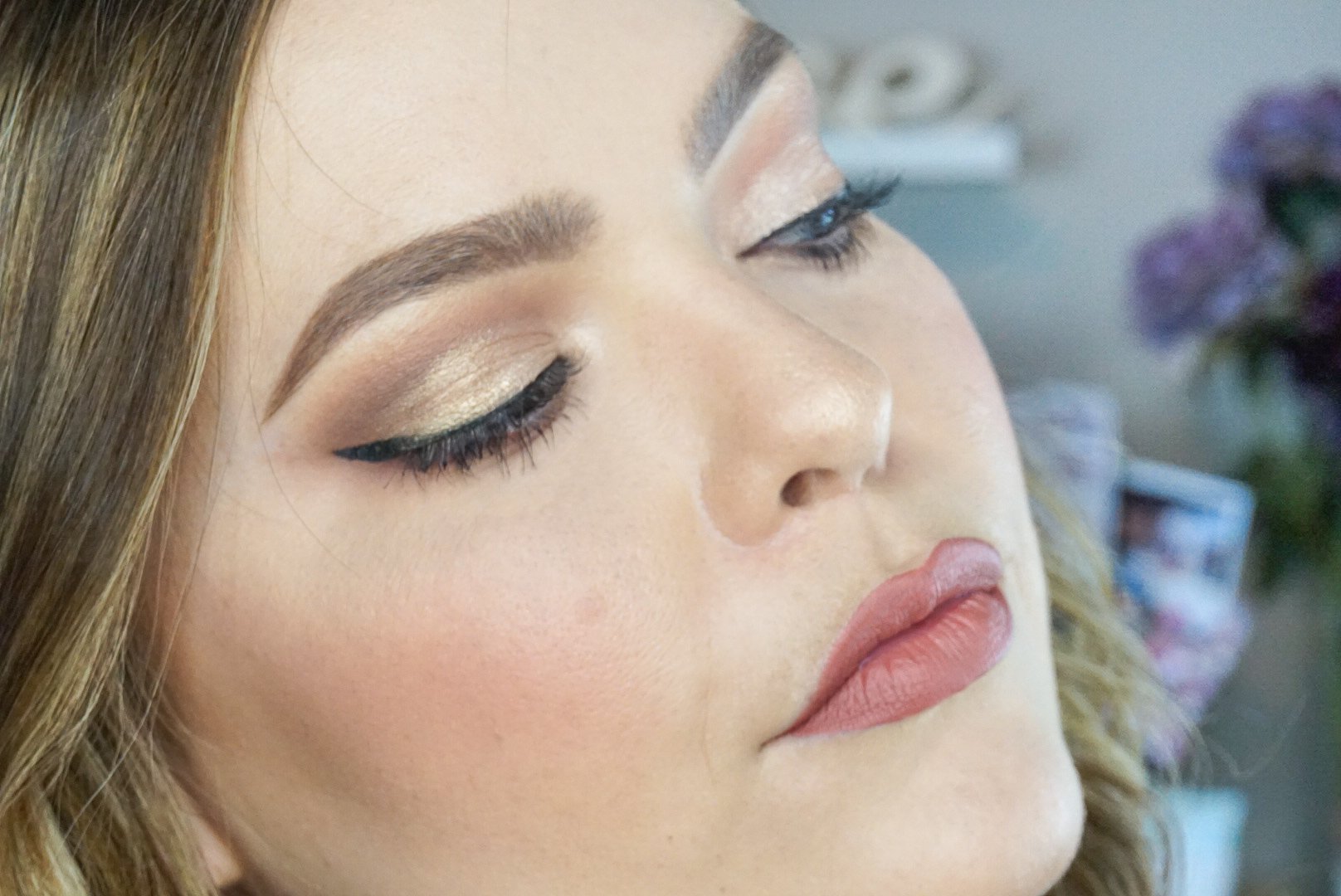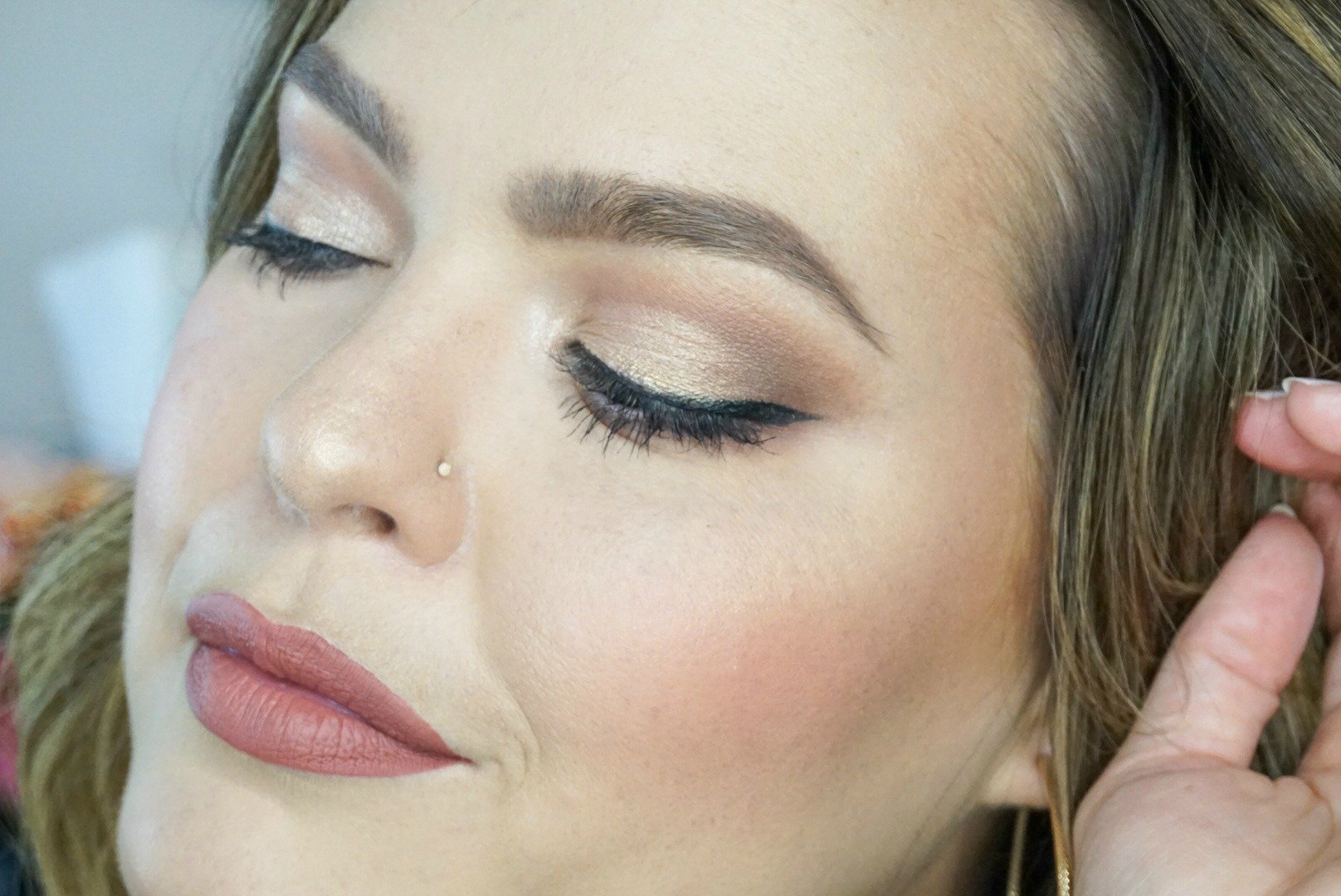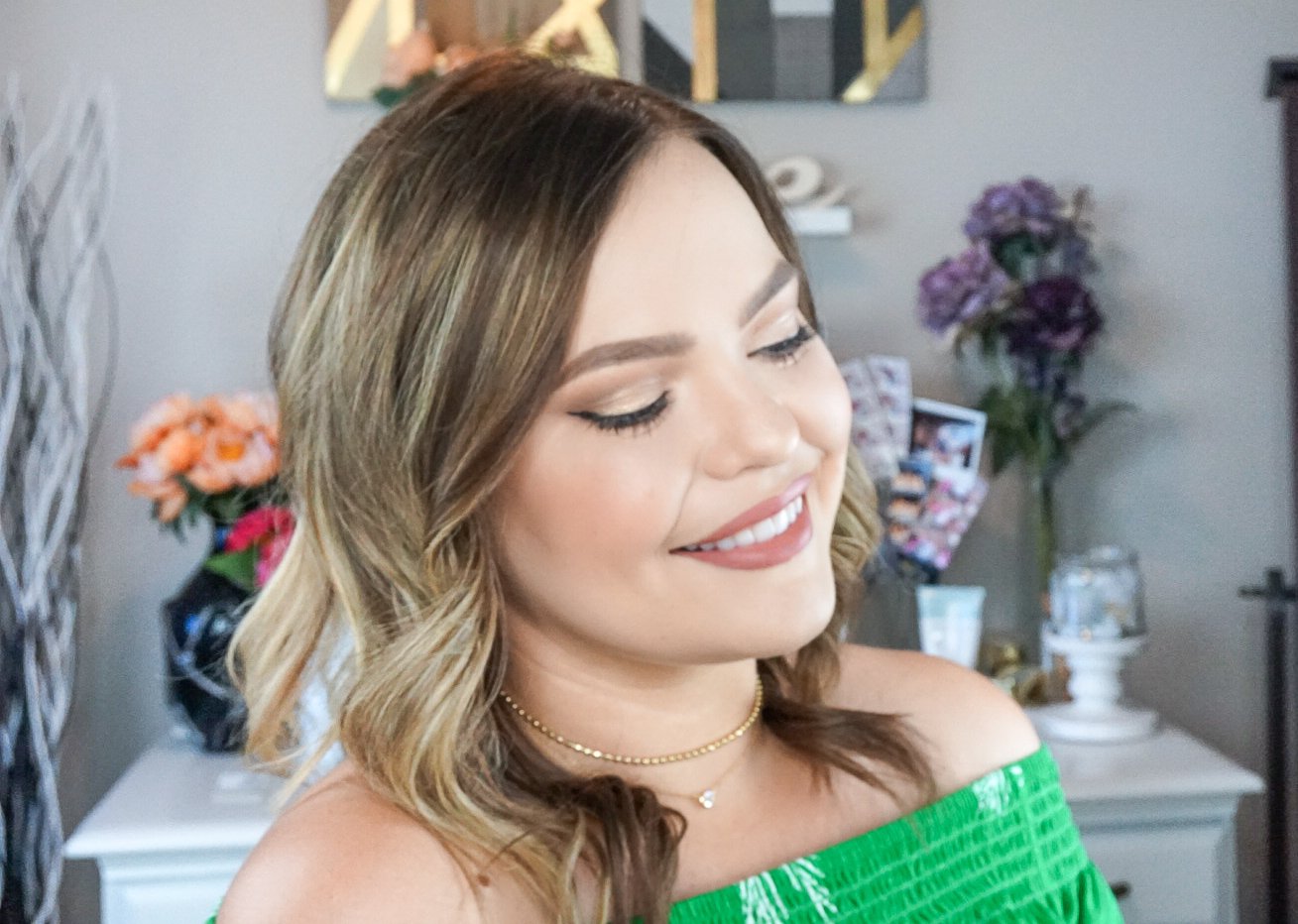 Are you subscribed to my YouTube channel yet?! Hit that notification bell so you never miss out on a video!
Wearing:
Miranda Frye London Necklace
Miranda Frye Stephanie Necklace
Miranda Frye Chloe Bracelet
Use code "KELSIE" at MirandaFrye.com for 10% OFF + FREE US Shipping
Earrings – Target
Green Top – H&M – Sells out quick, but has been restocked a few times

Products Used:
FACE + LIPS:
Primer – Bobbi Brown Primer + Mattifier
SPF Primer – Urban Decay Urban Defense Complexion Primer
Foundation – Bobbi Brown Skin Longwear Weightless Foundation
Concealer – Tarte Shape Tape
Setting Powder – Laura Mercier Translucent Setting Powder
Bronzer – Estee Lauder Bronze Goddess Bronzer in Light
Highlighter – Becca Champagne Pop
Blush – Physician's Formula Butter Collection Blush
Setting Spray – Urban Decay All Nighter Setting Spray
Lipstick – Dose of Colors Liquid Lipstick – Truffle

EYES + BROWS:
Eyeshadow primer – Mac Prolongwear Paint Pot in Soft Ochre
Eyeshadow – Tarte Tarteist Pro to Go Palette
Eyeshadow – Jaclyn Hill x Morphe Palette – shades Enlight and Beam
Concealer (Cut Crease) – Tarte Shape Tape
Brow Pencil – Estee Lauder Brow Multi-Tasker in Taupe
Brow Gel – Maybelline Brow Drama Sculpting Mascara
Liner – Urban Decay Perversion Waterproof Liner
Nude Liner for Inner Lower Lash Line – Pixi by Petra Eye Bright Liner
Mascara – L'Oreal Voluminous Lash Paradise Waterproof Mascara

BRUSHES:
Artis Oval 7 Brush
Morphe Beauty Sponge
Sephora Concealer Brush
Morphe (Nose Contour) Brush
BH Cosmetics V2 Brush
BH Cosmetics V3 Contour Brush (for Bronzer)
BH Cosmetics V9 Pencil Brush
Morphe M441 Firm Blending Brush
Morphe M518 Crease Fluff Brush
Real Techniques Blush Brush
Real Techniques Brush – Highlighter

What is your go-to makeup look for those hot summer days?! I would love to hear your favorites or suggestions! Also, what other videos do you guys want to see?
Thanks so much for reading/watching!