Happy Monday & happy first day of October (I can't even believe it's October already)!! It's been a little bit since I shared a Summer to Fall outfit, so why not do a full clothing haul?! You know how much I LOVE Amazon, and I purchased a ton of new pieces that I wanted to share with you! I recently shared my Top 10 Favorite Amazon Lifestyle Purchases on the blog and YouTube channel, and also shared an Amazon Fashion haul on the blog a few months ago, so check those out if you missed them! For this post, I'm letting you know if these pieces are worth the purchase or if you should pass on them! So, let's get right into it!
If you didn't know, I have an Amazon page that shows all of my favorite Amazon purchases and favorites, so you can check that out at any time using this link, or there is also a tab under my "SHOP" tab on the blog! 
Amazon Fashion Haul + Try On
• White Thermal Button-Up Tie Front Top 
This top is one of my favorites from my recent orders! I did size up one for a little more of a looser fit. I love the knot front and buttons! I love a good thermal/henley top in the fall! I shared a short sleeved version of this in a recent post as well! I would wear a nude v-neck cami like my favorite from LOFT. I also shared this amazing bag in my last Amazon fashion post and I'm still in love!






• Red Chevron Purse with Gold Chain
This reminds me of a Gucci Marmont Mini bag obviously without the Gucci logo. I love the pop of color the red gives any outfit! The tassel and gold chain add the perfect touch! Definitely worth the buy with this one!
• Red Floral Print Peplum Top
I have seen tops like this all around (also in short sleeved versions) and had to give it a try! I did go up one size in this. It's a very low v in the front, but I love the peplum detail and the tie in the front! I'm not a huge fan of the sleeves where they button, but not a deal breaker! The fabric is also not what I expected. I am more of a comfort top kinda girl, but it's not too uncomfortable, just a different fabric than I'm used to!




• Pink Midi Dress with Buttons
I love this dress – the button up midi dress has been a popular one this year and so many places sell it! I purchased this one in my true size, but the sleeves were a bit tight on me. I don't have the smallest arms, so most can probably get away with their true size.
• Yellow/Black/White Colorblock Cardigan
I have a love/hate for this one! I loveeee the color blocking and the overall look of the sweater, however if you see what it looks like online vs. how the cardigan came, there are some discrepancies. The photo shows a longer cardigan with oversized sleeves and looks very soft. The one that I received was way shorter and the sleeves didn't even hit my wrists. The fabric isn't terrible, but just not what I thought it would be! I rolled up the sleeves and it looks much better like that! I purchased this one in my true size, so I wonder what it would look like with one size up. They have tons of colors to pick from too! I will be keeping this one!



• Cross Front Sweater
I was pleasantly surprised with this one (pictured below on the left)! I wasn't sure how it would look or feel, but this sweater is sooo cute and the softest fabric!! I got this in my true size and it's slightly bigger than I expected, so you could go down a size, but I like it how it came! This one I will for sure be keeping! I love pairing it with a lace cami like my fav from H&M. This one also took a bit to get to me, but so worth the wait! Unfortunately, this is the only photo I have currently!
• Red-Orange Cardigan
This one took FOREVER to get to me (pictured above on the right)! It was supposed to be red, but it's more of a red-orange. It's really cute on, and true to size, however the quality is not what I would expect for the price of this cardigan.  I returned this one already, so I didn't take any cute photos with it! If it was under $10 it would be worth it, but that's not the case here!
• Floral Tie Front Top
I have been eyeing this one up for a while and I finally decided to go for it! I love the knot front (can you tell? haha) and the floral print of this one! I did get my true size and it fits well! I didn't realize it was sewn in the front, but totally okay with that! The fabric is also not one of my favorites, but the top looks cute overall! I wear this with the same nude v-neck cami from Loft too!



• Olive Block Heels
These are sooo worth it, especially for the price! They are the perfect height of heel and so comfortable! I wore them all day standing and dancing at a wedding recently, and then another time for an 8 hour period where I as standing most of the time! So comfortable and they come in so many colors! I now own the wine color (shown below) and olive ones! These are true to size. I got an 8. The one thing I should mention is that the strap around the ankle stretches a bit, but it is not adjustable. I do not have small ankles and they fit me so perfectly and are still very comfortable!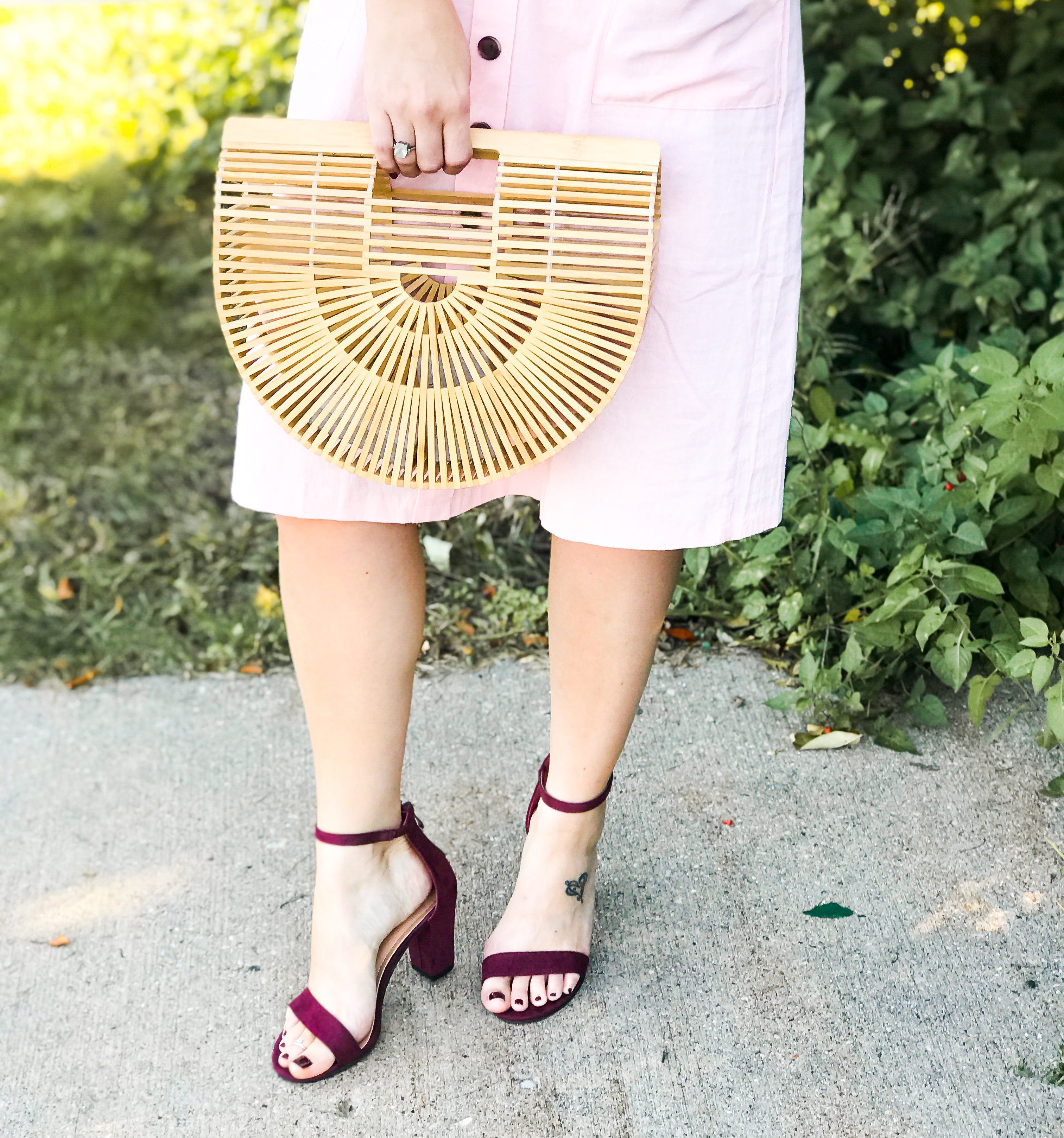 Shop the Post

That is everything! As you can see, most of the items are totally worth the buy! Have you found any Amazon fashion items that are worth the buy? I'd love to hear them in the comments!
Thanks for reading!
---