Happy Wednesday! It's been a while since I've shared an OOTD (outfit of the day) post, so I figured I would share a fun fall outfit with you, plus share a newbie to my shoe collection! Fall is all about the boots, scarves, fun coats, and if you live in Wisconsin, Fall may mean lots of rain!
I love busting out my favorite knit jacket in the fall – it's a must-have for sure and just makes an outfit look put together. I got mine from ChicWish and it's currently on SALE, but they have similar ones at Goodnight Macaroon (in a few colors) and Shein.
Blanket scarves are also a must in the fall! I have had this one for years and I get so excited when I can finally wear it! It can be worn as a fashion piece or to keep you warm! Here's a similar scarf HERE.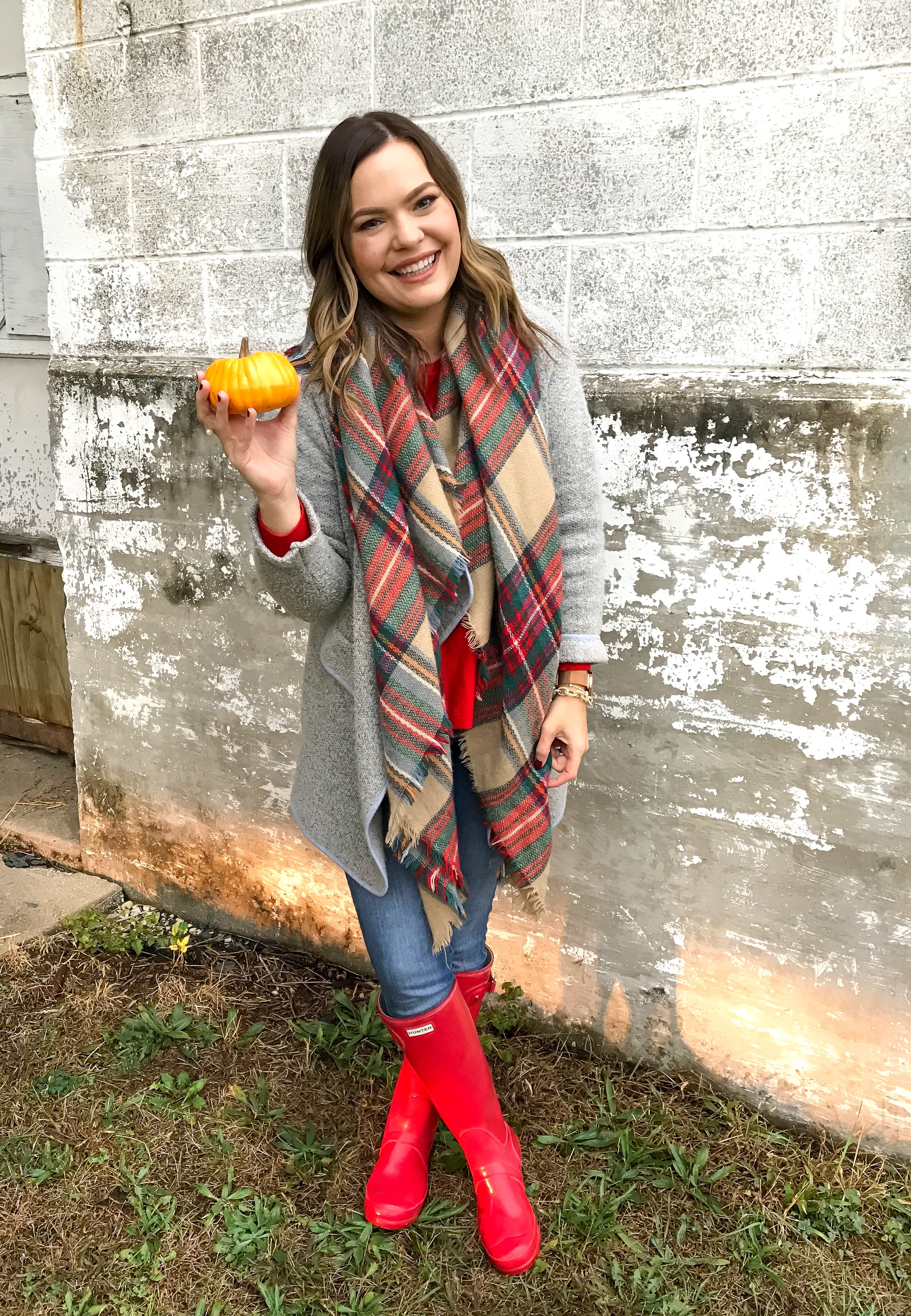 On to the newbie to my shoe collection – these HUNTER BOOTS! If you've been following me for a while, you may remember that I have been waiting for the matte red Hunter Boots to go on sale so I could snag them. They were around $70 on Zulily's website last winter just before Christmas and I missed the sale. I haven't seen a sale with the boots priced that low since. A few weeks ago, when my friend Ashley texted me that they were on sale on Zulily, I jumped right on. Unfortunately, the boots on Zulily's site were only marked down to $120 (Originally $150). I was super tempted to snag them, but decided to keep looking online to see if I could find any cheaper!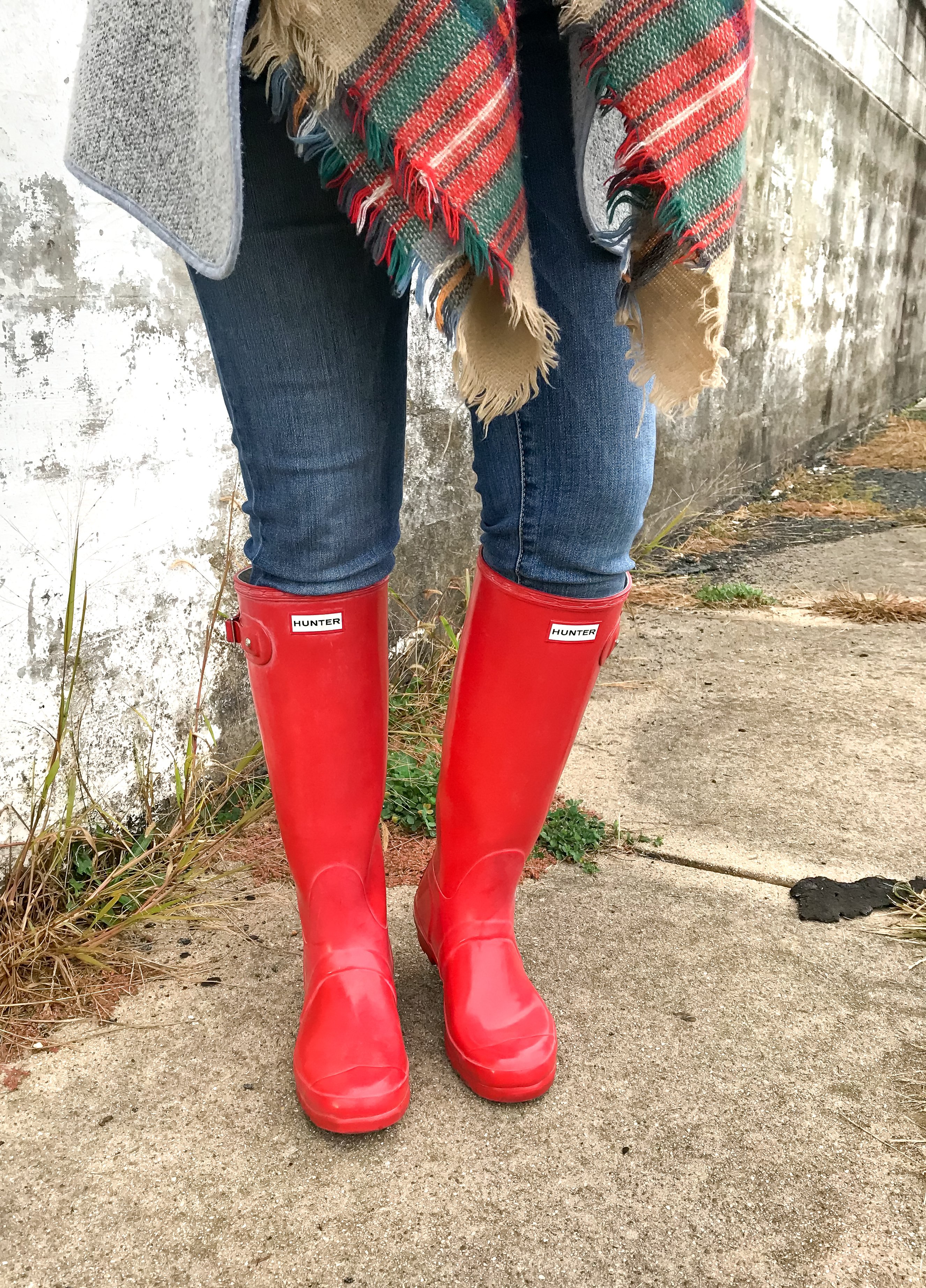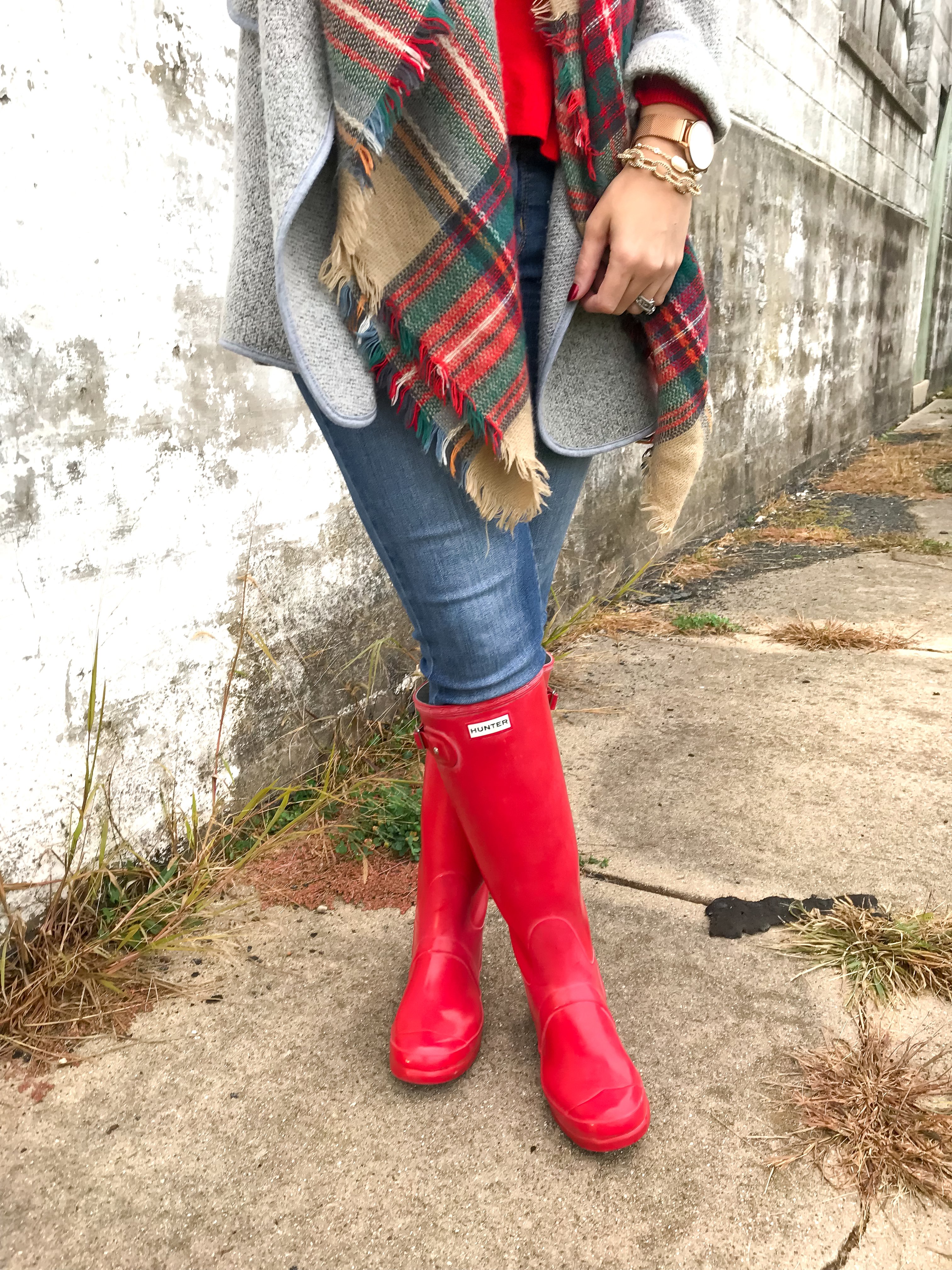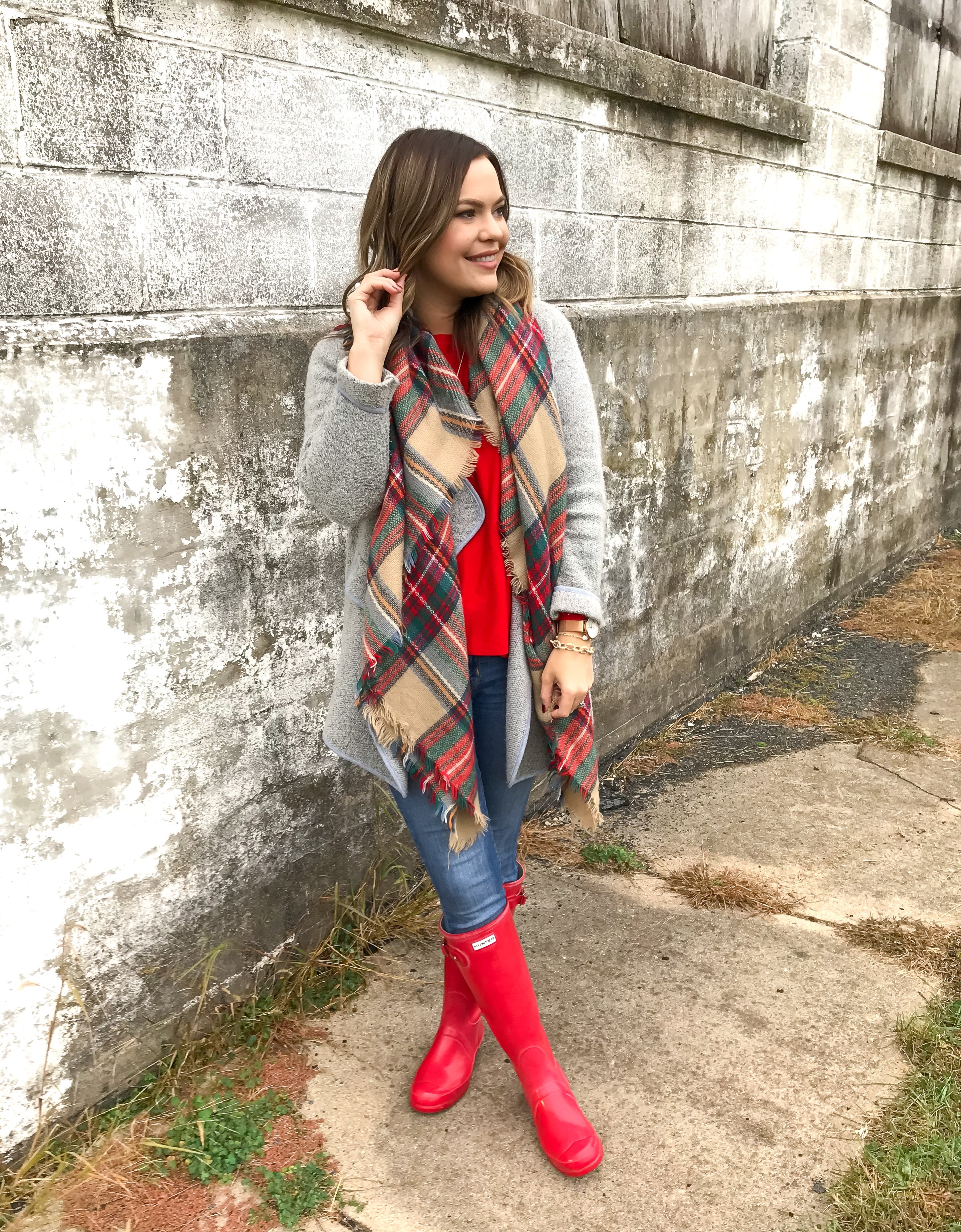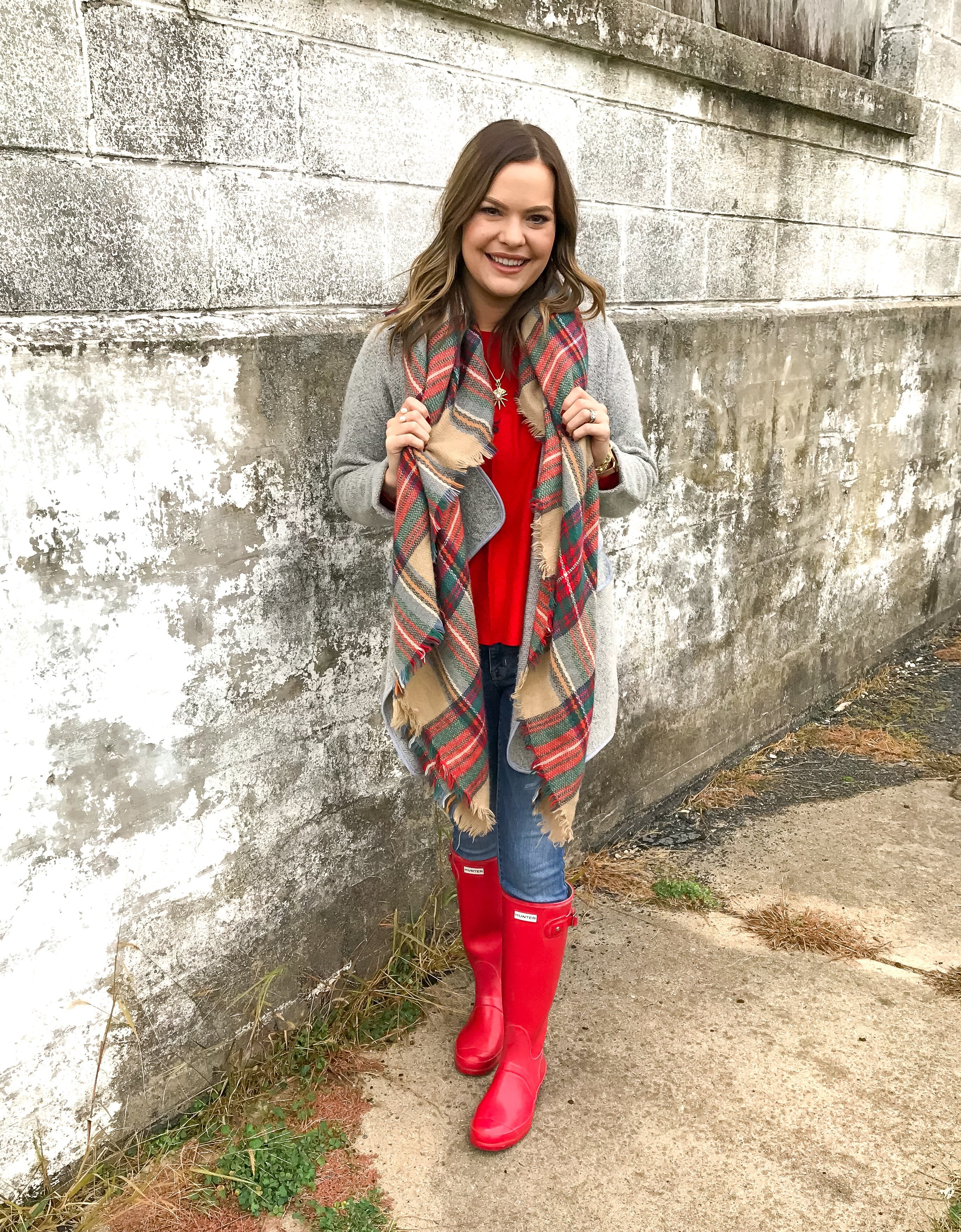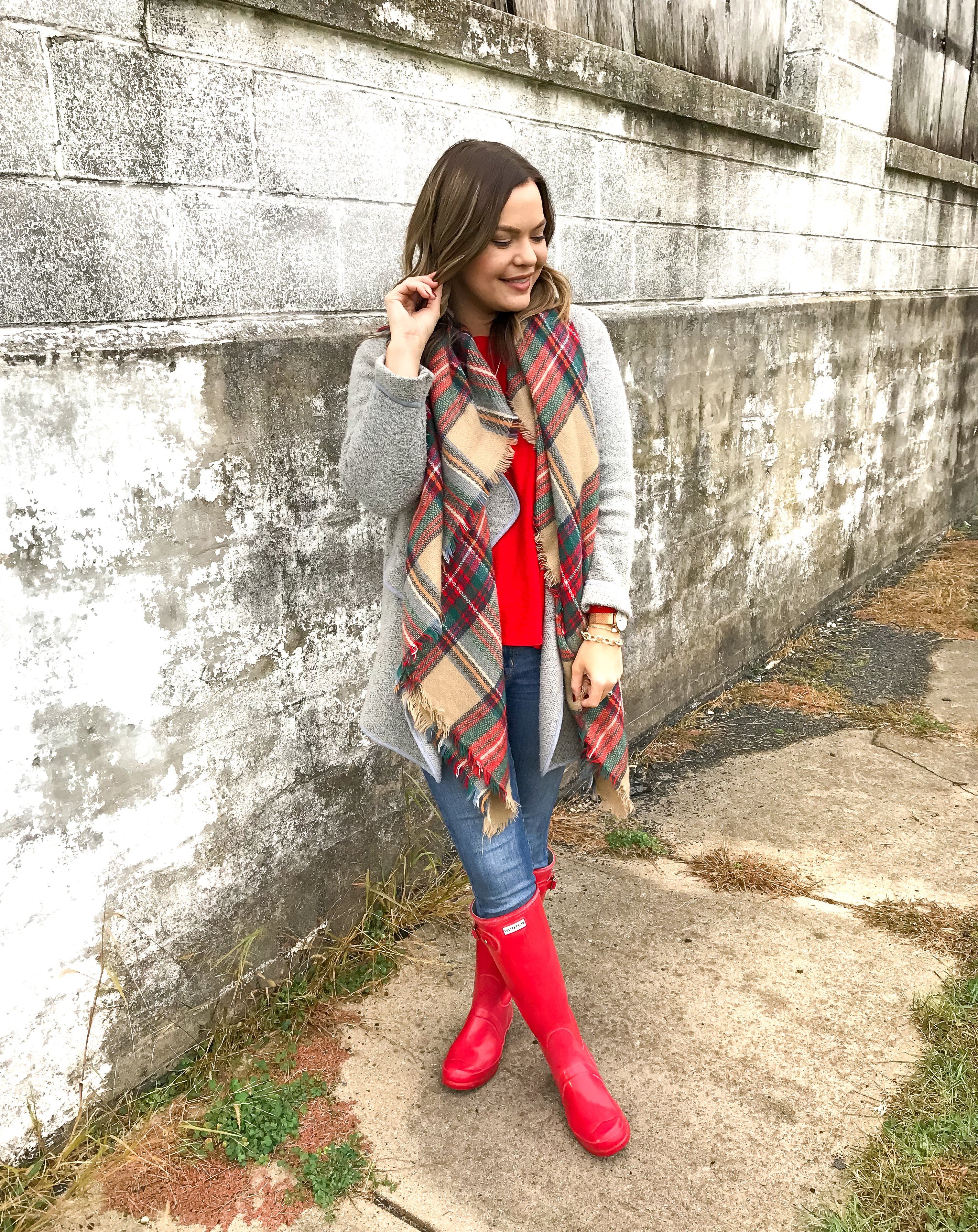 After doing some digging, I found that Wal-Mart has them on sale for $108, which is such a great deal, but I kept searching! There are so many sites that have them discounted for a short period of time – like Zulily, Hautelook, and RueLaLa. There are also resale sites like Tradesy, Vinted, Poshmark, and EBay that have them. I have seen them on Poshmark before, so I figured why not try it! They have a satisfaction guarantee and if the item I receive isn't what they say it is, then I don't have to pay for it.
Poshmark has a ton of Hunter Boots on there, and quite a few of the red ones, so I did my research and found a pair that looked somewhat worn, but for the price, I couldn't pass it up! They arrived last week and I am in love with them! Like I said, a little worn, but I knew that when I purchased them! Aren't they adorable though?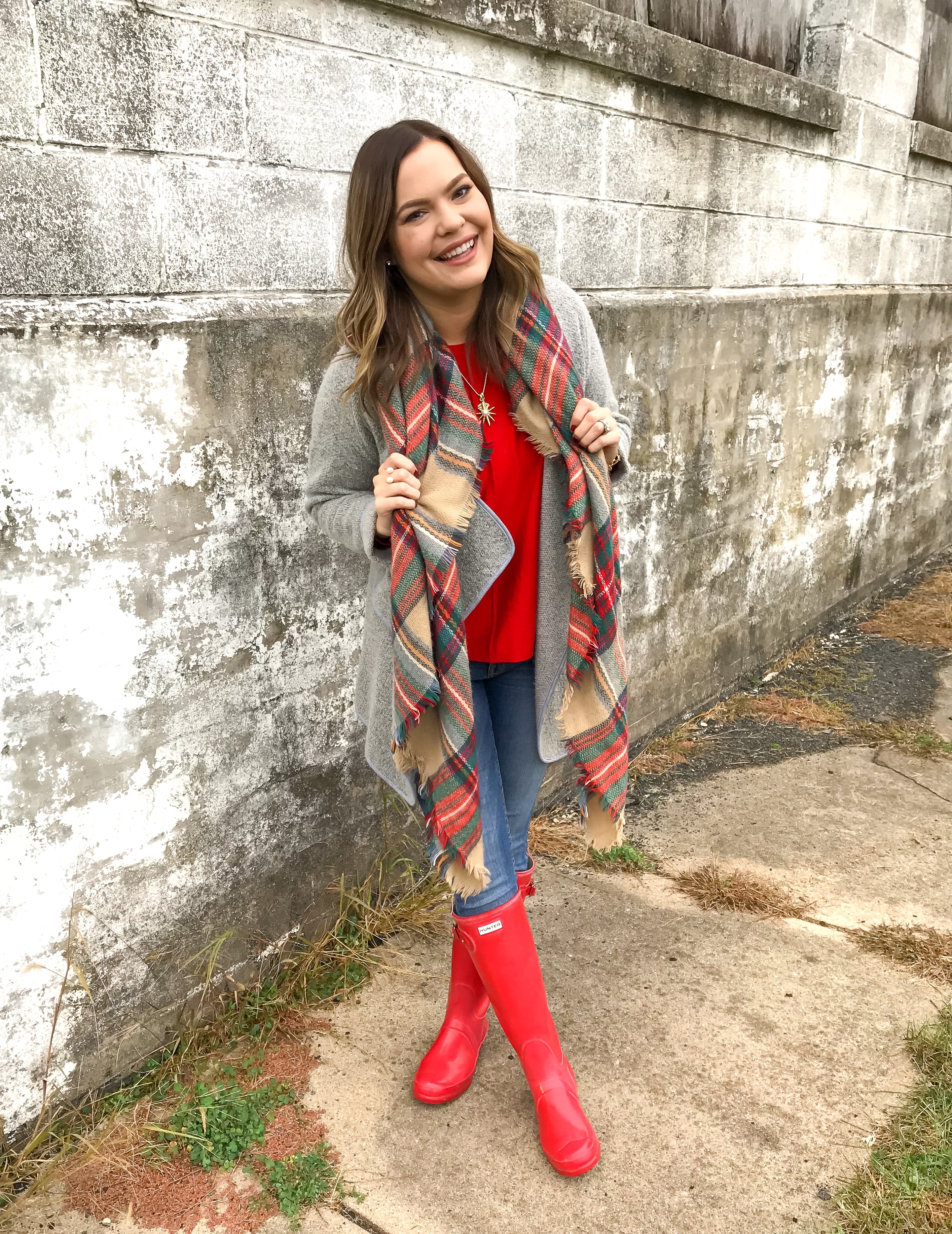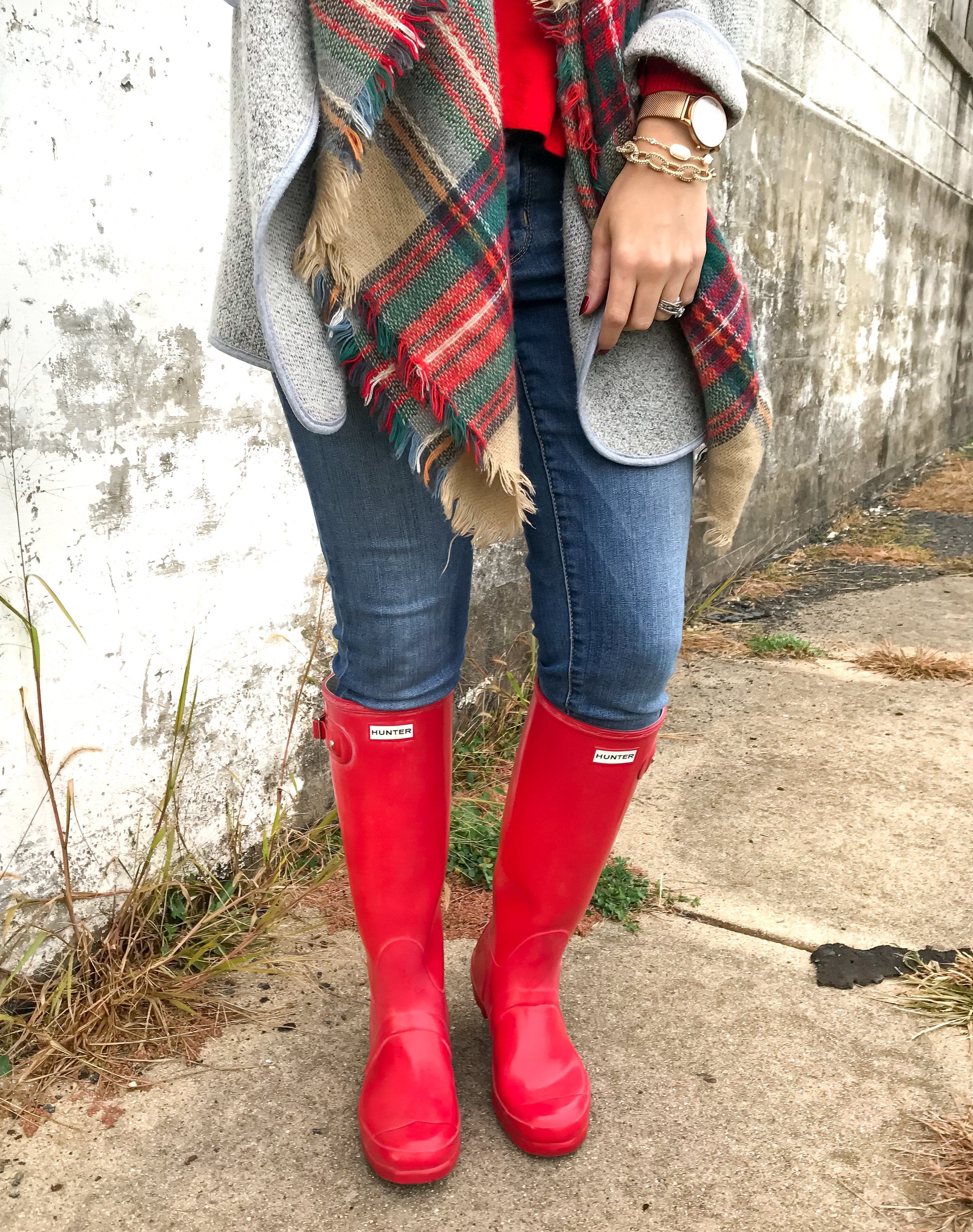 Along with the rain boots, you need the umbrella! I found this clear bubble umbrella last year on Amazon and it's still available for only $14! I just love the whole outfit!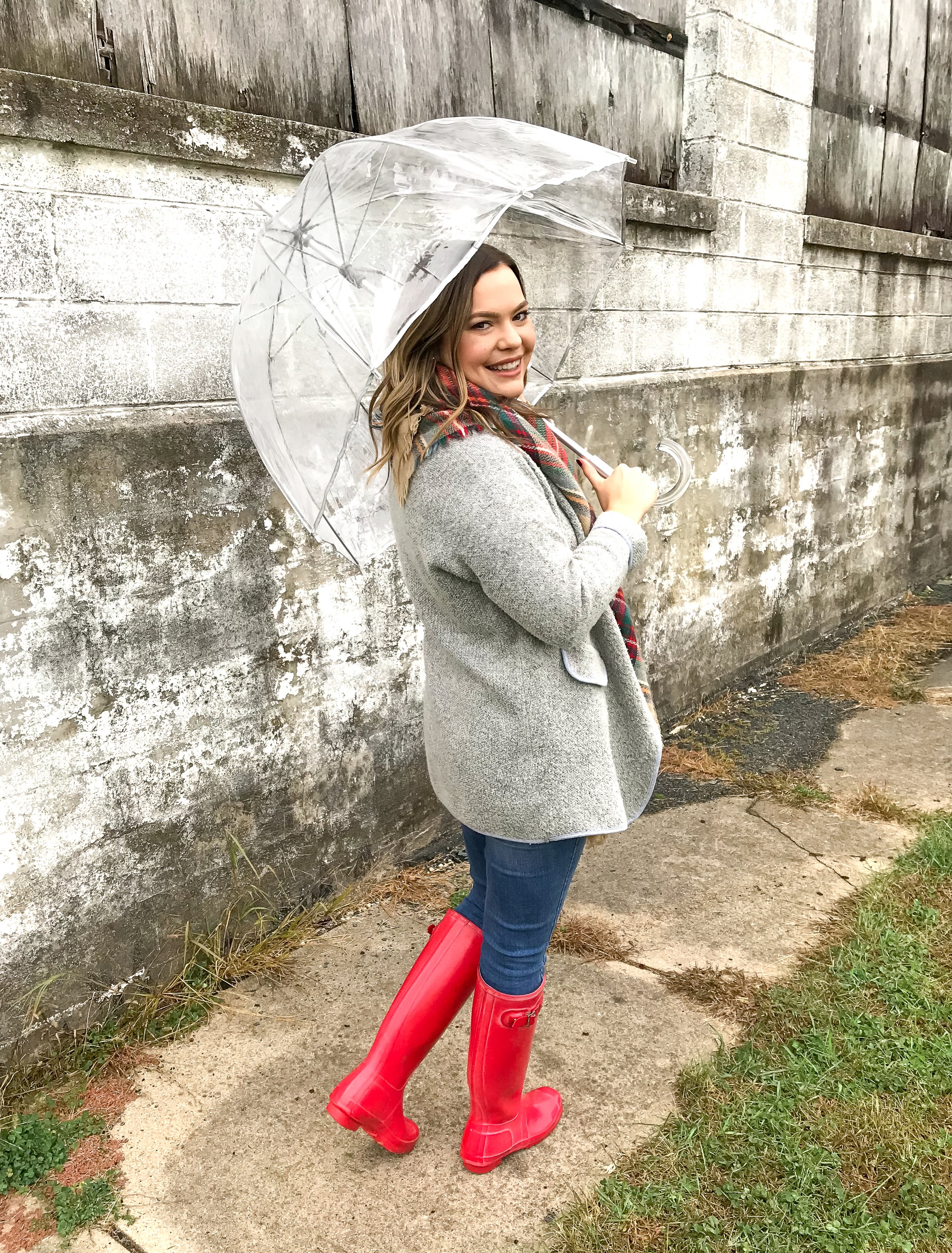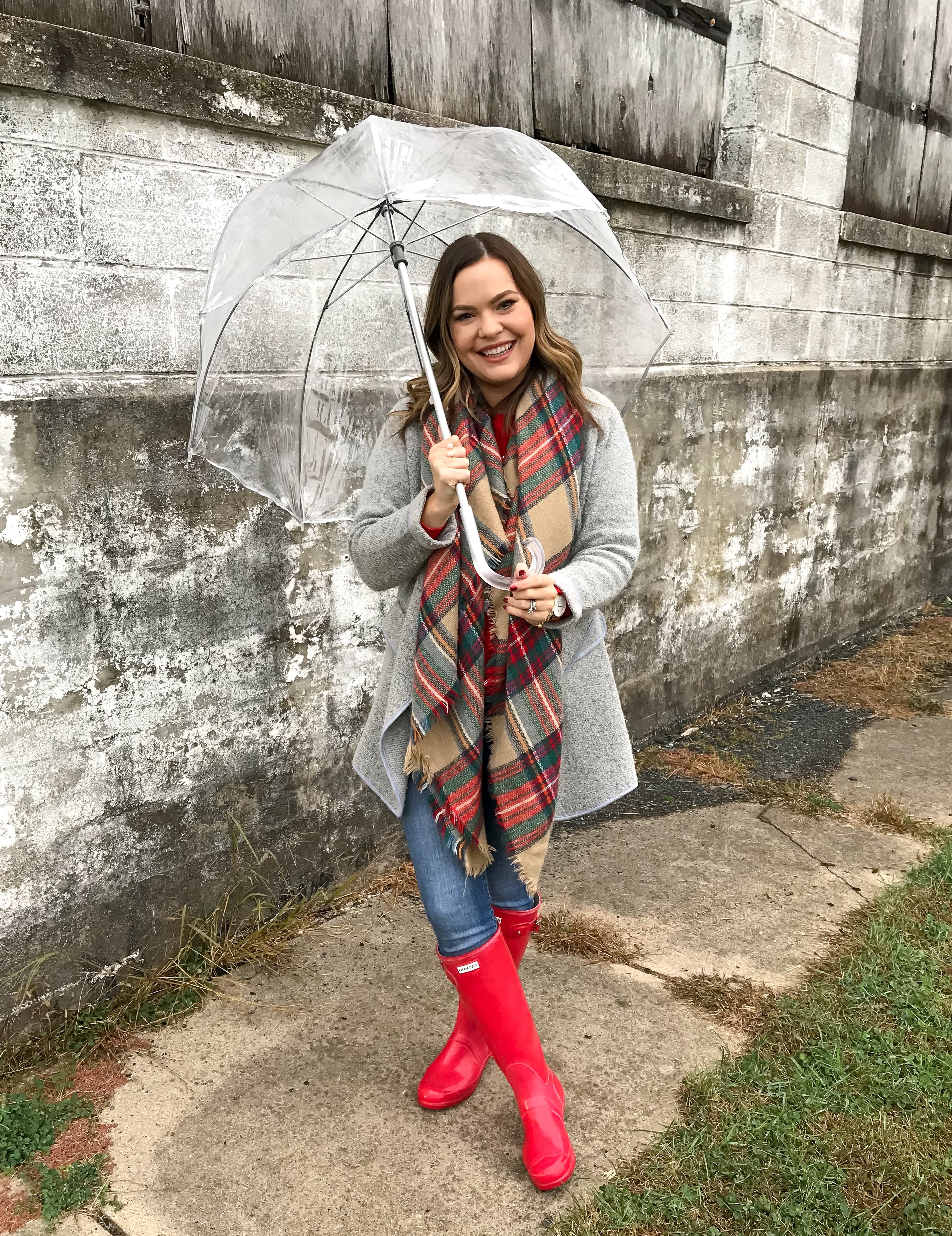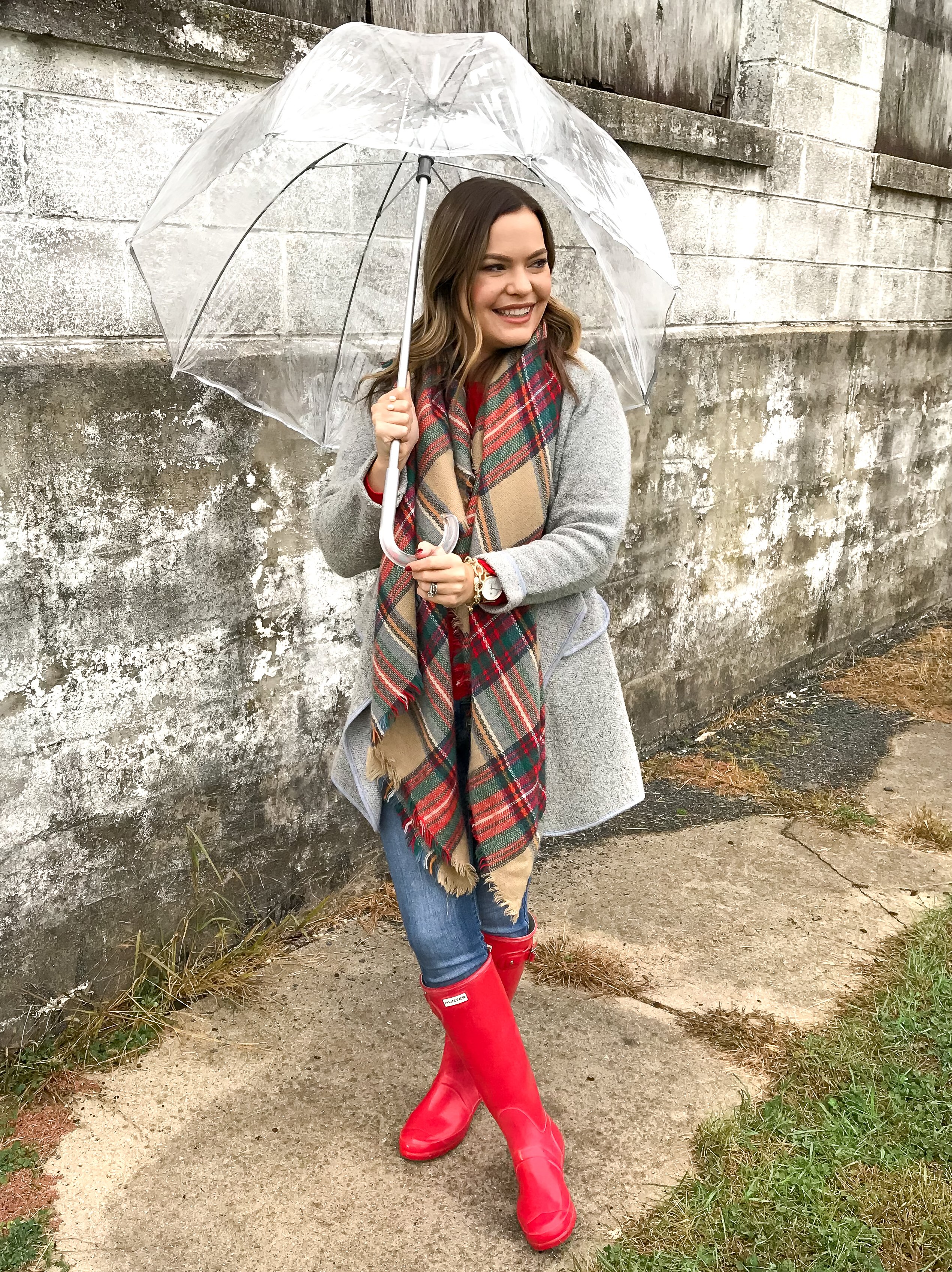 Coat | Scarf | Jeans | Boots | Watch | Chainlink Bracelet | Kendra Scott Bracelet | Umbrella
What are some of your Fall staples or must-have pieces this time of year?! Have you ever shopped on Poshmark? What was your experience? I have a Poshmark page too if you'd like to check it out!
Shop the Post

Thanks for reading! Hope you enjoyed!!
---