Happy Wednesday babes!! I know you guys have been loving the home decor posts on the blog, YouTube and on Insta Stories lately, so I wanted to share a simple and budget friendly Thanksgiving table scape. Whether it's Thanksgiving with your family or a Friendsgiving with your besties, this is the perfect table setting for the occasion! I'm also collaborating with my friend Ashley (Style608.com) for this post. She is sharing her budget friendly table scape as well, so head over there after this post and check out her colorful set up! (linked at the bottom of the post too)
If you've seen my house, you probably know I am all for the neutral shades and love pops of greenery. Depending on the green, I think you can still count it as a neutral shade. I am obsessed with silver dollar eucalyptus lately so you'll probably be seeing a lot of that in my decor over the upcoming holidays.
The Table Setting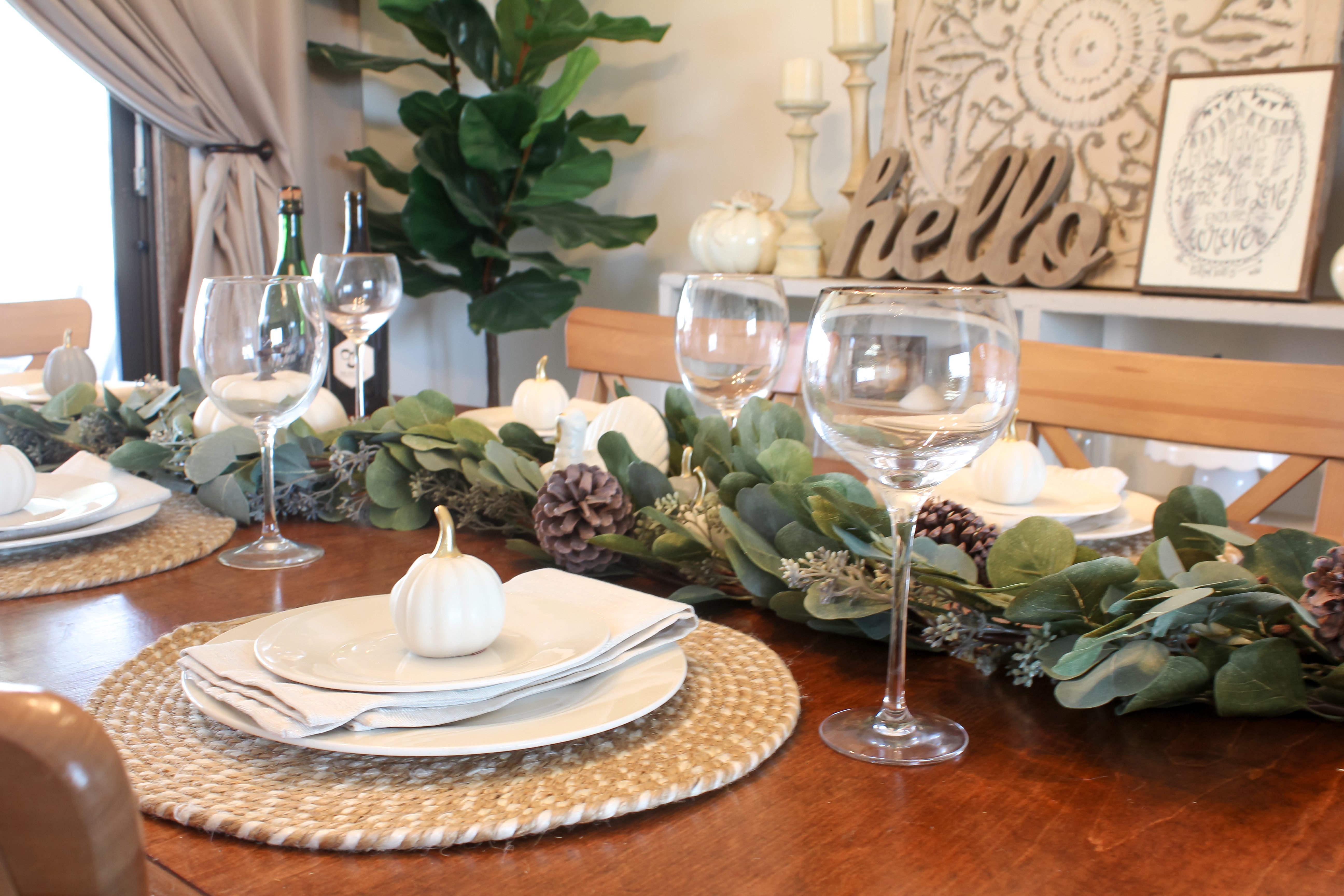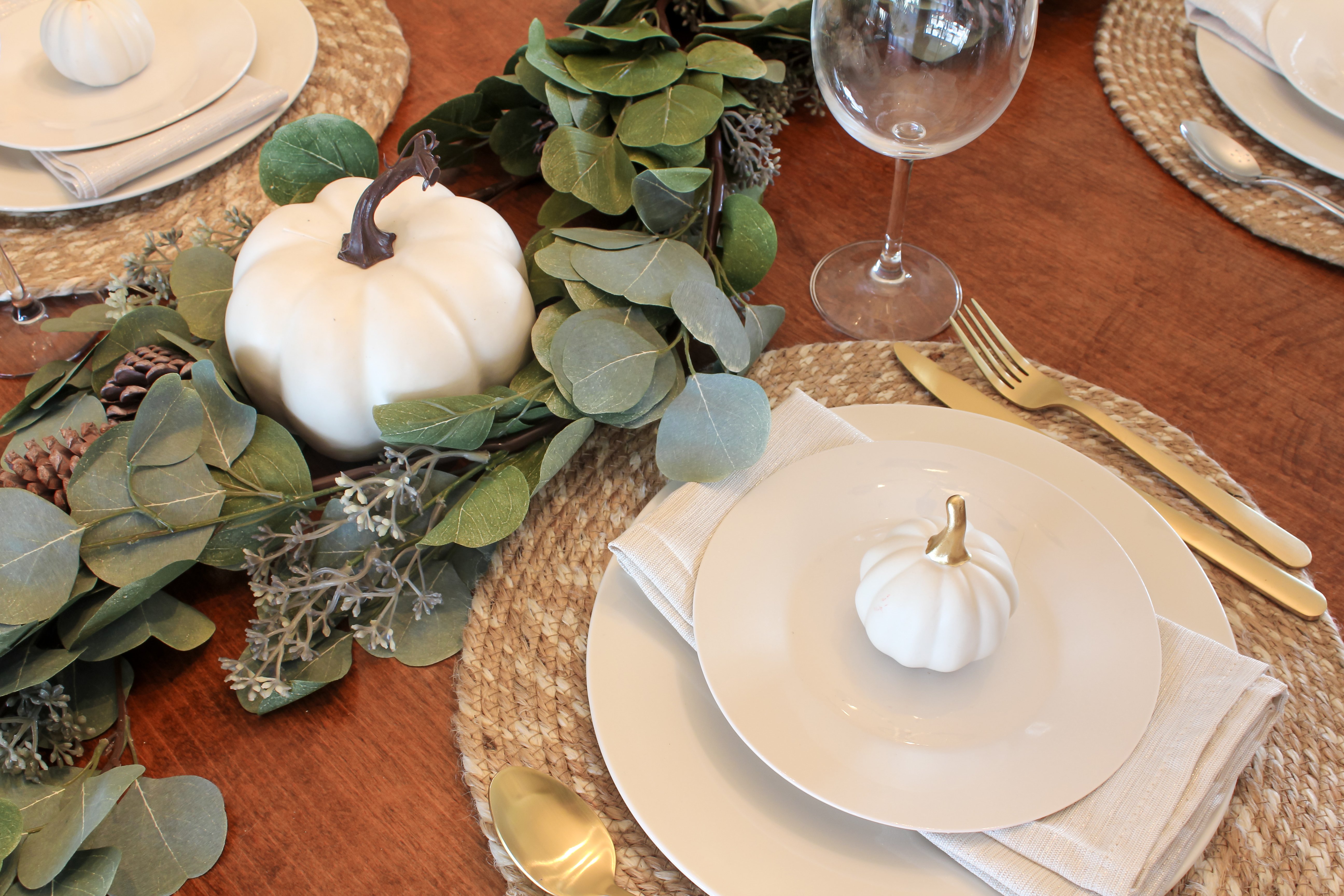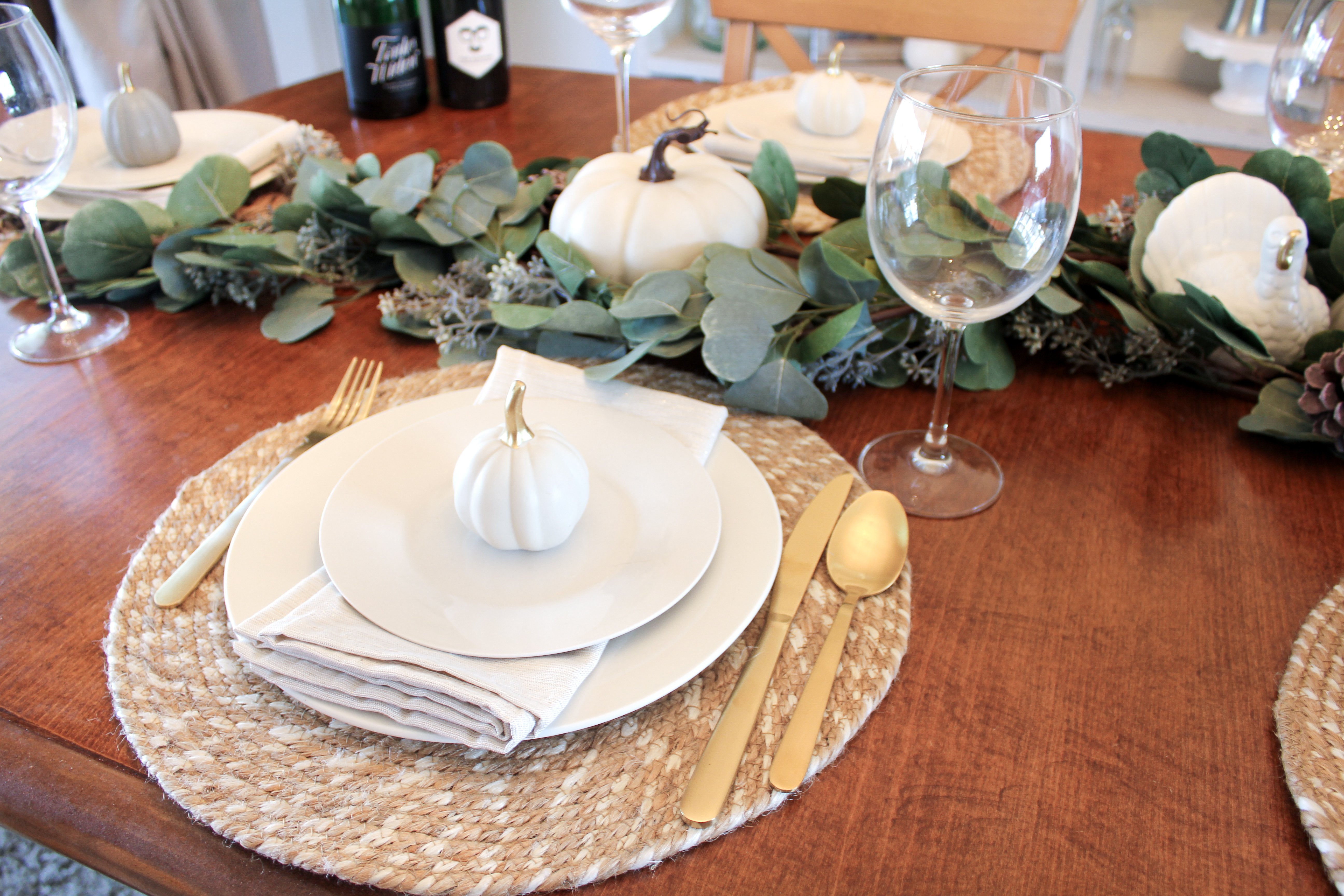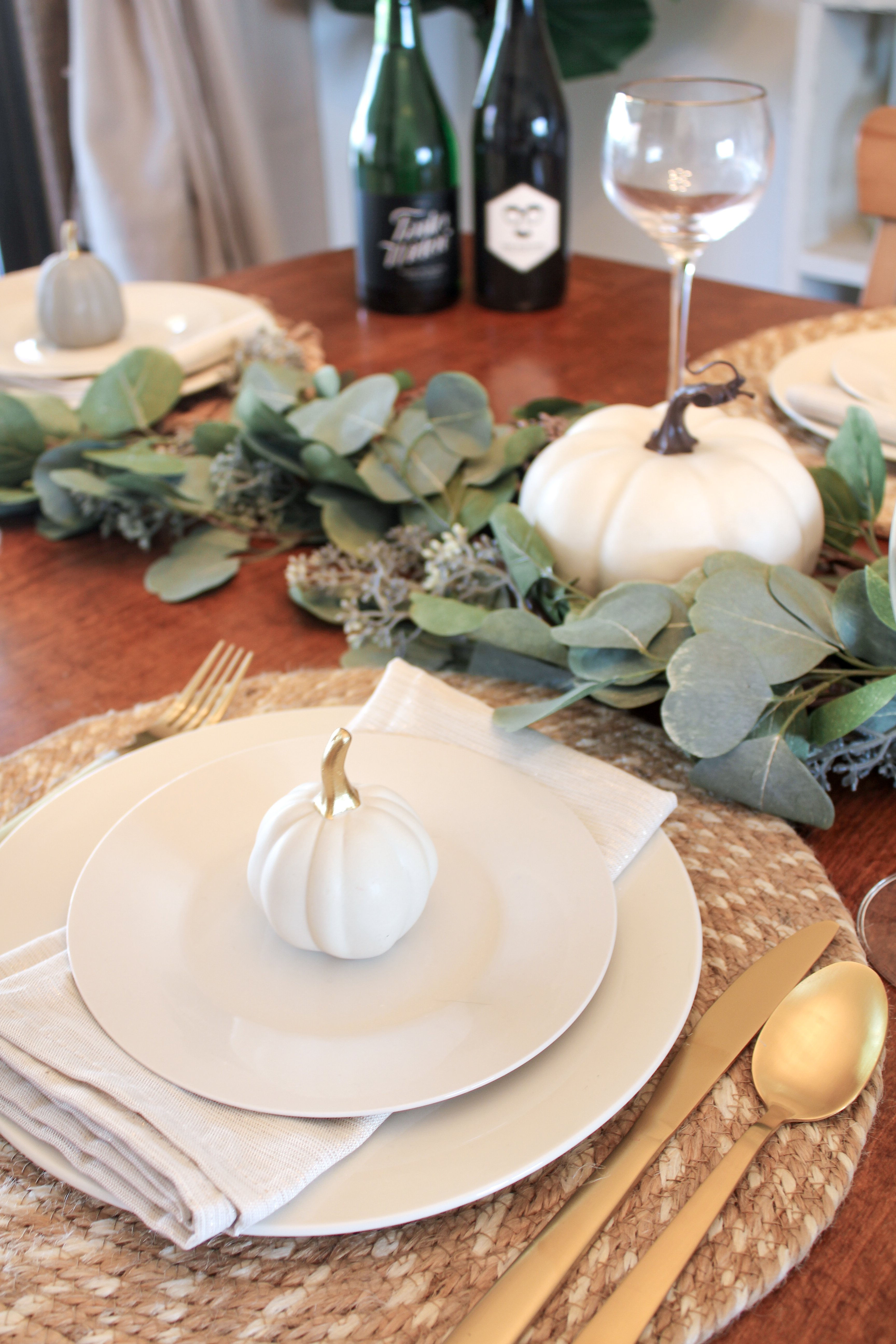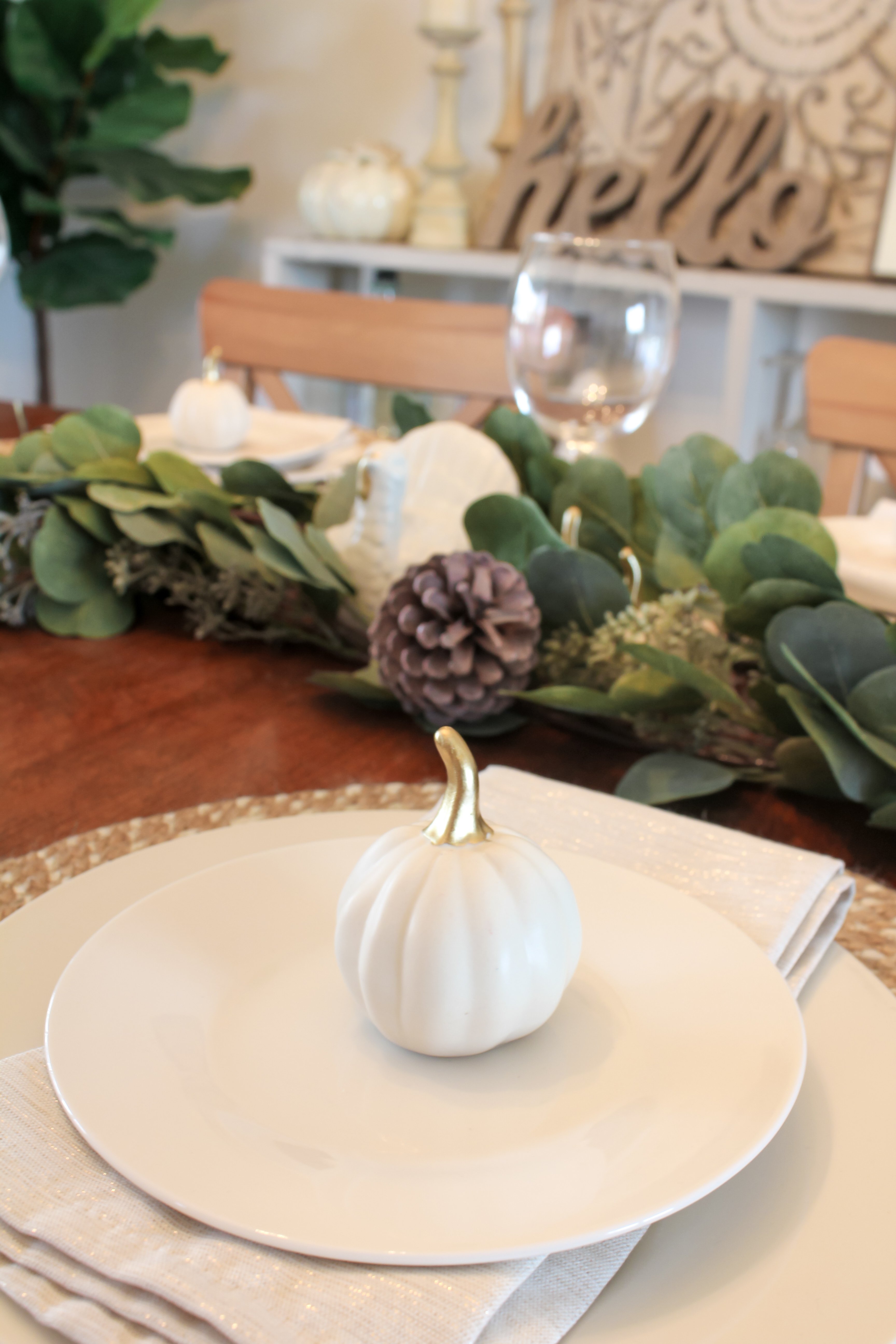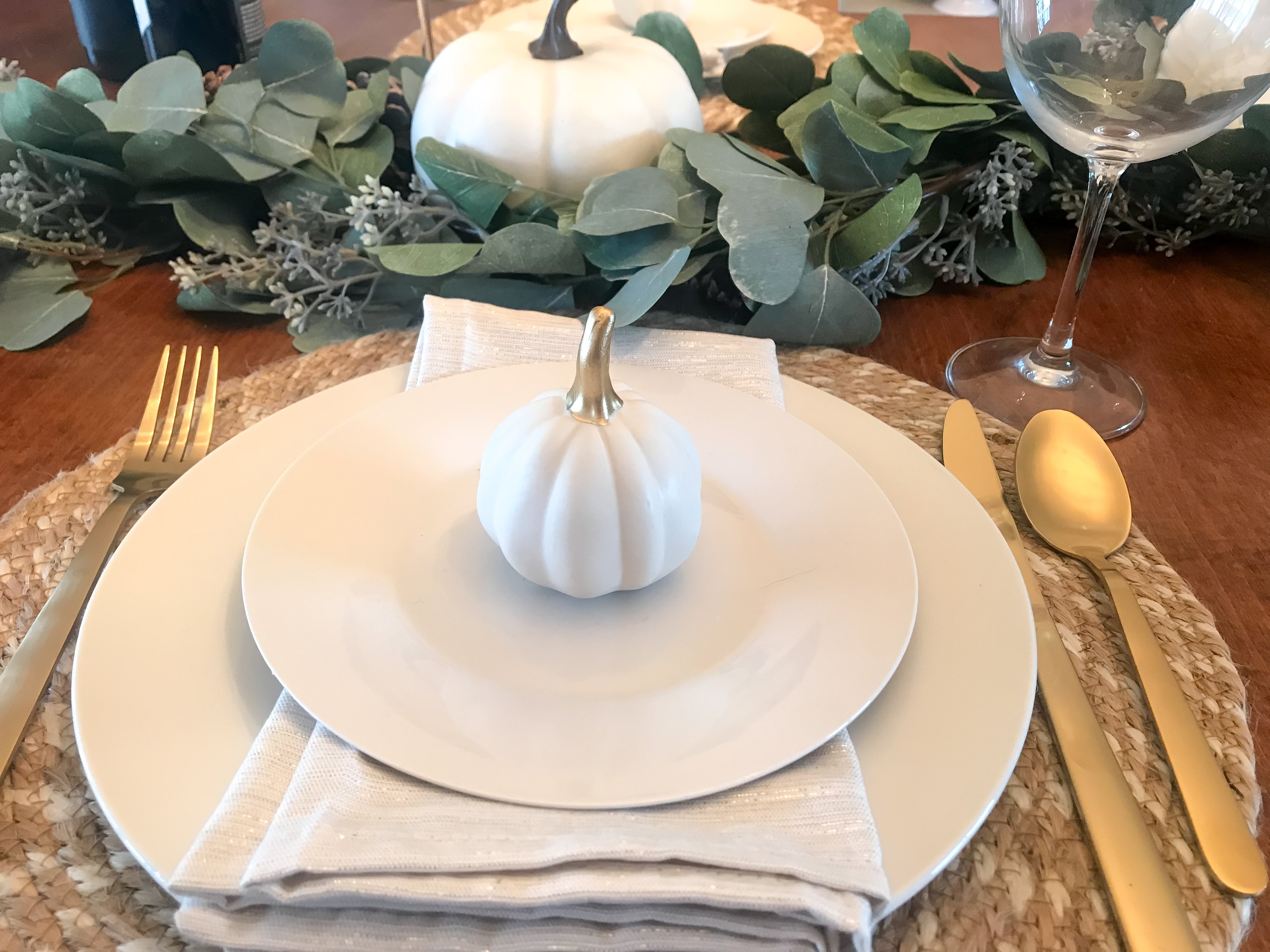 This was the easiest setting to put together, mainly because it doesn't involve a ton of pieces. If you have dishes, silverware and napkins, then you're already over halfway there! I found these amazing round wicker chargers at Hobby Lobby, which really inspired this whole neutral set up. I originally only found 3 of the woven wicker chargers at Hobby Lobby (similar here) and was on their wait list to be called when new ones come in, however two months had passed and they finally called and said they most likely wouldn't be getting more in. I was sad, but still wanted to incorporate these into my table set up, so I used two of them as chargers on the ends and found 4 place mats from Pier 1 that I thought matched them well and worked with the set up. I tried to find similar wicker chargers in stores, but couldn't find any in time for this post. I found super similar ones on Amazon that I should've ordered.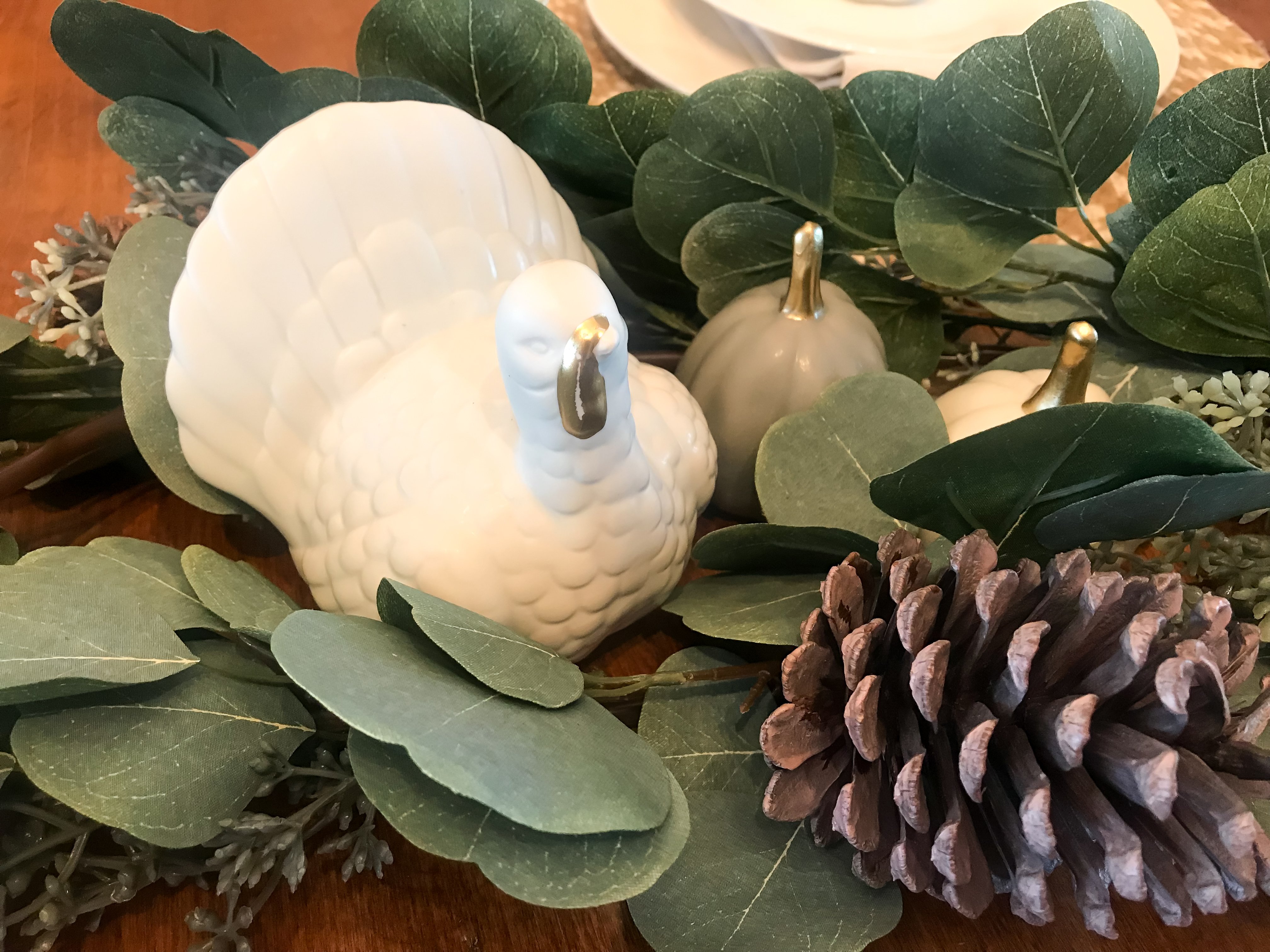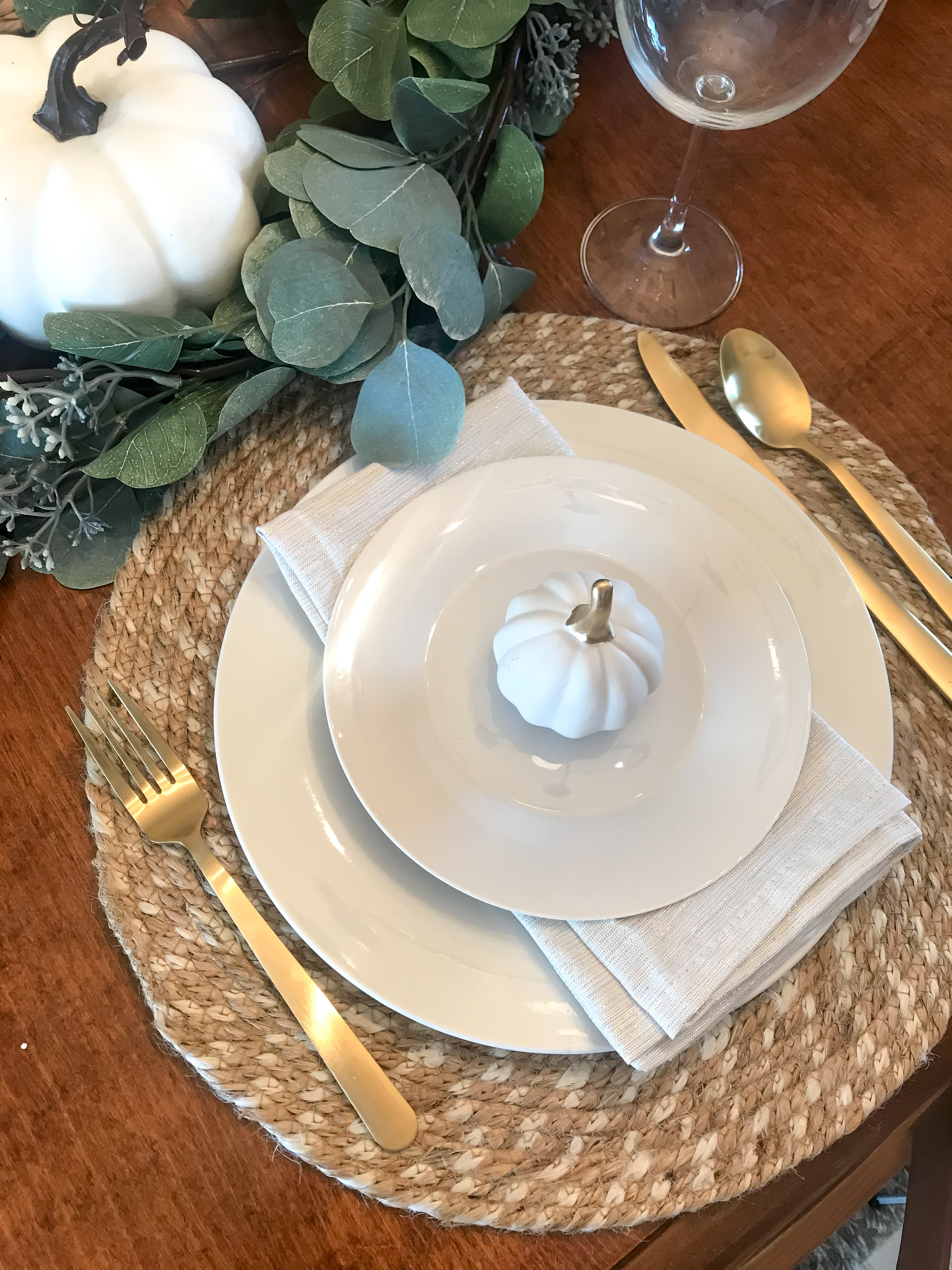 Since we have square plates for our everyday dishes, I had to buy some round plates to match the round chargers and place mats. I hit up the dollar store for the large and small plates! They have great quality plates and cups, and obviously you can't beat $1 per item! The napkins I used are a taupe shade with a hint of gold in them, so they can really go with any color! On top of the plates, I placed these mini ceramic pumpkins that I found in the dollar aisle at Target. They are the cutest! I didn't find enough white pumpkins for every plate, so I went with 2 grey (on the ends) and 4 white pumpkins for the plates. I LOVE finding little gems in the Target dollar aisle. Sometimes they're picked over, but I hit the jackpot this time! The best part of this whole setting is the eucalyptus garland, which I also found at Target. It wasn't in the dollar aisle, but it's still super affordable and from the Hearth & Hand collection! I used two pieces for this set up, however you can still get away with just one piece for this set up. I placed a few other pumpkins along with the ceramic turkey (all found in the Target dollar aisle) in with the garland for the perfect addition!
For the silverware, I was back and forth between the matte gold and the shiny silver set. Ultimately, I just left them off for the photos, but showing them both so you can see what they both look like. Which one do you prefer? I think I like the matte gold, but if I had more of a matte silver (which I just found out Target has), rather than shiny, I would probably go with that.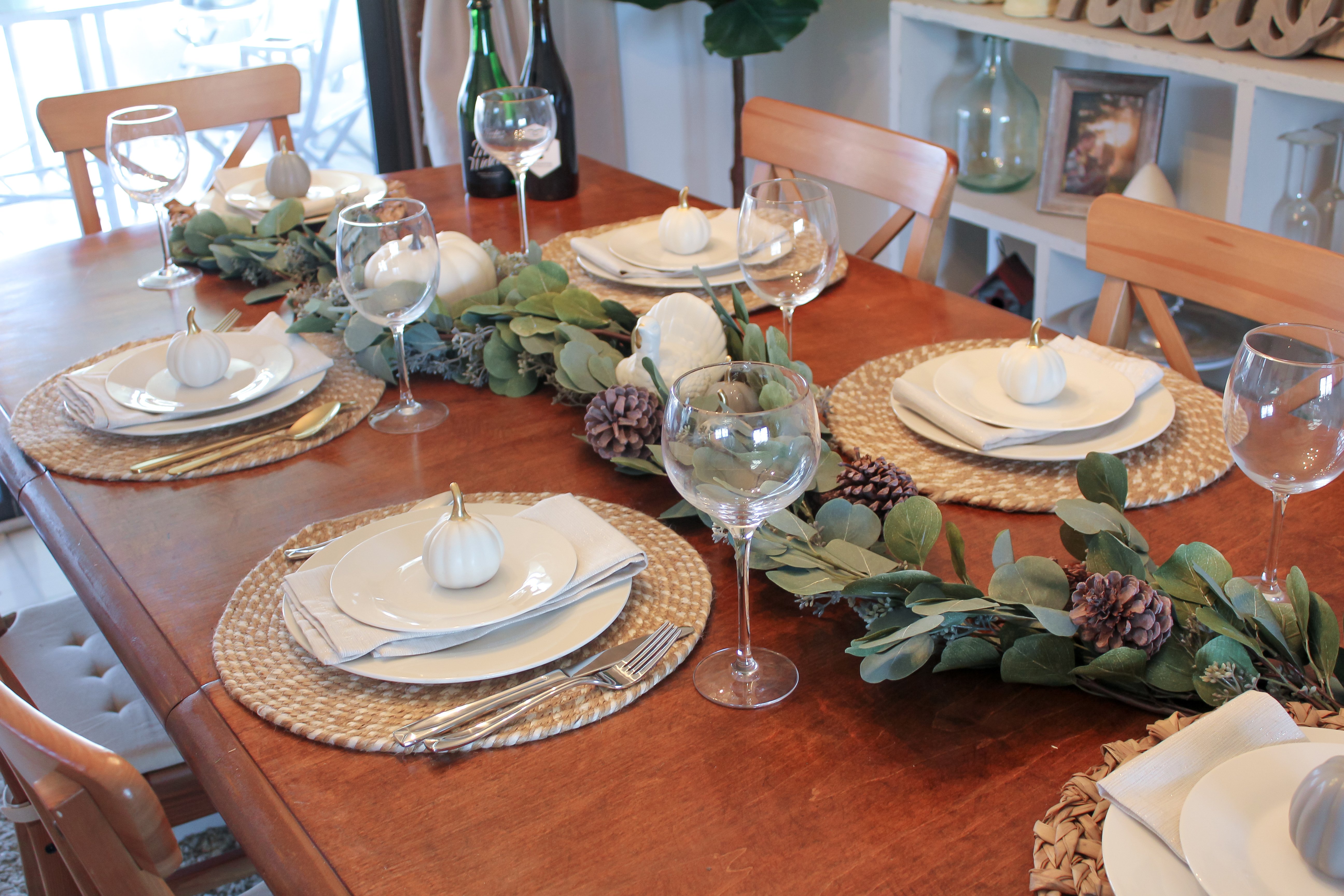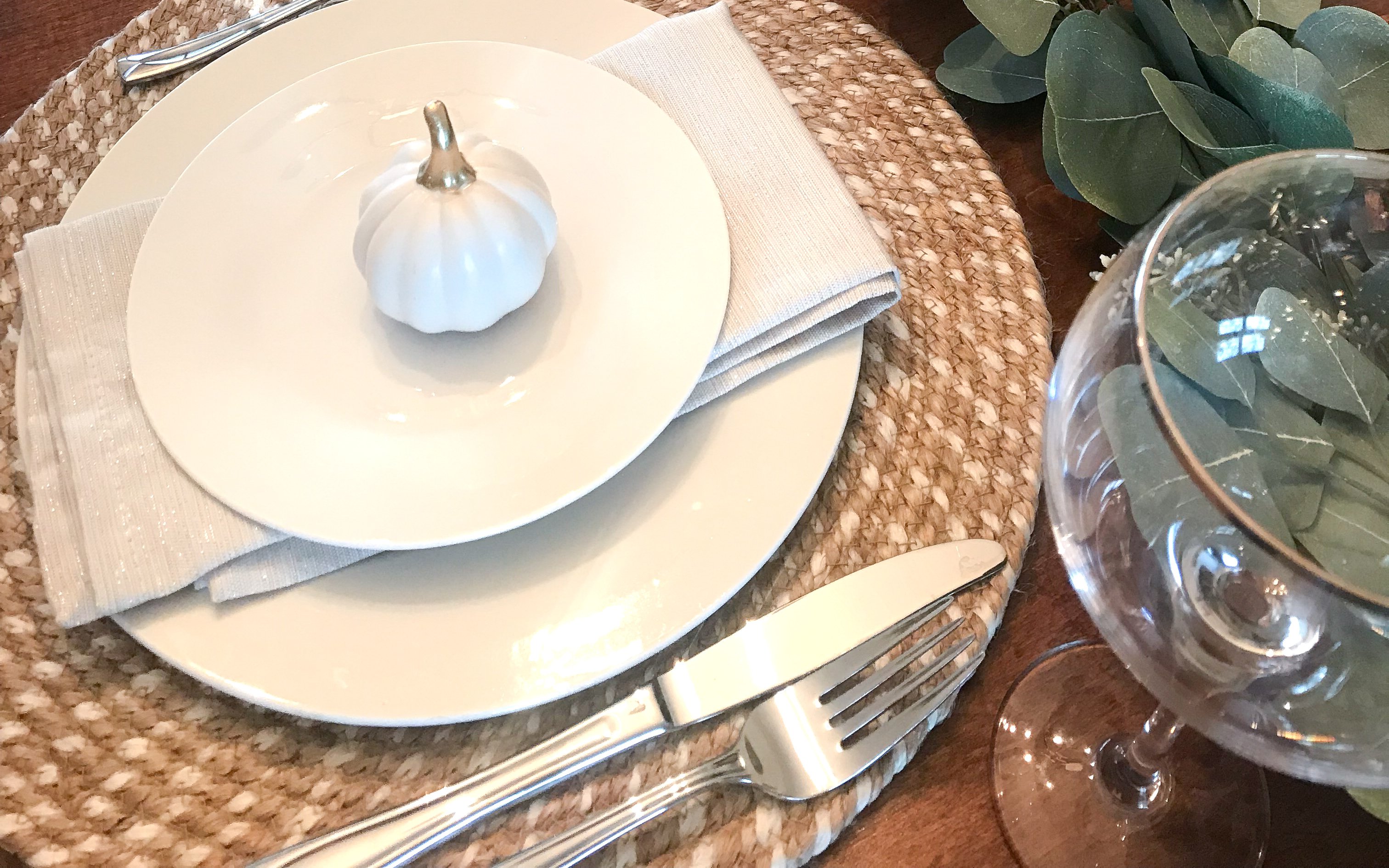 Another thing I love about this setting is that it's super easy to transition from Thanksgiving to Christmas by changing out just a few things. Eucalyptus can be used for any time of the year, but I especially love it in the fall and winter months. Should I share a Christmas table set up with this same garland next month?! Let me know in the comments below.
The Breakdown
Round Plates (6 large) – Dollar Store $1 each
Round Plates (6 small) – Dollar Store $1 each
Napkins (6) – Target (Already owned)$9.99
Woven Chargers – Found at Hobby Lobby (Similar HERE and HERE) $4 each
Woven Place Mats – Pier 1 – Currently Buy One Get One 50% – Off $4.50 each with deal
Small Pumpkins for plates – Target dollar aisle – (Similar HEREÂ or HERE) $6
Garland for Centerpiece (2) – Hearth & Hand at Target (Similar HERE or HERE) $22.99 each
White Ceramic Turkey – Target dollar aisle – (Similar HERE) $1
White Pumpkin on centerpiece – Target dollar aisle – (Similar HERE) $1
Wine Glasses – Target $12.99
Matte Gold Silverware Set – Target (Already owned bought on sale for $20)
Silver Silverware Set – Target (already owned)
Overall I spent under $100 on this whole set up. Some of the items I already owned and some of them were purchased new for this set up! If you already have the plates, silverware, drink ware and napkins, adding everything else only costs between $50-$75 depending on how many pieces of garland you purchase. I wanted to spend more money on the centerpiece rather than the other small details because the garland/centerpiece is the focal point! The little additions to the centerpiece were affordable, yet made the garland look more expensive. Shop all of the items and similar items by clicking the images in the slider below!

Don't Forget the Wine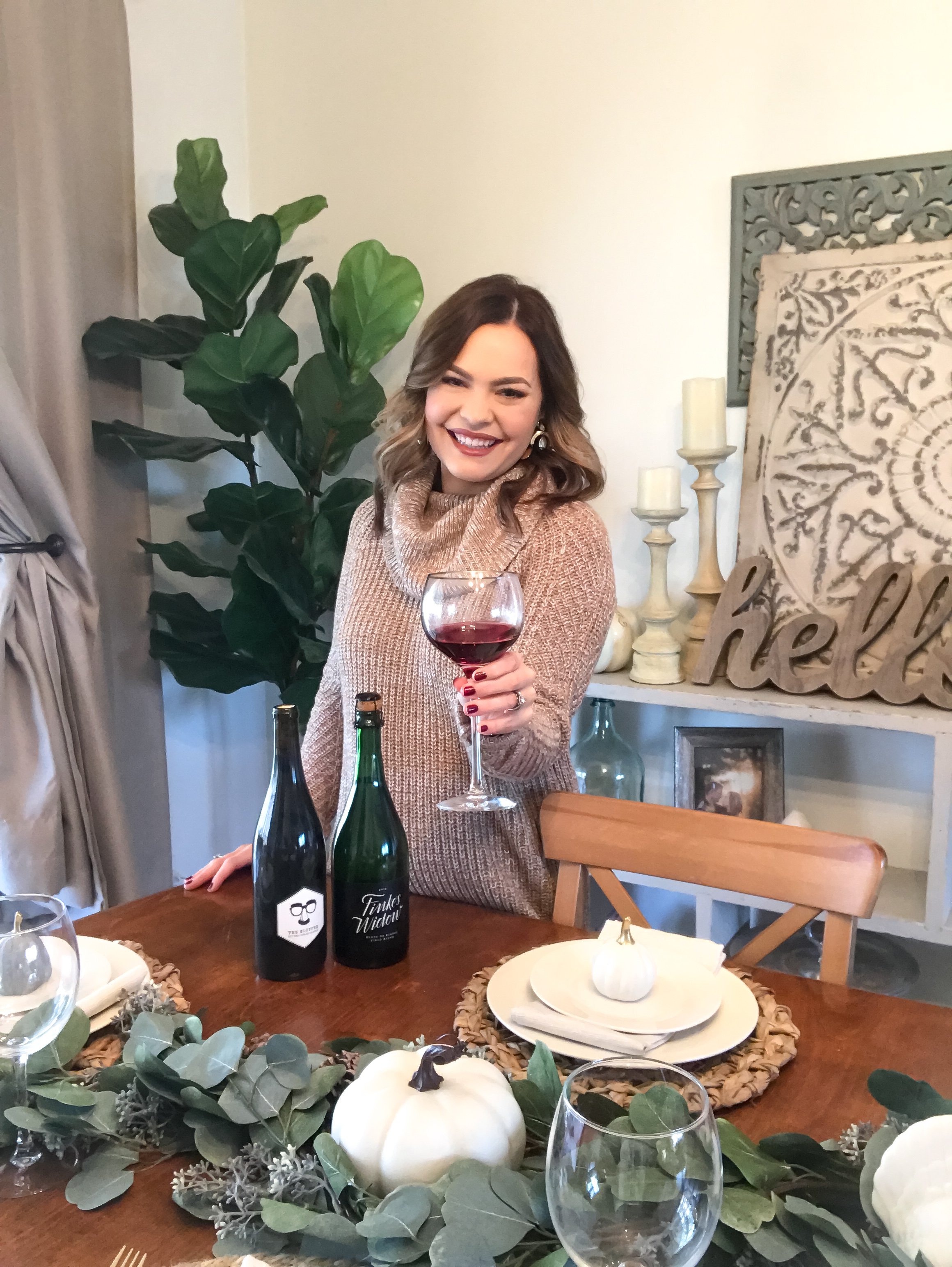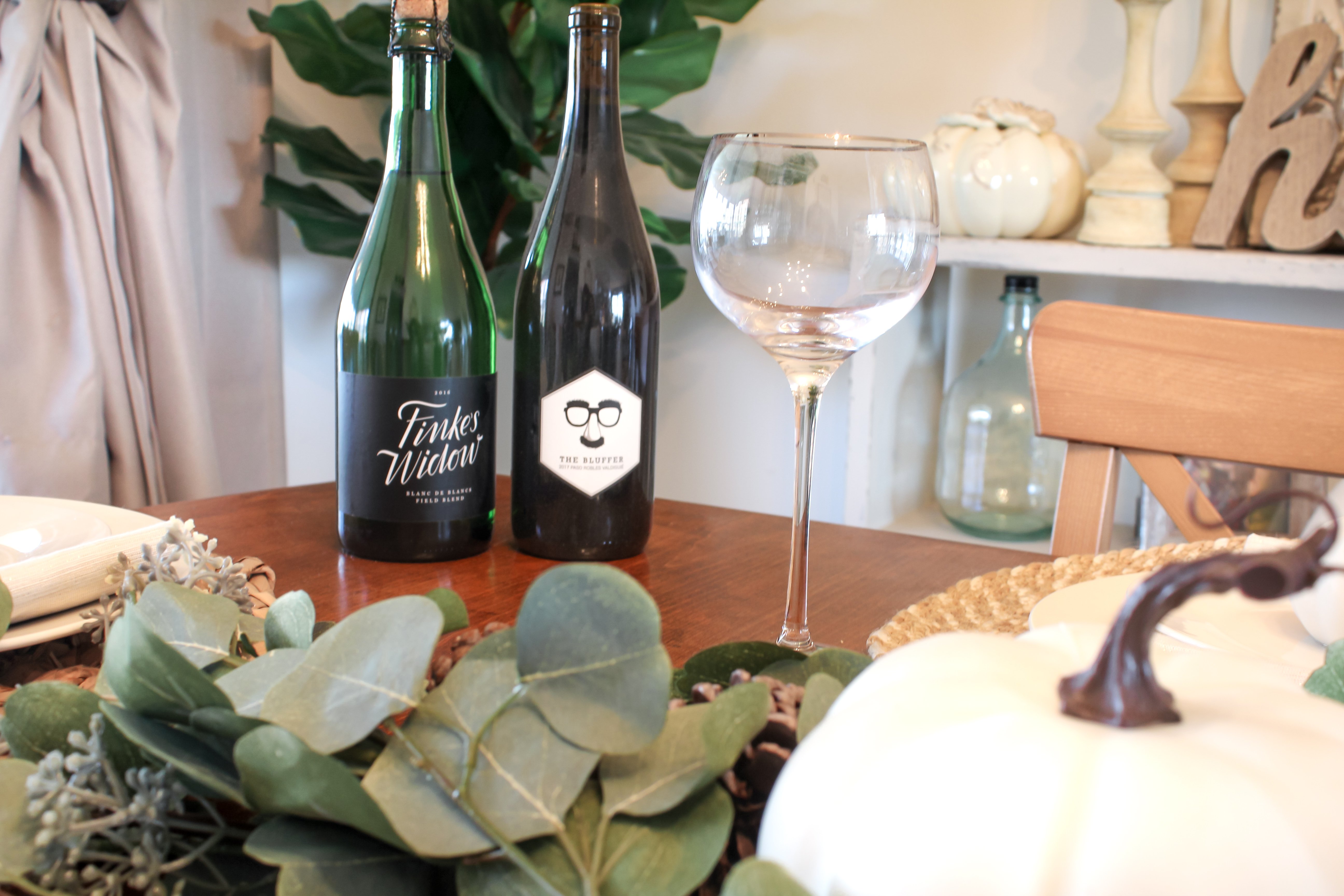 A Thanksgiving wouldn't be complete without wine! I got these wines from Winc. I've shared Winc in the past, but if you missed me talking about it, Winc has a wine subscription (who doesn't want a subscription for WINE?! haha) and they pick bottles for you, or you can pick for yourself! It's very customizable and tailored to your likes and schedule too! I have enjoyed every bottle I have received from them! You can get $20 off your first winc membership order right now too! Get one for yourself, or gift it for the holidays!
Thanks for reading friends! Don't forget to let me know below if you liked the silver or the gold silverware with the table setting AND let me know if you want to see a Christmas table setting next month? I have also started on my Holiday Gift Guides and have a whole tab dedicated to them just as I did last year. You can find my Holiday Decor Favorites already ready to go!
Also, don't forget to check out my girl Ashley's Thanksgiving Table on a Budget, especially if you want more color for your table!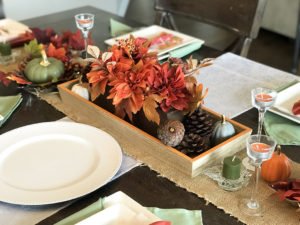 Thanks for reading! Until next time,
---