Happy Wednesday! Who's ready for Thanksgiving tomorrow?! Are you more excited for all of the yummy food and spending time with family, or all of the sales around the holiday? Be sure you're subscribed to my blog so you get notified of the upcoming sale posts coming your way! Today's post is another Amazon Haul!! I love doing these hauls/try-ons because I'm basically doing the work on finding the best pieces at the best price so you don't have to!!
I filmed a try on on my YouTube channel and have also collaborated with my friend Bri (Brianna Fox) on YouTube. She is sharing her Winter Outfit Essentials, PLUS we are doing a giveaway that only goes through the end of the day on Thanksgiving, so be sure to check the videos out and enter if you'd like. More details at the bottom of this post.
Cozy Pullovers
 
Grey/Black Fleece Pullover – this is so warm and fuzzy! I love the snap buttons and the quilted detail. I ordered a size M and it fits perfectly!
Grey Sherpa Pullover – I got mine last year, but wanted to share an Amazon dupe!

Cardigans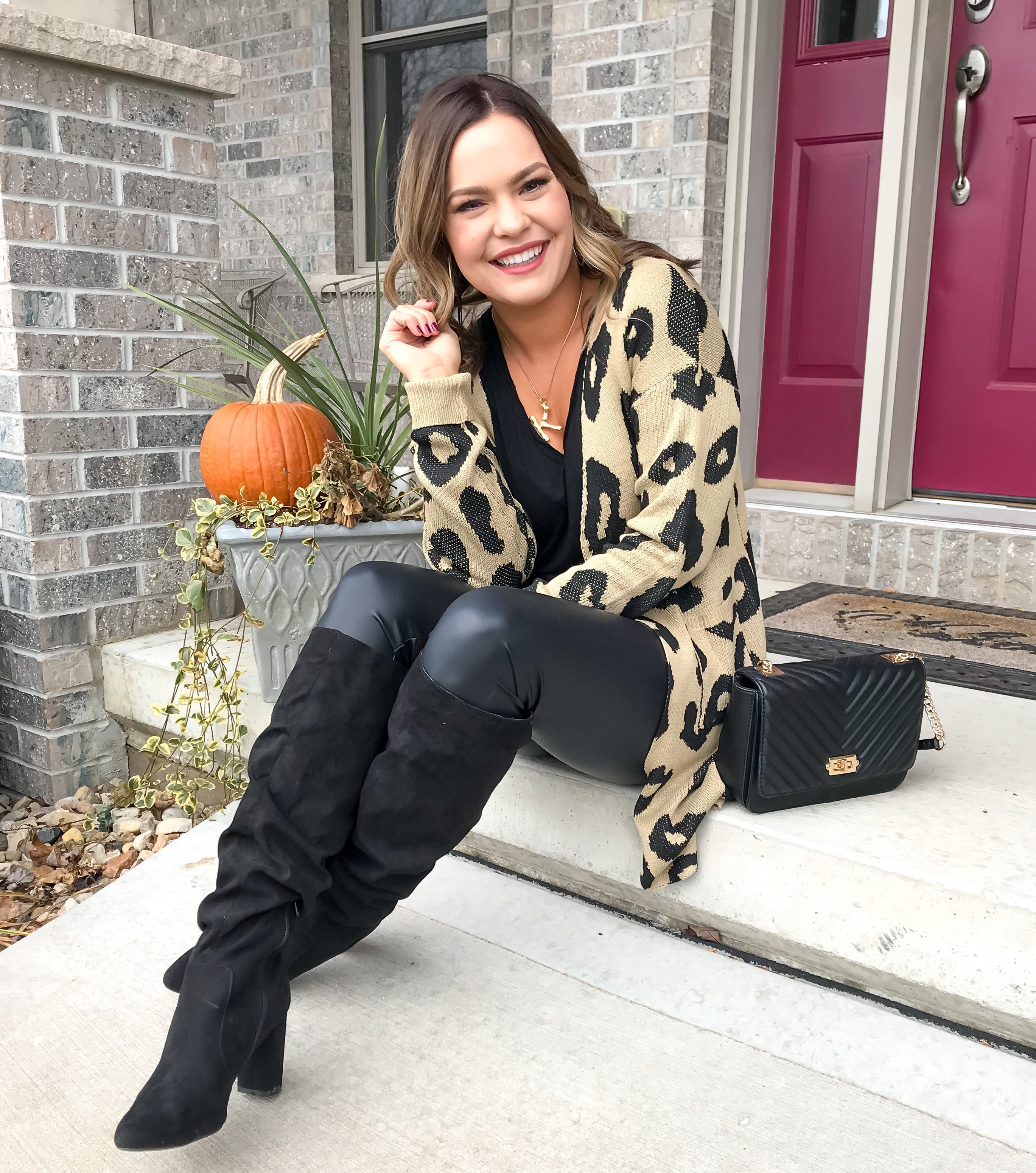 Grey Cardigan – this cardi looks a little different in person than online. It is not as thick as you'd think, but it's lightweight and I love it! I love the sleeve and pocket details, especially the poms. I ordered a size medium and it's a perfect fit, not too oversized.
Leopard Cardigan – I shared this guy in a blog post last week and have been loving it! The length is great, nice and long and the material is thick! Definitely worth the price! True to size.

Outerwear
 .  
Teddy Coat – This coat was not as pictured. It looks and says it's an oversized fit, but I purchased one size up and it's definitely not an oversized fit. I ended up returning this and ordering two sizes up instead!
Knit Beanie with Faux Fur Pom – This is the perfect winter hat! It is fleece lined and the faux fur pom is the cutest!

Accessories + Other



Racerback Bralette – Slightly padded and fits comfortably! True to size!
Gold Letter Necklace – I love the bamboo/wooden detail and the bright gold color! I'm wearing it with the leopard cardigan above too, as well as in the video.
"Fucci" Belt – One of the best dupes ever! Looks so similar to the real thing!

Shoes



Grey Ankle Boots – Suede detail with a thick, block heel! I love the dark charcoal color with the black heel. The mesh allows for a little bit of breathing room, but still keeps your feet from freezing. True to size.
White Mules -Â  These may not be the best fit in the warmer months if you live in the midwest, but I just love them! They come in black too and are true to size. I love the gold buckle detail and they're very comfortable!
Red Hunter Boots – I shared a post on these last month on how I found these for super cheap, but they also sell these on Amazon for a decent price, plus you can't beat the two day shipping with Amazon Prime!

Try On Haul
In the video, I also mentioned my cross front sweater that was shared in my previous Amazon haul.
---
GIVEAWAY DETAILS:
The giveaway is on our YouTube channels and runs through 11pm CST on Thursday 11/22/18. Winner will be announced on IG stories on Friday 11/23/18. One winner will receive the Black Belt with fake Gucci logo, Mother of Pearl Earrings,  and a MorrocanOil Everlasting Hydration Set.
HOW TO ENTER
1. Subscribe to both of our YouTube channels:
My Channel
Brianna's Channel
2. Follow both of us on Instagram:
https://www.instagram.com/itsmekelsie22/
https://www.instagram.com/briannafoxm…
3. Comment on both of our YouTube videos with your IG username.
Brianna's video
My video
*BONUS ENTRIES:
Subscribe to both of our other YouTube channels:
Kelsie's Second Channel
Brianna's Second Channel
Additional bonus – Follow us both on the Liketoknow.it app
Kelsie's LiketoKnow.it page
Brianna's LiketoKnow.it page
This giveaway runs through 11pm CST on Thursday 11/22/18. Winner will be announced on IG stories on Friday 11/23/18.
Black Belt with "Fucci" logo
Mother of Pearl Earrings
MorrocanOil Everlasting Hydration Set
---
That's everything! I hope you guys enjoy these round ups and I hope to continue doing these in the future!
Thanks for reading/watching!
---