Happy Friday loves! If you followed along on my Instagram this past weekend, you know that I surprised my husband BIG TIME with a trip to Florida for his 30th golden birthday! Not only was it a surprise to Florida to golf, it came with many more surprises along the way! More details below, but I also wanted to share the details of our trip and where we stayed in Florida! I will be traveling a TON this year so I can't wait for all of the upcoming travel posts! You can find past travel posts, along with this one all in one spot too under my TRAVEL category on the blog! Now, let's get into this post because it's going to be a lengthy one, plus you won't want to miss the video of the surprise!
Surprise OVERLOAD
It took a lot of planning, but all of the surprises worked out! My husband, Conor's birthday fell on a Wednesday this year. His surprise wasn't until Friday, so I decided to do three separate gifts leading up to the big surprise. I went back and forth on which order to give the gifts, but ultimately decided to start with a luggage tag on his actual birthday.
Gift #1: Luggage Tag
I found the cutest luggage tag on Etsy. The luggage tag had mountains on it, so I knew it would potentially throw him off to where we were going.
Gift #2: T-Shirt
Thursday's gift (gift #2) was supposed to be a hint, but it really didn't hint to much. I found the best t-shirt for him that says Legendary since 1989 – also found on Etsy & you can get them in a few different colors and then all you have to do is choose the year for the shirt. D
Gift #3: Personalized Golf Ball (The BIG Surprise)
Day 3 was the day we were leaving & I had to give him his last gift early in the morning, so he knew where we were going and how to pack. I wanted a fun way to tell him where we were going so I chose to get a personalized golf ball that said, "Conor's Dirty 30 FLORIDA" on it. (I got enough for everyone that was coming too!) He was so surprised when he saw Florida!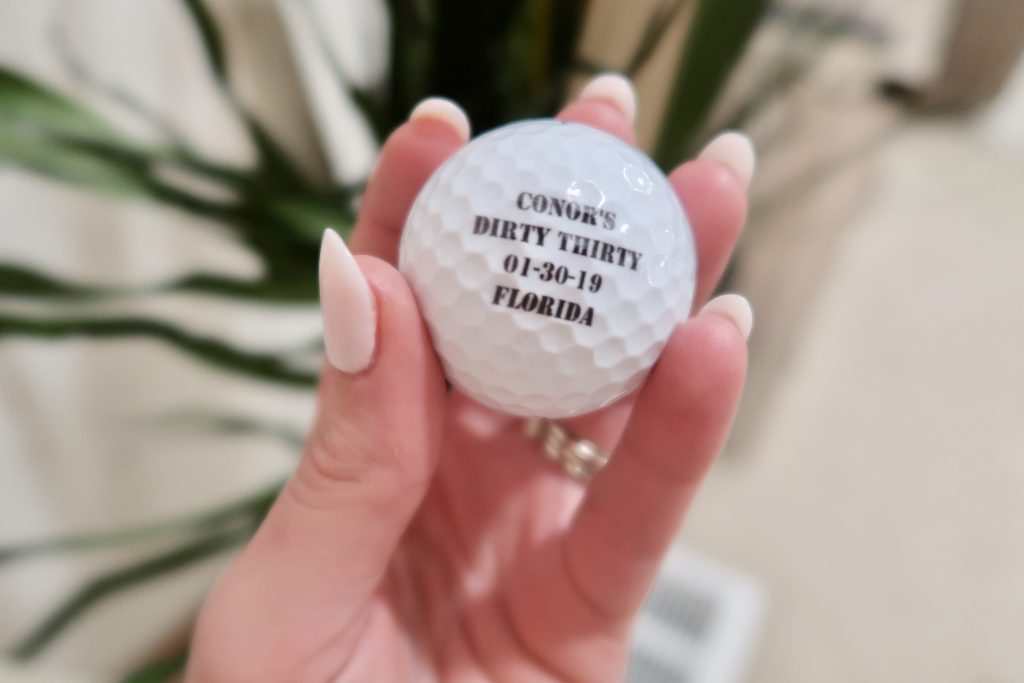 Use the code "FAV18" for 10% off any personalized gifts from this Etsy shop!

At this point, Conor only thought him and I were going to Florida together. Little did he know what more was to come…
Once we got to the airport in Madison, two of Conor's friends were in the terminal to surprise him. It worked out that each of them surprised him separately (you can watch on the video below) – and he was super happy! He thought for sure it was the last surprise, and knew nothing about what else was to come!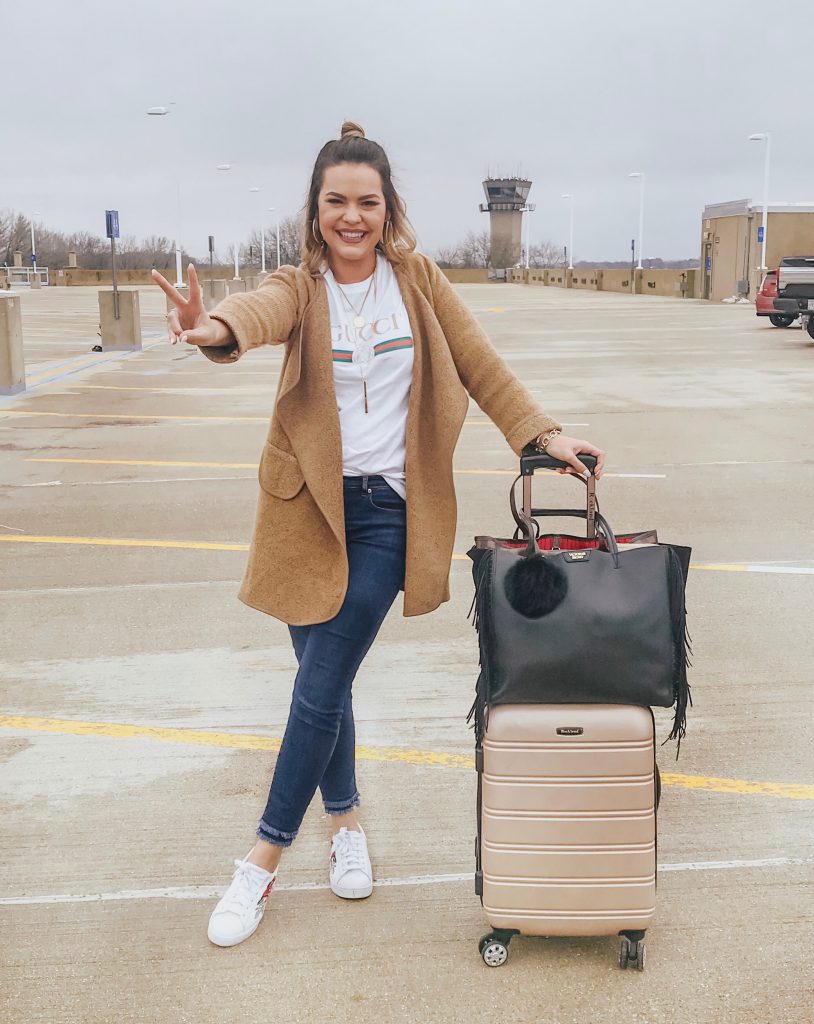 Lapel Jacket | Gucci Top (Similar ) | Jeans | Shoes (Similar) | Luggage
Arriving in Florida
We flew to Florida with his two friends, arrived at the airport and ended up at our AirBnB later that evening. Around 11pm, the next round of friends showed up at the door – three more people. It ended up that Conor was in the other room when they arrived so I hurried them inside and when he came out he was in utter shock!!! He had to have thought that was the last of them, the surprise wasn't over yet! About one hour later, his friend Matt (best man in our wedding, who lives in Utah) arrived and came through the back door so casually, and again, Conor was in shock!! We pulled it off and it couldn't have gone any better!! Watch the video at the end of the post for the unfolding of surprises!
Although the weekend was quick, we had the best time! I also got to hang with my bestie, Ashley (who also happens to be one of Conor's good friend's wives) – she is also a blogger and shared a blog post on the trip too!! It was great to have us ladies go off on our own while they golfed and did guy things.
Below, I'm sharing a little travel guide for the area! I've been loving sharing lots of travel on the blog over the past year and cannot wait to share more with you over this year. So many trips coming up!!! Woot
Cape Coral/ Ft. Myers Travel Guide
Cape Coral and Ft. Myers are right next to each other in the southwest part of Florida. We flew into Ft. Myers and the majority of our trip was spent in Cape Coral, with one afternoon/evening in Ft. Myers. Below I'm sharing details on my trip, along with suggestions from friends/family in the area!
Where we Stayed in Cape Coral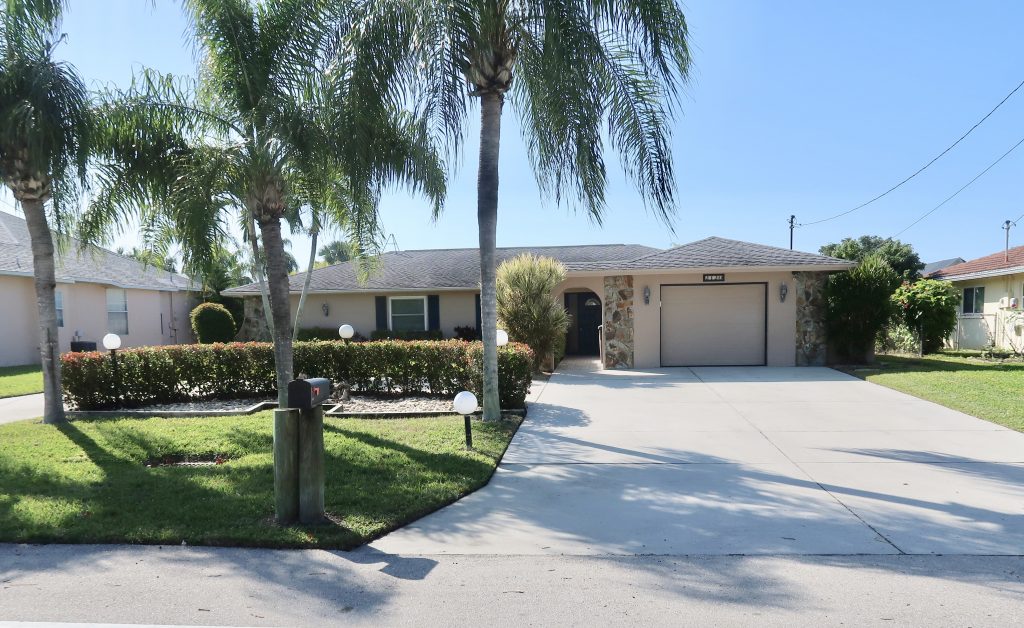 Our Airbnb
This was my first ever Airbnb experience. I've done VRBO before, but never AirBnB. Many friends of mine suggested it, so I figured I would give it a shot! As much as I love hotels and resorts, for this trip I wanted something a little more private and wanted a pool to ourselves. I found a ton of great deals in the Cape Coral area, but the one we chose had everything I was looking form, including a hot tub!
I was told that there really isn't any part of Cape Coral or Ft. Myers to avoid as far as Airbnbs or hotels, and that any area would be great however, being on or nearest to the water was highly suggested!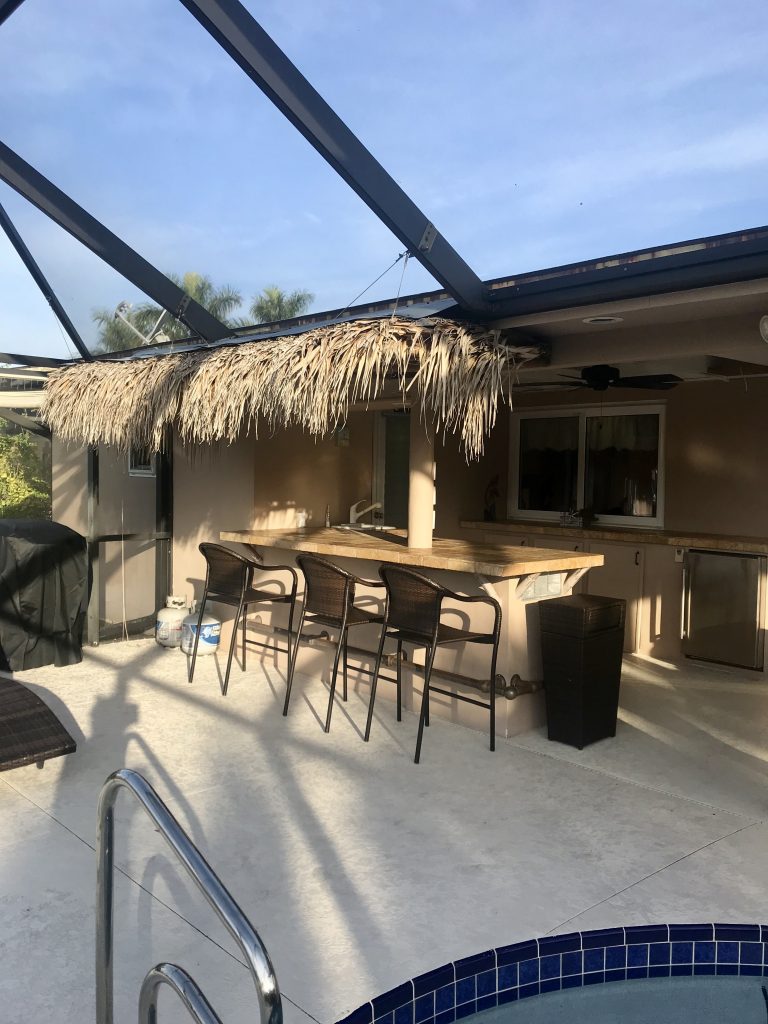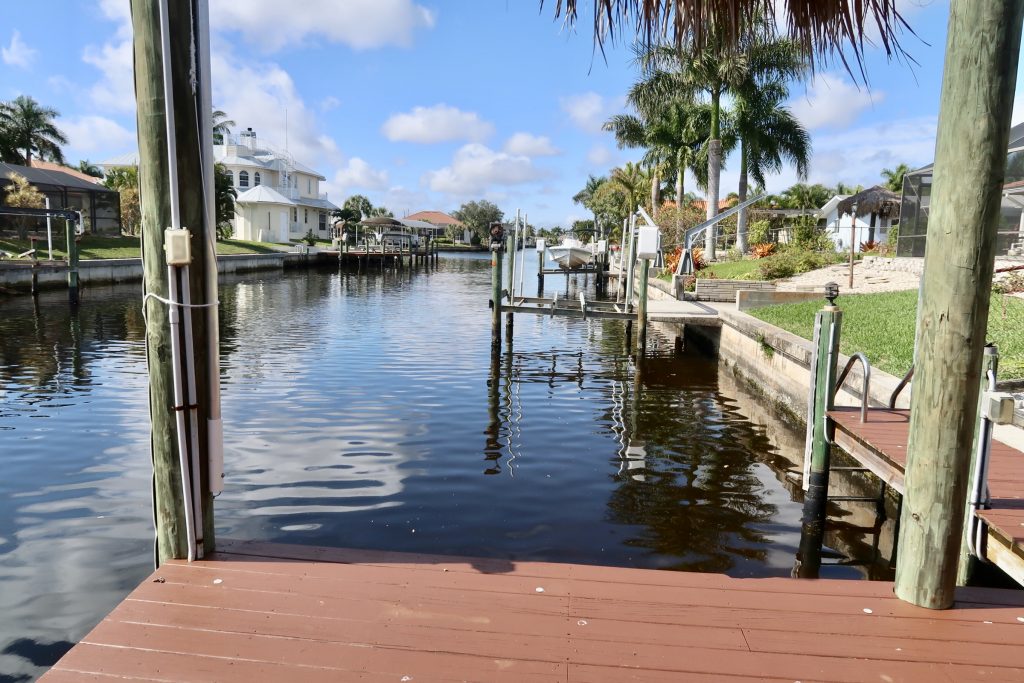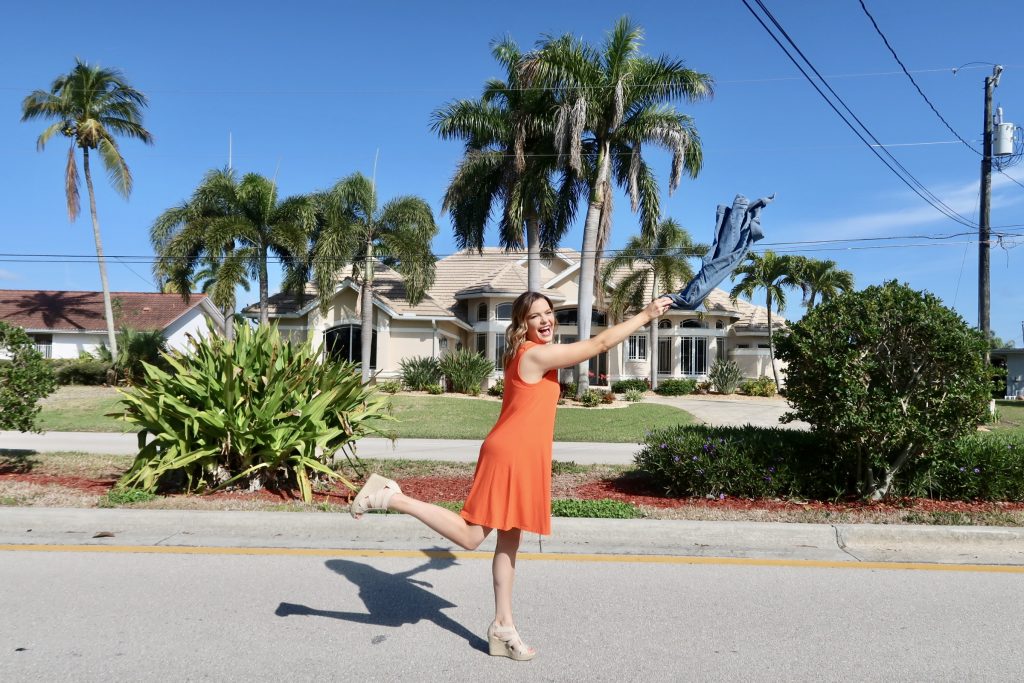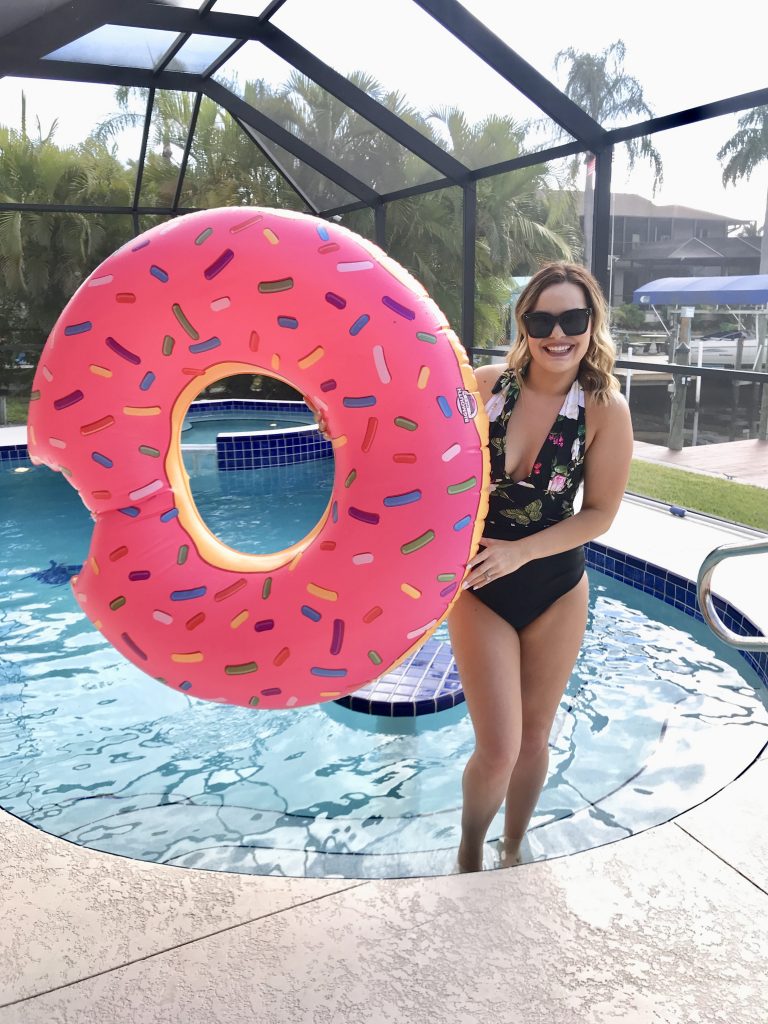 Butterfly/Floral Swimsuit | Colorblock Swimsuit | Donut Floatie
I also did a whole swimsuit try on with a ton of affordable options on my Instagram stories – saved under my Highlights!
Our Airbnb was located right on a canal and had the best view from the dock! It was located in the cutest neighborhood too with some amazing homes in the area! Ashley and I walked around the area one of the days and got to see some other amazing homes!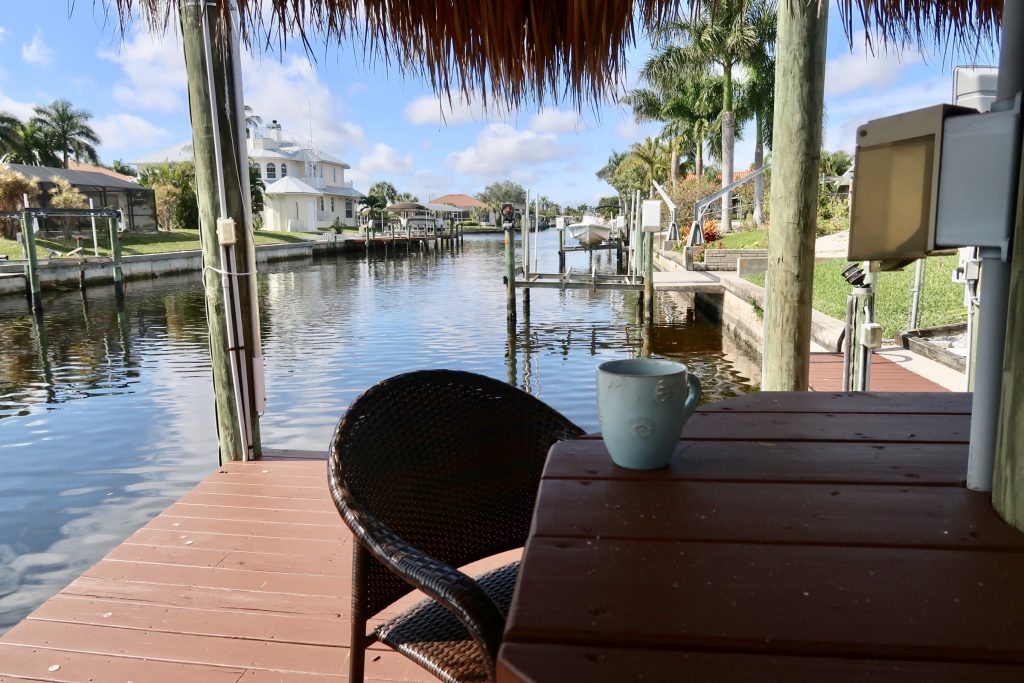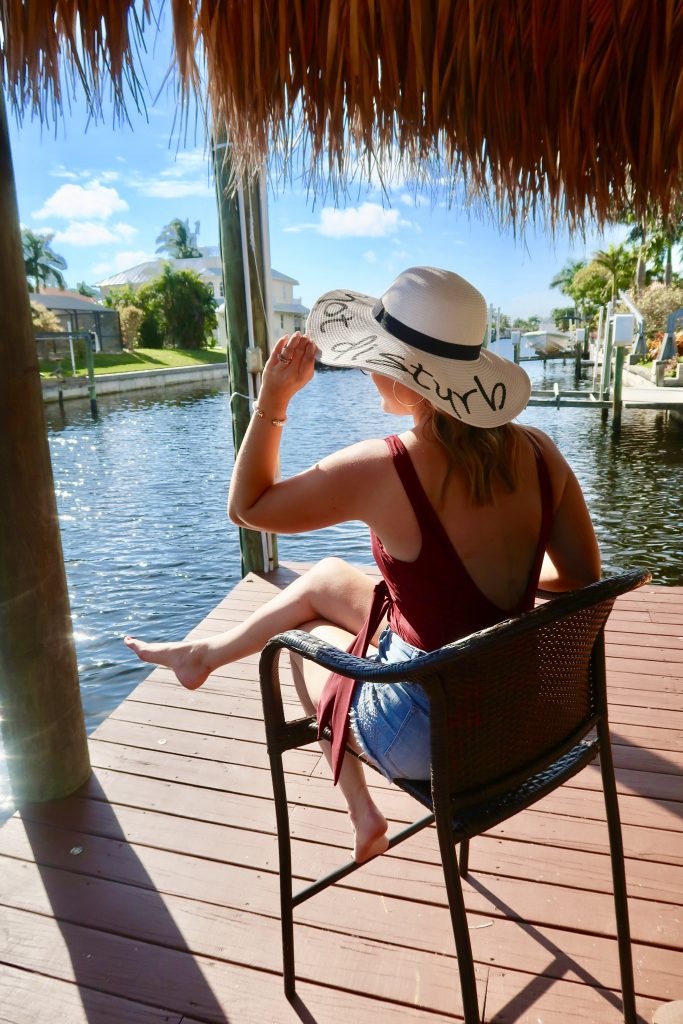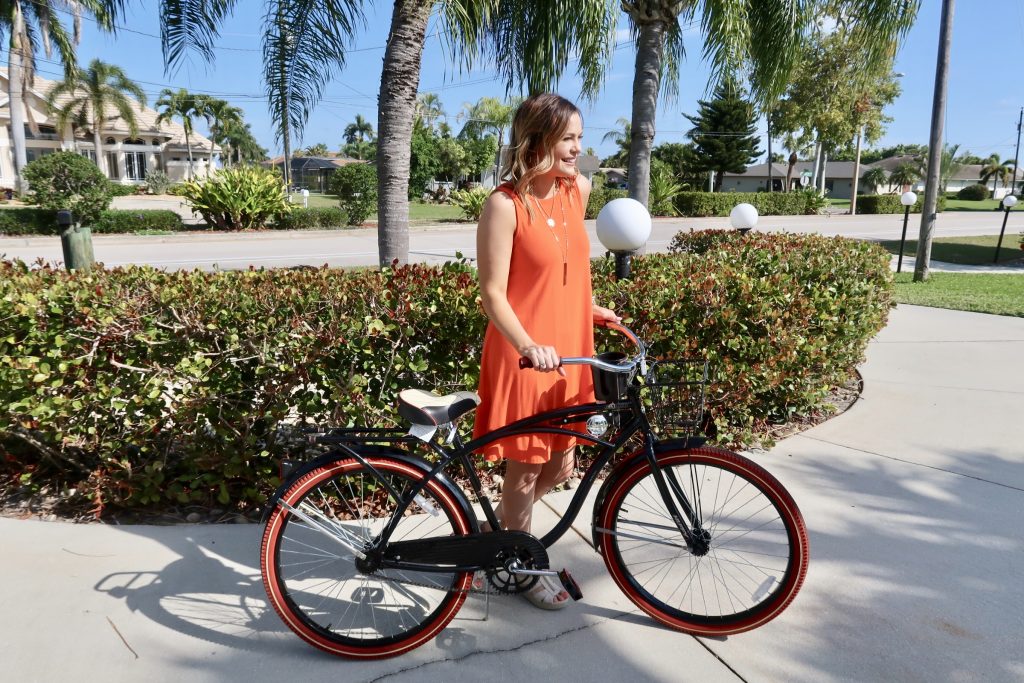 You can search the Airbnb website for more Cape Coral rentals, plus you can get $40 off your home booking with THIS LINK! I was thinking of doing a pros and cons of Airbnb's on this post, but since it's so long, I'll save that for future posts! If you'd like to hear about it, let me know in the comments below!
Another suggestion for where to stay that is NOT an Airbnb is the Westin in Cape Coral. I LOVE Westin hotels and have never not liked my stay there, so I'm sure it would be great!
Where we Ate in Cape Coral + Suggestions from Locals
Ashley and I wandered around on Saturday and found ourselves at Fins Dive Bar. It was the most colorful restaurant and we sat outside on the patio! Ashley got Mussels that looked sooo yummy and I got their gulf shrimp pressed burger – it was literally just a bunch of shrimp pressed into the shape of a burger. I got it with no bun, but still opted for the fries because carbs don't count on vacay, right?! The aoili it was served with was also super yummy! We split the crab cakes too for an appetizer and we both loved them!!!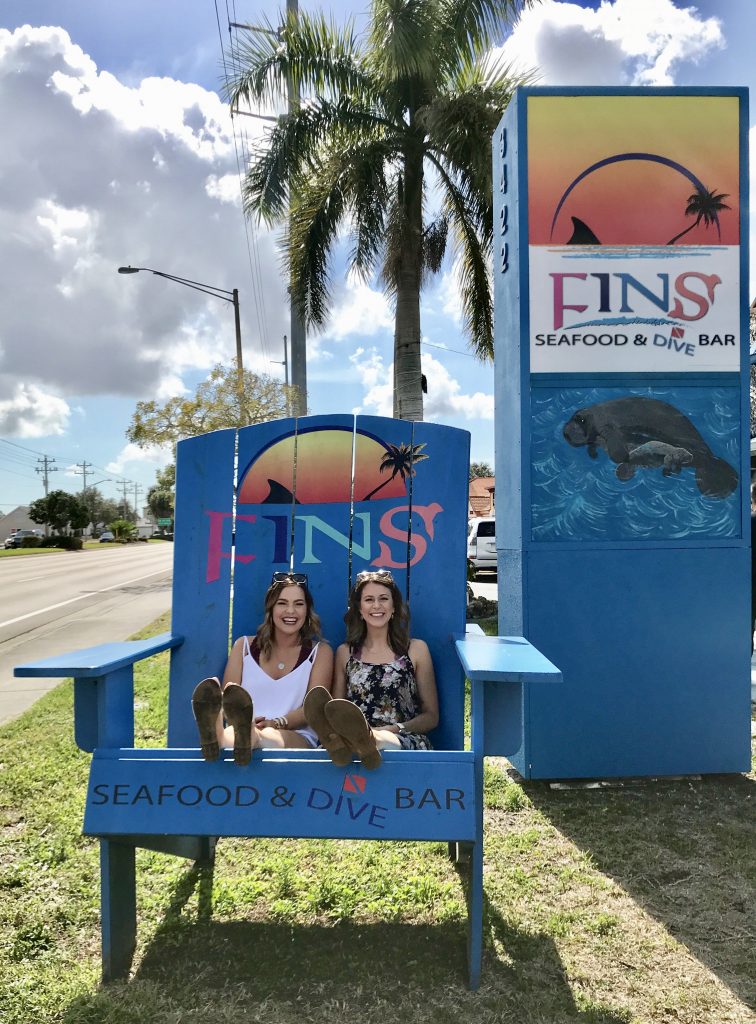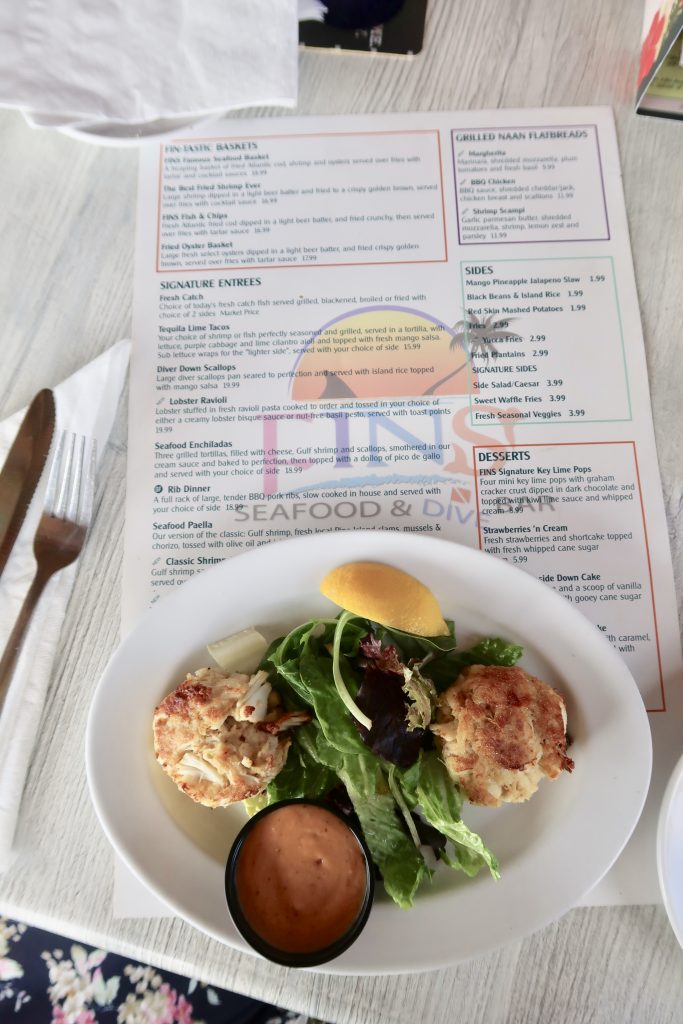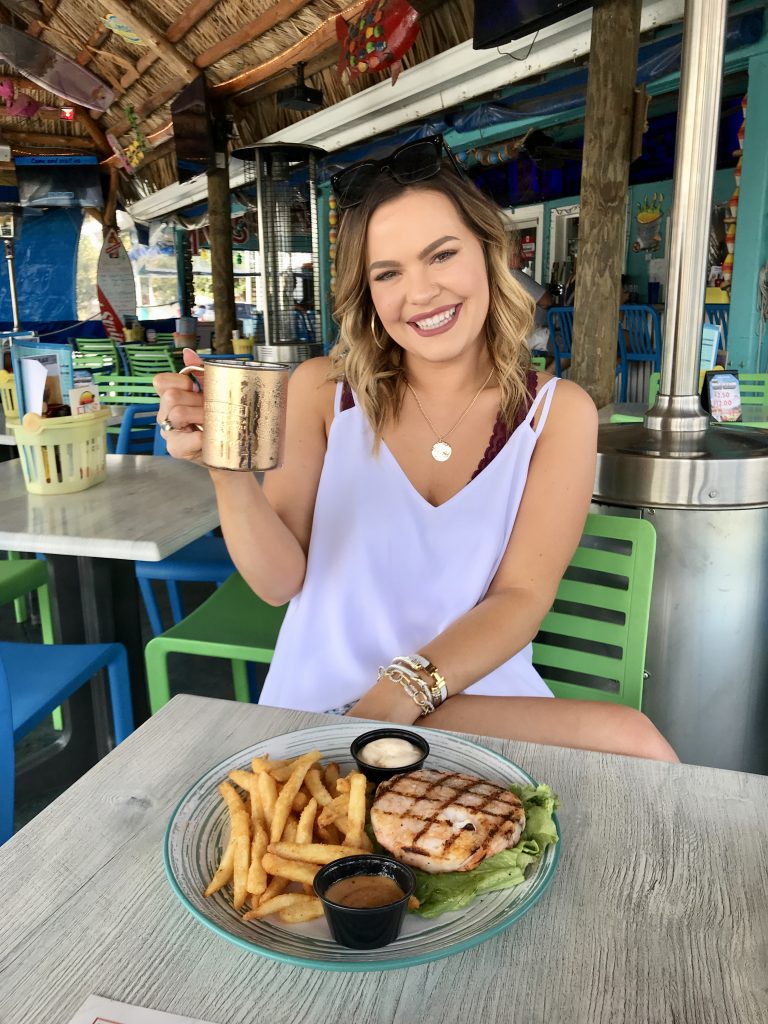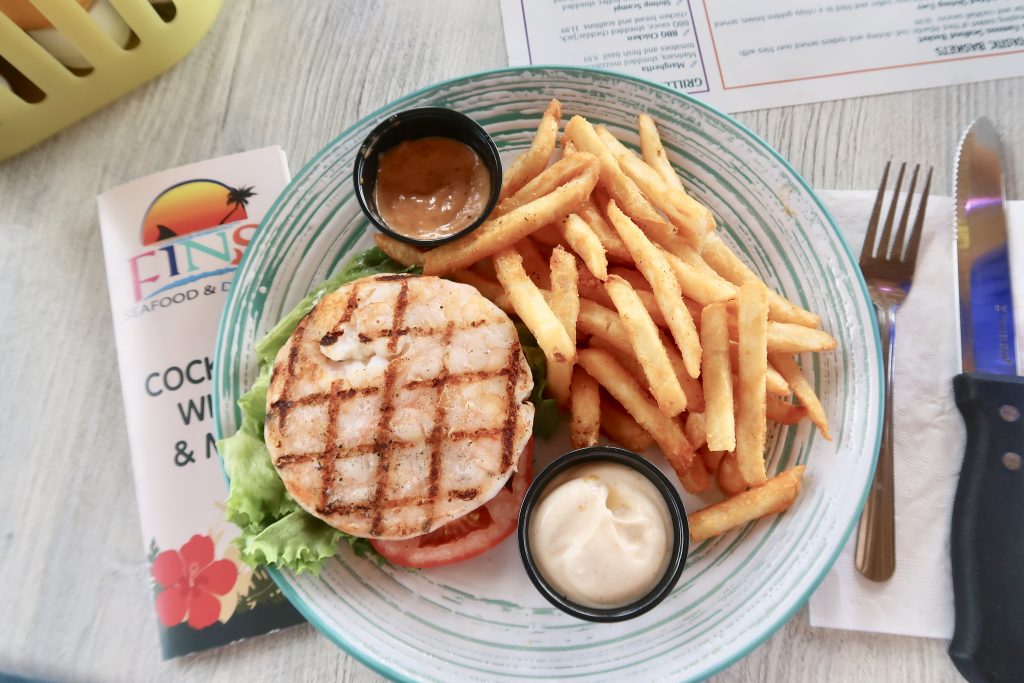 Lobster Lady was suggested to us by my uncle and a blogger friend of mine (Ashleigh), who both live in the area! Based on the menu it looks amazing!!! You can also go there to buy seafood and cook it at home!
House of Omelets – Ashleigh said they have the best omelettes and pancakes! We made all of our breakfasts at the Airbnb since they had a full kitchen and we also grilled out for the Superbowl on Sunday.
Nevermind Awesome Bar & Grill – another recommendation from Ashleigh. Their menu looks amazing too!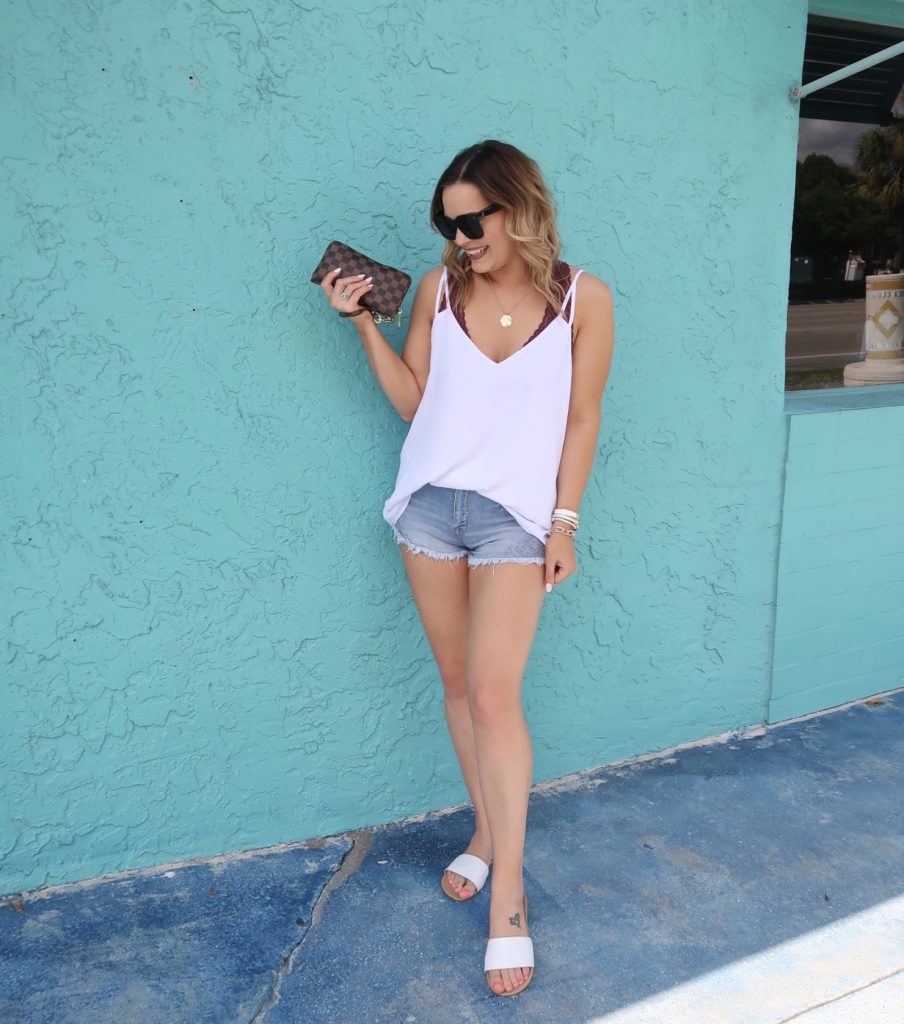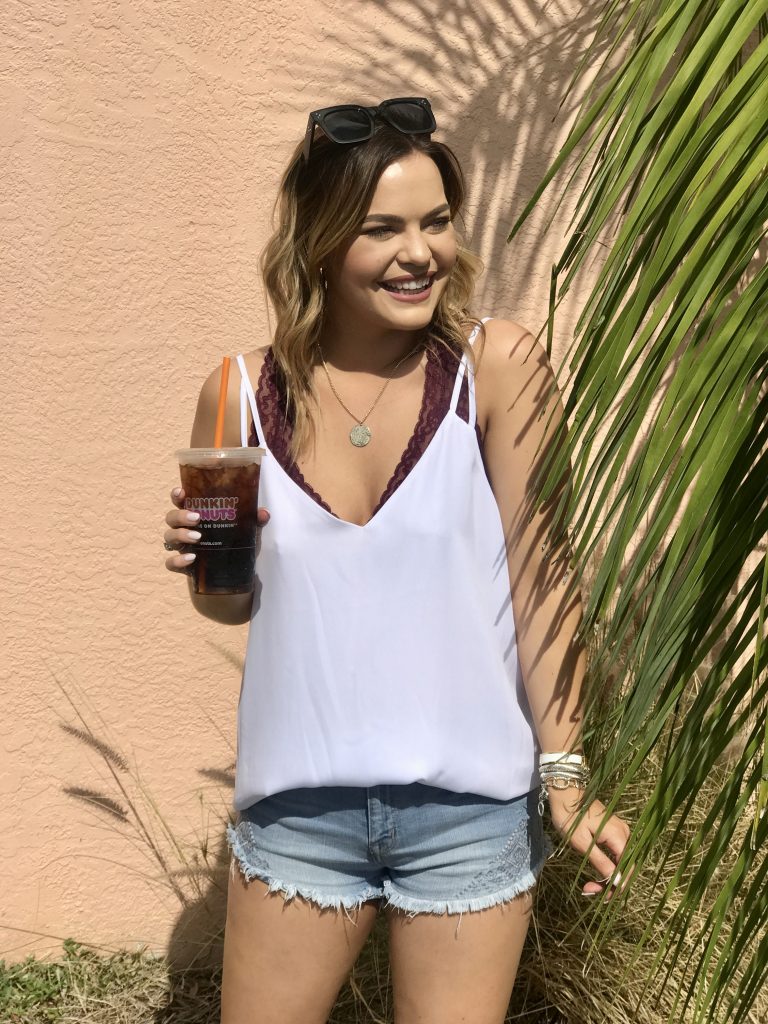 What to do in Cape Coral – Golf + Suggestions from Locals
Food is always a great option, but between eating, there are tons of things to do in the area. The guys golfed Saturday and Sunday while we were there. There aren't many golf courses in Cape Coral that were suggested, but out of all of the ones we looked at, Coral Oaks Golf Course was highly suggested- rated 4.1 stars on google, the price was decent and the guys said the course was great!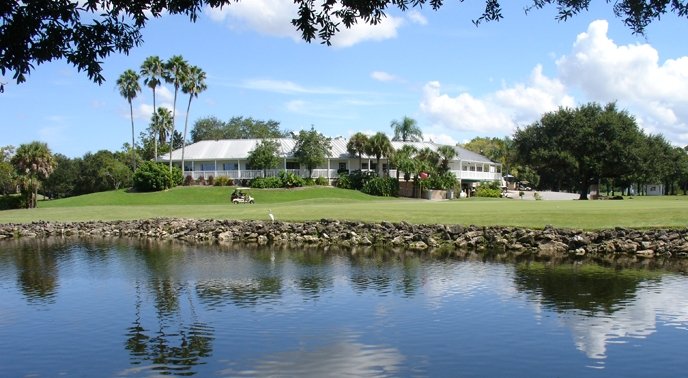 Pedal Pub – Another option in the area is the Pedal Pub – a lot of cities have this, and I've never tried it yet!
Wicked Dolphin Rum Distillery – if you're into spirits, pop in for a tour and taste some yummy drinks!
Where to Stay in Ft. Myers – Suggestions from Locals
As I said above, there isn't any area in Ft. Myers or Cape Coral that was not recommended. There are a ton of Airbnb options. Ashleigh recommended The Pink Shell Beach Resort and Marina and Lani Kai Island Resort.
What to do in Ft. Myers – Beach + Suggestions from Locals
Ft. Myers Beach – we took a day trip to the beach on Saturday and saw the most perfect sunset! If we had more time to explore, there seems to be so much to do in the area! Ashley and I hung out ocean side while the guys played Frisbee!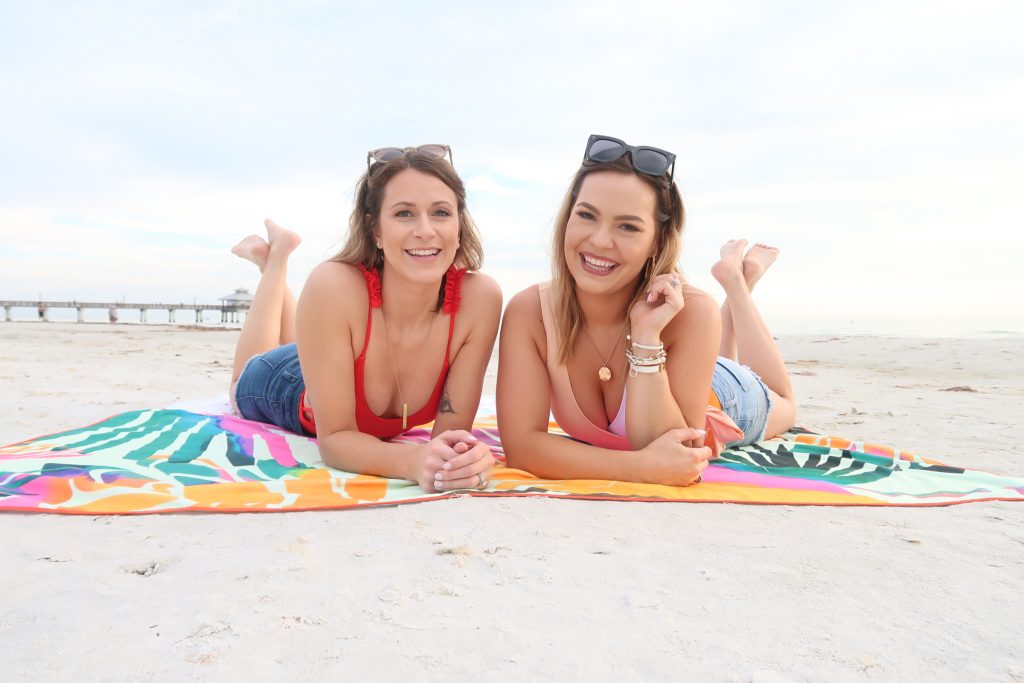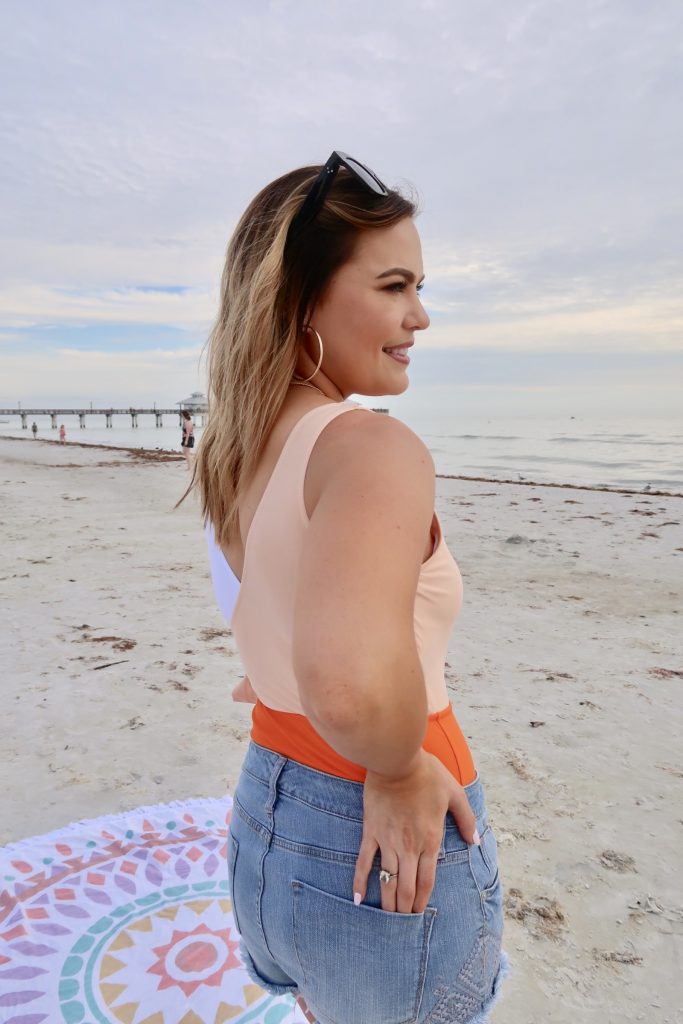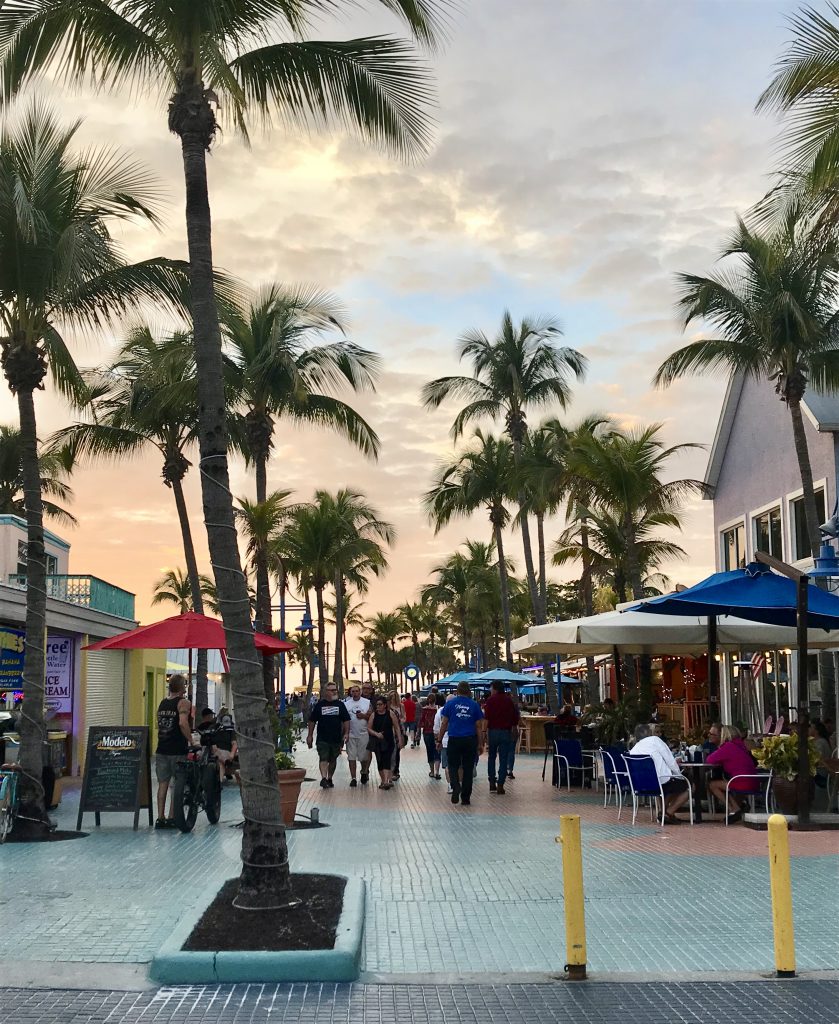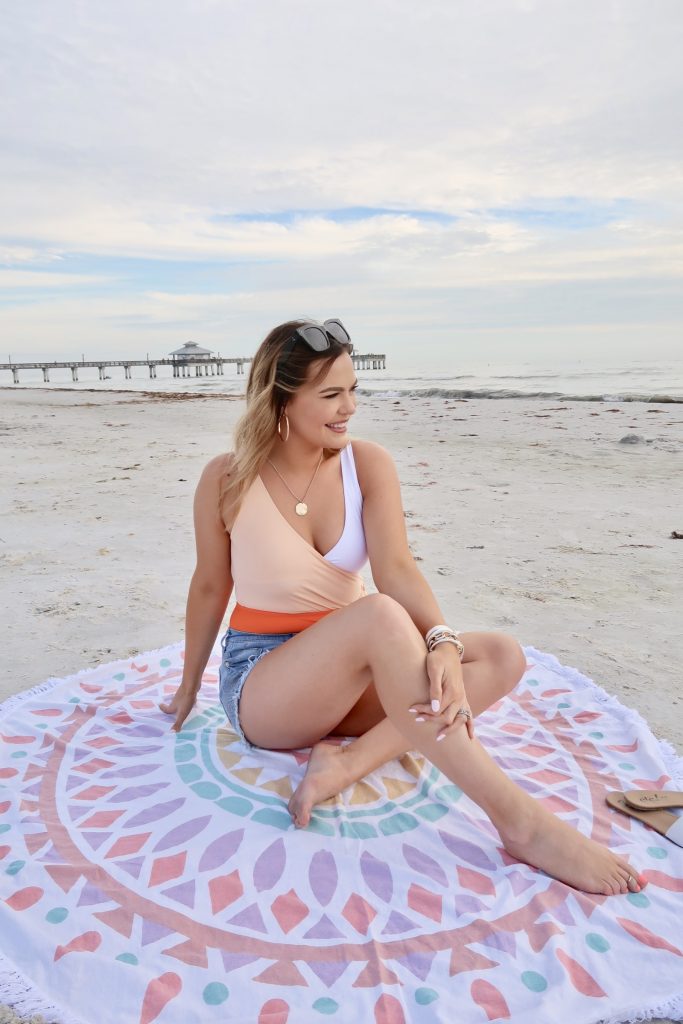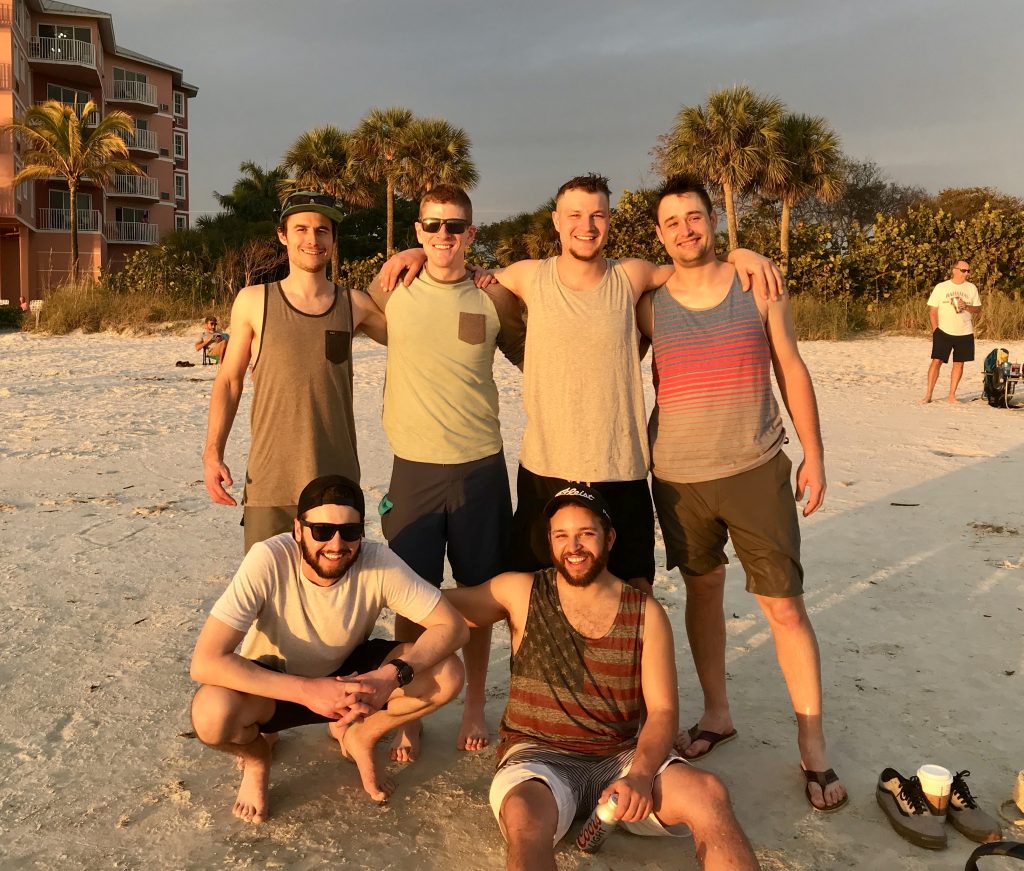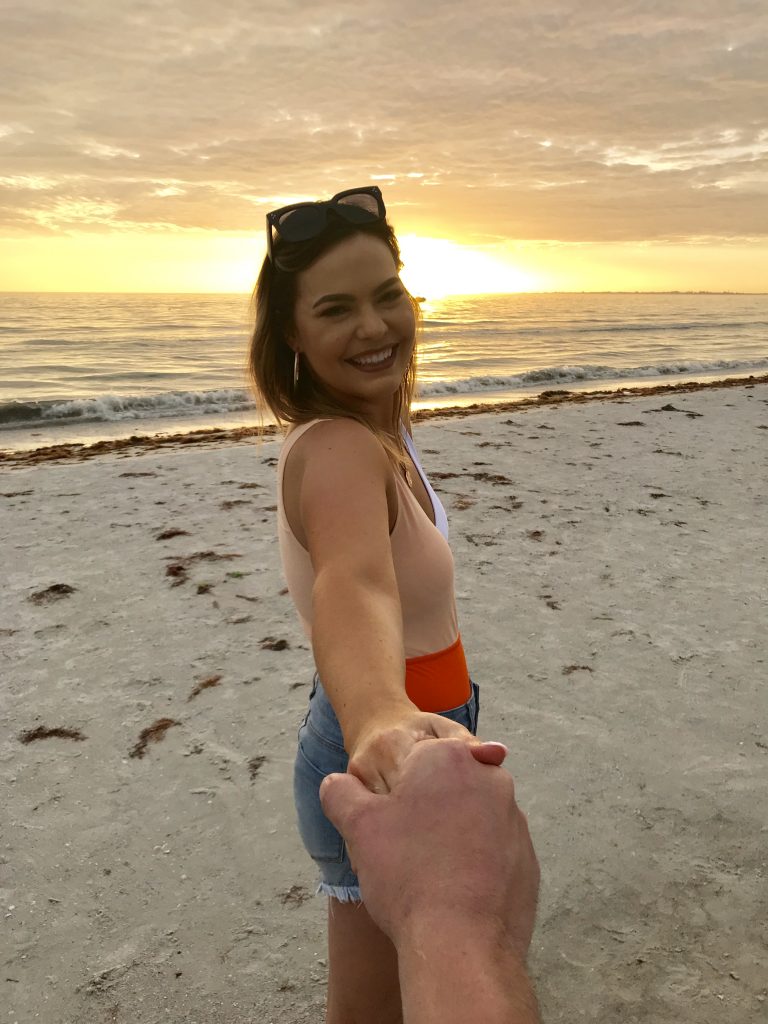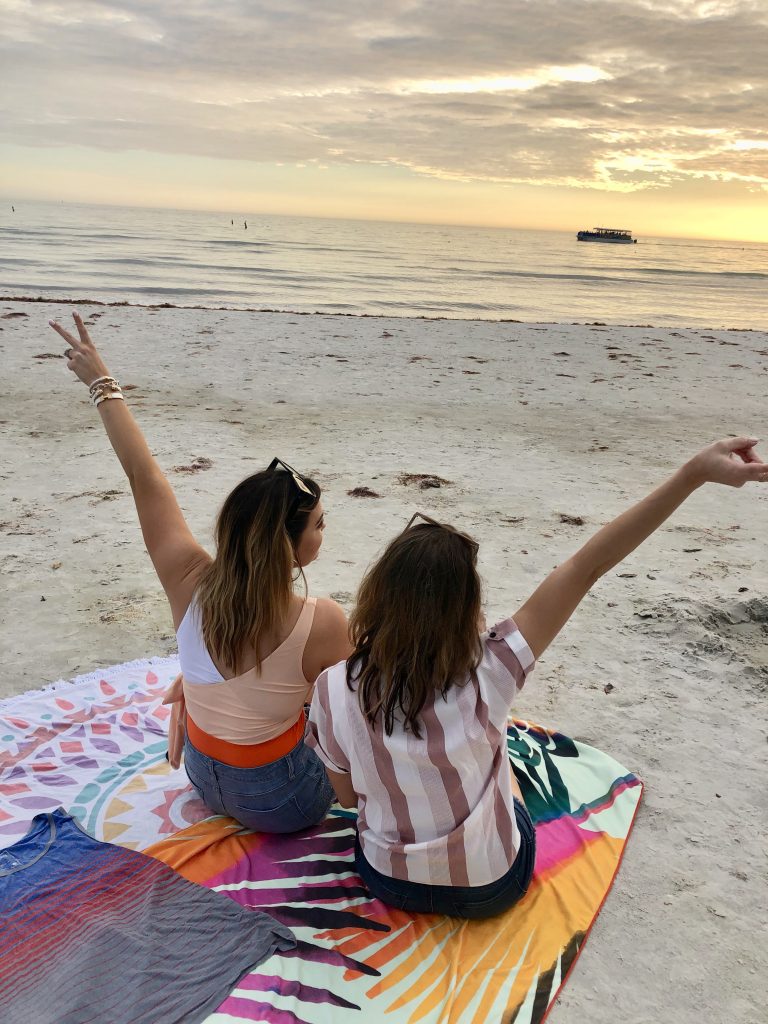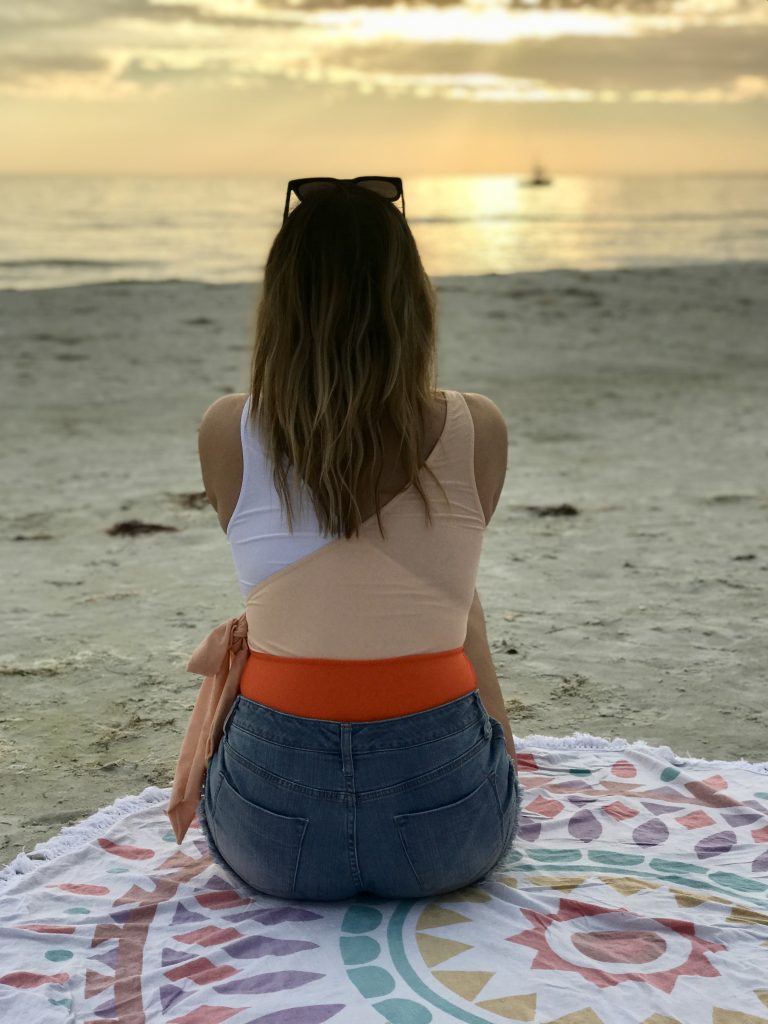 Colorblock Swimsuit | Chloe Dupe Sunnies | Bracelets |
Similar Round Beach Towel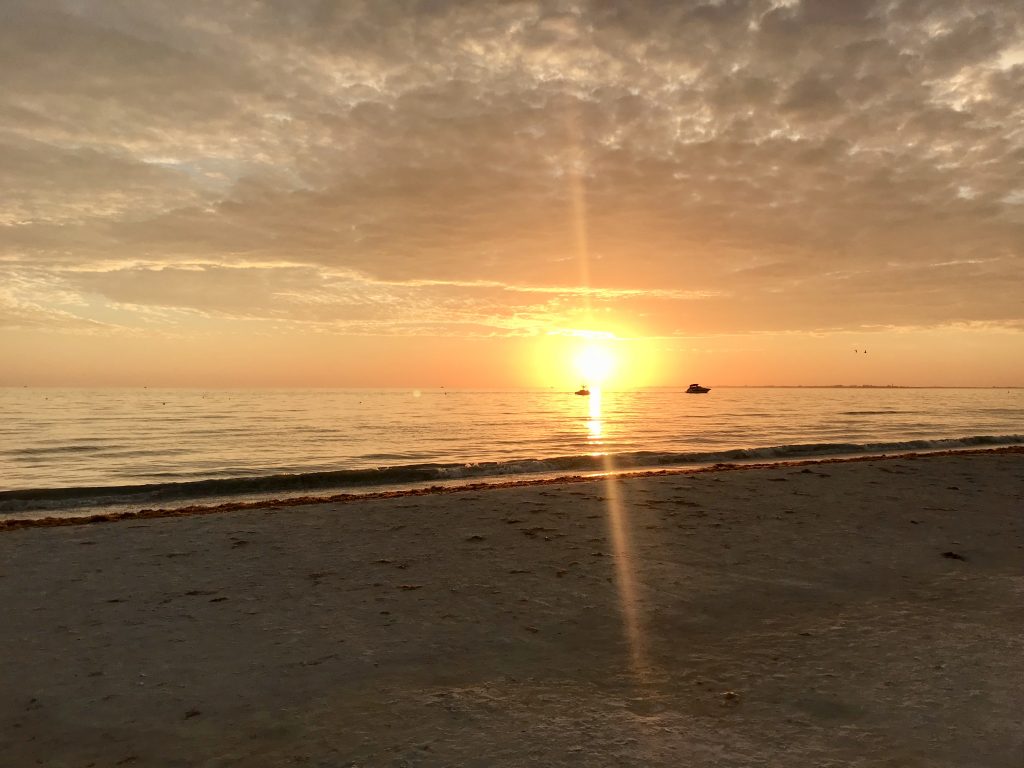 Lagerhead Cycleboats in Ft. Myers Beach – Similar to the Pedal Pub, there are Cycleboats. We almost booked these, but since we had such a short weekend, we didn't know how things would go so we just played it all by ear.
Where we Ate in Ft. Myers + Suggestions from Locals
The Salty Crab – we ate dinner while outside in the sand at this local joint! It was the cutest bar and I have been told the gator bites are incredible! I got the baked clams and they were so yummy! Some of the others got nachos that looked amazing as well!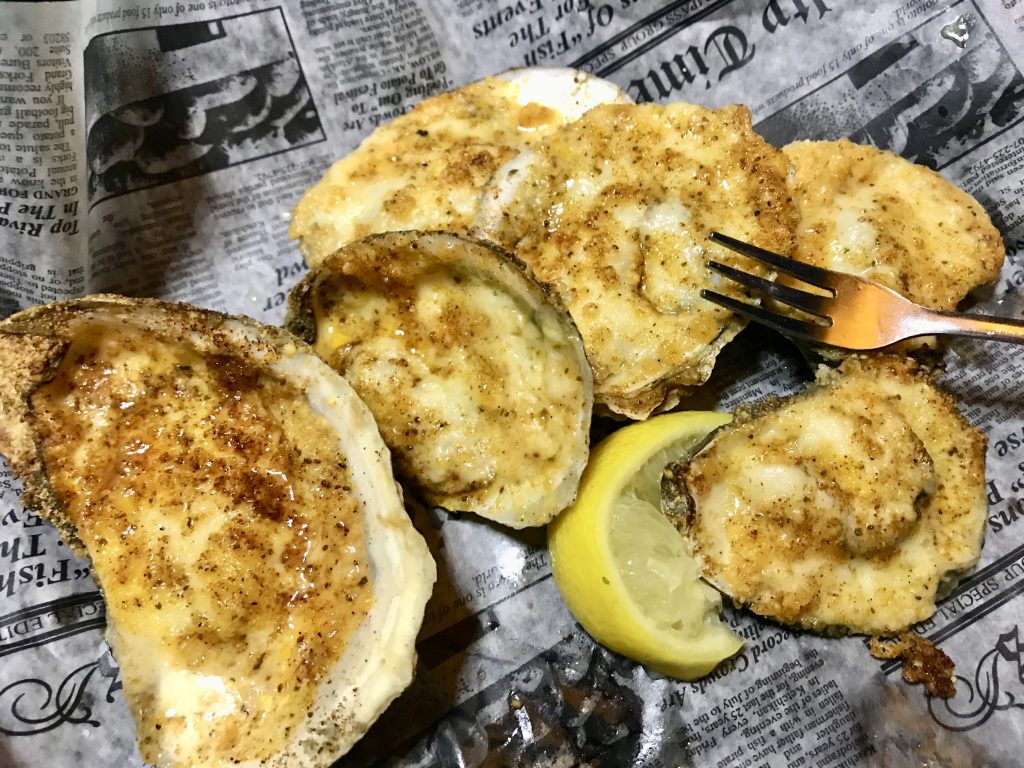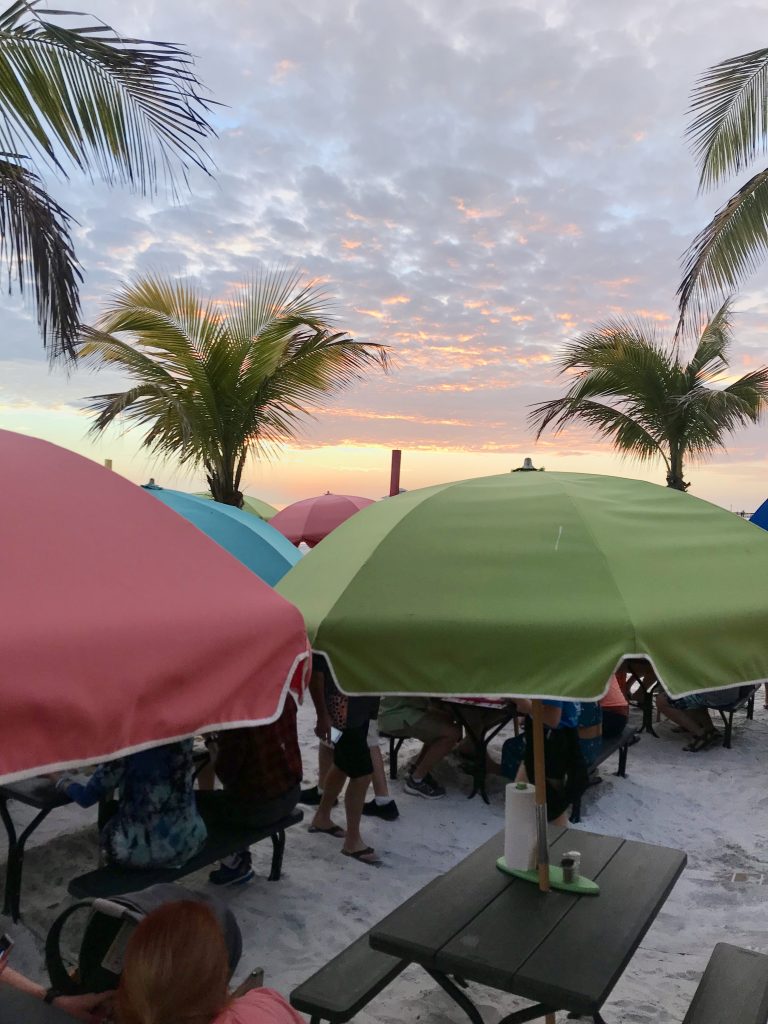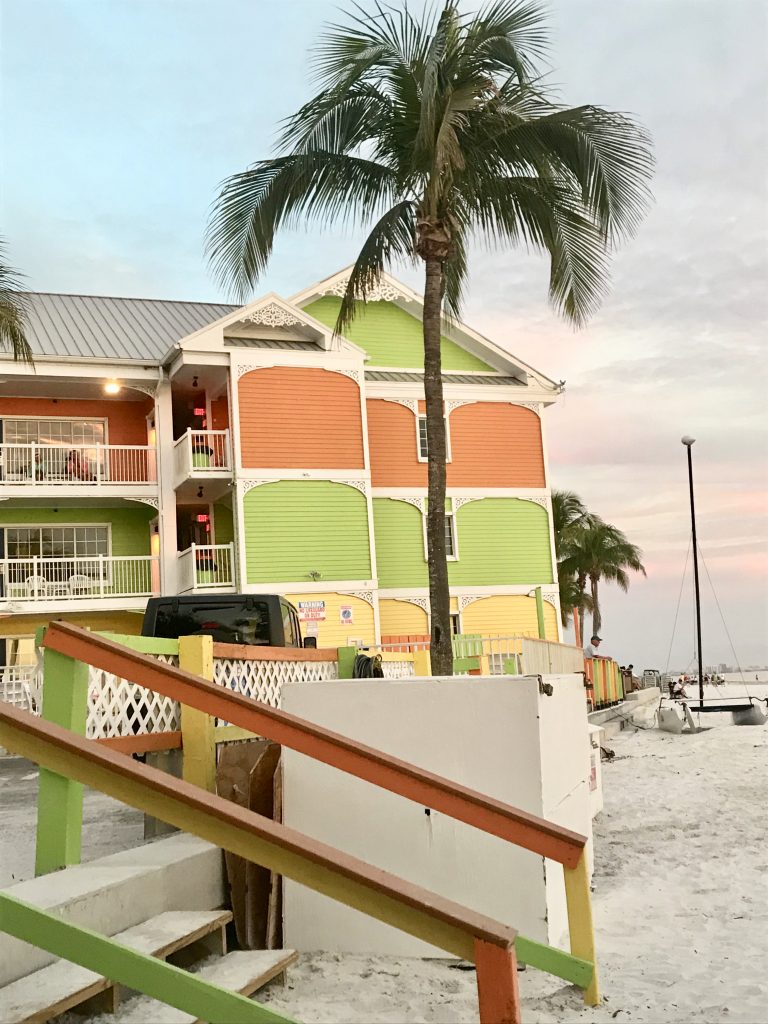 Game Time Sports Bar – another suggestion from Ashleigh. She says they have amazing wings too!
Smokin' Oyster Brewery – recommended by one of my Instagram followers – we didn't get a chance to go there, but all of the food and drinks look yummy!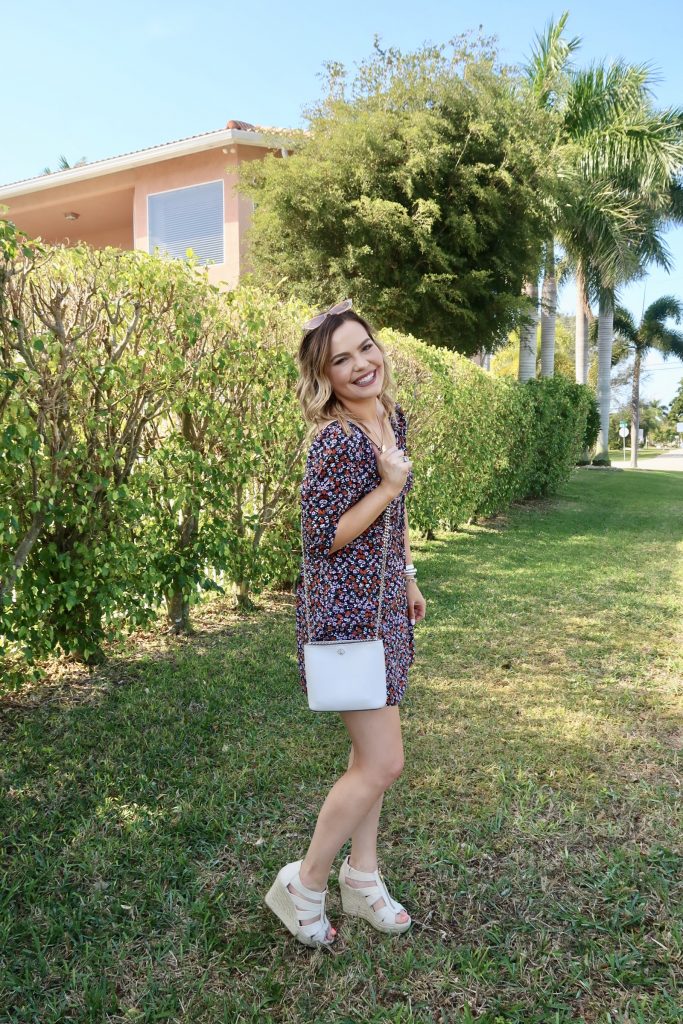 That is everything! It was a quick weekend, but I enjoyed every minute of it! I hope you enjoyed another one of my travel guides and hope you find it helpful if you ever travel in the area! I can't wait for all the travel posts this year! Make sure you're subscribed to my blog so you get inbox notifications each time a new post goes live! I appreciate all of you so much! Thanks for reading!
A special thank you to my Uncle Jeff & my blogger friend, Ashleigh – (Ashleigh Rose Blog) for help with local places to eat and stay!
Until next time loves,