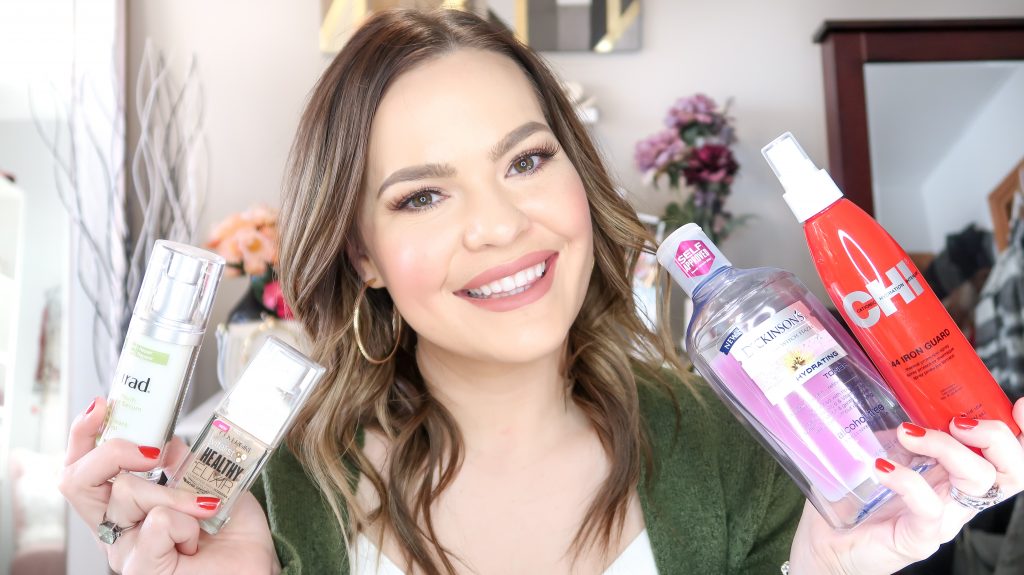 Happy Friday! I've been wanting to do an "empties review" for a long time now and completely forgot about it! I stumbled upon my bin, that I had been saving empty products in, while I was cleaning my beauty room recently & looking at the items, they were from the entire year last year. I don't know if you guys like these kind of reviews, but if you do, I will continue to save my empties & do more in the future!
P.S. If you're following along on Instagram, I am attending Fashion week Thursday – Saturday this weekend. I'll be sharing all the behind the scenes.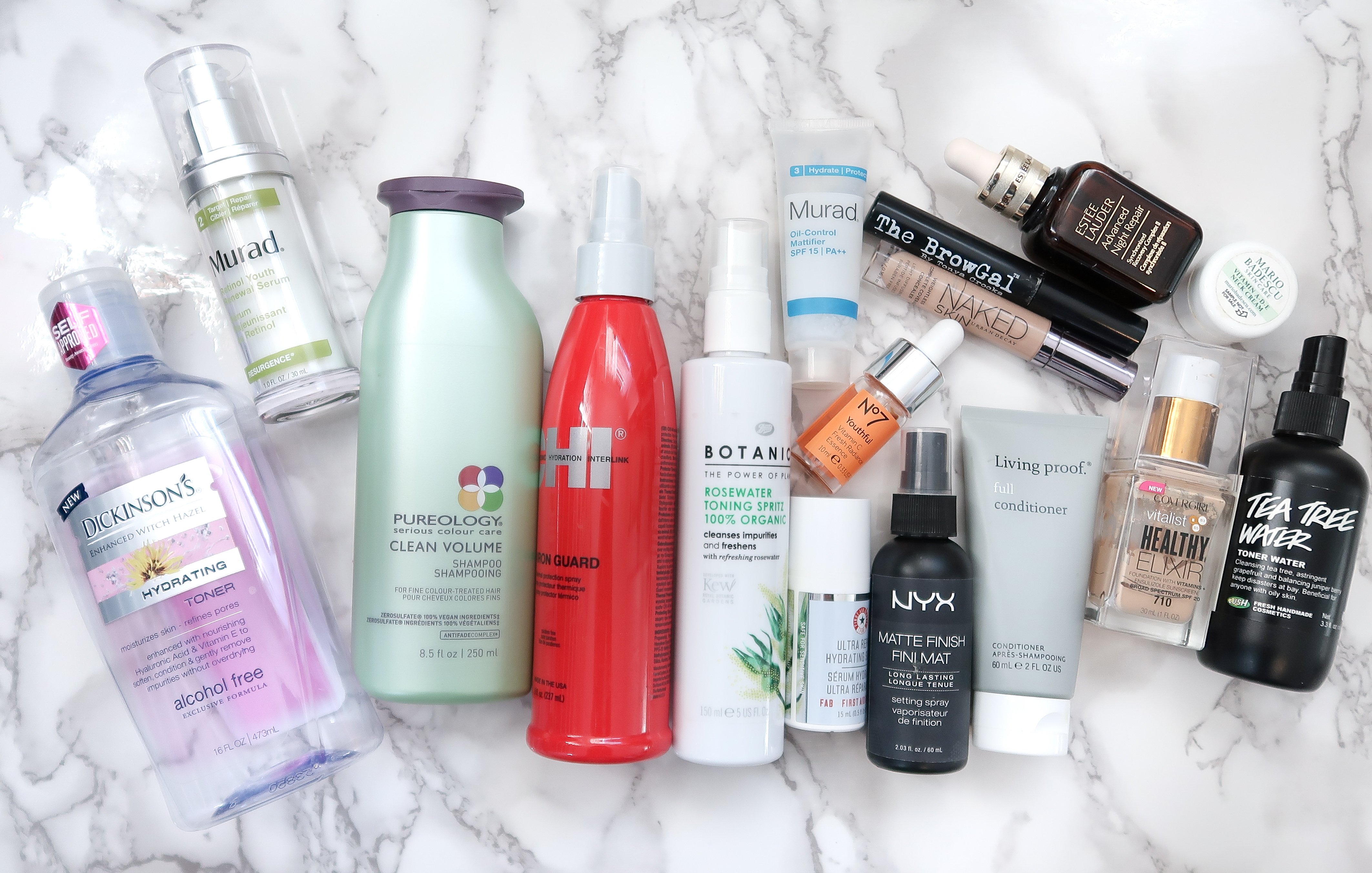 Skincare
First up are the skincare empties! Sooo many serums were used in 2018! Makes me curious to see how many I will use in 2019 because I've only been using one so far! Below are links to each product I talk about in the video (shown at the end of the post), along with a brief sentence or two about them. Since there are so many, I don't want to make this into a super long post! Watch the video for a full review of the products.
Dickinson's Witch Hazel– LOVE this stuff! Any kind of Witch Hazel is the best! Works great as a toner morning and night and this one has already been repurchased!
Botanics Rosewater Toning Spritz– The smell of this is great, but I didn't see any noticeable differences in my skin. Won't be repurchasing this one.
Estee Lauder Advanced Night Repair Serum – one of my FAVVV serums from 2018! I went through 2 bottles during last year and am needing to purchase another one! 
Murad Retinol Youth Renewal Serum – Anything with Retinol has been a must in my skincare routine since I started getting facials! I need to repurchase this one, but haven't yet!
Murad Oil Control Mattifier– This is the best moisturizer I've found for oily skin. It really does what it says, it mattifies your skin and works great under makeup too! I used it morning and night!
Mario Badescu ADE Neck Cream– The thickest cream ever! I loved using this before bed. I have not repurchased it because I just take my face cream down to my neck and chest now instead of using a separate cream, but this stuff does feel amazing on the neck and chest!
No7 Youthful Vitamin C Essence– I loved this stuff! I am in need of another Vitamin C serum back in my skincare routine, so this is on my list to purchase again!
First Aid Beauty Ultra Repair Hydrating Serum– I got this in a full F.A.B. kit around Christmas 2017 and used it everyday until it was gone! I didn't love it enough to want to repurchase it, but it is a great hydrating serum! 
LUSH Tea Tree Water – LOVE this stuff! I've repurchased quite a few since this original one and now have the larger bottle too! I use it morning and night as a spritzer after I cleanse my face! The tea tree helps so much with blemishes too!

Makeup
BrowGal by Tonya Crooks – NOT a fan of this one at all! It caked up on my brows and flaked off in large chunks. I wasn't using too much either. I will stick to my ABH brow gel! 
Urban Decay Naked Skin Concealer– everyone raves about this so I had to try it out! I love the lightweight feel and it concealed very well! 
Covergirl Vitalist Healthy Elixr Foundation– This foundation looks great on my skin for the first few hours and then once it oxidizes, it ends up looking terrible on my skin! It may work differently on others than it did on me, so it's definitely worth trying out!
Estee Lauder Double Wear Stay in Place Makeup– my absolute favvvv foundation of all time! It's a bit pricey, but sooo worth it. I reviewed it in a blog post HERE too!
NYX Matte Finish Setting Spray– I use this on the daily and love it! It is very comparable to the higher end setting sprays too, but for way less!!

Hair Care
Living Proof Full Conditioner– The smell of Living Proof hair products is my fav! It's clean and refreshing! This conditioner really did make my hair look fuller and healthier!
Purology Clean Volume Shampoo– I've never felt my hair as clean as while using this shampoo! It gets rid of all the junk and buildup in your hair and is so worth it!
CHI 44 Iron Guard– I've been using this heat protectant for years now and LOVE it! I do have a few others that I've been using, but this one has always been my go-to!

Phwew! That was a lot! What are some of your favorite products that you used up in 2018? What were your least favorites? Let me know in the comments below!
Thanks for reading/watching!

---