Happy Wednesday!! HALFway through the week, yay!! If you followed along last weekend, it was Madison Fashion Week! It was the first year that Madison put on a Fashion Week and it sounds like it will continue twice a year going forward. A bunch of my local blogger friends and I attended the events from Thursday through Saturday and I wanted to share my outfits from the 3 days.
I started with some inspiration boards that I created prior to the events based on what I've seen other bloggers wear to New York Fashion Week. I knew it wouldn't be quite the same as NYFW, but was still excited for what I'd be wearing! Blazers, animal prints, leather and tulle were all on my mind and I searched all over to find some great pieces. Below is my inspiration board for the events: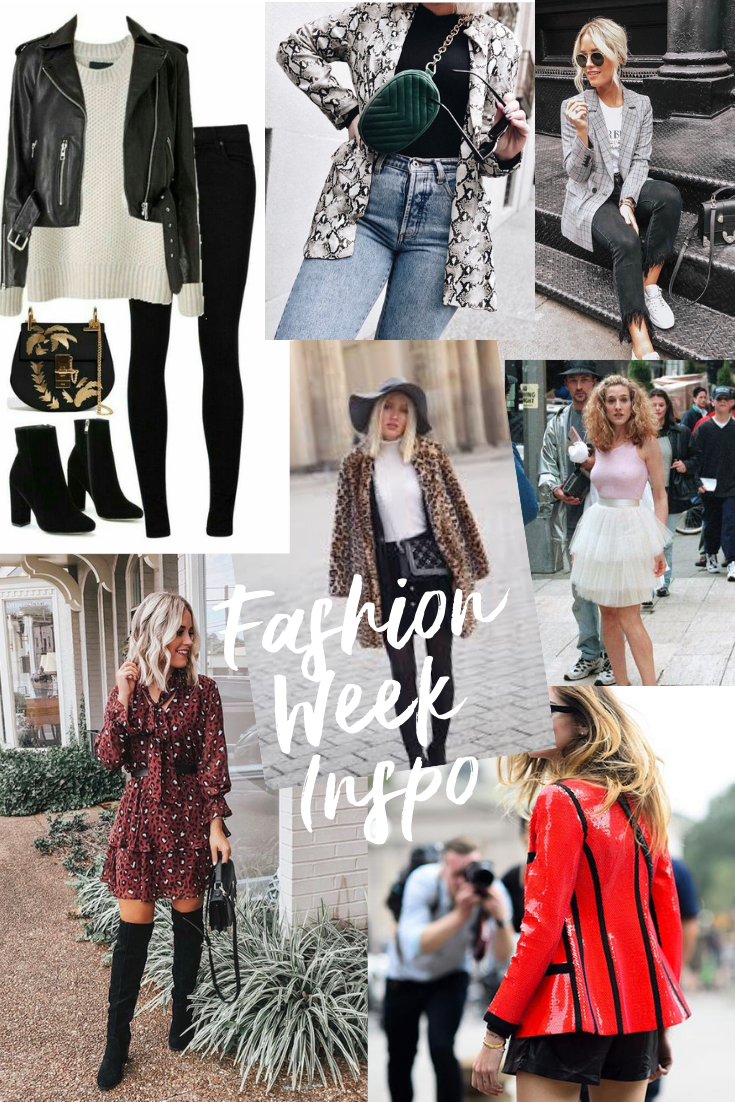 After creating the inspiration board, I started searching for cute blazers. I almost bought one at Evereve that was on sale, and also found the cutest one at Express, but ultimately found this adorable plaid blazer from BooHoo. I found quite a bit of other items for the events from BooHoo, and then also used Rent The Runway (suggested by my friend Chloe- @frizzandfrillzz) for other items, like my Zac Posen bag. Rent the Runway is great for events like this because you can rent luxury items that you would probably only wear once. Get $30 off Rent the Runway here.
Thursday Night's Outfit
Thursday's show was swimwear and lingerie at the Harley Davidson in Madison. I was going to wear this red dress with my rose embroidered sneakers, but it was soo cold, so I went with my favorite slouchy boots to cover up the legs a bit, and finished it off with my new plaid bag from Wal-Mart. They don't have this specific one online, but they have the same style in a leopard print which is also super cute!! The lighting at the venue wasn't the best, but you can see more of this dress on my Valentine's Day blog post.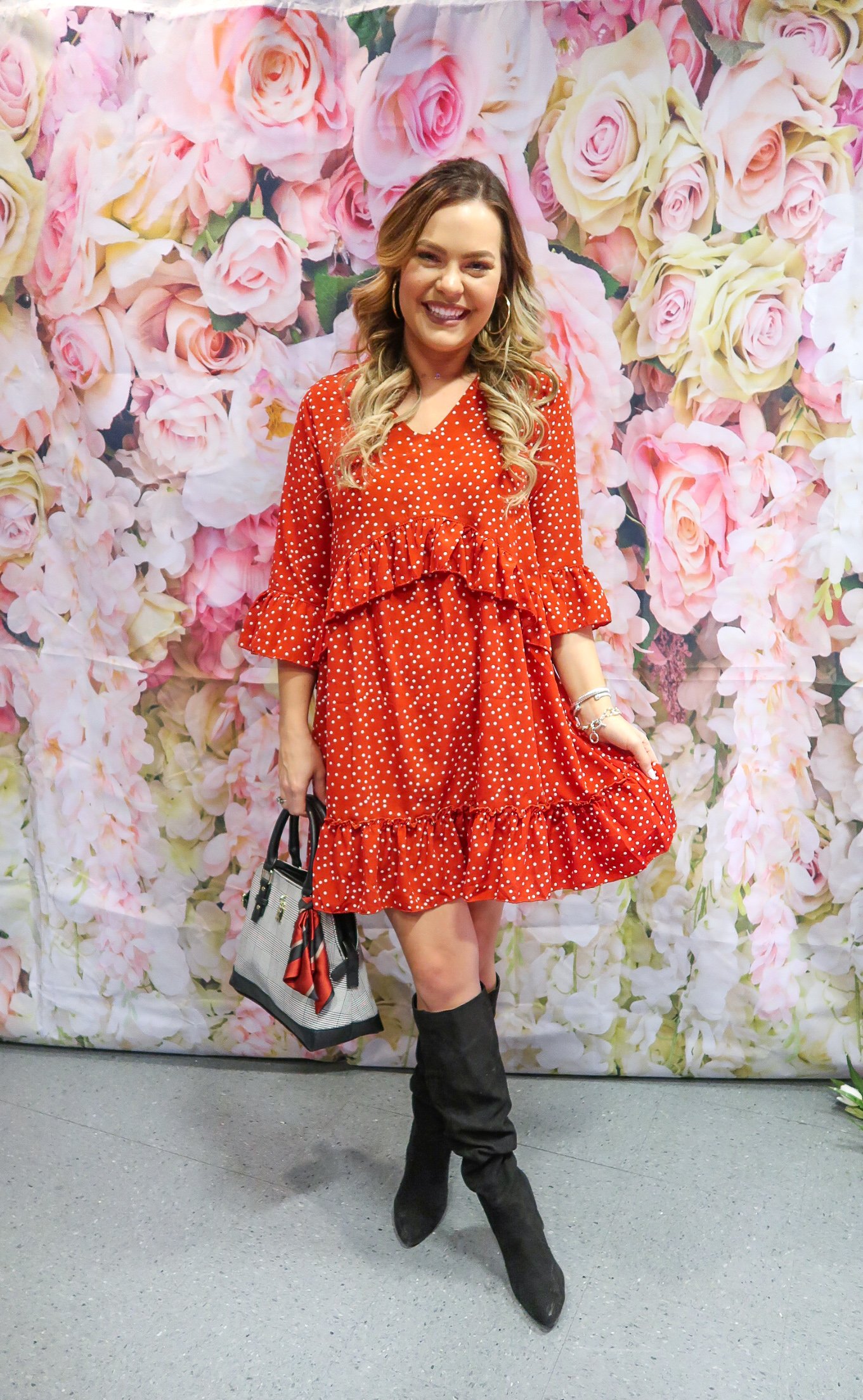 Dress | Boots | Hoop Earrings | Be Kind Necklace | Similar Bag | Bracelet Stack

Friday Night's Outfit
Friday's event was at Groove Madison, located just off the square downtown. This event was for resort wear and evening gowns. I chose a black bodysuit with a structure v front with my aeo distressed light wash jeggings, Gucci belt, pointed toe boots, and my blazer. For accessories, I wore my earrings and Zac Posen bag (similar here) which was the cutest!! The earrings and bag were from Rent the Runway!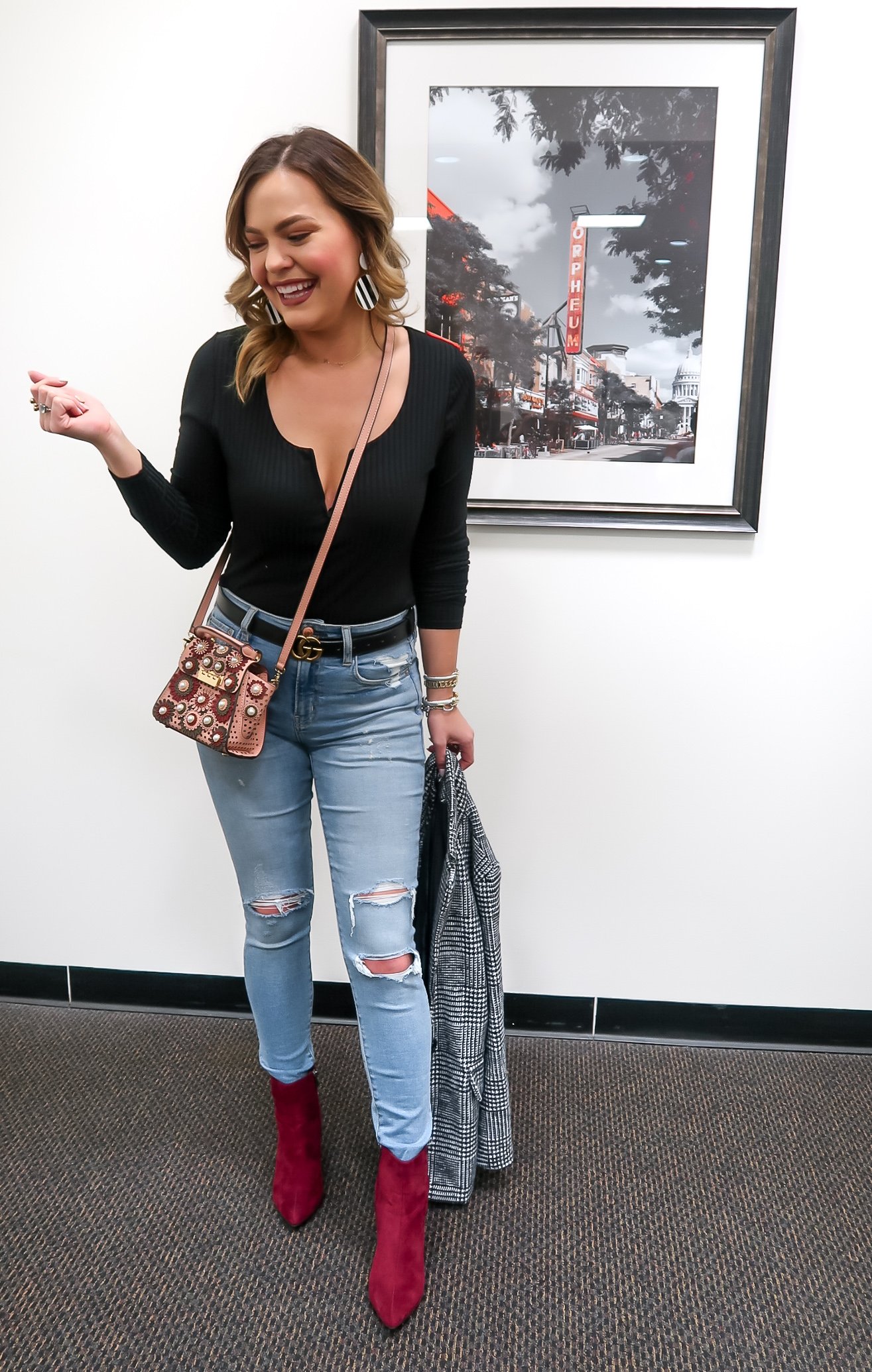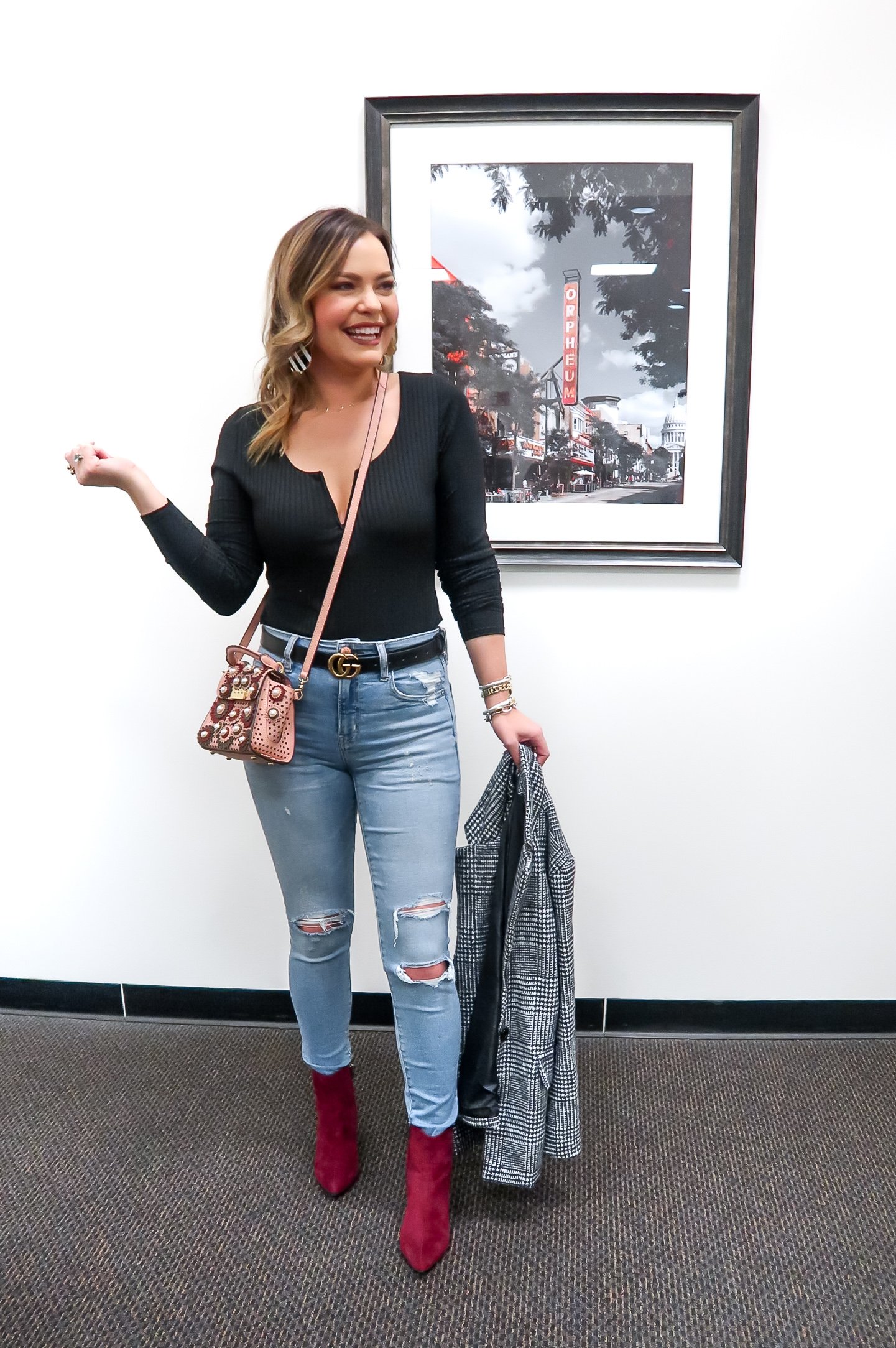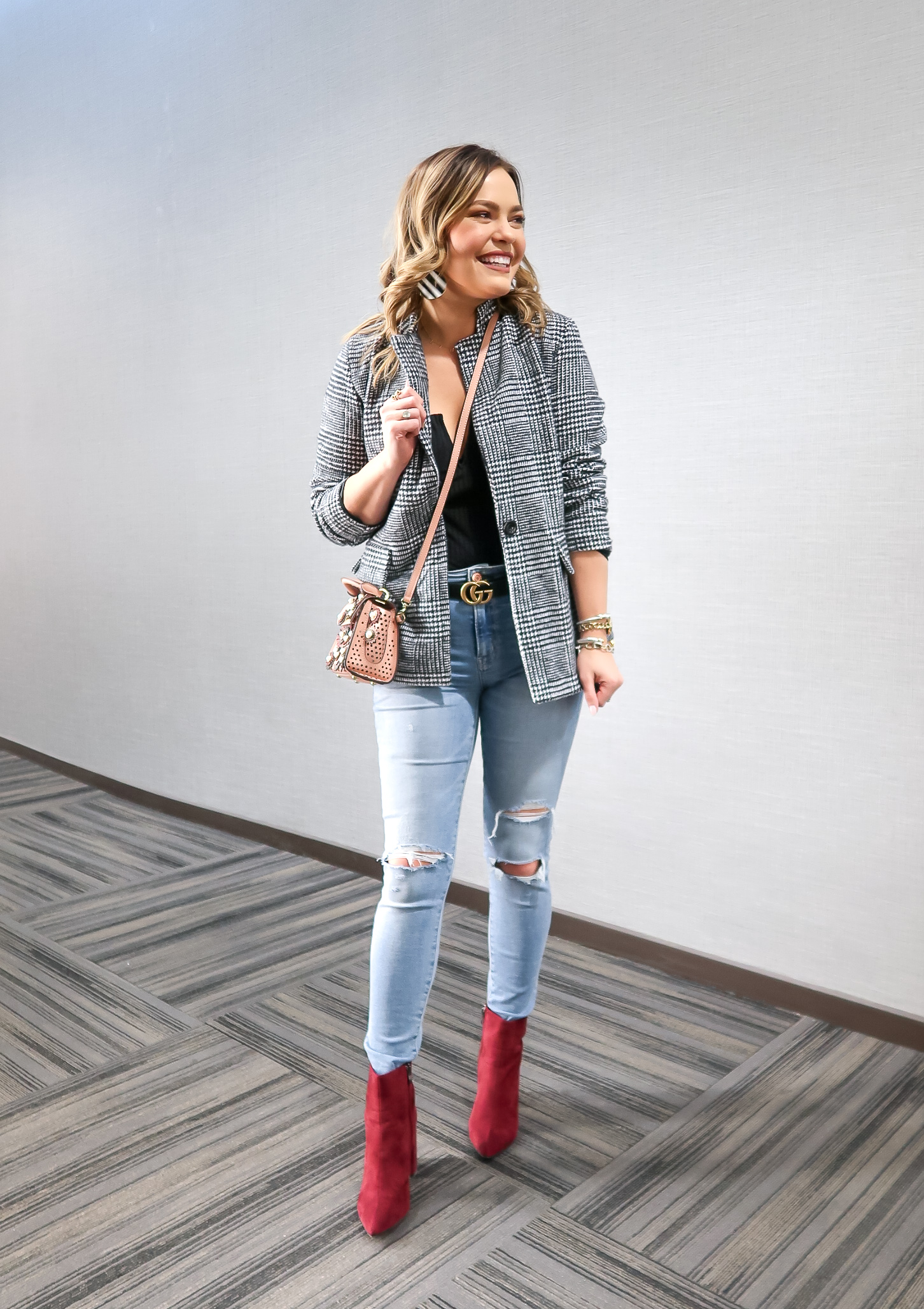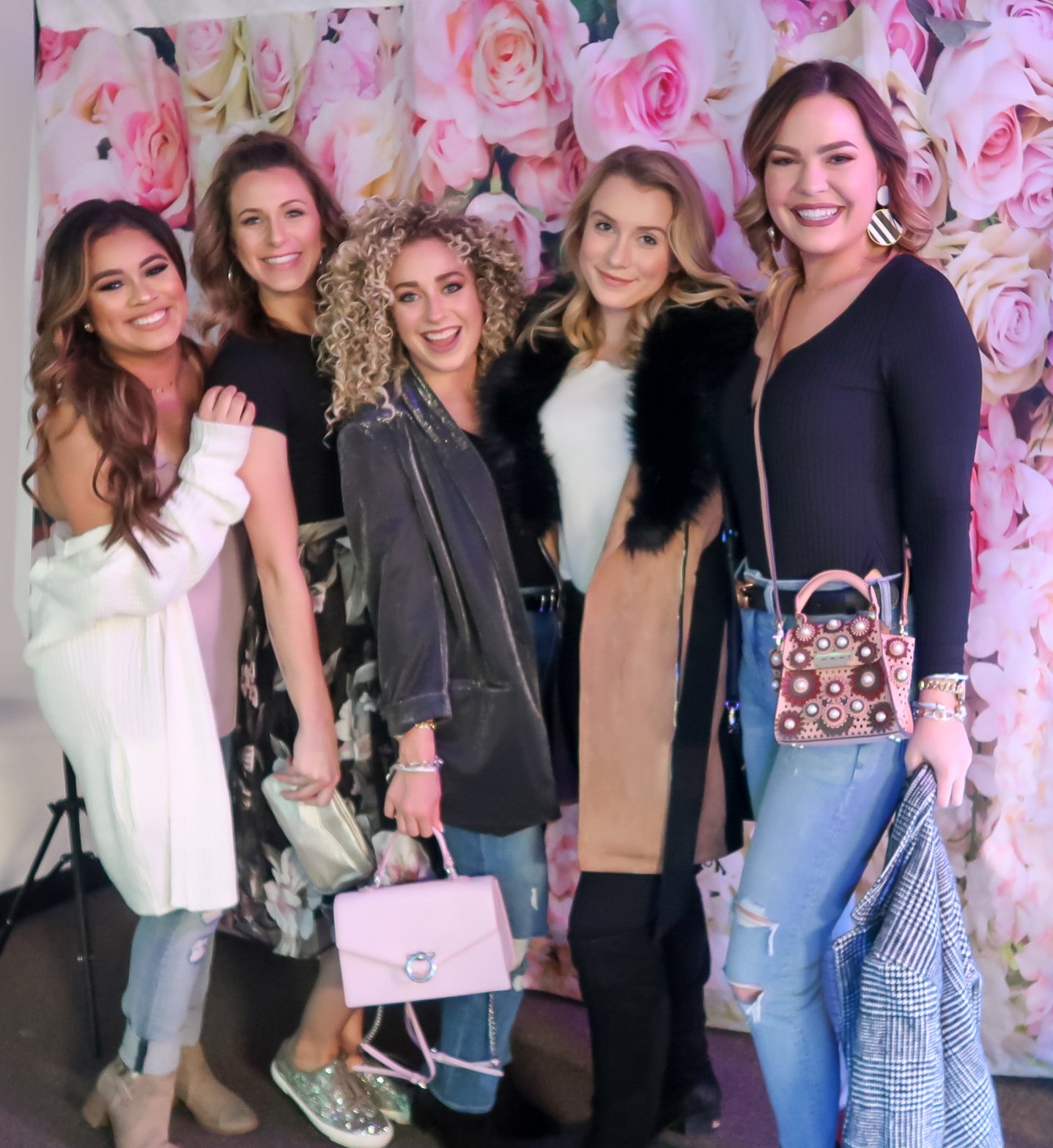 Black Bodysuit | Blazer | Jeggings |Â Gucci Belt | Booties | Be Kind Necklace |Â Bracelet Stack |
Earrings | Zac Posen Bag | Gold Chain Watch (Get 15% off with code KELSIE15)

Saturday's Outfit
Saturday afternoon was the main event. I was going for Carrie Bradshaw vibes and this is what it turned out to be! I love the pop of red with the snakeskin print. Edgy, yet girly and cute! The skirt and bag are from Rent the Runway and the snakeskin cami is from Evereve! I also wore a new fav red lippie – Stila Fiery. It lasted through lunch and all the way through wine and pizza that evening! 😉 I layered on the jewelry for this look. I love my MF Blake chain with the peace charm, and paired it with my necklace from Nordstrom.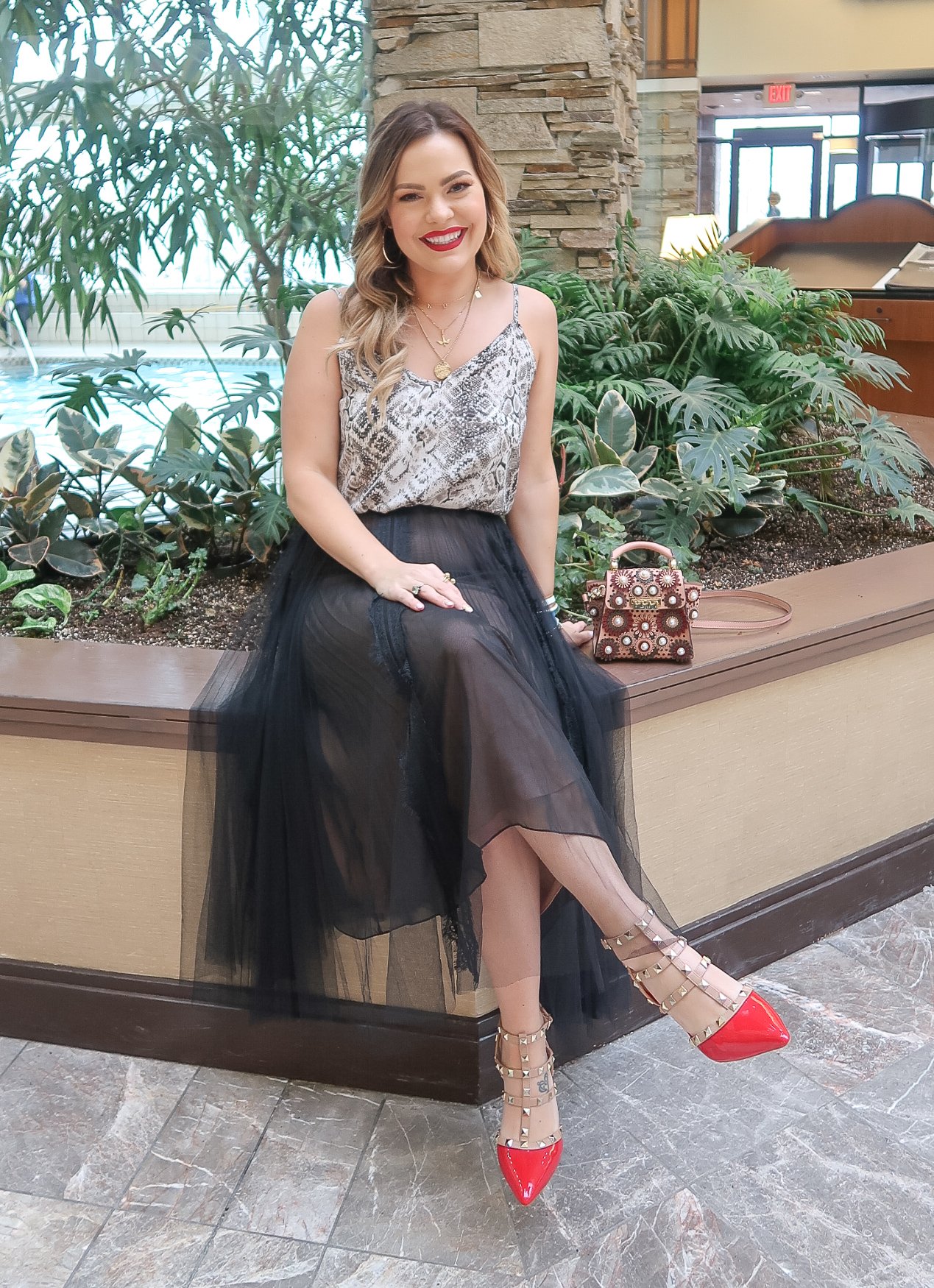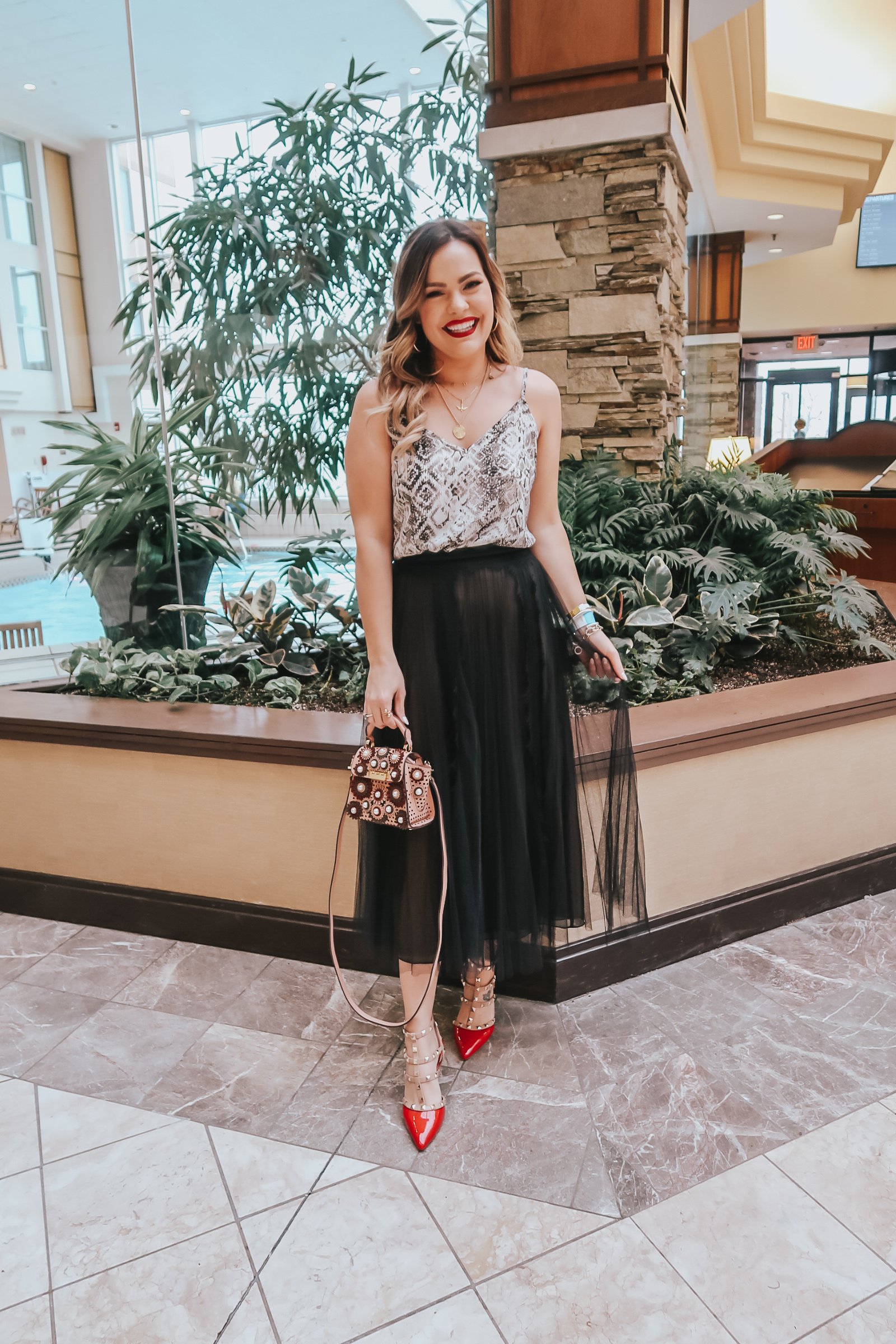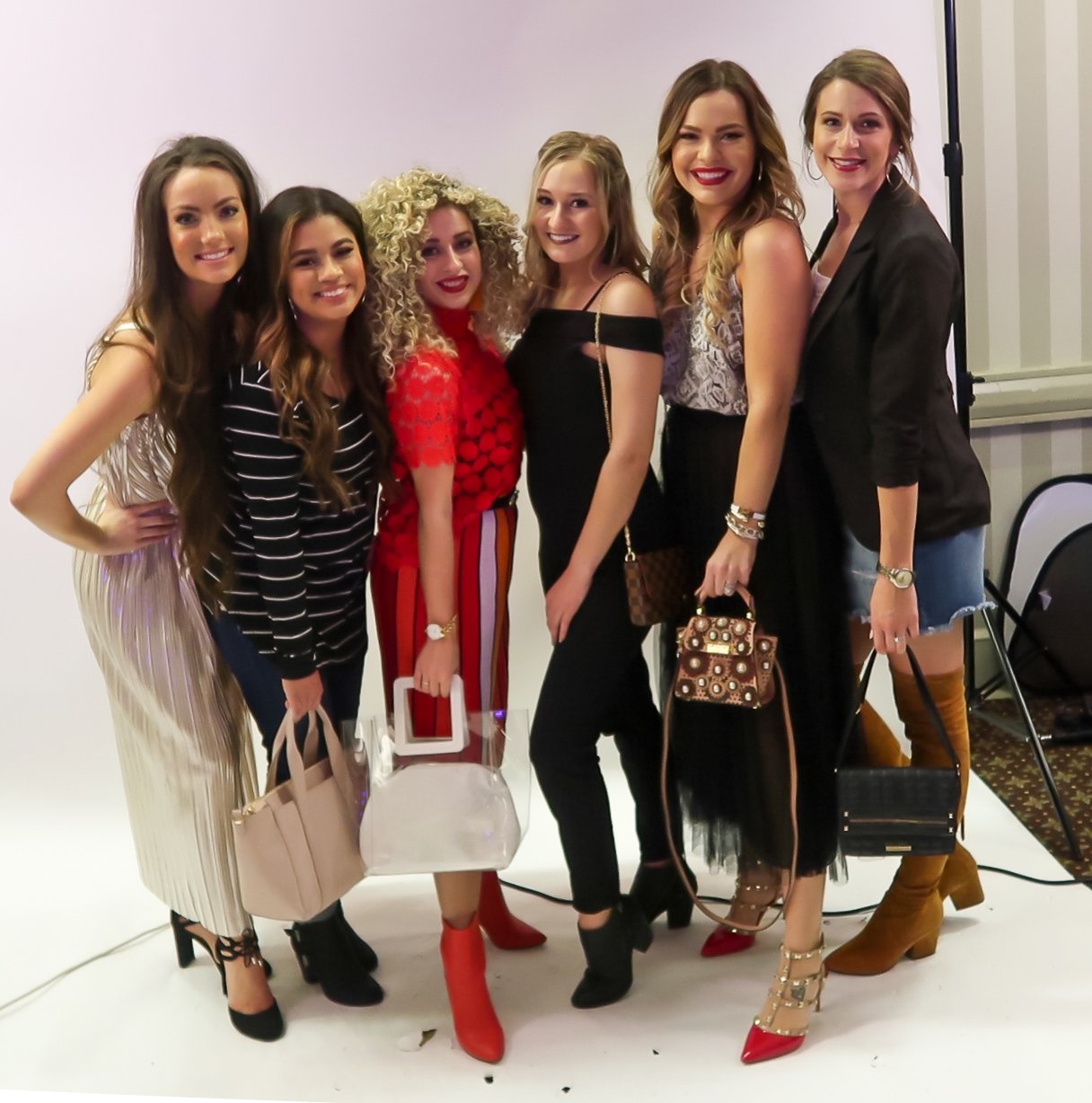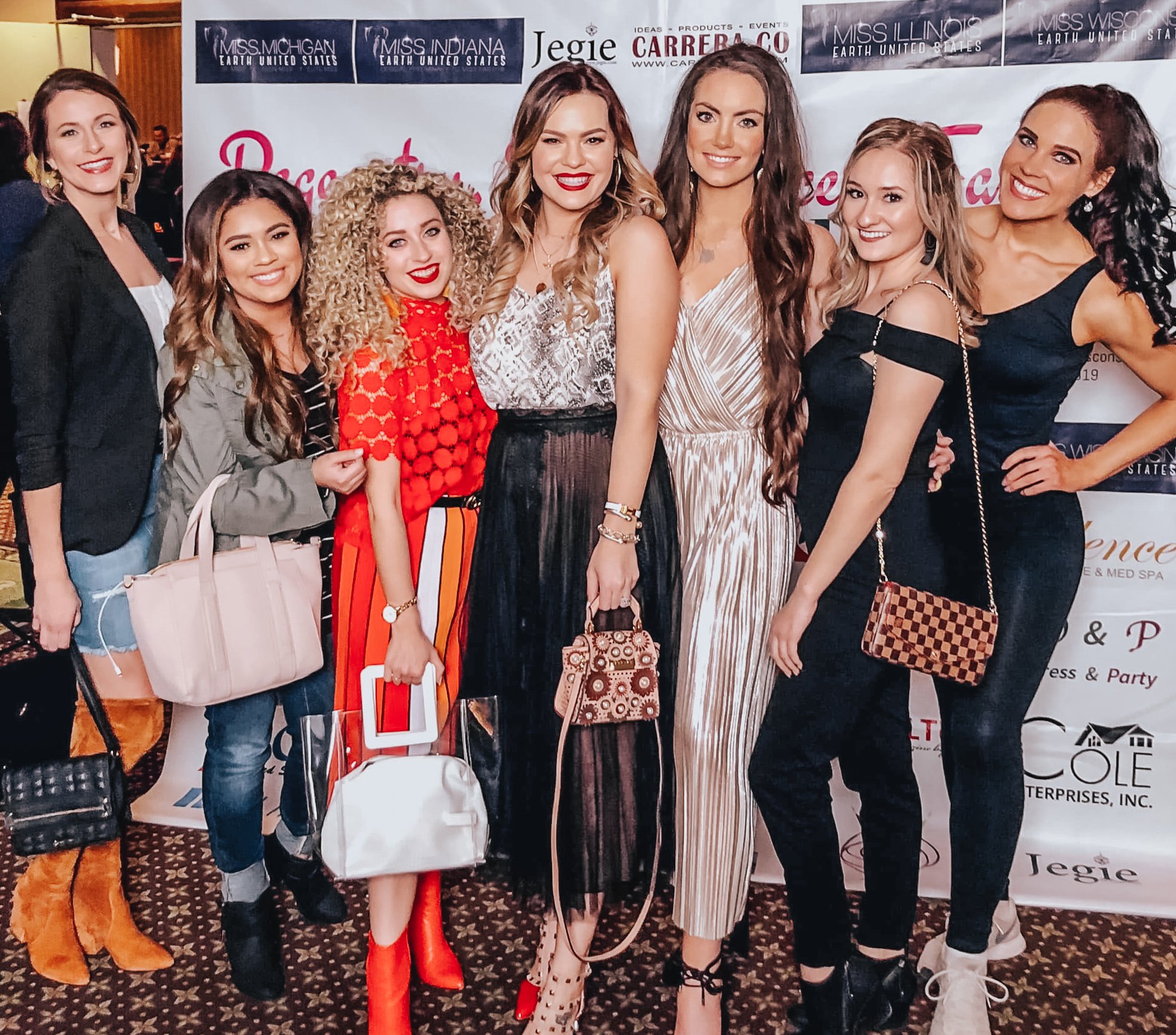 Snakeskin Cami | Tulle Pleated Skirt – Similar | Red Studded Heels | Zac Posen Bag – Similar | Hermes Dupe Bracelet | Other Bracelets | Hoop Earrings | Be Kind Necklace | Circle Pendant Necklace | Blake Chain with Peace Dove Charm (Get 10% off at MirandaFrye.com with code KELSIE | Red Lipstick

I had so much fun putting these outfits together! Hope you enjoyed & thank you so much for reading!