This post is sponsored by Gray Away as part of an Influencer Activation and all opinions expressed in my post are my own.
Happy Friday friends! You all know that I love my root touch up products and I've been trying out a new one recently that I wanted to share with you. Gray Away makes a root concealer spray, touch up stick, and a few other products! I can't wait to tell you all about them!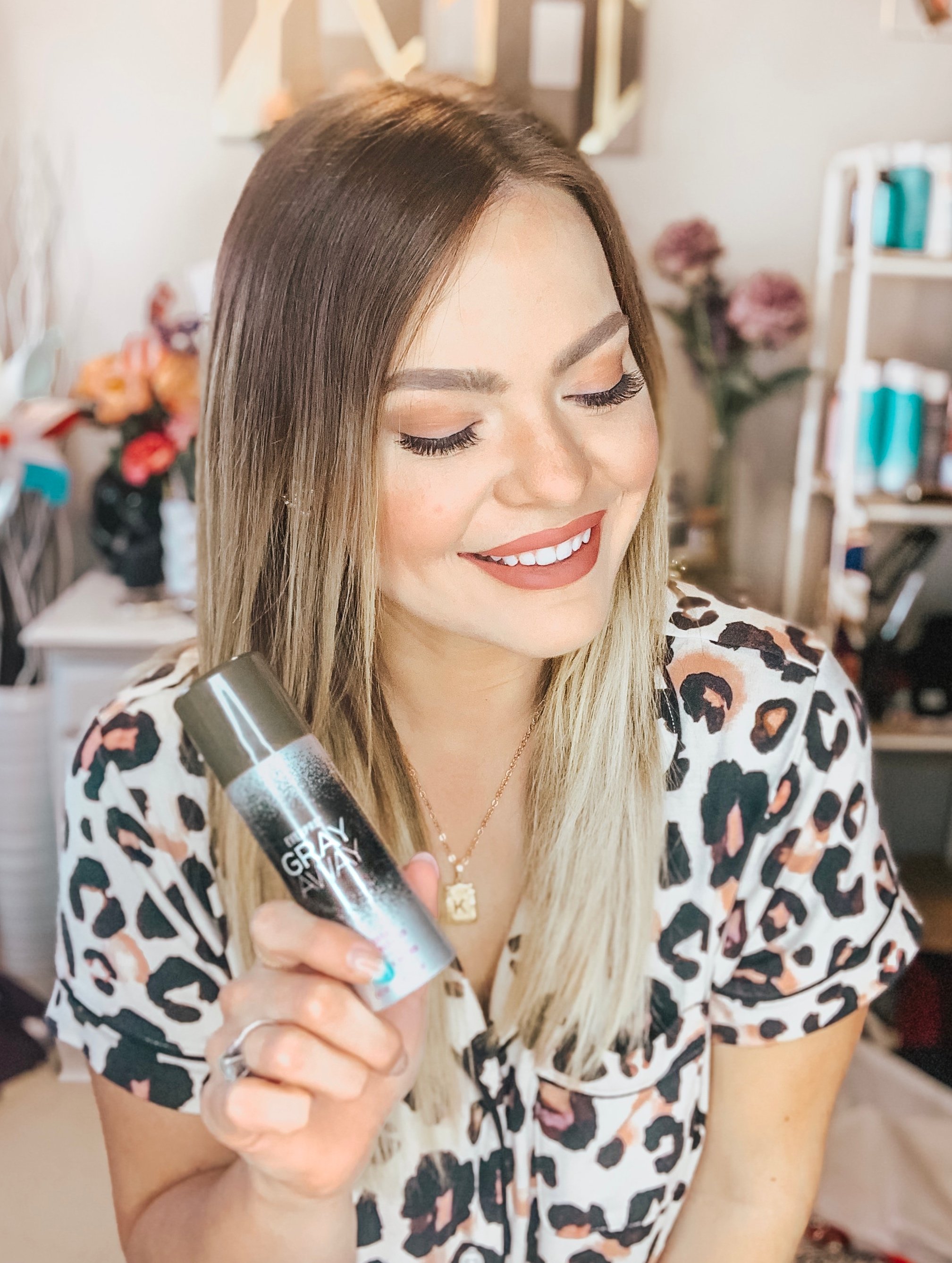 Gray Away Temporary Root Concealer Spray
This spray is perfect for in between salon appointments. When my hair grows out, it becomes ashy looking and dull. You don't have to be gray to use gray away! I have been using the Gray Away Temporary Root Concealer Spray on my roots when I notice the dullness and it gives it a nice refresh! It lasts in your hair too until you use shampoo to wash it out. I found my spray at Ulta Beauty!
Gray Away Root Touch-Up Quick Stick
Another great product from Gray Away is their Root Touch-Up Quick Stick. I use this for my hairline. I have an odd hairline and because I have cowlicks on both sides of my forehead, my hair tends to bend and show off my hairline in a way that I do not like. Root Touch-Up Quick Stick has been a lifesaver when it comes to this! One side is a crayon-like stick and the other side is a sponge. I use the sharper edge of the stick to draw strokes on my hairline that mimic hair. I then go in with the sponge side and blend it into the hairline. It's super quick and easy, and takes just a few seconds on each side.
BEFORE
AFTER
Both the Gray Away Root Touch-Up Quick Stick and the Gray Away Temporary Root Concealer Spray come in so many colors to match your hair. You can find them both at Ulta. If you follow me on Instagram, I'm sharing a little video on my stories today of how both items on my hair.
Have you ever used a temporary root touch up product before? If so, let me know your thoughts in the comments below!
Thank you so much for reading.

Find Gray Away on Facebook | Instagram | Twitter
---