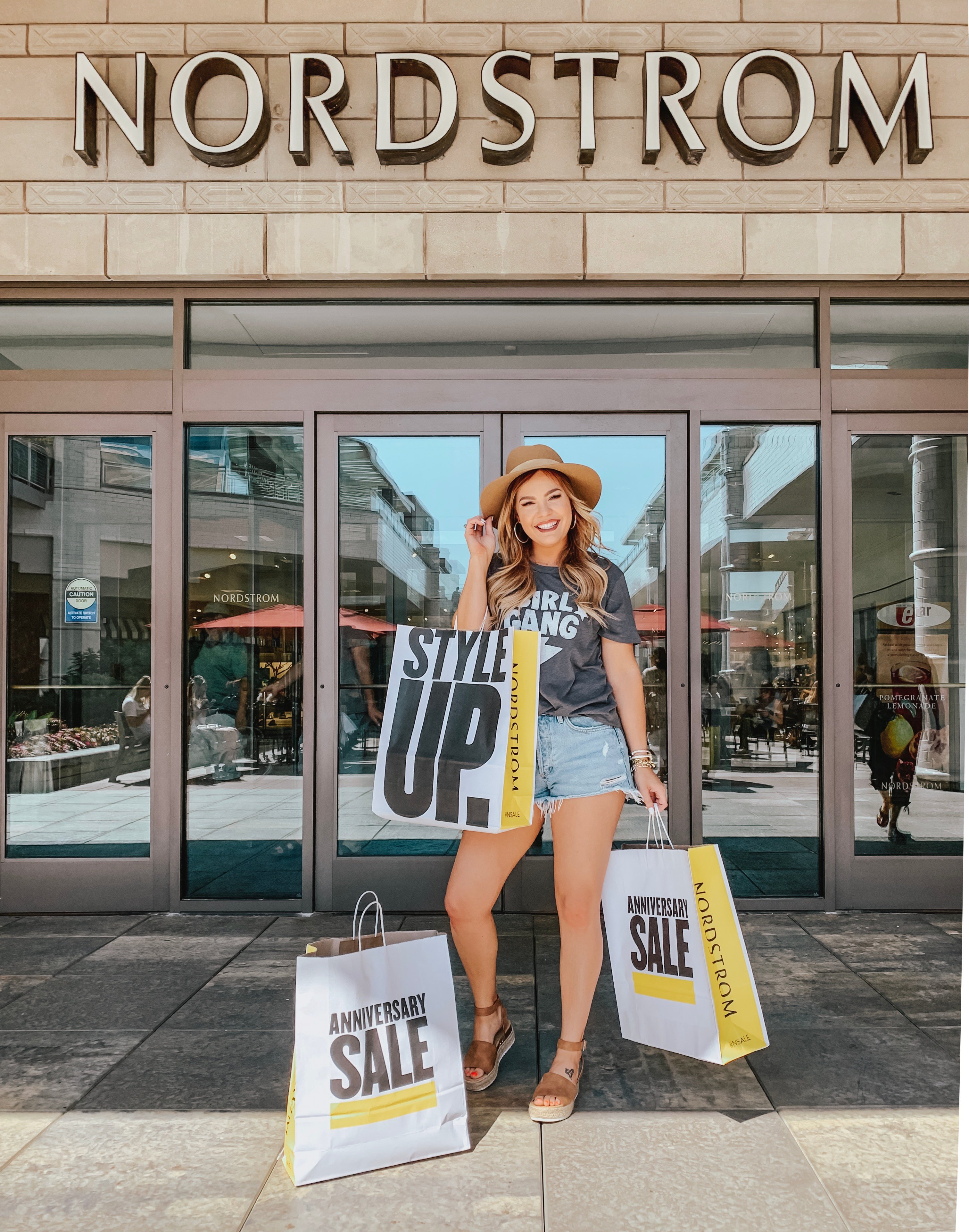 Happy FRIDAY! The Nordstrom Anniversary Sale is HERE and isn't quite open to the public yet, but some cardholders can shop now, so I wanted to put together a post that will help you shop the sale!
What is the Nordstrom Anniversary Sale?
Every year around summertime Nordstrom has their Anniversary Sale. The sale is a preview of their Fall/Winter pieces that are on major sale- typically around 40% off. I know it's crazy to think about Fall already, but there are a lot of pieces that are also great transitional items. Basics are always on major sale during this sale and they're one of my fav pieces to shop. In addition to clothing, other departments have sales too like home, beauty and jewelry.
Shopping for me this year will mainly be online, but I will be sharing lots of content on Instagram and LiketoKnow.It. Be sure you are subscribed to my blog and YouTube channel and follow me on Instagram to keep updated!
A NEW THING they added this year is a WISH LIST for the sale! You can add your items to your wish list now and then they're all in one place when you're ready to shop!
I created a dedicated page just for shopping, so read on or head to MY NORDSTROM 2020 FAVS Page!
Why I'm Sharing This Sale
A lot of bloggers are sharing this sale, and everyone has amazing finds to share! That being said, it's hard to shop through one blogger's affiliate links. I have talked about this in the past but I just wanted to remind you why I share this sale. Not only do I LOVE the sale, I also love showing you my finds. It's a fun way of interacting with my followers and showing you how to style fun pieces. When I share an item with you and you click through and purchase anything from that link, I get a little kick back. This reassures me that what I'm sharing is worth my time and effort to put the outfits and styles together. I hope you enjoy it as much as I do! It also helps me if you're following me on the LiketoKnow.it app – I share all of my outfit pics with links to everything in the photo. Besides on the blog, it's the second best way to shop my finds. You can also find all of the photos on my SHOP MY INSTAGRAM page on the blog too! Thank you all so much for purchasing through my links!
When You Can SHOP
When you can shop is determined by your Nordy Club status. The more you shop, the higher the tier you are and the earlier you can shop the sale. I can start shopping as of August 13th, so I still wanted to put together a post with my favorites and what I think everyone will love!

One thing to note right away is that items sell out extremely quick, so that's why I want to make this shopping experience as easy for you as I can! Typically Nordstrom restocks items before the sale opens to the public, but last year they did not, so I don't want to push getting a credit card, but if you want the best deals before they sell out, that's your best bet! Don't worry though – If you're shopping the public sale, I'll be keeping updated items on a dedicated page for you!
Items I Think Will Sell Out

Items I Already Own and LOVE

Items on my WISH LIST

If you have any questions, feel free to comment on this post or DM me on Instagram.
CLICK HERE TO VIEW THE NORDSTROM ANNIVERSARY SALE PREVIEW
CLICK HERE FOR MY 2020 ANNIVERSARY SALE PICKS
Thank you all for reading & HAPPY SHOPPING!