Happy Tuesday friends!! With just one Saturday left before Christmas, are you freaking out just yet, or are you already done with your holiday shopping? If you're local to Madison and still need some gift ideas for your family, friends, or even coworkers, this post is FOR YOU!!
I've rounded up some of my favorite gift ideas that are local to Madison. These are still things you can find in store, just in time for the holidays! Everyone is all about experiences lately instead of things, so I focused a little more on experiences than actual items.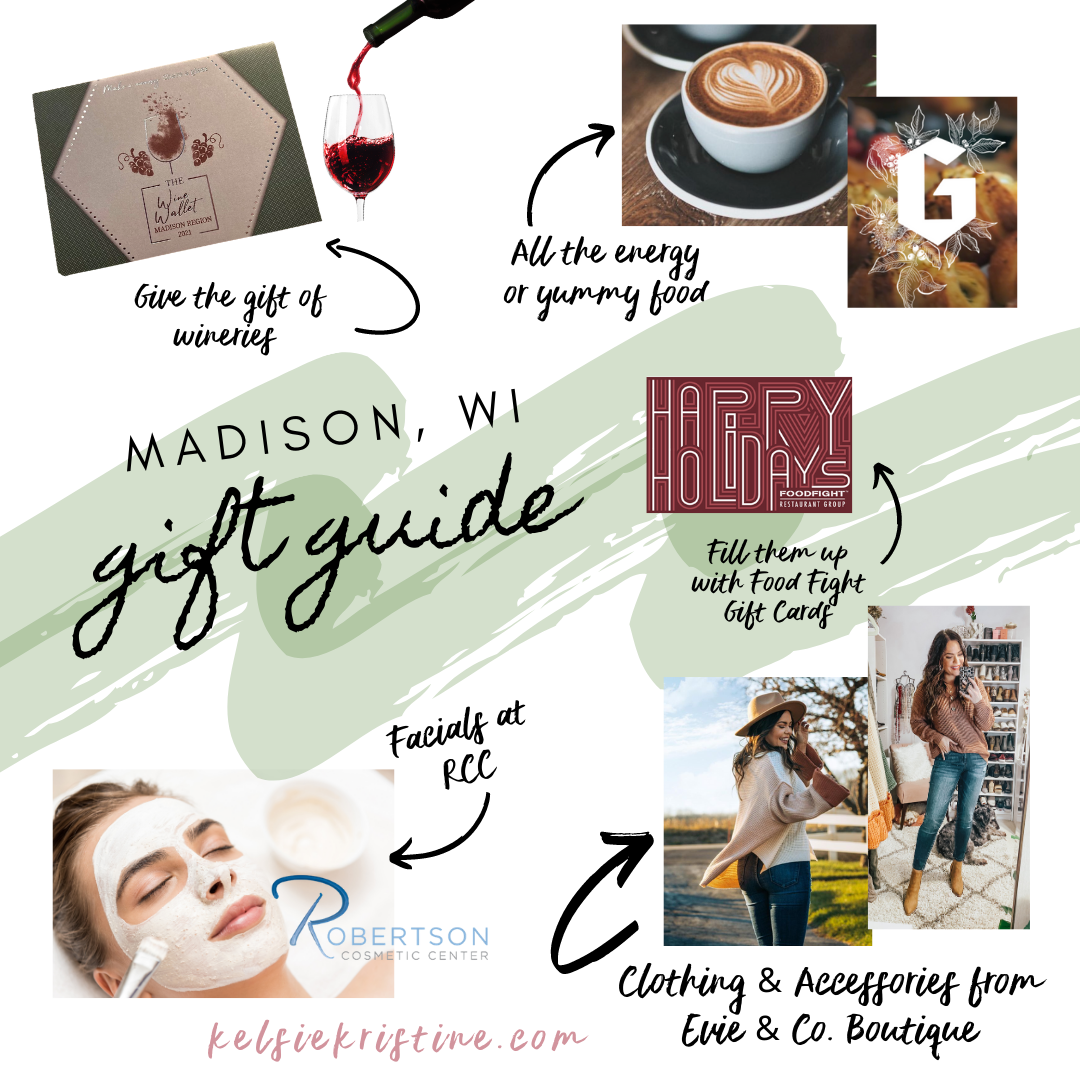 Grab a gift card, some accessories or clothing for someone special. Use code KELSIE for 25% off online or in store. Check out my recent blog post for some outfit inspo.
I love trying out new restaurants, but never know which ones to try out. Food Fight restaurant group in Madison has some great places to try out! Right now, they have a special – For every $100 in gift cards you purchase, you'll get Bonus Book with over $100 in special offers from your favorite Food Fight restaurants.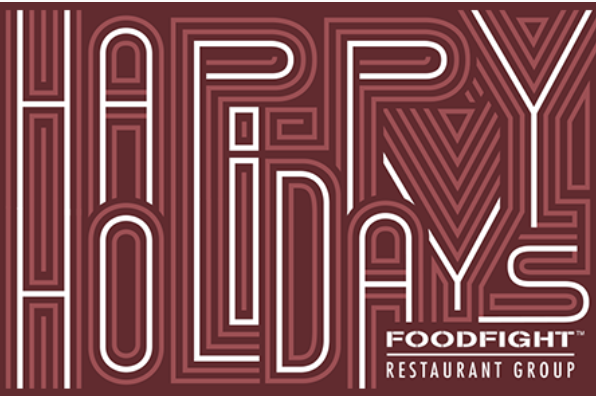 Check out their list of restaurants HERE.
Board & Brush – Middleton
You've probably heard of Board & Brush before. I talked about them on last years gift guide. There are several locations in Wisconsin. If you've never been to Board & Brush, it's not your typical DIY paint nite, it's an in depth hands on workshop where you learn how to create your project from start to finish. Their style is more trendy farmhouse style. In addition to wood signs, they also do glass, chalkboard, canvas pillows, and more!
Check out their website for more details.
I talk about it all of the time! LOFT is one of my fav stores, not only online, but to go in-store! The LOFT near Madison is in Greenway Station in Middleton. I love going in store and seeing how they set everything up! I always seem to find so much more in store than I would online. (Which could be a good thing or a bad thing at times) 
They currently have a 55% off sale happening with code GIFTS. If you're in need of a gift item for someone, their accessories are amazing- scarves and hats are the best! Don't know what to get? A gift card should do!!
The Wine Wallet is a coupon book for the local wineries thats good through 2021. There are 2 booklet options (Madison area, which are all within a 1 hour driving radius from the capitol square and Driftless region, which includes the western side of Wisconsin. From Alma, La Crosse, Wisconsin Dells, Potosi, Monroe, and Waukanee. The Driftless Region booklet is $96 value for only $25. The Madison Area booklet is a $72 value for only $25. Plus $1 will get donated to the WI Humane Society for every Wine Wallet Sold. The booklets have a coupon for each winery- some are free glasses of wine and some are tastings. They also note which ones are dog friendly. 
I will note it does say that gifts may not arrive by christmas, but I still wanted to note it. Even if it's a little late, it's a great gift idea.
Lots of stores to shop or grab gift cards. Clothing stores, coffee shops, food and more!
Kendra Scott – Hilldale – Home and Jewelry
Kendra Scott, located at Hilldale has the cutest jewelry, along with home items. I love their signature earrings and their holidays sets are adorable! You know I love my jewelry and I have a ton of KS pieces that are timeless! In addition to their current sales, you can get 20% off home items and 50% off jewelry during your birthday month.
If you're looking more for experiences, try gifting their Color Bar Experience where you can build your own custom jewelry piece! There are so many great options.
This is where I've received my henna brow and microblading. Buttercup Beauty offers brow and waxing services and skincare.
Massage Envy – Massages & Facial Gift Cards
Another great gift idea is a massage!! I love a good massage and it's been so long since I've had one. I've gotten a facial and massage from Massage Envy and they were both great!
Instead of a massage, how about a facial? I go to Robertson Cosmetic Center in Middleton, WI (they have a Sun Prairie location too) I suggest a hydrafacial for anyone to try out! Gift the feeling of relaxation, plus some amazing skin!! Let them know I sent you and you'll get your first hydrafacial for $150!
See my Hydrafacial blog post here. See my Part 1 CoolSculpting IGTV here.
One of my favorite local coffee shops that has a few locations in the area! They have great food and great coffee. Snag some coffee beans or a gift card.
There are so many more amazing places to gift experiences, but I wanted to share some of my favs for this post! I hope this helps you snag some last minute gift ideas. Happy Shopping and thank you so much for reading!