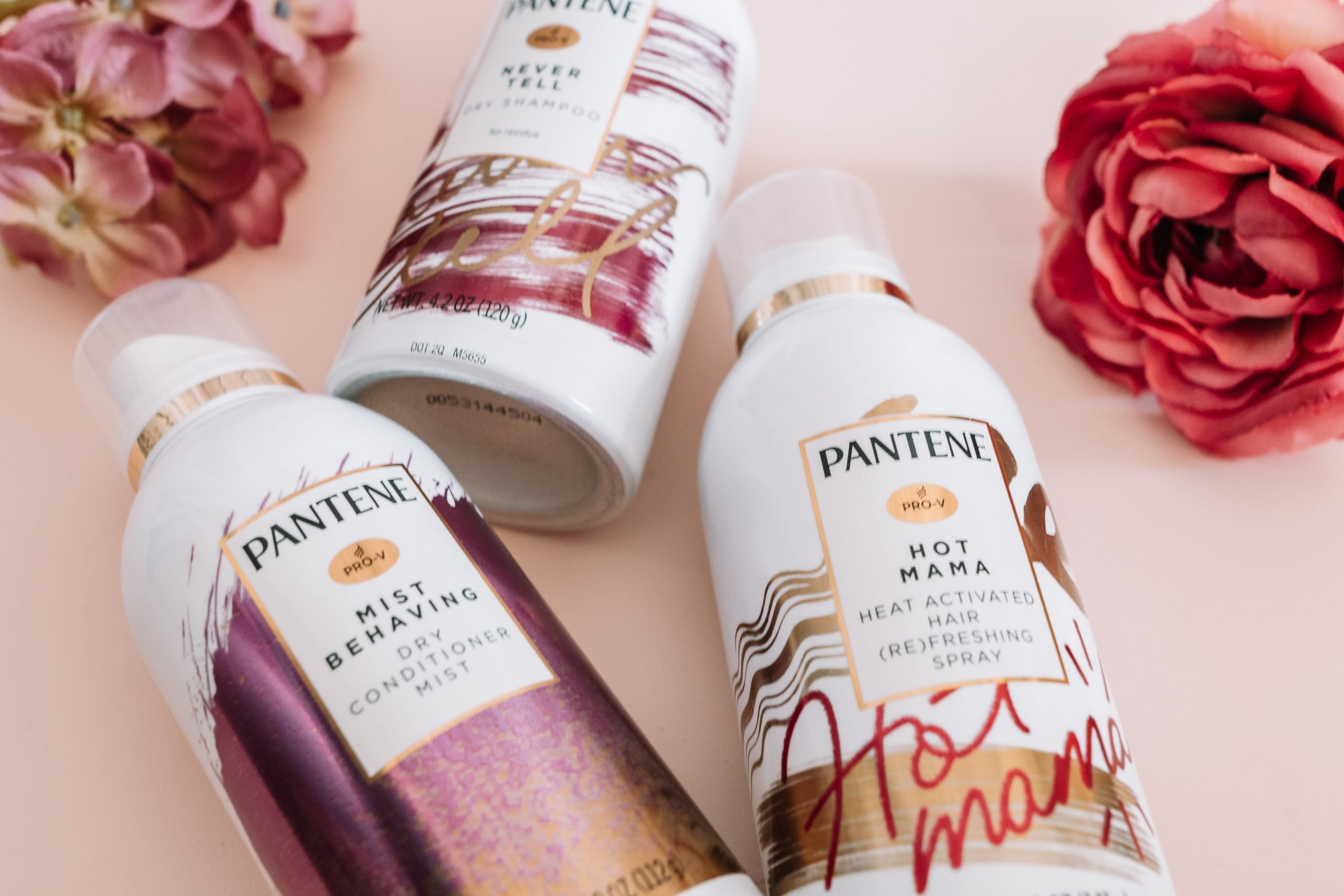 Hi friends! Today I wanted to share a fun post on how I refresh my day 2+ hair using a few new products from the Pantene Waterless Collection!
This post is sponsored by Pantene.  As always, all opinions are my own.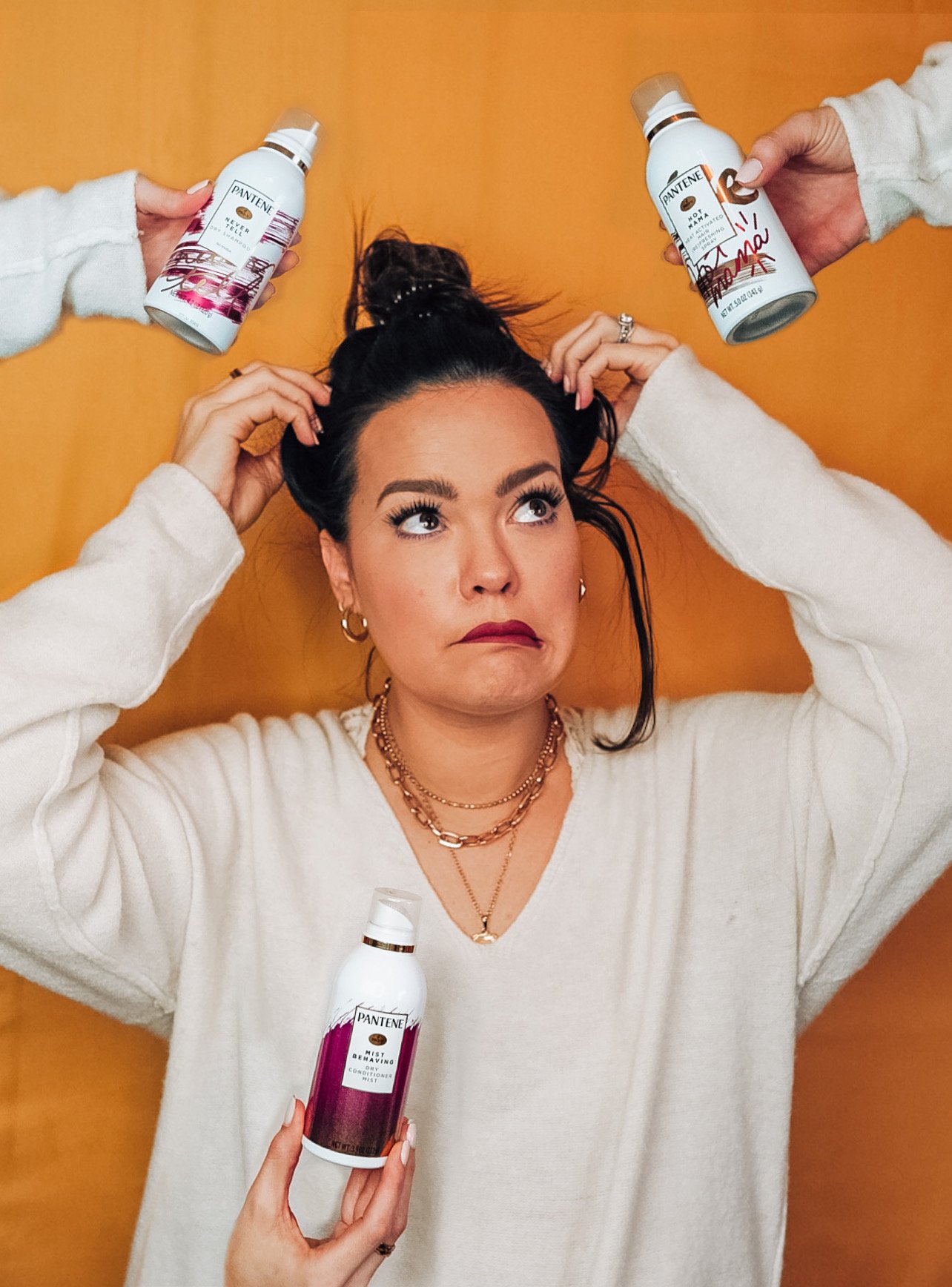 Pantene Waterless Collection
HOT MAMA Heat Activated Hair (Re)Freshing Spray – this is a heat protectant spray that has 0% alcohol and no sulfates or parabens. It smells AMAZING too! How to use: Spray evenly onto dry hair before applying heat. 
NEVER TELL Dry Shampoo Spray – this is an invisible dry shampoo, meaning it won't leave any white cast or residue on your hair like some other dry shampoos. It has no sulfates or parabens and absorbs dirt and oil super well! The scent is very refreshing and makes your hair smell freshly washed! How to Use: Part and lift sections of dry hair that need attention. Spray at roots and massage with fingertips. Brush out, then style hair as usual.
MIST BEHAVING Dry Conditioner Mist – this product is going to help tackle frizz and fly-aways. It instantly hydrates and nourishes your hair. This product also contains no sulfates or parabens. The smell of this one is probably my favorite of the 3 products I'm mentioning today! How to Use: Hold 6-8 inches away from dry hair and apply from mid-lengths to ends. Brush or finger comb through, then style as usual.
How I Use them to Refresh my Hair
I typically go about 6-7 days between washing my hair and the products I use on my hair during that time make a huge difference in getting the hair to last up to the 7 days. My hair is usually air dried on day 1 or blown out gently with a round brush. On day 2 I usually curl my hair. I start with the Pantene HOT MAMA Heat Activated Hair (Re)Freshing Spray and give my head a good spray to prep for my straightener or curling wand, whichever I prefer to use on that specific day. If I need a little extra texture for the curls on day 2, I'll use the Pantene NEVER TELL Dry Shampoo Spray to add some grip. If I skip it on day 2, I usually use it on day 3 and on. After styling my hair, I finish it off with the Pantene MIST BEHAVING Dry Conditioner mist, which will combat the fly-aways and frizz. I don't typically use a hair spray, as too much product can cause my hair to become dirty and greasy faster.
The Pantene Waterless Collection is lightweight and smells amazing! I've never had any issues with product buildup between hair wash days so I highly recommend trying these products out!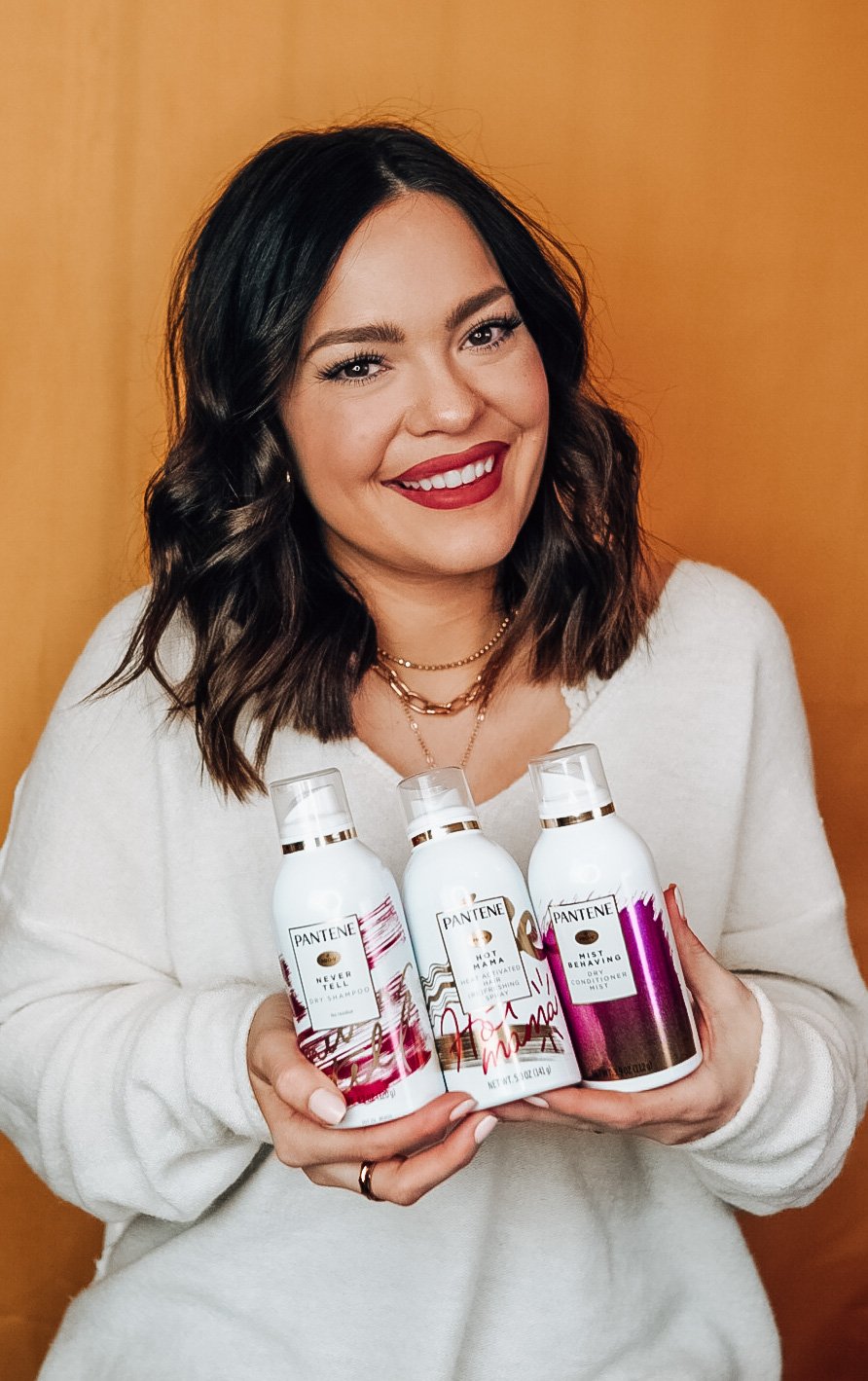 I shared a fun REEL over on Instagram showing the products in use! (check it out HERE)
Learn more about the Pantene Waterless Collection and where to purchase the products HERE.
Thank you so much for reading! Until next time,