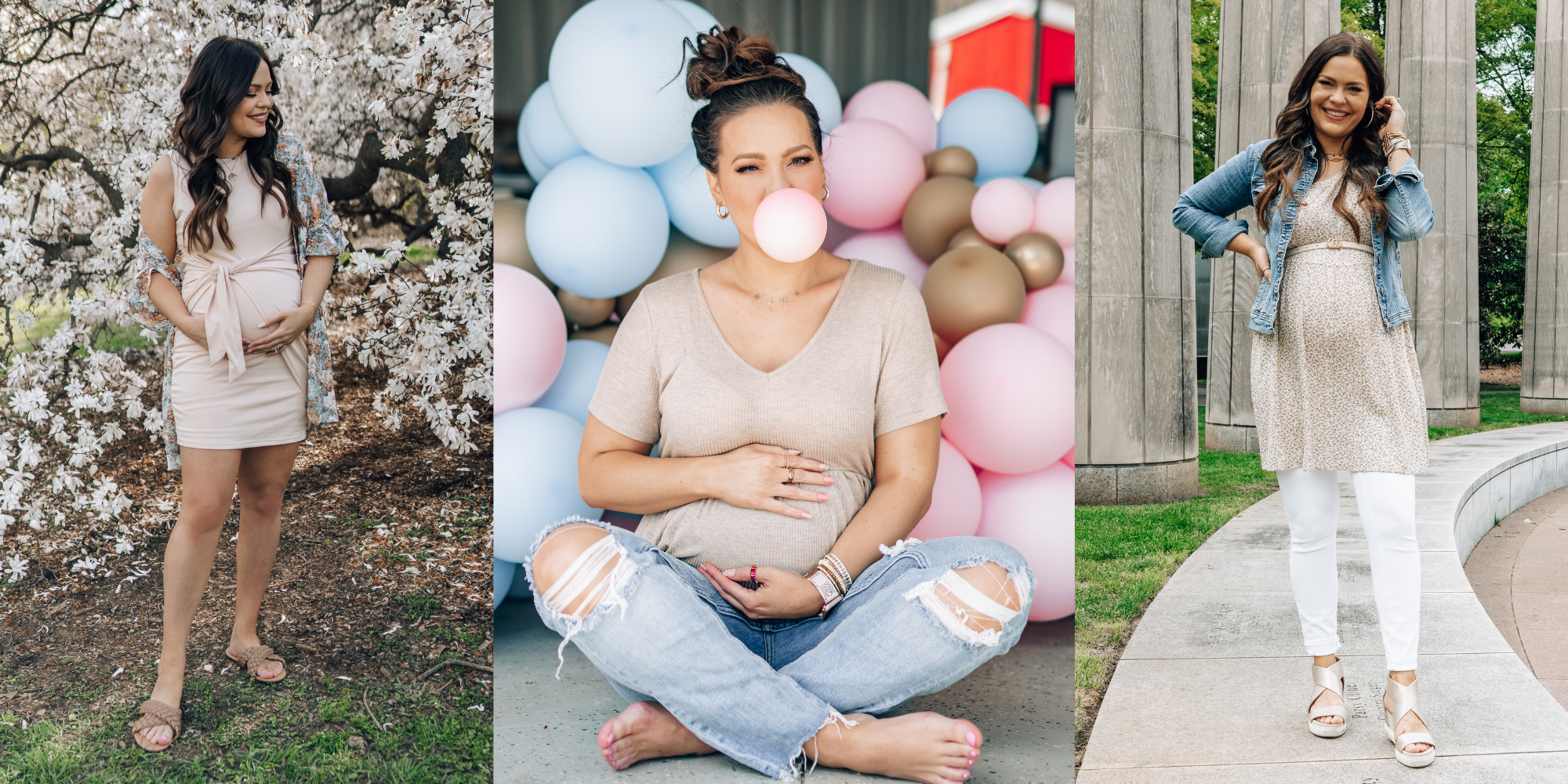 Happy Tuesday loves! I hope you all had a wonderful Memorial Day weekend! We spent time finishing up our airbnb renovations in Iowa so we didn't get to spend too much time outside, but that's okay. (If you have no idea what I'm talking about- check out my "Iowa Flip" highlight on Instagram) Today I wanted to chat about some fun bump-friendly pieces I've been finding for spring and summer, along with tips on how to find those bump friendly pieces while shopping.
I want to focus on "bump-friendly" because I know not all of you are currently pregnant or searching for maternity clothing, so this way anyone can still shop these finds.
Tips on How To SHOP for Bump-Friendly Pieces
It might seem like it would be hard to shop for bump-friendly vs just looking at actual maternity items, but the best part about bump-friendly is that they are also great for postpartum. Maternity clothing can be pretty pricey, so I've only invested in items that I know I'll wear a lot and get use out of. 
Look for words like "Oversized" or "boyfriend" style – oversized tees are so great for the bump and it's perfect that they have become more trendy over the past year or so. I personally love a REALLY oversized tee tucked into my bottoms, but you can't do that with a bump, so be sure to pair them with biker shorts. I have a great maternity pair that I've been living in. Otherwise find shorts that still show underneath the tee. You don't want to look like you're drowning in the shirt. Another great option is to tuck the shirt into your bra for to give you a little more shape. 
Find dresses that aren't mini dresses – although some "mini" dresses might work, make sure they're a little longer than a normal mini dress because the bump will bring that mini to an ultra-mini real quick. I personally love looking for midi dresses (dresses that hit below the knee or mid-calf). Shift dresses are also a great find because most of them are a little longer.
Sizing – the general rule would be to size up at least one for bump-friendly, but it really will depend on the piece. If it's a stretchy material and you want to show off the bump, stick to your true size. If it's a material that has no give, size up one. 
Belts Help – going along with the oversized fit and dresses, a belt can easily accentuate the bump (if you're wanting to show it off that is). I'd much rather show the bump than look or feel like I'm drowning in it.
Search for terms like babydoll or a-line – babydoll is going to hit just below the tatas and be super comfortable with a bump. a-line basically means it sits above your hips and flares out – similar to a babydoll but a little lower. These tops/dresses can also be paired with a belt.
Bump Friendly Spring/Summer Outfits
Below are a ton of bump-friendly options that I've found for spring and summer.

Top Maternity Must-Haves
Below are some great staple pieces that are maternity to go along with your bump-friendly pieces.

I hope you found this post helpful when searching for some bump-friendly pieces, or if you're not pregnant, maybe you found some super cute outfits for spring and summer that will still look amazing!! Thanks so much for reading!