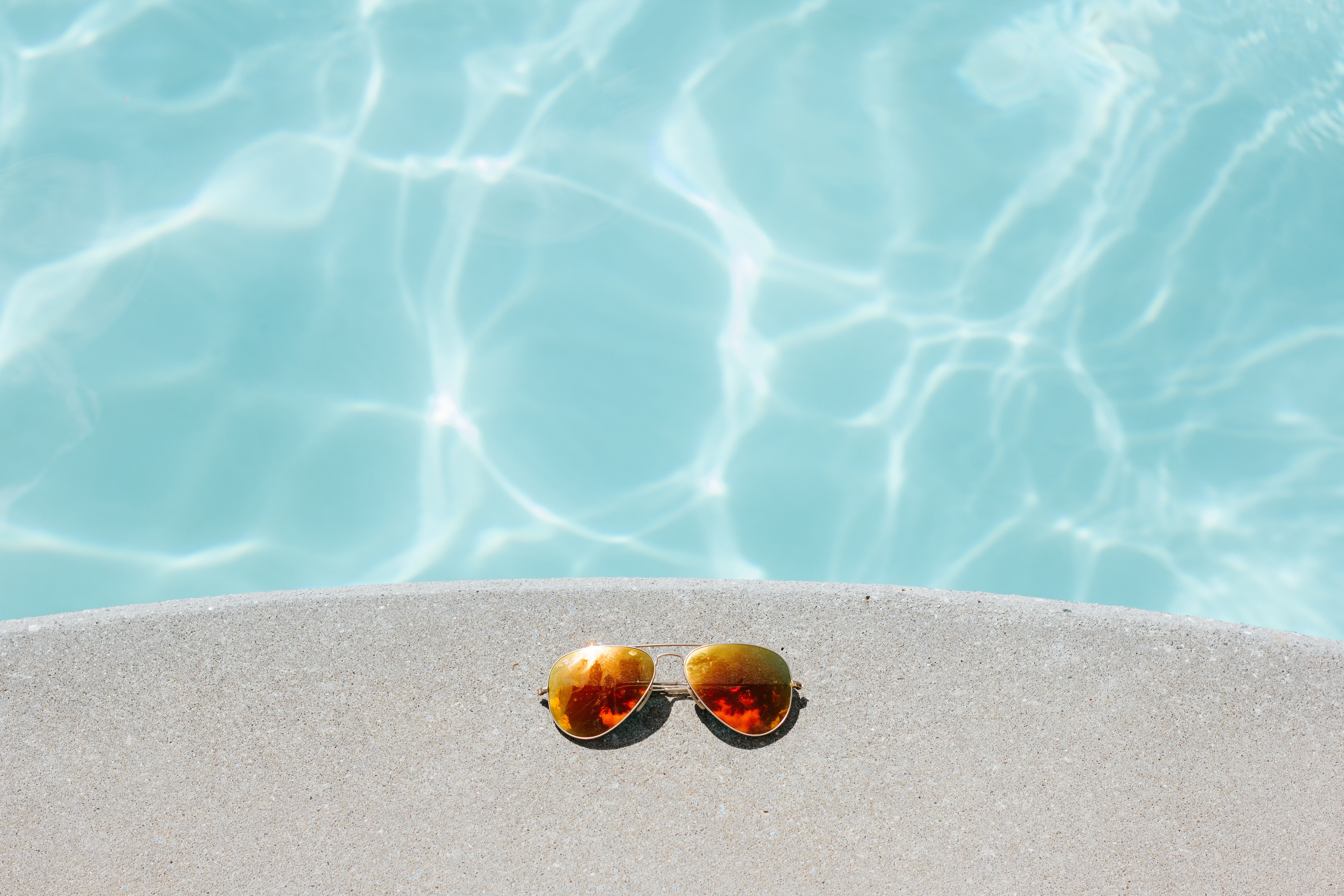 Happy Tuesday friends! Last week I was in Georgia for a bachelorette party and we went out on the lake for one of the days. We had so much fun and I realized it's been a while since I've done a "What's in My Bag" post, so with it being summer and lake/beach days are upon us, why not share what's in my beach bag!
I've been to the pool and on a boat a few times this year, and I mainly just go for the basics, so below are the favs that are in my bag:
What's In My Beach Bag
TOTE BAG – first off let's start with the tote/beach bag! I got THIS ONE this year and I've used it every time I've gone to the pool! It's the perfect sized burlap tote with a front velcro pocket. It holds everything you need!

SPF – next let's talk SPF – since I'm pregnant, I've been using all mineral based sunscreens. For my body Ive been using THIS ONE and I keep it in my beach bag. I haven't found a good mineral based sunscreen to protect my lips, so if you have any in mind, please let me know. I used to use THIS ONE before I got pregnant. (I also use THIS undereye SPF and THIS face SPF while getting ready, but I don't keep them in my beach bag.)

TOWEL – I always bring at least one towel and LOVE MY round turkish towel that I got many years ago. THIS ONE in beige is a similar one that anyone can use, but I also love THIS ONE!

SWIM COVER UP – I have so many swim cover ups and love them all. I'll link a few of my favs below, but the one I've been carrying with me most is this lightweight shirt dress from Amazon. It's perfect to throw on over your suit, especially if you have to run in anywhere. It's long enough to cover the booty (and long enough in front with my bump) so you don't need to worry about bringing extra bottoms. Also comes in black.

SUNGLASSES – Sunglasses are always a must at the beach or the pool, but the ones that I carry with me vary on the suit/outfit I'm wearing. I'm linking all of my current favs below.

SCRUNCHIE or HAIR TIE – Depending on the weather, I usually leave my hair down for the pool/beach until I can't take it anymore, then it usually gets thrown up in a hair tie or scrunchie. This is also going to depend on what I'm wearing. If I have a matching cute scrunchie, I'll go with that, otherwise I usually ALWAYS have one of my GIMME Beauty hairties with me – I have the "any fit" and the "thick fit" hairties and they are so great to hold up all of my hair with my extensions. I do have a discount code too – KELSIE25 gets you 25% off anything on their site.

SLIDES/SANDALS – Now usually these are on my feet, but I felt like I should mention them! I love a cute slide to wear to the pool or beach, but again, it's going to depend on what suit I'm wearing and if I'll be in and out of the water, in the sand, or not going in the water at all. I'll link my favorite pool/beach sandals below, but the ones I would wear NO MATTER WHAT are going to be THESE cloud slides – they are super comfy, float in the water if you ever lost them and super affordable! The sizing is odd on these, but I got the 7-8.5 and I'm normally a size 8 and they fit perfectly. Keep in mind, these are going to be wider on your feet- as you can see they are meant to hug around the foot.

SUN HAT or VISOR – Depending on the location, I'll have some sort of visor or sunhat with me to block the sun. I don't like to get a lot of sun on my face because it ages the skin, makes my freckles come out, even if I wear SPF. If you love to wear your hair up, THIS VISOR is perfect! It velcros and is super easy to pack! I own the beige brown color and love it! If you don't need a visor and want to wear your hair down or in a low bun, I love THIS SUN HAT. I struggle with hats fitting my head and this one fits so well! I have the beige color.

WATER BOTTLE – HYDRATE, hydrate, hydrate!!!! It's so important to drink water and stay hydrated when in the sun. I always have a water bottle on me, especially now that I'm pregnant and I prefer ICE water. THIS travel water bottle keeps your ice super cold and has a built in straw too! It goes everywhere with me and is easy to throw in a bag. My husband also has one in black and loves his! He uses it every day for work!

BOOK – If I'm just lounging by the pool or on the beach by myself, I love to try to read a book or listen to a podcast. I have an entire PAGE dedicated to recent Amazon books I've read. I am currently reading "The Newcomer" by Mary Kay Andrews – it's supposed to be a great beach read!

That's about it! I'm sure I throw some other odds and ends in there, but those are the items that are going to be in there 99% of the time. What items do you love to have in your beach bag? Let me know in the comments below.
Thanks so much for reading!