Whether it's a work party, New Year's Eve party, family or friends holiday party, or you just want to dress up and look fancy AF, I've got you covered this year! I don't know about you guys, but I haven't quite gotten into the whole velvet trend that's just come back, but it seems to be all the rage lately! I decided to check out Target's holiday dress section and found that the majority of the holiday section consisted of velvet dresses, so I figured I would give them a try. I've put together a few outfits below that could easily be worn for a holiday party, plus they're all SUPER affordable! I used the same accessories for each of these outfits as well, but all items will be linked below!
It's been a while since I've done a "Style Sunday" post, and I will still do them every once in a while, but you can still see all of my Style/Fashion posts (whether they're on Sunday or not) all in one spot under the Fashion tab in the menu at the top of the page!
*This post may contain affiliate links. This means that any clicks and/or purchases may result in a small commission to keep my blog running at no additional cost to you. Thank you for supporting my blog*Â 
The color of this dress is one of my favorites! The sleeves bubble out a bit toward the wrists and it's a wrap-style dress, but doesn't actually wrap.
DRESS | OTK BOOTS | NECKLACE (old) similar HERE | BAG (old) similar HEREÂ or HERE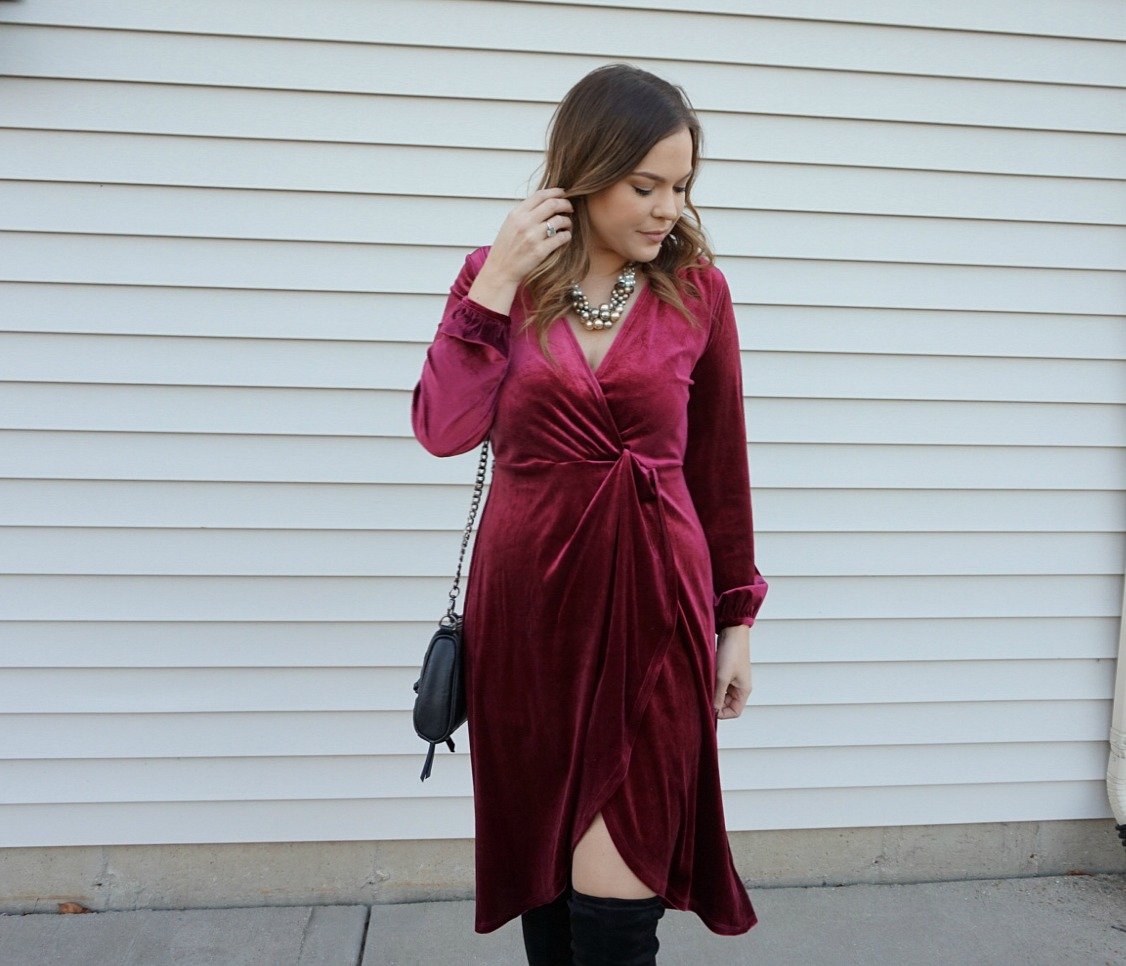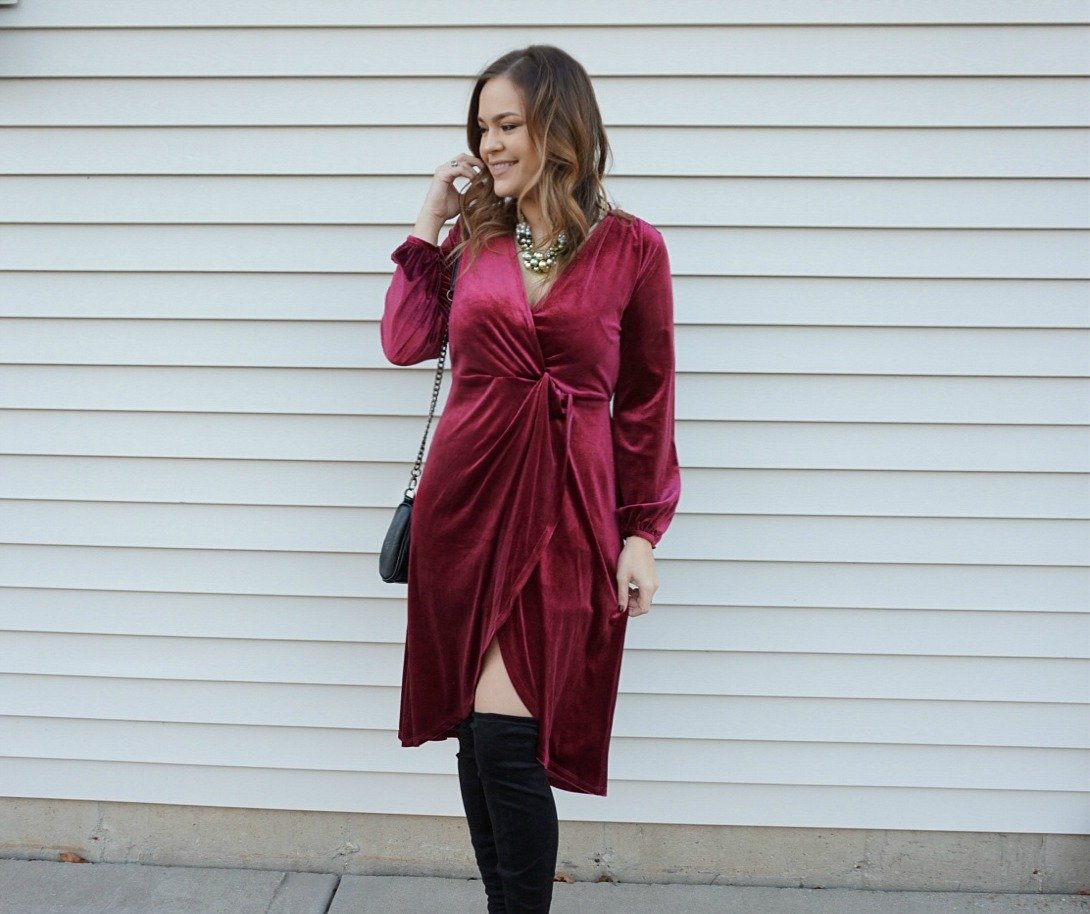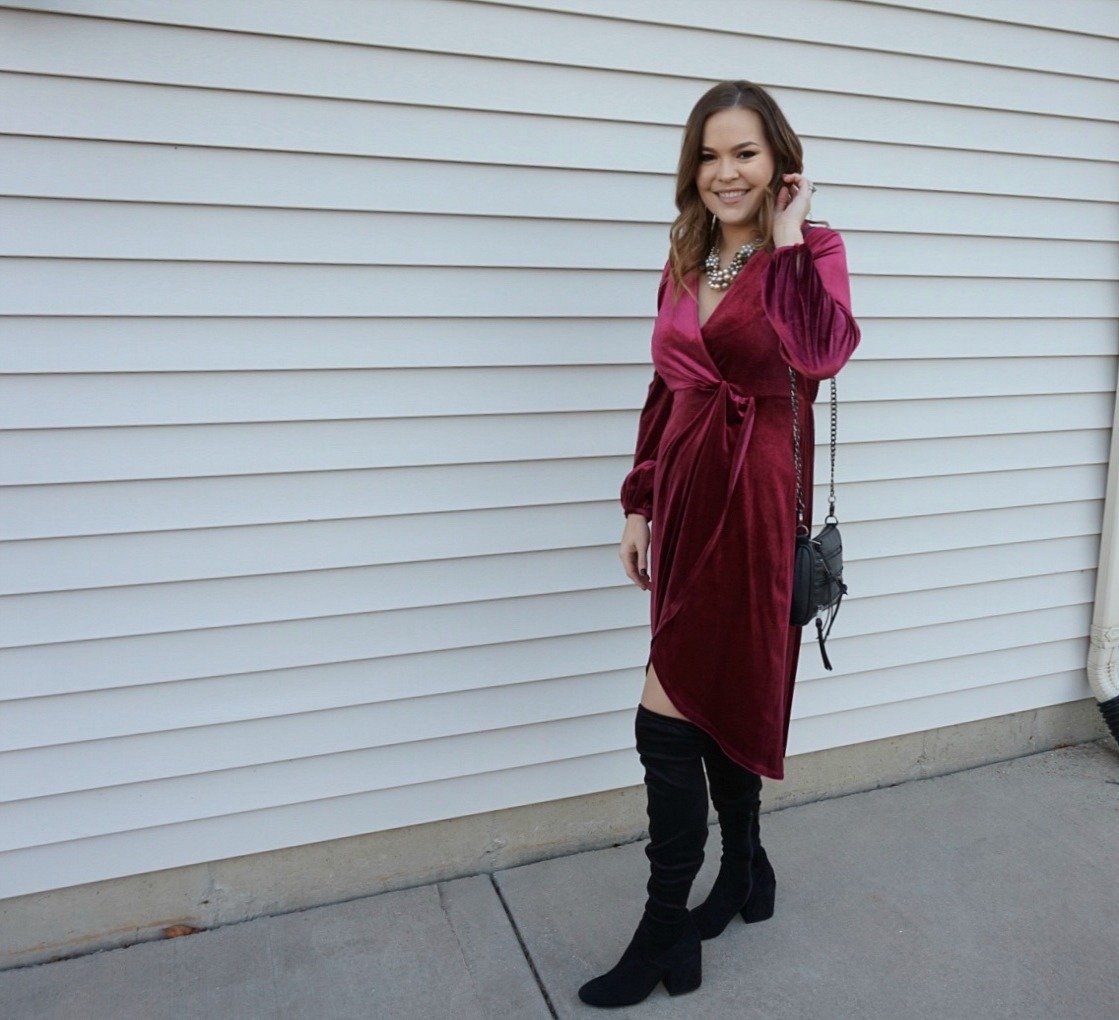 I'm still not a huge fan of the velvet since it is not the most forgiving fabric, but it definitely works for something like this! I do have one dress that I wore on my honeymoon that had a mix of velvet in it and I just loved that! I will be sharing some of those outfits in the new year! I finally have my wedding photos back, so I was waiting to share honeymoon stuff until after I share those, plus I didn't want to take away from the holidays! It will give me something to share come January!
This is definitely more of a lilac or lavender color, rather than the Mauve that it says it is, but I still love the color! The ruffle detailing is perfect!
HERE | OTK BOOTS | NECKLACE (old) similar HERE | BAG (old) similar HEREÂ or HERE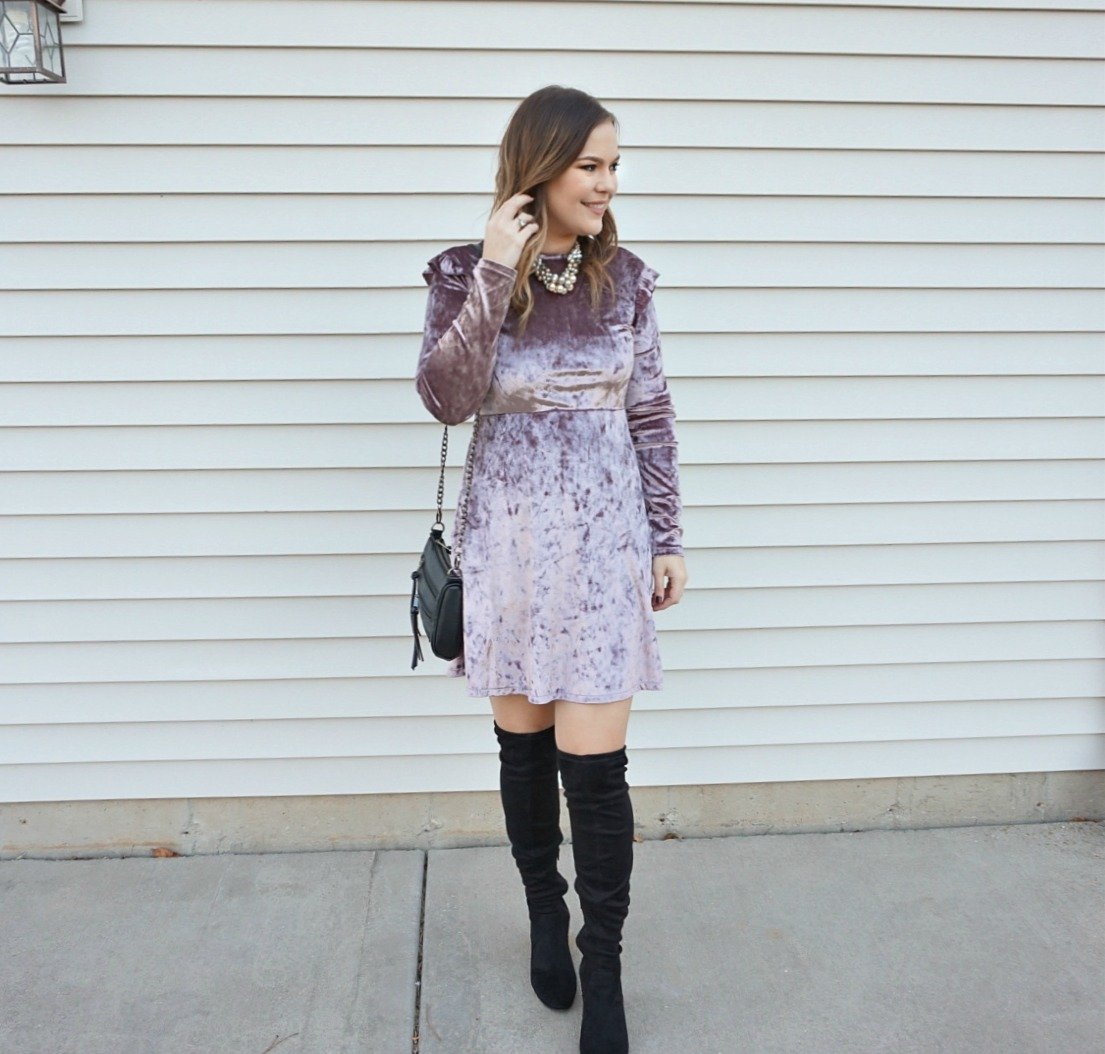 This one was probably my least favorite, but I still love the color! It's a true wrap dress, but the velvet was not flattering on my body! I love the slits down the sleeves and the hi-low look of the dress! I would've preferred black heels (like these) with this instead of over the knee boots, but they both work!
DRESS | OTK BOOTS | NECKLACE (old) similar HERE | BAG (old) similar HEREÂ or HERE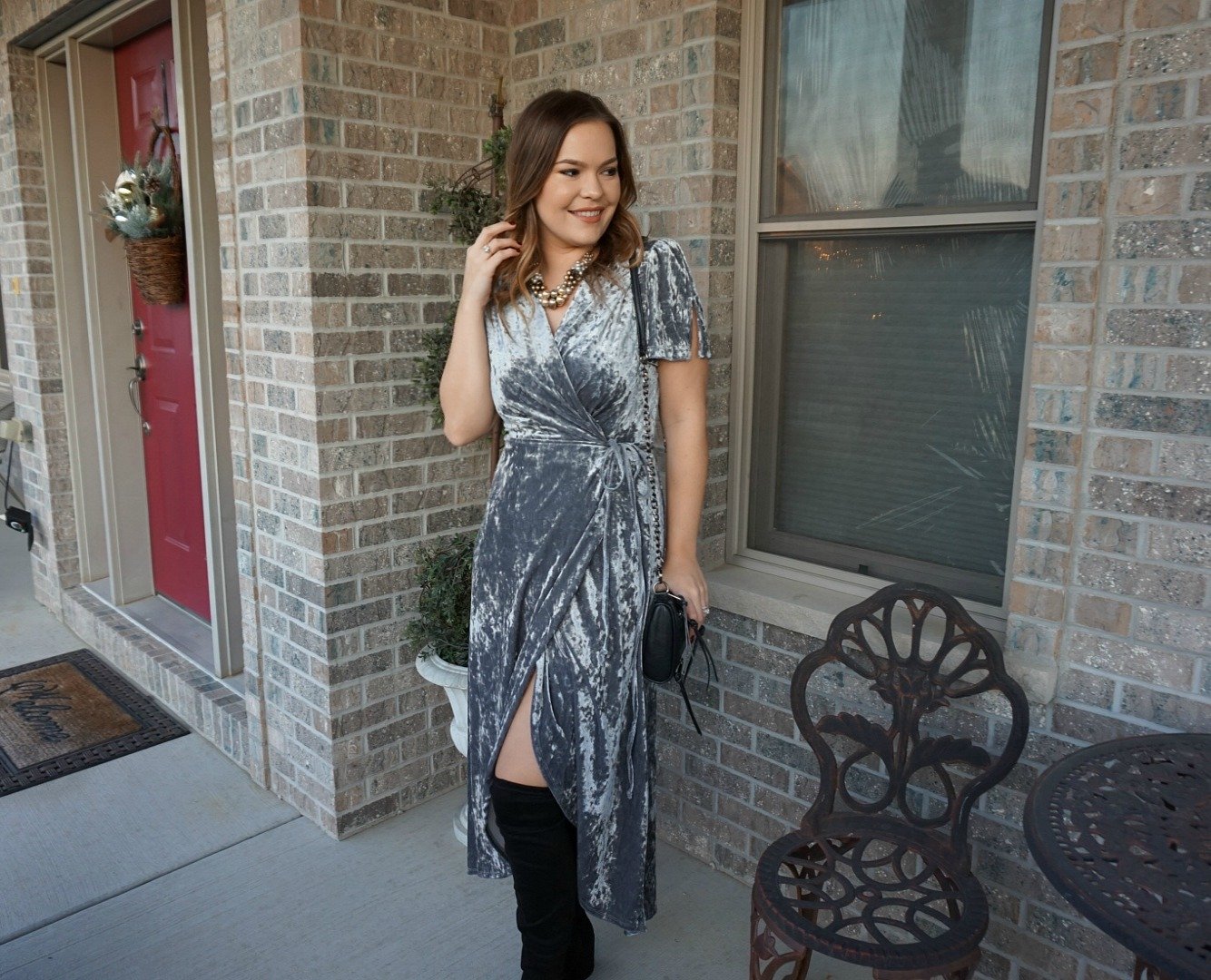 2 Piece Holiday Outfit
This one was probably my favorite out of all of these! I love the body suit with the lace and the cross detailing on the back! The skirt was a little longer than I would've liked, so again, here would be good to go with heels rather than the over the knee boots! The skirt is a metallic, silvery-gold so perfect for the holidays and/or a New Year's Eve party!
Body Suit | Metallic Skirt | OTK BOOTS
NECKLACE (old) similar HERE | BAG (old) similar HEREÂ or HERE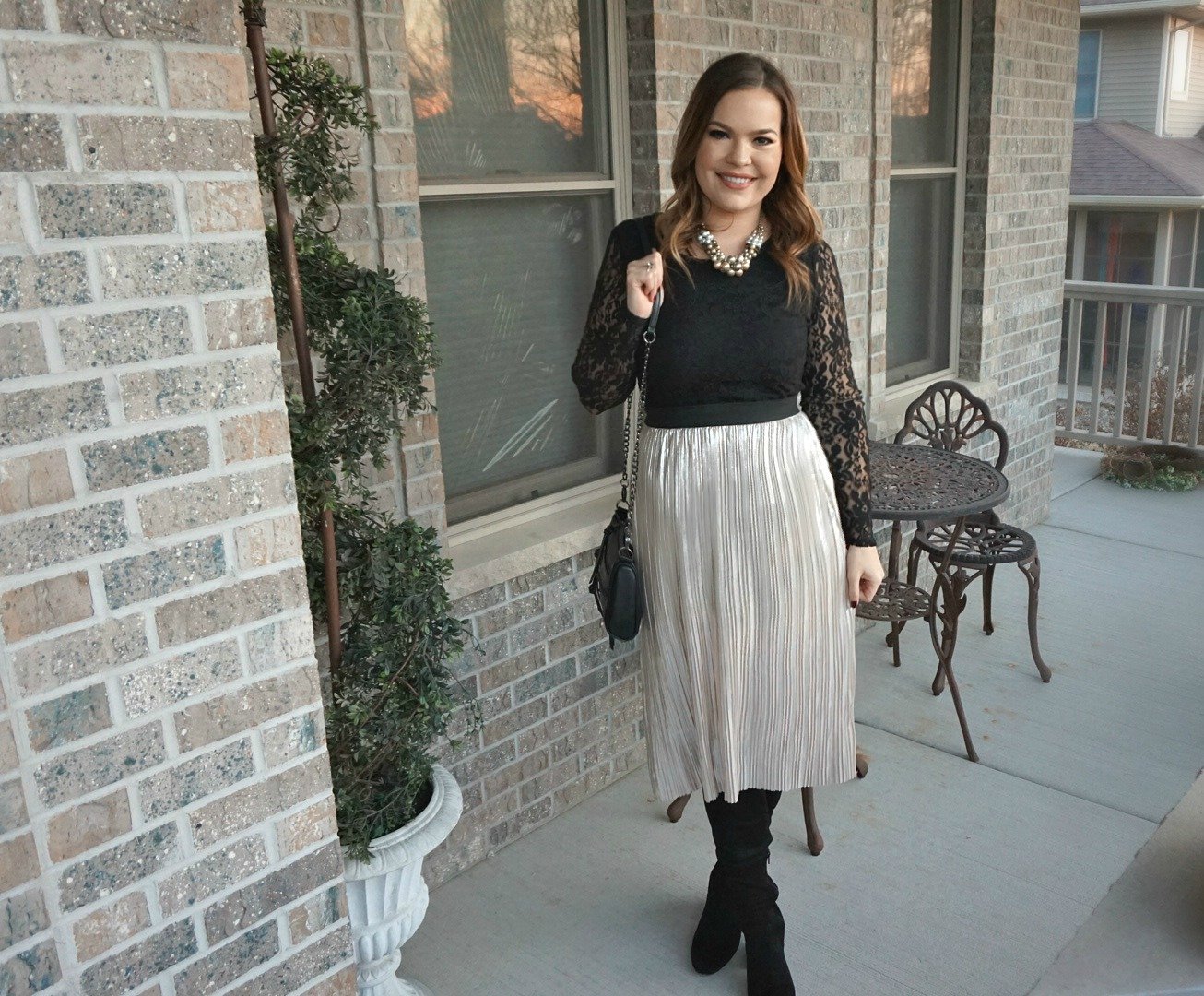 This coat is perfect for a nice outfit! I got it for a great deal on Black Friday, but it's still a good deal right now! I am in size M/L and the red is a bit more burgundy in person. The pockets are perfect and the coat looks so chic, yet is still comfortable! You can find it in the burgundy here, or there are other colors here.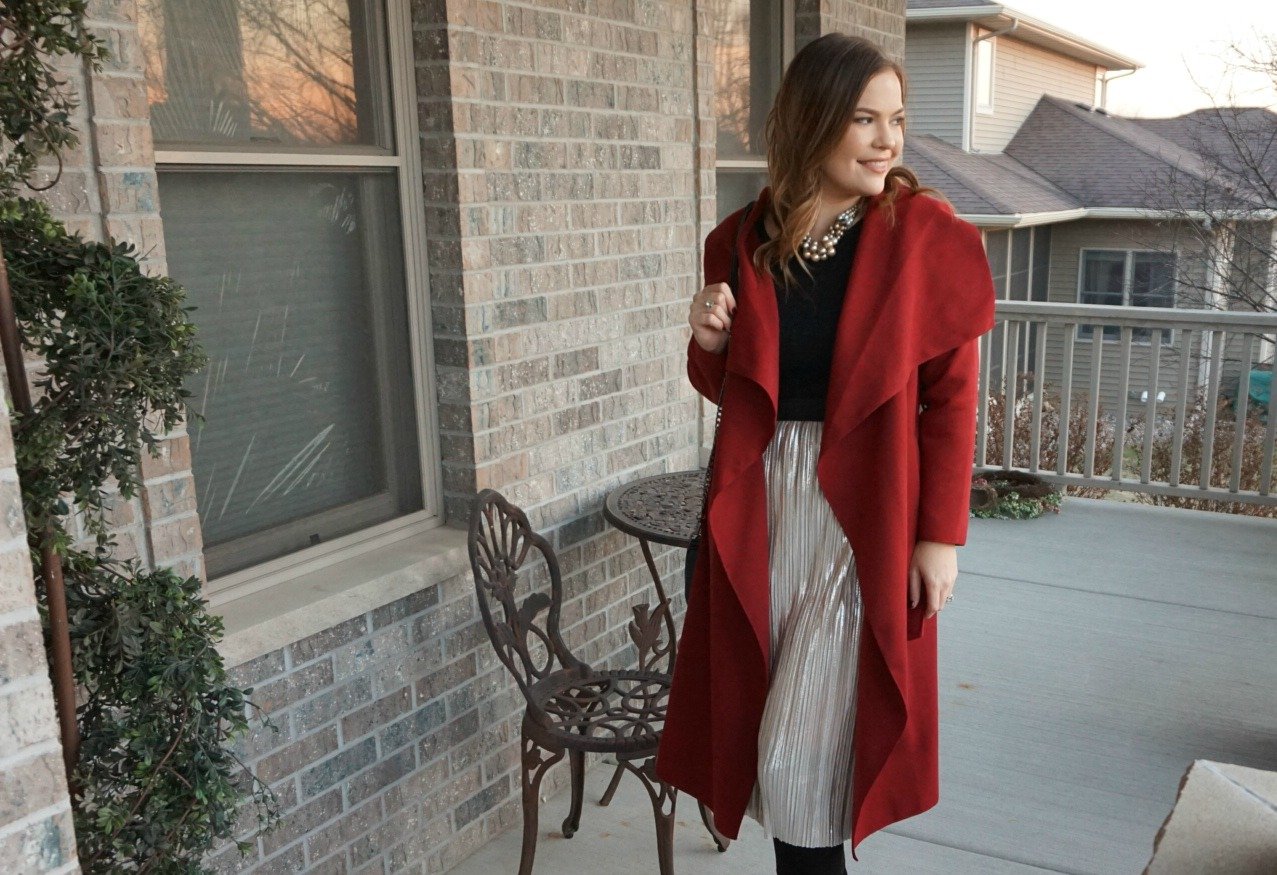 Whatever parties you attend or dressing up you do this holiday season, I hope they're great & hope this post helped you out a little bit! Most of these items are from Target and you can even find them in the store or ship to the store to pick up to ensure you have them in time for your party!
(If you missed my recent VLOGMAS videos + posts, be sure to check them out)
Have a safe & happy holidays!
From my family to yours!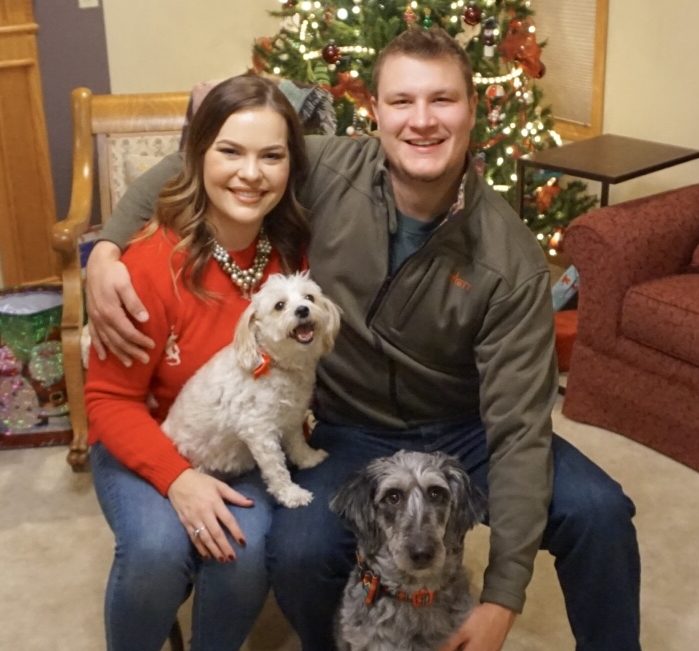 FOLLOW ME ON SOCIAL:

 
 
 


Snapchat: @itsmekelsie22
Become an Influenster
Join FabFitFun