My favorite night of the week is pamper night! There's nothing better than feeling relaxed & refreshed! I try to do this at least once a week to unwind, relax and gather myself! Once a month I do a little extra pampering like painting my nails and doing a hair mask, but today, I figured I would share my weekly, at-home pamper routine with you all!
Set the Mood
I start my pamper night by lighting some candles. I try to avoid any other lights if possible and just enjoy the candlelight. There's just something so relaxing and calming about the flickering of a candle's flames. I then drown out the background noise with some calming music, an audio book, or even Netflix on my Ipad. I also grab a glass of my favorite wine.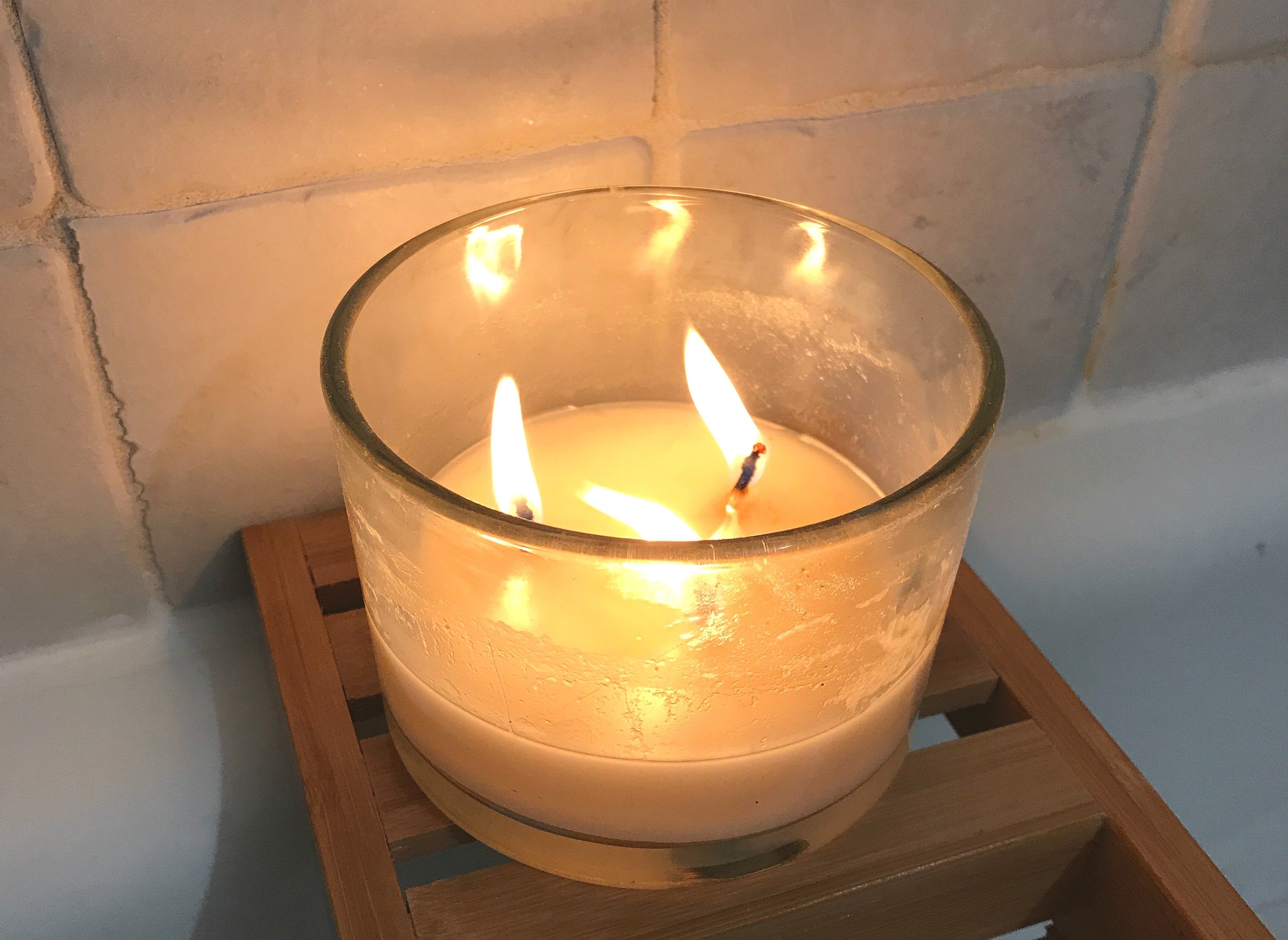 Skin Care
Before I move onto my favorite part of pamper night, I like to do some skin care! I first take off any product on my face with a face wipe. I then use a lip mask and a face mask. My go-to face masks are sheet masks. I will put these on right before moving on to the next step.
Draw a bath
Once I have my skin care items ready to go, I will draw a bath! This is my favorite, and most relaxing part of the night! There's nothing like soaking in a warm bath with bubbles! I drop in a bath bomb just before getting in & sit back and relax! Once I've relaxed in the tub for about 15 minutes, I like to grab a loofah and my favorite body wash from Suave. The best thing about this body wash is that you can take their quiz online to find your perfect scent! That's how I chose my scent, Wild Cherry Blossom. The body wash is infused with cherry blossom, green tea and skin conditioning Vitamin E. I found mine at my local Target, but you can also purchase these at Wal-Mart, Hy-Vee (if you live in the midwest), and Walgreens. They are so affordable and have so many scents to choose from that work for any occasion or time of day! Take your own QUIZ HERE to see what scent best fits you. If you use Ibotta, you will also get a $0.75 rebate from them just for taking the quiz!
Comfies
I end my pamper night by lathering up with some lotion post-bath, putting on my comfy jammies, maybe having one more glass of wine (*wink), and head off to bed!
I hope you enjoyed my weekly pamper night routine. I would love to hear about your pamper night in the comments below. Also, don't forget to take the QUIZÂ to find out your perfect Suave Body Wash scent, and tell me your favorites below too!
Until next time,
xo Kelsie
FOLLOW ME ON SOCIAL:
Snapchat: Â @itsmekelsie22 Â  Â Facebook: Kelsie Kristine
Instagram: @itsmkelsie22Â  Â  Â Twitter: @itsmekelsie22Â  Â  Â YouTube