Morning lovelies! I am so excited to share with you Jaclyn Hill's new eyeshadow palette in collaboration with Morphe Brushes! I have been watching Jaclyn Hill on YouTube for so many years and she has influenced a lot of things in my life, such as beauty products, hair, and fashion. She was probably one of the first people I watched on YouTube, which lead me to watching and following so many others like her.
Jaclyn's palette has sold out for the 3rd time but looks like they will be restocking again soon. You can put your email address in on their website here and they will notify you when the restock date is set.
Today I want to share with you some swatches from this beautiful palette, as well as my thoughts on each color! So, let's get started!
The Palette Packaging
First, and foremost, let's talk about the packaging. I did receive my palette in a well packaged box, inside a large cardboard box. The palette was padded inside a thin box/case, and then covered in bubble wrap inside the cardboard box that was sent. I was so disappointed when I opened my palette to see that the corner was dented- like someone had dropped it prior to packing it up in the box. I only know it was damaged prior to packaging because the thin box/case it came in was not dented like the palette was. Thankfully, when I opened the palette, the colors were all still intact. I LOVE that the palette is WHITE vs. the standard Morphe black palettes, however, I wish it was more of a plastic material rather than cardboard-like. I'm sure they wanted to go with something a bit less expensive since they are using higher quality shadows in this palette. Also inside the palette came a list of the shadow colors, as pictured below.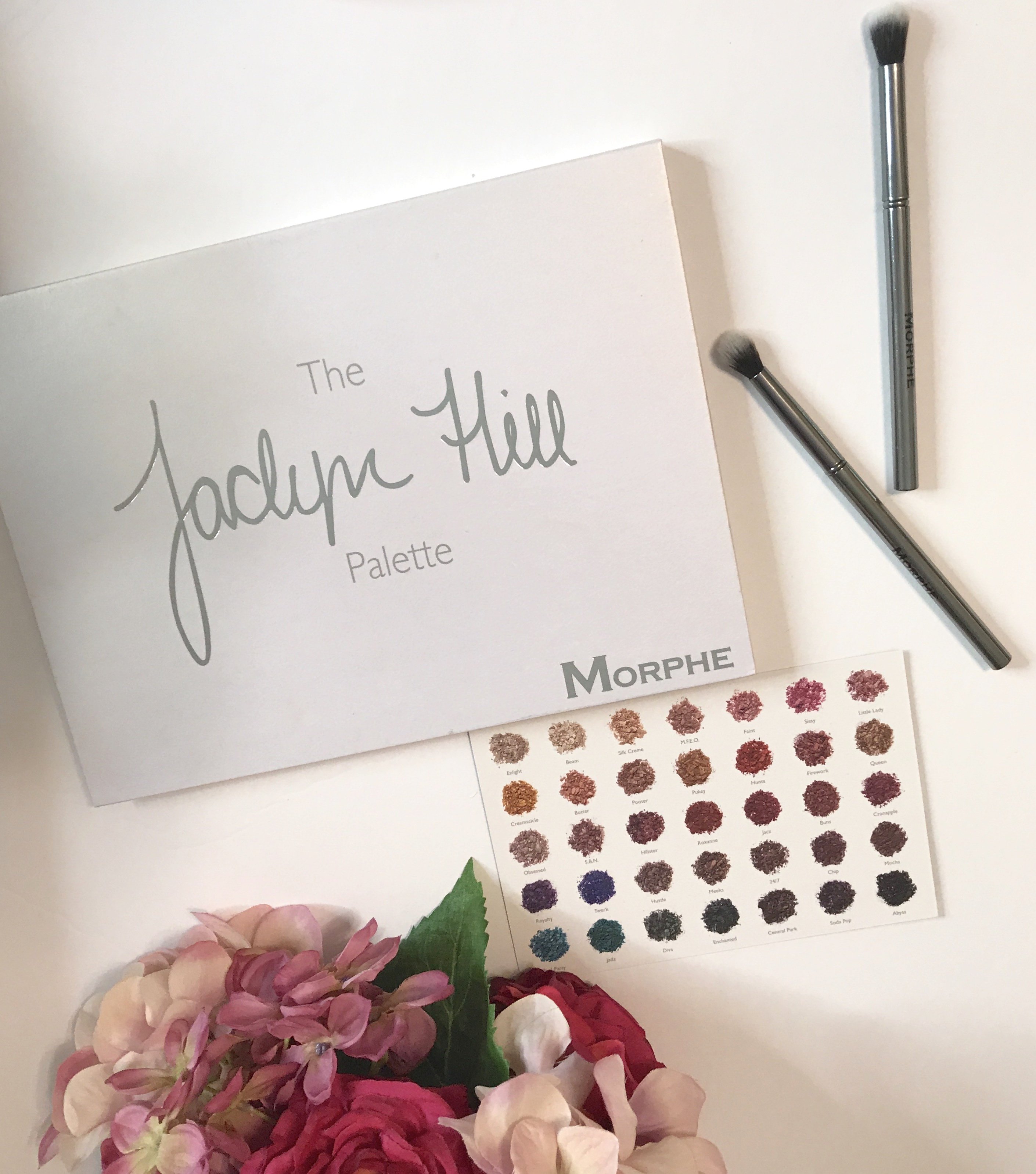 On to the shadows (YAY!)
If any of you saw Jaclyn Hill's video about her palette, I just wanted to scream like she did when she opened her palette! It is soo beautiful and has such a variety of colors! There is also a nice mix of cool tones and warm tones, as well as matte and shimmery shades.
Starting at the top row and working our way down, you can see these lighter, warm shades that transition into the warmer shades. Pictured above, from top to bottom are Enlight (which you can hardly see on my skin tone currently), Beam, Silk Creme, and M.F.E.O. I just love all of these shades. The top shades I use on my lid and inner corner of my eye and the other 2 shades I use as transition colors in the crease. These shades swatched so well and were very creamy and pigmented!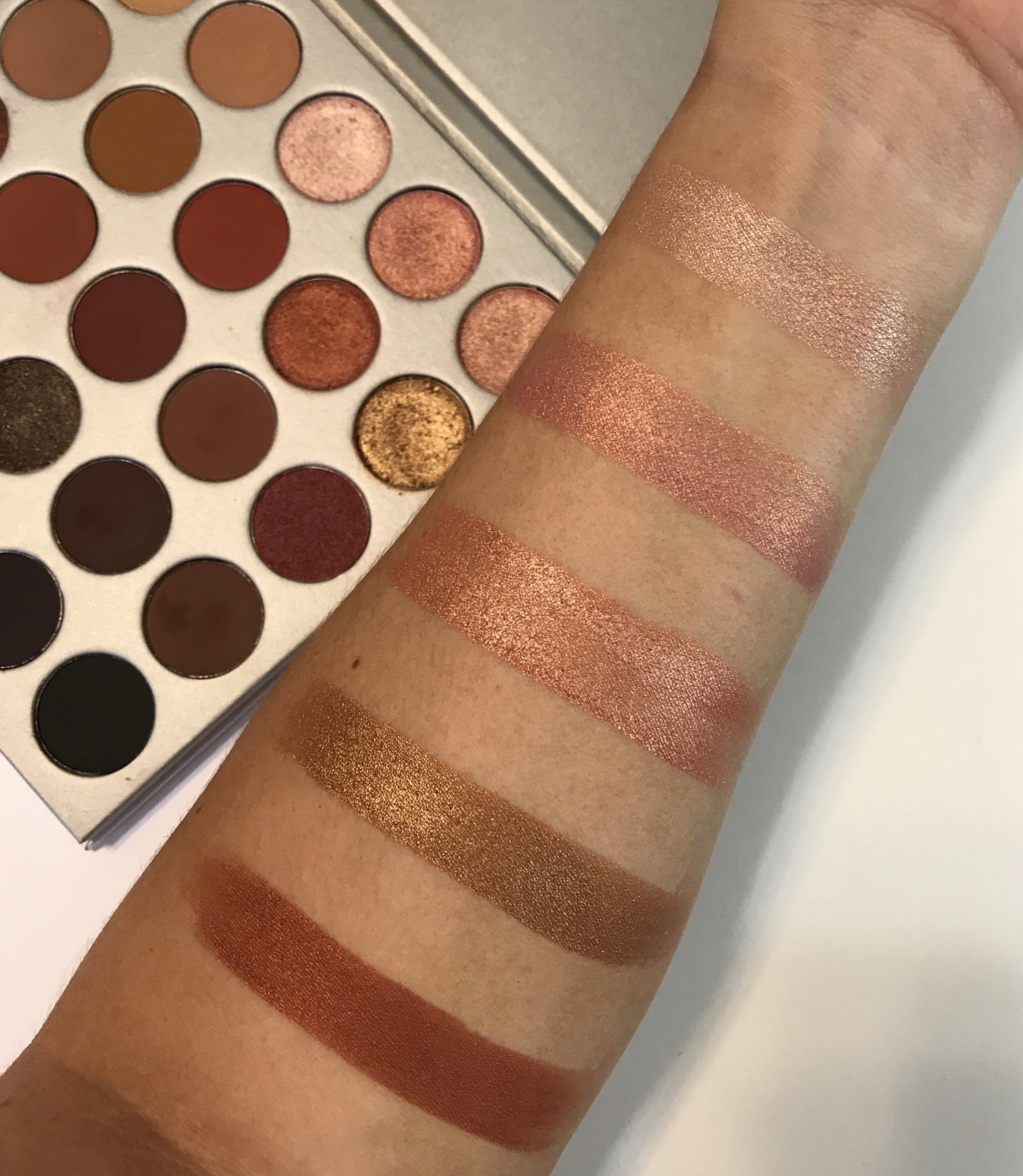 Next up are some awesome duo-chrome, metallic and foiled shades. Pictured from top to bottom are Faint, Sissy, Little Lady, Queen and Firework. As you can see in the picture, Queen and Firework look metallic in the palette but are not very shimmery swatched. I think this is because the shimmer is so fine that in the right lighting it gives off the best color, but I still love the colors either way!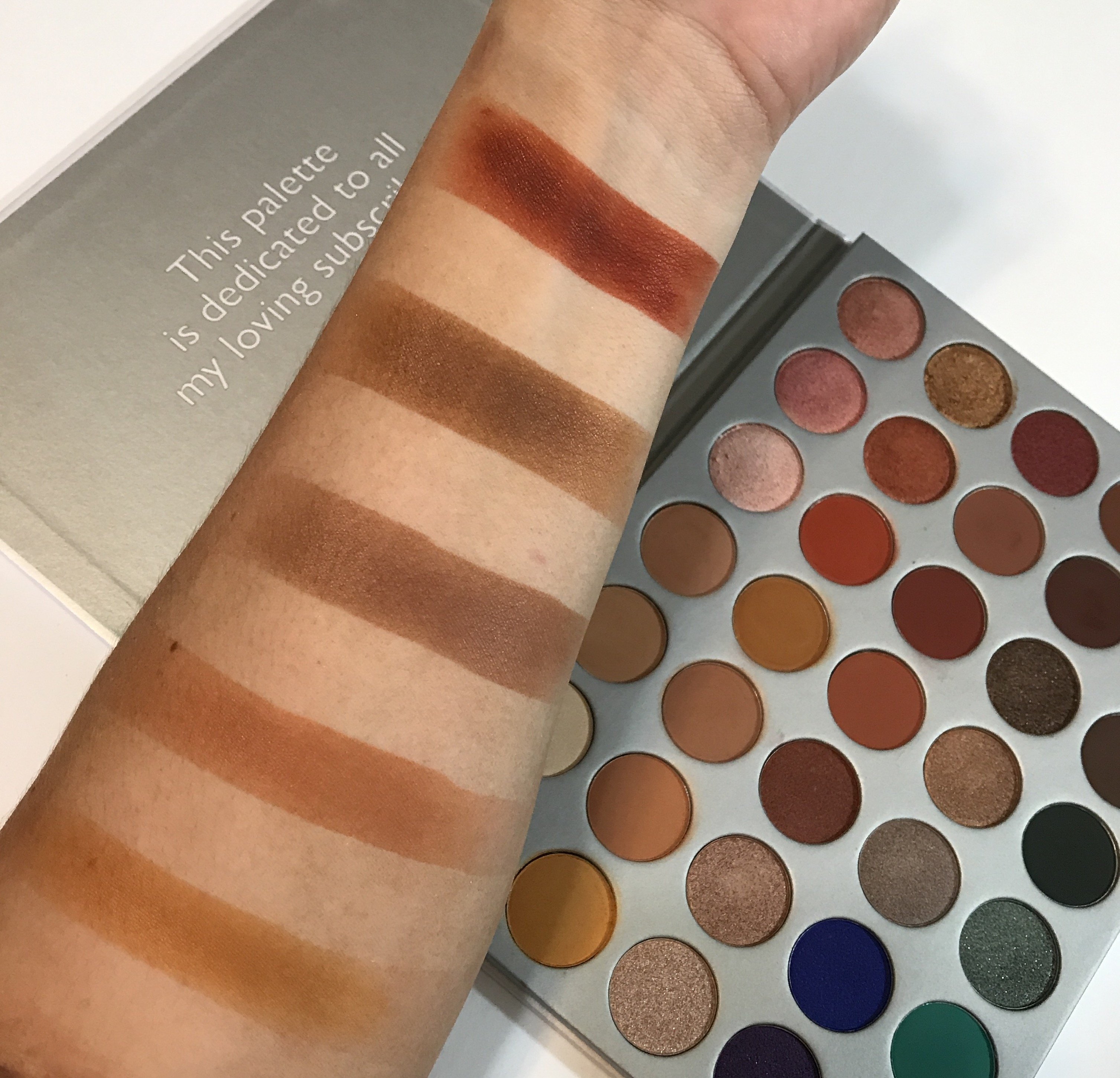 Up next is the rest of the 2nd row. Pictured above, from top to bottom are Hunts, Pukey, Pooter, Butter, and Creamsicle. As you can see on the Hunts swatch, it is very patchy- I tried to go over it and blend it out, but it just wasn't budging. I still love this color though, since red tones are my favs, so I'm disappointed that it's patchy. Same with Pukey- it's a tad patchy, but definitely not as much as Hunts. The rest of the colors swatched pretty nicely!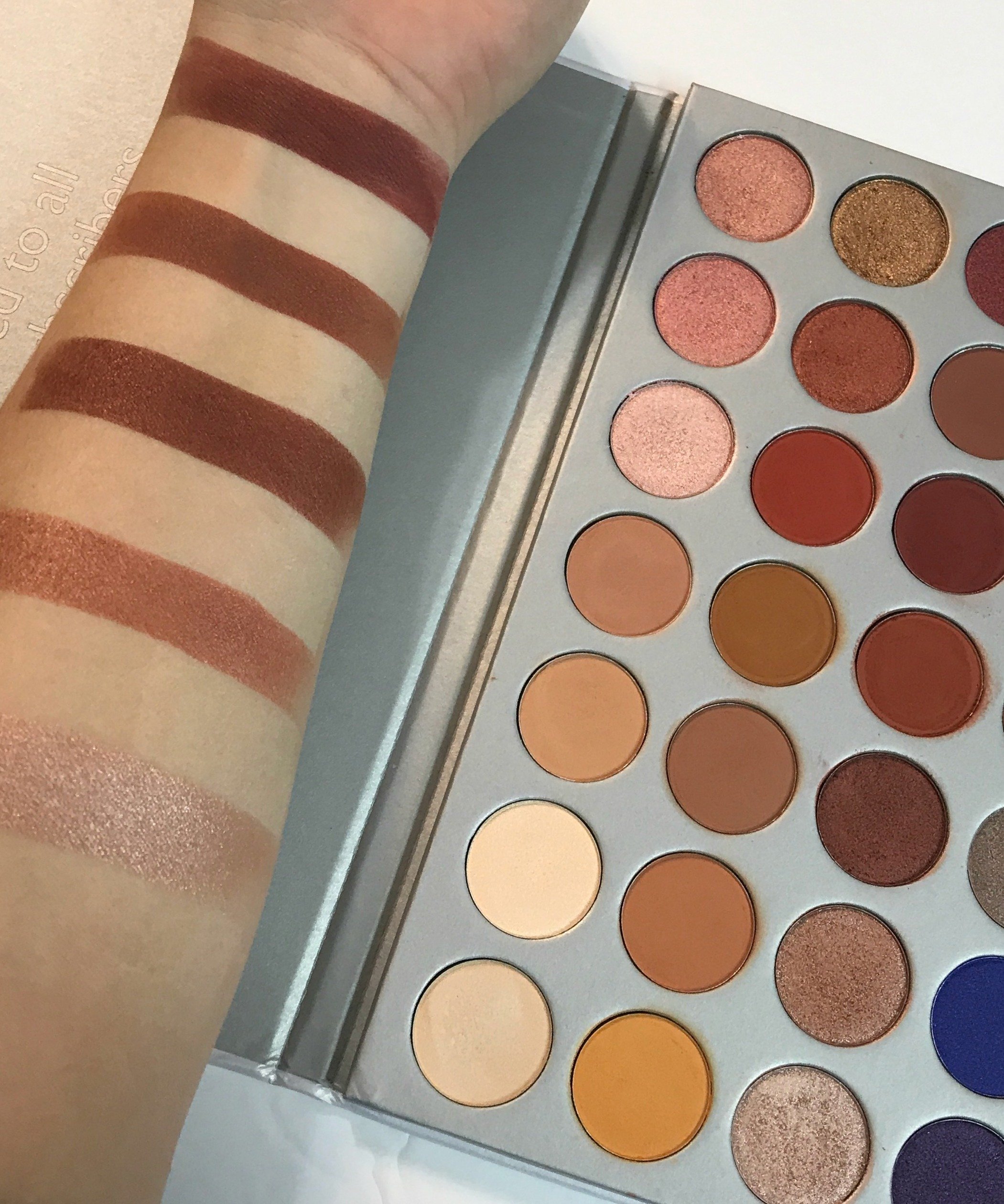 Onto some of the 3rd row. Pictured from top to bottom is Jacz, Roxanne, Hillster, S.B.N., and Obsessed. The name Obsessed is perfect because that shade is so bomb! The other shades swatched extremely well and were very pigmented! I love that there are lots of brown tones in this palette, but all of them have some difference to them when lined up!
Moving on to these 4 above. I tried to swatch similar colors together, so I didn't go exactly in order with the palette, but that is why I'm listing the names for you! 🙂 From top to bottom is Cranapple (the perfect fall tone), Buns, Mocha and Chip. Mocha and Chip look so alike, but they are oh, so different. They both have different color undertones and I love them both! These all went on very smooth and were highly pigmented!
Next up we get to those darker shades in the swatches. 3 shades are from the bottom row and 3 are from the row just above, but a little more in the middle. From left to right we have Hustle, Meeks, 24/7, Central Park, Soda Pop, and Abyss. I LOVEE the color of Hustle and Meeks- I see myself using these a lot this Fall and Winter. The shade Soda Pop looks almost black in the palette, but when swatched it has almost a purple undertone, so it's a very cool shade.
Last, but certainly not least is that bottom left corner with all the bright colors!!! I was so excited to swatch these! From top to bottom the shades are Twerk, Royalty, Enchanted, Diva, Jada, and Pool Party. I have to say, my arm looked like a mermaid here after swatching, and I wasn't even mad about it! The bottom shade, Pool Party is by far my favorite of these last swatches, but they are all just so pigmented and have great color pay off! The blue/green/purple tones are the perfect addition to this palette. These are all extremely creamy and all swatched very well!
And that is ALL 35 shades of the Jaclyn Hill Palette with Morphe Brushes! Overall, I am loving this palette and am using it every day! Jaclyn Hill & Morphe did a great job creating these colors! The only disappointment was the packaging being damaged, and the color Hunty, but other than that I think it is WELL worth the purchase! I have some awesome looks coming up for you over the next few months that I plan to use this palette for! Keep an eye out for those starting next week! I can't wait!
Tell me your favorite shade of the palette in the comments below!
Until next time,
FOLLOW ME ON SOCIAL:
Snapchat: Â @itsmekelsie22 Â  Â Facebook: Kelsie Kristine
Instagram: @itsmkelsie22Â  Â  Â Twitter: @itsmekelsie22
YouTube  Become an Influenster     Join FabFitFun
*PLEASE NOTE- SOME LINKS MAY BE AFFILIATE LINKS.