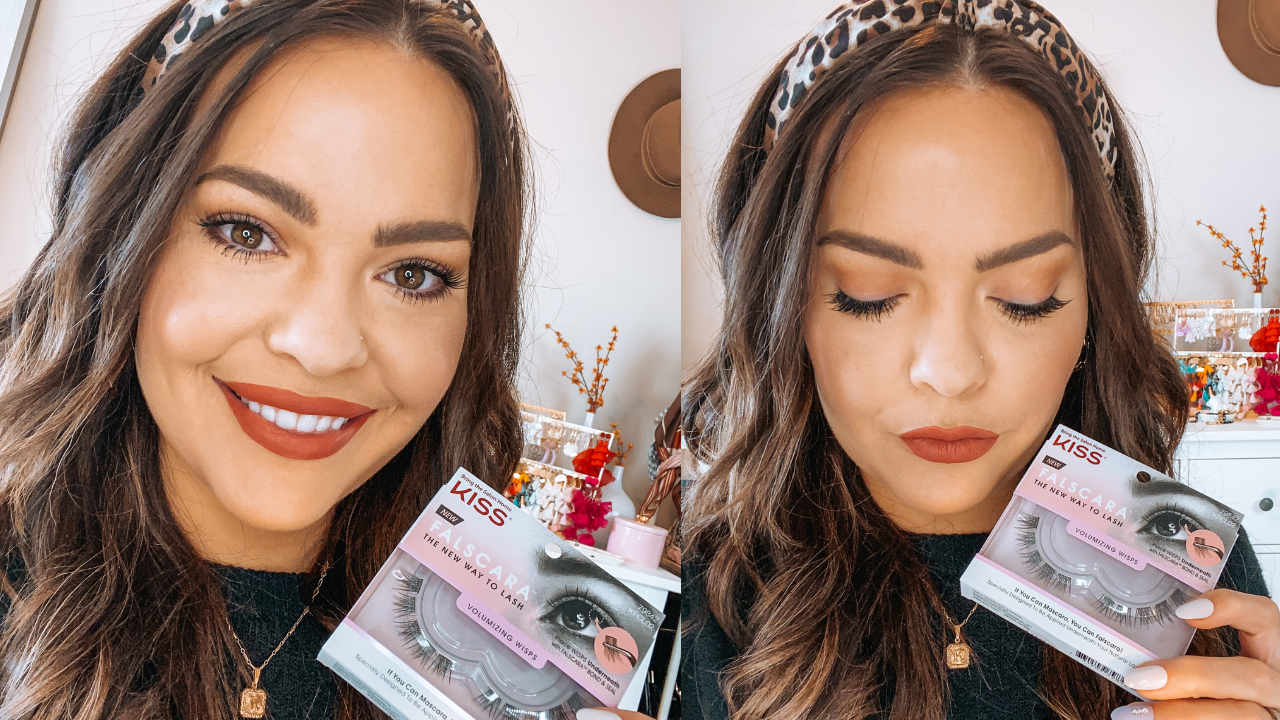 Hi Friends! I recently tried a new DIY at home lash extension kit and have also tried one in the past so I wanted to compare the two in a post and video. The video is sharing a little more in depth on putting them on, how long they last, and a few comparisons, but below I will be going over the differences between the 2 kits and pros and cons. Let's get into it!
Keep in mind, this is my personal opinion and experience with both of these lash kits, and what works for me may not work for you.
About Lashify:
I want to talk about Lashify first because it was the first at home lash kit that I've tried. I purchased mine last year on Black Friday because they had a great deal on the kit!
The Lash Control Kit comes with their trademarked Fuse Control Wand, a set of Gossamer lashes, a dual-sided Whisper Light Bond for application and a Glass sealer.
The Lashify kit says it has everything you need for your lashes, however they don't mention that you need to buy a few other things in order to apply the lashes. I learned the hard way. I ended up buying the Melt-Away Gossamer Lash Remover and Pre-Cleanse Gossamer Lash Prep. The prep is needed to prep your lashes to go on, and the remover is obviously to remove them. You will definitely want the remover, but you can use any kind of witch hazel in place of their pre-cleanse too!
The kit is $145. You can choose which kit color you want (black or white) and also choose which lashes to be included (Amplify, Bold, or Curl).
The Gossamers are the lashes that you choose. They have tons of options from natural to bold to curly! They are a patented lash with an undetectable spine and are super light and weightless. You cannot feel them at all when they're on.
You apply the lashes on a makeup free face, under the lash line. This is a technique I've used before with regular strip lashes and love it!
I filmed a video trying them out and was super impressed, however they did not end up lasting overnight on me. I gave them a few more tries with no avail so I ultimately scrapped the video.
Get $20 off your first order with my link HERE.
About Falscara:
The Falscara kit is very similar to Lashify, but also different. The kit comes with a set of lashes (the lengthening wisps), Falscara Eyelash Bond & Seal, and Falscara Eyelash Applicator. I also picked up the Falscara Lash Remover to see how I liked it!
This kit doesn't give you much as far as instructions go, but I still followed the same rules as Lashify and applied them on a clean face with clean lashes. Use the Bond to prime & prep lashes. The Wisps have a unique microband and featherlight fibers that go under your natural lashes. Then use Seal removes residue and locks your Wisps in place for all-day wear. This is very similar to Lashify.
The kit is $19.99. It only comes with one lash option currently, but the additional lash sets are very affordable.
When I tried this kit on the video (below), you'll see that the lashes aren't very bold and look very natural. When I picked up the lashes, they did not have the option of the "Lifting Wisps". They look much thicker and more my style! I will have to try those next! Read on for comparisons and my final recommendations.

Pros and Cons of Each Kit:
Lashify has a kit you can travel with, where Falscara does not.
Falscara is much more affordable. The kit is more affordable and so are the lashes, making it much easier to wear more often.
Falscara lash wisps come with different lengths of lash wisps for your entire eye, where Lashify you have to buy different gossamers to get different sized wisps/lash strips.
The Lashify wand is HANDS DOWN way better than the Falscara wand. The Falscara wand needs to be cleaned between applying lashes or the bond left on the wand will cause issues.
The Lashify bond is supposed to help with lash health. Falscara does not claim that its bond does that.
Both the Lashify and Falscara remover do not fully remove the glue residue. Falscara's glue seems to last longer on the eyelashes.
The Falscara bond works better for me as far as hold. (Keep in mind that my lashes are not the same as yours and this could work for you.)
Falscara doesn't give much info as far as how to apply, etc. Lashify does a much better job of it.
Falscara lashes have a little drop of adhesive holding the wisps onto the packaging and they are very fragile and could tear if you're not careful picking up the lash from the holder.
Both lashes are "water resistant", but the Lashify lashes are hard to get back on if they fall off in the shower or after washing your face.
Other Helpful Notes & Tips:
Try to avoid getting your lashes wet too much while wearing.
Avoid sleeping on your face (like me) if at all possible.
Use a lash curler GENTLY on the lashes once they're applied and the bond has dried – this will give your lashes a nice lift.
If using the Falscara Lash Applicator, wipe off the applicator between wisp applications.
You shouldn't reuse the lashes.
Overall Thoughts?
I've tried both the Lashify and Falscara lashes. They are both supposed to stay on your lashes for several days. I am a face sleeper, so I put my lashes through the ringer at night! After several attempts, different bonds, etc., Lashify did not stay on for more than a day for me. I could get some to stay on for over a day, but never all of them. It was always at night that one or more would fall off. The amount of time it takes to apply is not worth doing it every day. The Falscara lashes lasted just about 6 days for me in the video and could've stayed on longer, but I knew I needed to give my lashes a good cleaning.
If I had to pick one set, I would go with the Falscara ONLY because the lashes stayed on my eyes the longest. However, I will only use the Falscara lash kit with the Lashify wand. The Falscara wand is not my favorite. I believe that the Falscara kit is basically an affordable "dupe" to the Lashify kit, but there are a lot of improvements to be made on their end. The Lashify lashes have way better options when it comes to lash lenghts, thickenesses, and curl so hoping Falscara comes out with more options soon!
Now I also want to note again, that what works for me may not work for you. I know people that wear Lashify lashes and have no issue with them staying on. I have had issues with lashes my entire life- with extensions not staying on, strips and glues irritating my eyes, etc. So definitely try what you think is best! This post is my opinion based on my persona experience! 😉
I did try regular strip lashes cut in half on my eyes with the Falscara bond and they did stay on all day, but not overnight. They were easy to apply and looked great, so you can also try that, but it's not the type of lash that is going to last for days! More of a simple fix like a strip lash that looks a little more natural by applying it under the lashes.
I hope you found this post helpful! Let me know if you try or have tried any of these lashes before and what your thoughts are!! I'd love to hear them! Thanks for reaching/watching and have a great weekend!