Happy Tuesday friends! Today I want to talk about some fun bags that you should have in your closet this summer! Natural materials like rattan and straw are super popular right now and are all over when it comes to handbags.
After doing some research, did you know that rattan is a material and wicker is a style of weave? I think they are used interchangeably and often confused. Wicker furniture or bags may use rattan for the material. Rattan is a strong fibrous plant that is similar to bamboo. It is very lightweight and flexible too. I always thought wicker was a material, but also used weaved, so this makes way more sense now.
All of these bags can go from running errands to the beach to date night. It all depends on how you style them! Another plus, they're all under $40!!
I love a natural material in an accessory and even if it is a synthetic material that looks natural, I'm still all for it! I love pops of color with natural accessories. For example, the below jade green dress that I shared on my Instagram last week is a fun green and I paired it with natural accessories like my bamboo arc bag, espadrille wedges, and wicker tassel earrings. Although the bag is natural, it still makes a statement with the outfit and I get a lot of compliments with this bag!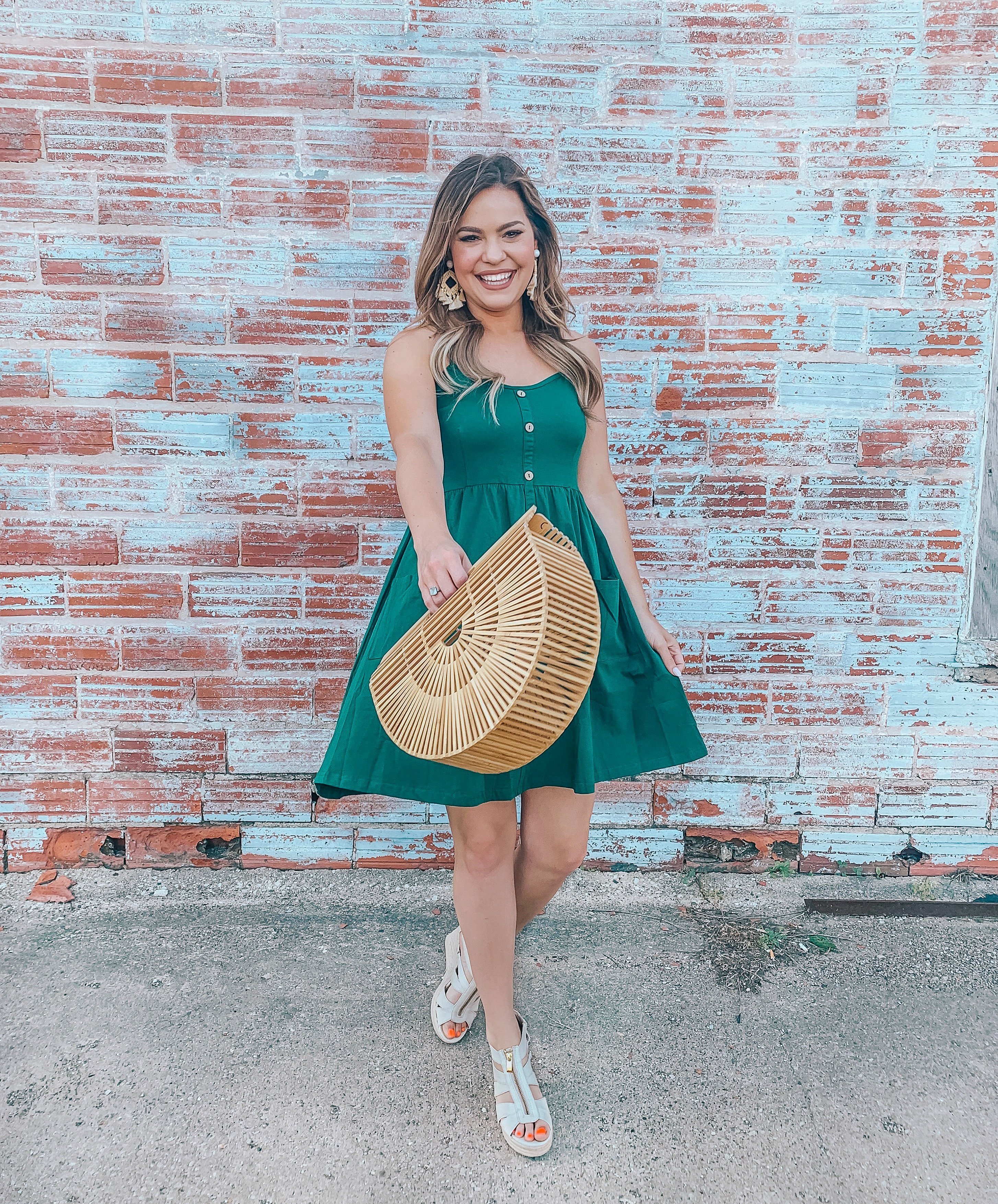 Dress | Bamboo Arc Bag | Espadrille Wedges | Similar Earrings | Lip Color
Here's another example of me wearing the bamboo bag out to brunch last weekend with the girlies!


Babydoll Dress | Bamboo Arc Bag | Espadrille Wedges | Earrings | Lip Color
Watch – Get $15 off with code "itsmekelsie15" | Cuff Bracelet | Chain Bracelet | Sunglasses
Wearing the bag below while sight seeing in London and while at the beach in Santorini.


A few more natural bag picks for the summer:

Over the next few weeks I'll be sharing more summer staple items like undergarments, jewelry, shoes, etc. so if there is anything else you'd like to see, let me know in the comments below!
Thank you all so much for reading.

---