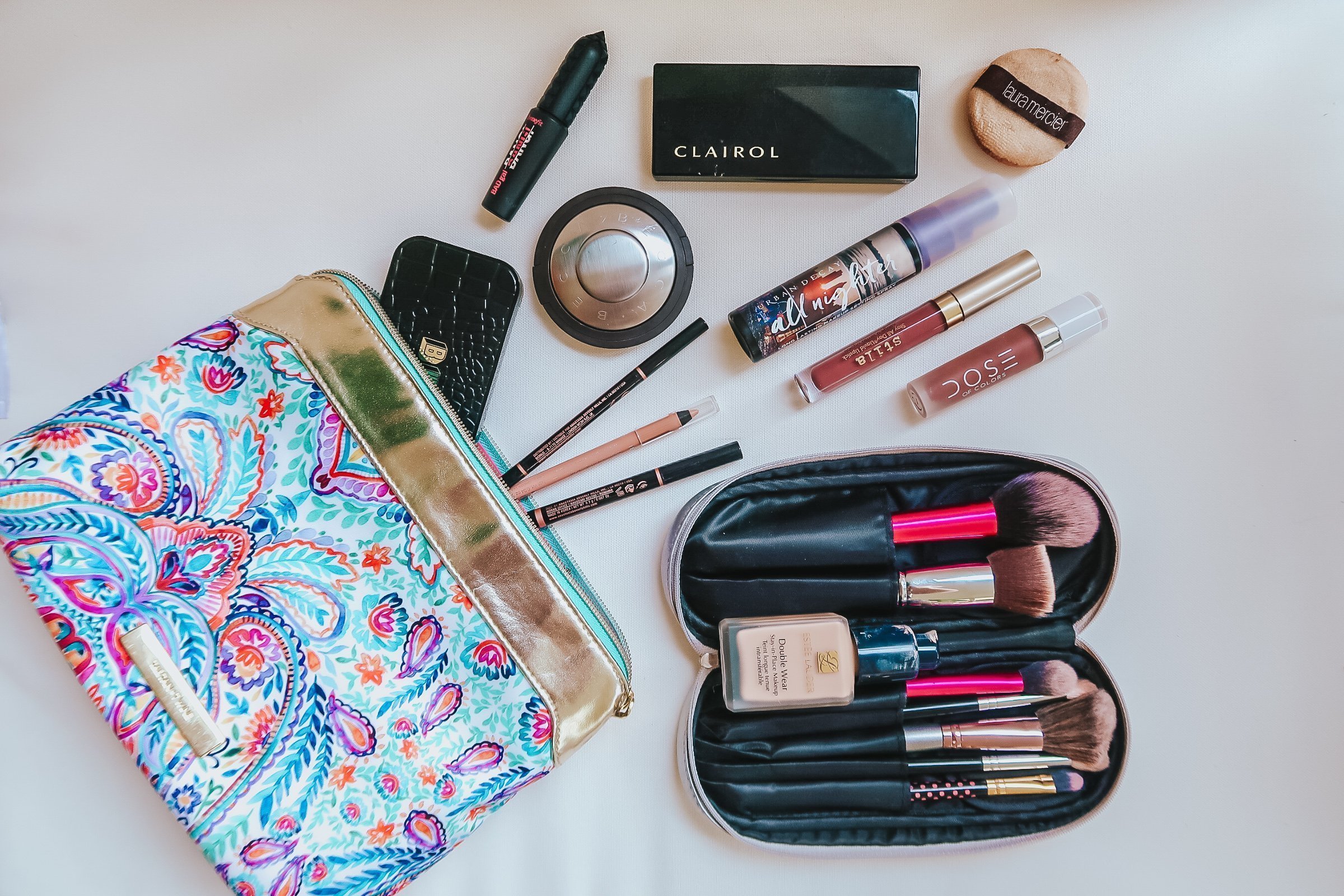 Happy Tuesday loves!! I've been traveling so much this year and will be traveling again this week, so I figured now is the perfect time to share this post with you all. I have been trying out a few different travel makeup bags over the years and finally think I've found the one that works the best for me!
I try to travel with the smallest amount of each product, not only to save space, but mainly in case the bag were to go missing or something were to explode in the bag, then I wouldn't be losing out on all of those full size products.
I love Ulta and Sephora, but the main place I go for travel sized products is Ulta because they also carry drugstore makeup products that Sephora does not. Same with online too!

What's Inside My Travel Makeup Bag
The Travel Makeup Bag:
I found this cute makeup bag from ULTA for only $20. It's the perfect size for what I need. I'm linking some other ones at the bottom of this post too!
Brushes:
I use a small travel brush case that was from a set I purchased years back, but the brushes that I store inside did not come in the set. I just like the case ;). I'm linking a similar one here too. This pouch fits perfectly inside the travel makeup bag!
I only bring the brushes that I NEED and no more. The more space saved, the better.
• Foundation Brush – Sigma F80 Kabuki – I use this for my concealer and foundation – sometimes I bring my beauty blender for concealer, but it's easier to use the Kabuki brush instead.
• Bronzer Brush – BH Cosmetics Contour Brush – love the shape of this brush and works so well with bronzer!
• Highlighting Brush – Real Techniques – This brush is my favorite and works so well!
• Blush Brush – Real Techniques Blush Brush – Another amazing brush!
• Eyeshadow Brushes – Morphe M441, Morphe M518, andBH Cosmetics Flat Shader Brush. I bring 3 of these brushes for eyes – a flat edge brush and 2 fluffy brushes.

Makeup:
I bring enough makeup for a full face, and keep everything on the convenient side!
• Primer – Benefit POREfessional Primer – it's the smallest packaging of all of my primers.
•  Foundation – Estee Lauder Double Wear Stay In Place Makeup and/or It Cosmetics CC Cream
Pro Tip: Go to Ulta and ask them for a sample size of the Estee Lauder Double Wear Foundation – they'll give you a 2 week supply in travel sized bottles! That way you travel with plastic instead of your glass bottle of foundation. If you bring the bottle, wrap it in a ziplock bag in case it breaks while traveling.
• Concealer – Travel Sized Tarte Shape Tape Concealer in Light
• Setting Powder – Travel Sized Laura Mercier Translucent Setting Powder – comes with baby pouf
• Bronzer – Estee Lauder Bronze Goddess in Light
Pro Tip: Use a cotton round inside any compact to keep it from breaking during travel.
• Highlighter – Becca Cosmetics – Champagne Pop
• Blush – Benefit GALifornia Sunny Golden Pink Powder Blush
• Eyebrow Pencil –  Anastasia Beverly Hills Brow Wiz Pencil or Anastasia Beverly Hills Brow Definer Pencil – both with built in spooly. (I usually use a pomade daily, but the pencil is much easier to travel with)
• Nude Liner – Rimmel Scandaleyes 24 hour liner – brightens your eyes and makes you look more awake! Available in stores at Ulta or found in most drugstores.
• Liquid Eyeliner – Urban Decay Perversion Waterproof Liquid Liner
• Eye Shadow Palette – Buxom custom eye shadow palette –  If you buy the single eye shadow colors, the empty shadow palette ends up being free! I created this one specifically for traveling – it has the perfect colors for any outfit- warm and cool tones too!
• Mascara – Benefit Bad Gal Bang Mascara
• Setting Spray – I love the Morphe Setting Spray Mist, but it doesn't travel well, so I bring my Urban Decay All Nighter Setting Spray.
• Powder Root Touch Up – Clairol Temporary Root Powder– I use this between colors and along my hairline.
• Lipstick – I bring my 2 favs – a nude and a more bold nude. The more bold color is the Stila Liquid Lipstick in Patina and The Dose of Colors Liquid Lip in Truffle goes with anything – it's the perfect pinky nude!

Extras:
Sometimes I keep a few other things in the bag depending on the trip
• Makeup Wipes – I always have these with me, but sometimes they're in my makeup bag and other times I keep them in my purse. Either way, they are needed!
• Eyelash spooly and baby shampoo – these are for when I have lash extensions – the spooly is to brush them out daily and the baby shampoo is for cleaning them.
• False Lashes and Lash Glue – if I don't have lash extensions, I bring my favorite lashes – the Ardell Wispies along with my favorite lash glue.
Other Great Travel Sized Eyeshadow Palettes:

Other Makeup Case Options:

Is there anything extra special that you carry in your travel makeup bag? Let me know in the comments below! I hope you find this post helpful while traveling! Thank you so much for reading!