Happy Tuesday babes! I shared a post last year on How I Found Hunter Boots for Cheap, and now that rainy season has arrived, it's the perfect time to talk about my fav rain boots again. To be honest, I used to dislike the look of rain boots. I thought they were just these clunky, bland boots. I didn't know how to wear them and make them look fashionable, until the past couple years. Rain boots used to be a lot less fashionable too, so now that they make more slimming and fashionable styles, I love them! Now that I know how to style these boots, I wanted to share my tips so that you can love them too!

Flowy Top | Leggings | Jacket | Plaid Scarf | Rain Boots | Umbrella | Necklace | Earrings
This outfit is very similar to the one in my last post. Why, you might ask? To prove that this is still the best way to style these boots – with my favorite jacket and scarf.
Tips on How to Style Rain Boots for Fall
Avoid baggy or loose pants – the rain boots are already wide, so wearing baggy pants are going to make your legs look wider.
Wear skinny jeans or leggings- the best way to keep things looking slim is to wear slimming bottoms.
Pair it with a flowy top – think hour glass- wider up top, skinny in the middle, and then wider at the bottom. A flowy top will even everything out. Cardigans, tunics or any flowy top will work.
Match the boots with your outfit – If you have red boots, pair it with a red lip, red earrings or a scarf that has a pop of red in it. If you stick with more neutral boots that can go with anything, try to tie a color from the boots in with your outfit.
If you have a dress with boots, use leg warmers or boot inserts for fall to keep warm.
Don't forget accessories – Scarves, earrings, or a cute bubble umbrella are the perfect accessories to match with the boots.
Read on for my rain boots and accessories picks below.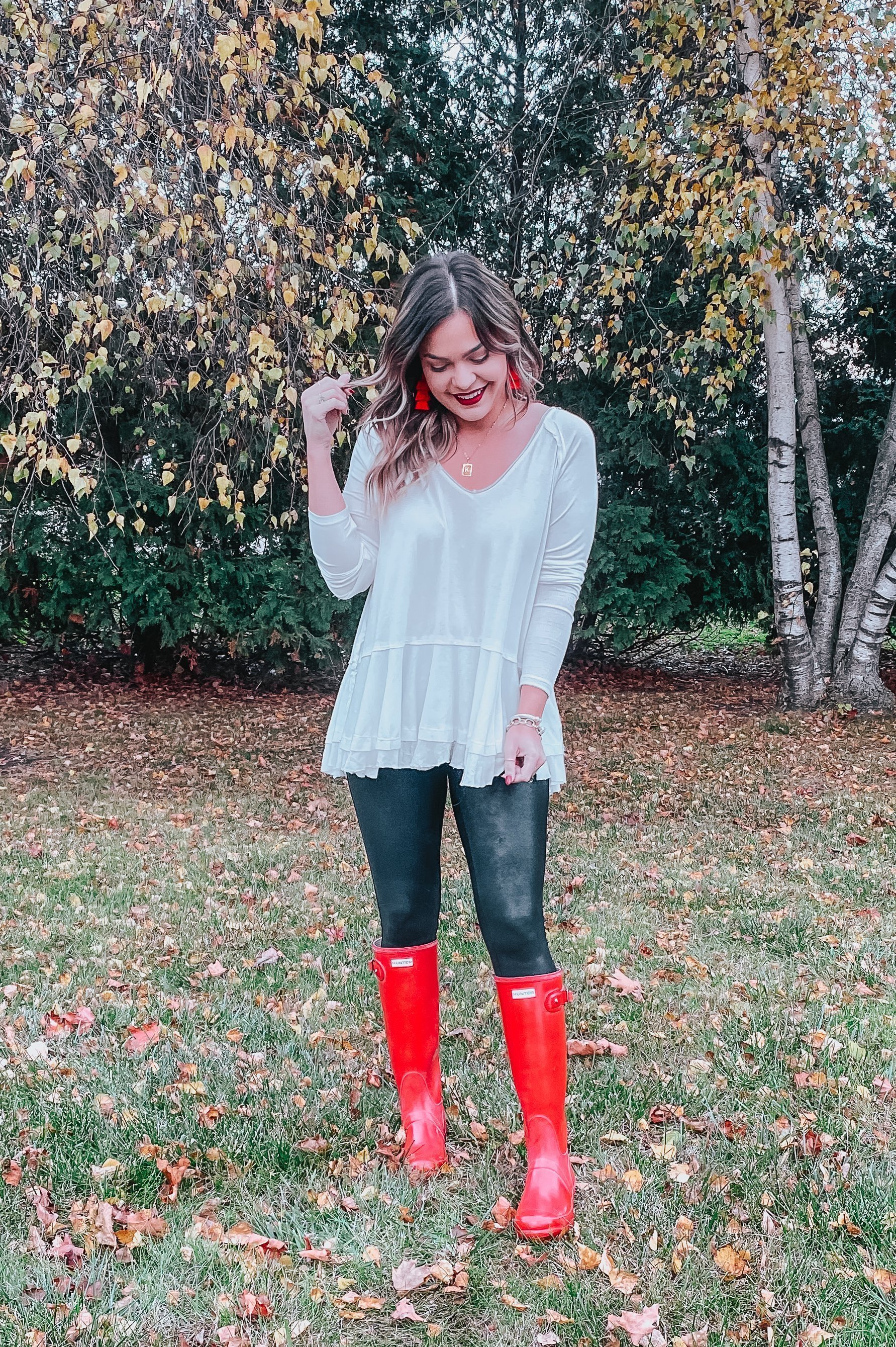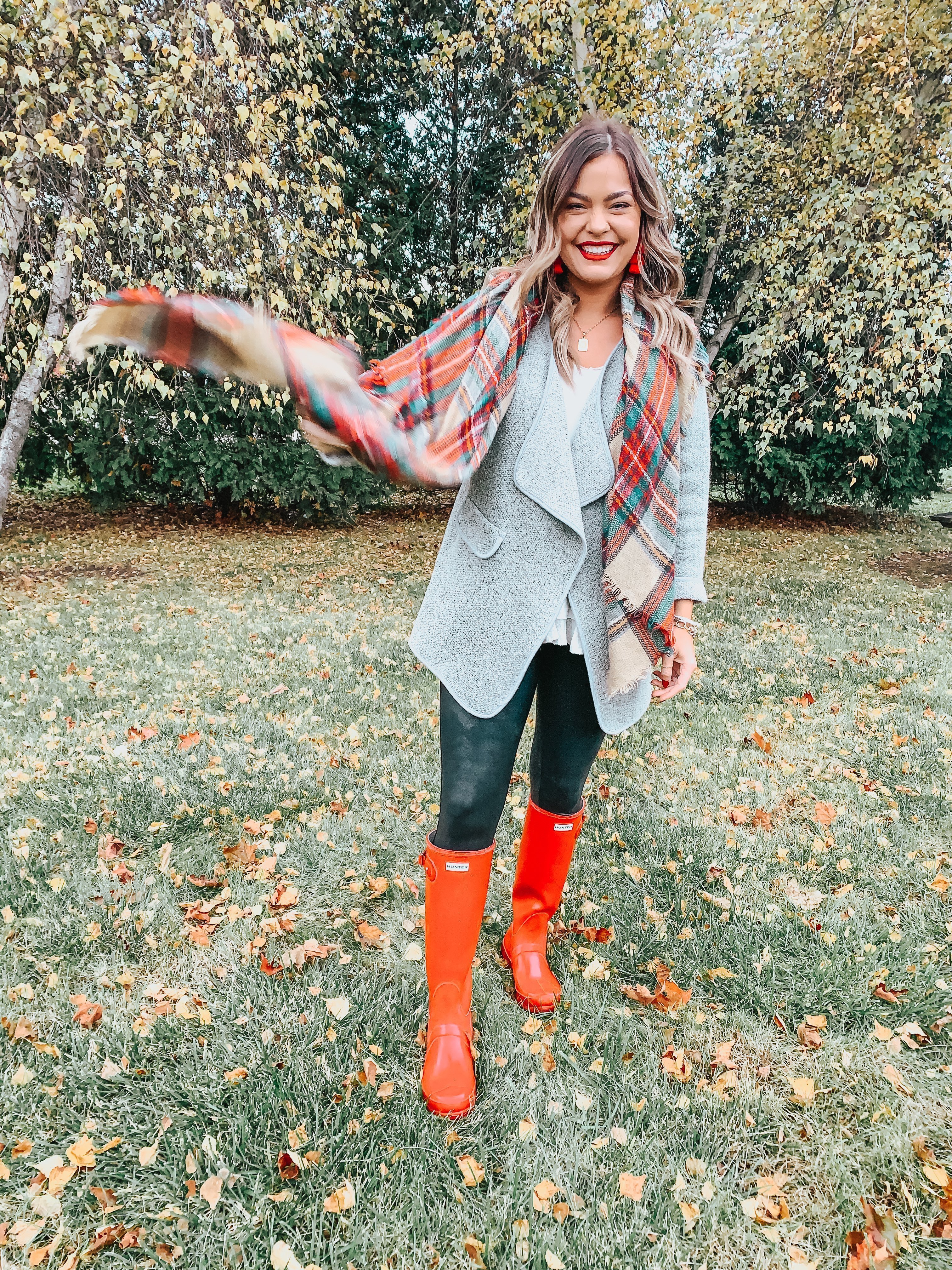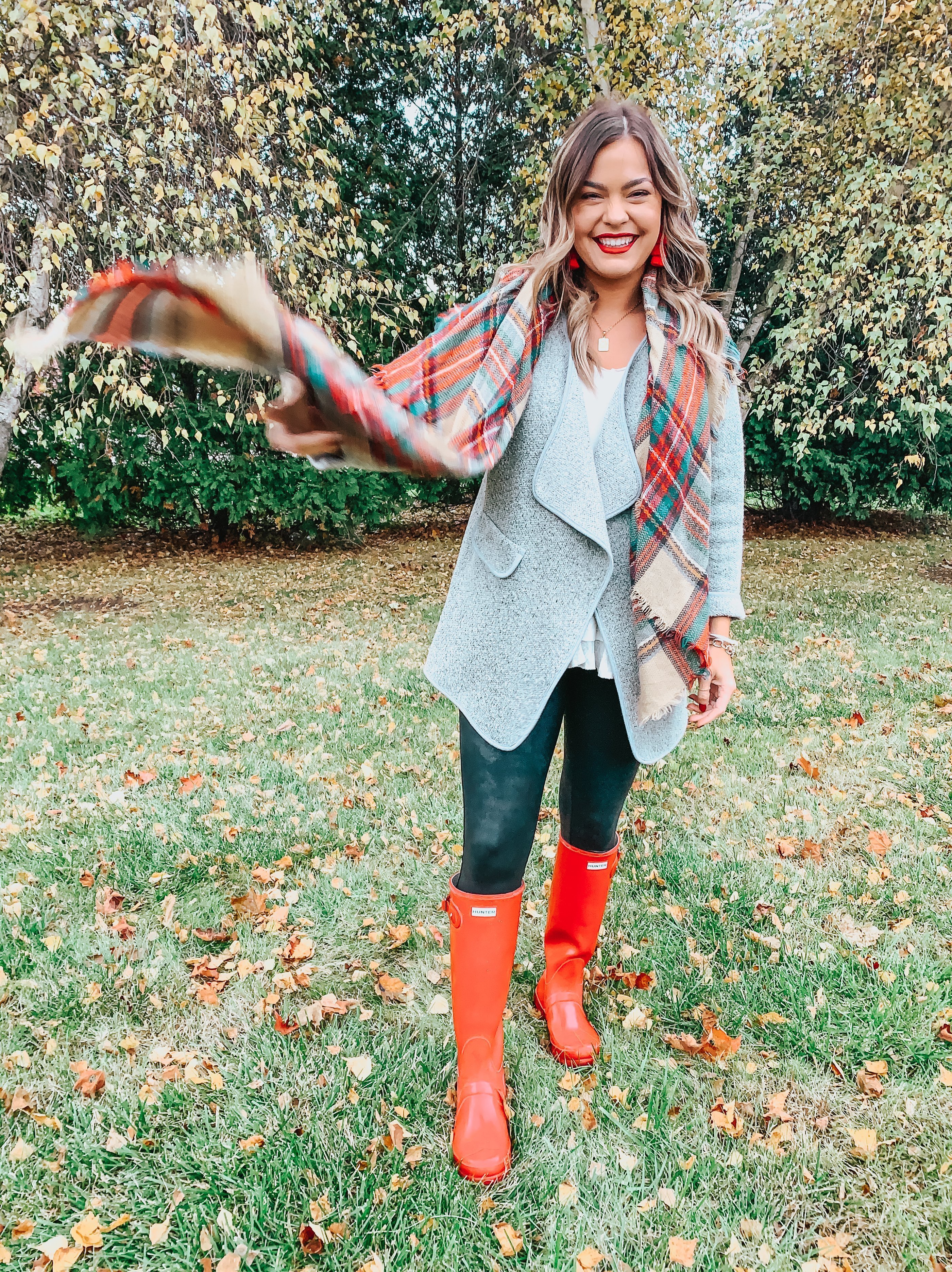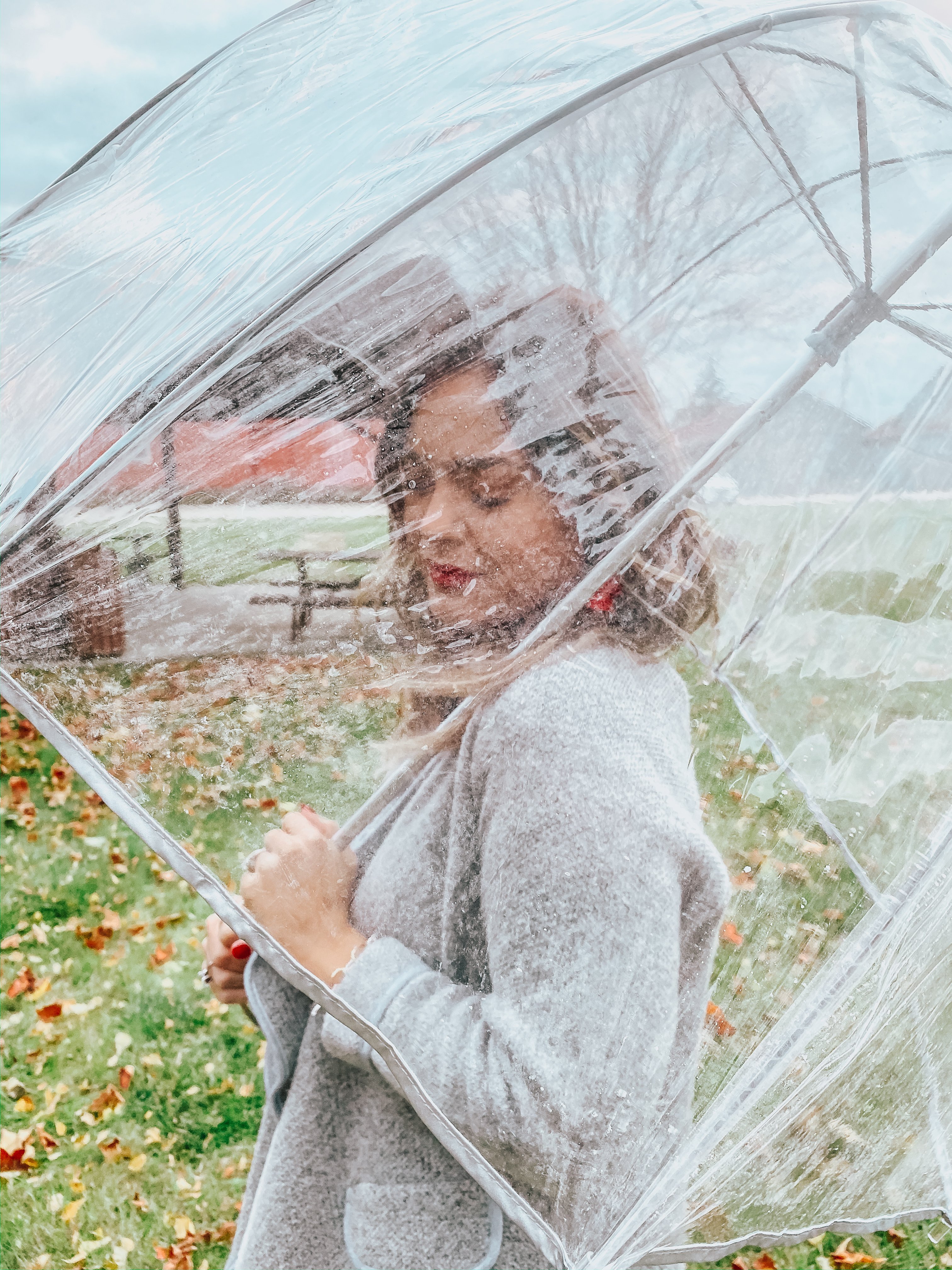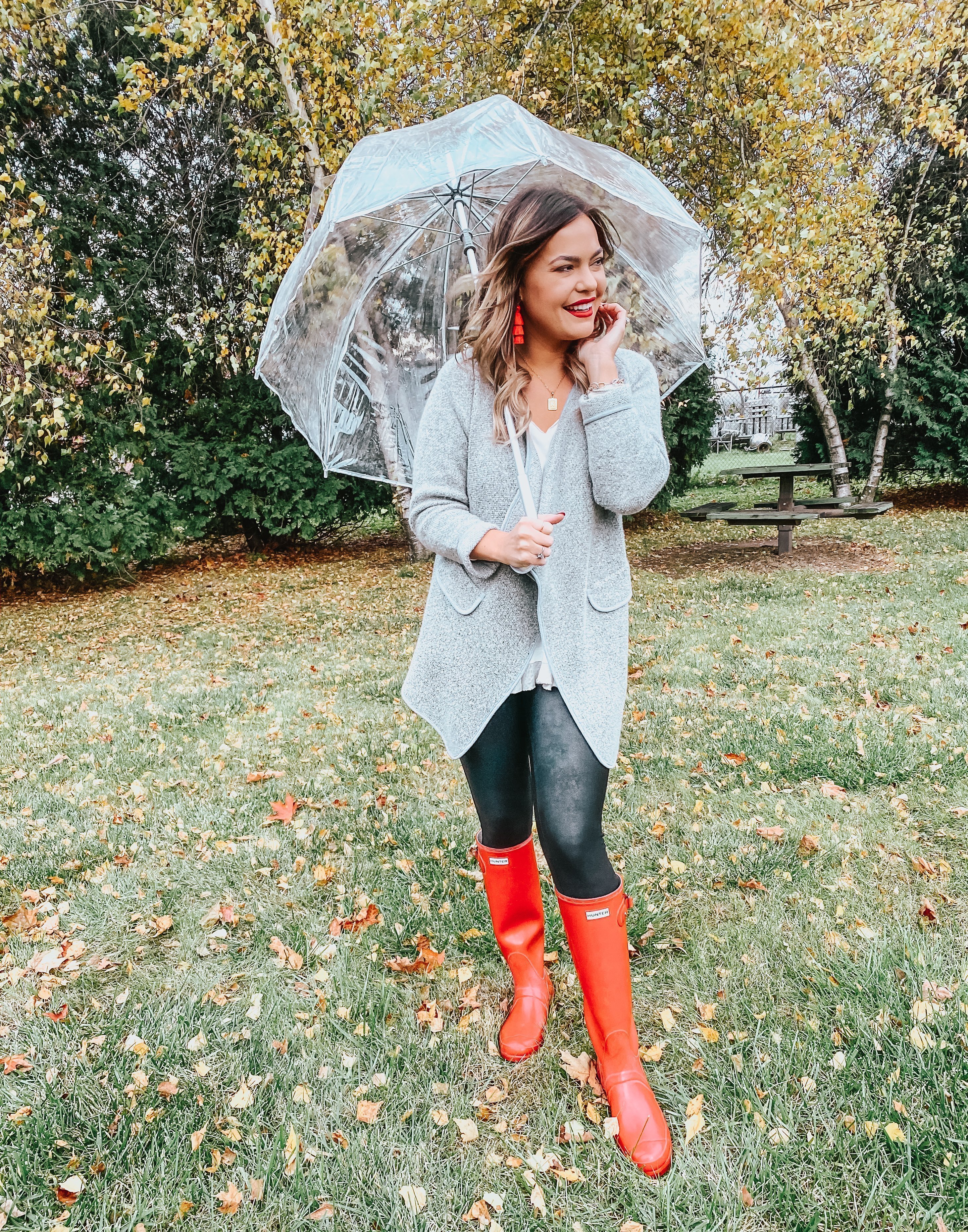 Flowy Top | Leggings | Jacket | Plaid Scarf | Rain Boots | Umbrella | Necklace | Earrings
Fashionable Rain Boots

Rain Jackets & Umbrellas

Thank you so much for reading!