Happy Tuesday friends! It's about time I finally share the deets on my new hair extensions. It's been about 8 weeks since I had my extensions put in and I'm sharing all about them in this post, plus answering all of your questions! I used to only use clip in hair extensions, so this is my first time with semi-permanent extensions.
I want to first off start by saying that I did a TON of research and asked a lot of questions prior to getting extensions. They are definitely an investment so research is needed before taking the leap. I have heard about extensions before, but I've heard more about tape in extensions more than anything and all I've heard about tape ins are that they're amazing but that they damage your hair. My hair is pretty fine to begin with, so I wanted something that wasn't going to damage my hair and still help it grow while the extensions are in.
My Extension Specialist
I see Amanda at Julia Grace Salon on the west side of Madison, WI. Amanda has been doing hair for 16 years and has been working with extensions for about 8 years. She has previously been certified in individual bead-in's and tape-in extensions. She also trained in and practiced NBR (Natural Beaded Row – a type of installation for extensions) back in 2014 prior to them offering certifications. She is always looking for the best product available on the market. Her favorite method is the method she installed on me, the Kacey Welch Method.
My Extensions: The Kacey Welch Method
Kacey Welch is a celebrity extensionist based out of ROIL Salon in Beverly Hill's. Kacey's clients include Hollywood icons such as Laura Bushnell, Erin Andrews, and Ireland Baldwin, Rita Ora, Goldie Hawn, Kate Hudson. Kacey developed her method when Kate Hudson approached her and told her she wanted to wear extensions, but didn't want any adhesive or glue on her hair. Kacey went to work to develop her own method. Kacey's method uses only 10% of the natural hair to create a flat track, which is what the hair gets sewn to. Kacey has recently developed a new line of hair, Silk Weft hair extensions, working with L.A. based company Hair Lingerie.
Disclaimer: This method is a method of sewn-in wefts, which was originally developed by Christina Jenkins back in the 1950's. Kacey's method is a different way of installing the sewn-in wefts, but she is not trying to take credit for inventing the sew-in weave.
I had 2 rows installed by Amanda and it took about 3 hours from start to finish when installing – this includes everything that is included in Amanda's extension package.
What Are Hand Tied Extensions?
When I first heard about "hand-tied extensions" I thought it meant the way the extensions were installed, but I soon found out that is not the case. "Hand-tied extensions" are the way the hair on the wefts are tied, and has nothing to do with the technique of installing them (i.e. Kacey Welch Method, NBR, etc.). Amanda was able to show me the difference between the way the hair is tied to the weft while at my first appointment.
Now that Kacey Welch offers Silk Wefts, they are even more seamless than hand tied extensions. Silk Wefts are now exclusively offered through Amanda at Julia Grace Salon. She will still be offering the hand tied extensions to anyone that wants them since they are a bit cheaper. I currently have the hand tied wefts because she was not offering them at the time of install.



EXTENSION DISCOUNT
Amanda is kind enough to be offering my followers a discount on her extension package. She is offering $200 off her all inclusive extension package, which includes the cost of extensions and custom cut and color on your hair to get the best blend with your hair and the extensions. She also includes a hair treatment because it is important to her to see clients hair get healthier while they are wearing the extensions. All you have to do is fill out the form on her Instagram, or you can go HERE and put the code "KELSIE200" in the box where it says "OFFER CODE" close to the bottom of the form.
If you're not interested in extensions, you can also get $30 OFF her color package, which includes any specialty technique and amount of colors needed to achieve the desired outcome, a toner, and a treatment for your hair.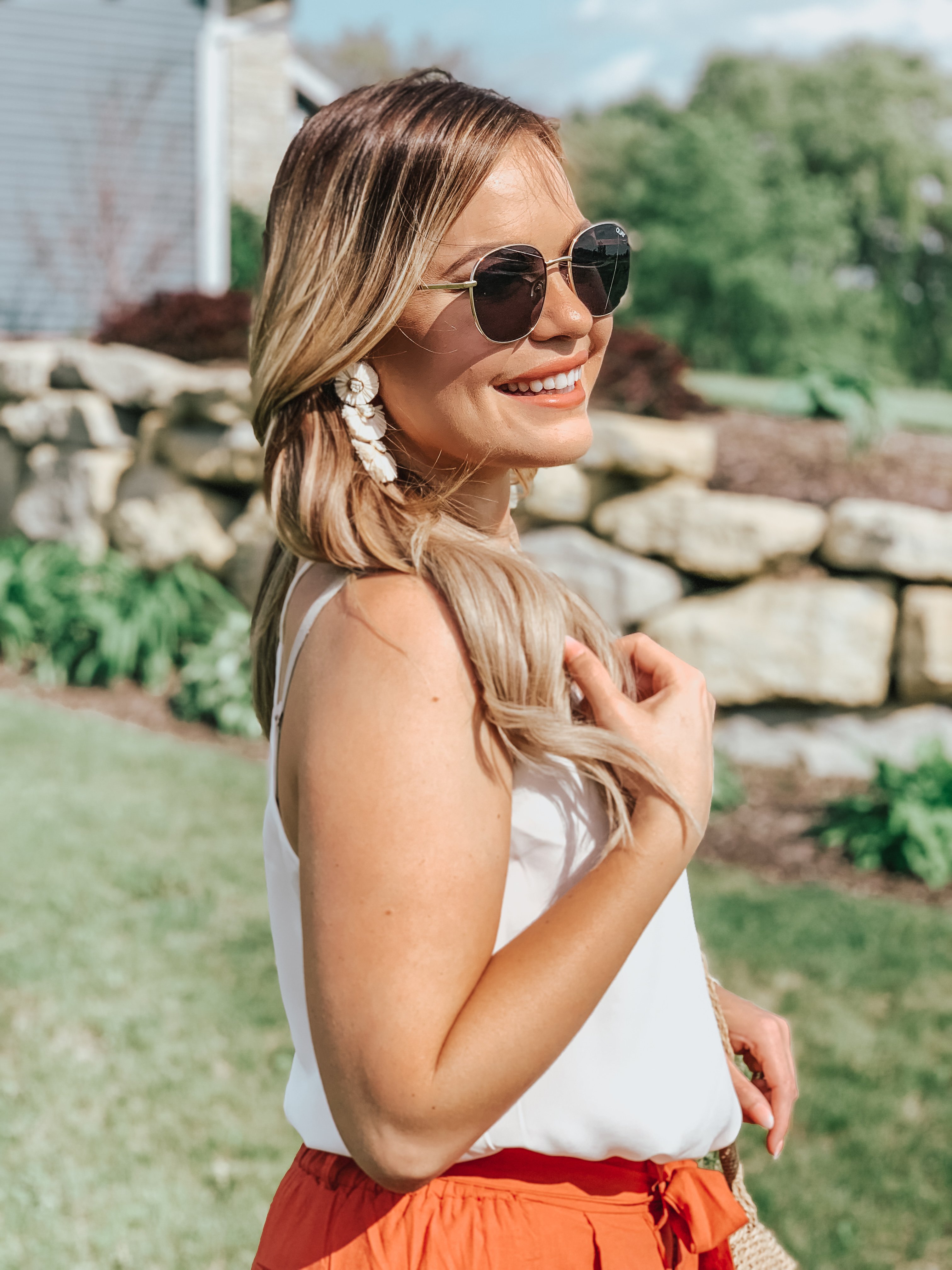 Hair Extensions Q & A
I asked my followers on Instagram to let me know any questions they had about extensions, and below I'm answering them for you, with the help of Amanda too! 🙂
Q: Do they hurt?
Not at all. There is a bit of tightness the first day after install, but nothing uncomfortable. I got used to them very quickly.
Q: Can you put them in a ponytail?
Yes, you can do a low or a high pony. You may just have to adjust the hair where the extensions are tied to be sure it's hidden.
Q: How long do the extensions last?
The actual extensions last about a year if you take care of them.
Q: How much do the extensions cost?
The extension package from Amanda costs anywhere from $1400-$3100, depending on what you all get. This includes the actual cost of the hair extensions, custom color of your hair to match the extensions, a root smudge to match the extensions to your roots, and custom cut of the extensions to blend with your natural hair.
Q: What are cost of move ups and how often do i need to go back?
$150 per row – recommended every 8 weeks – this does not include color or cut.
Q: How many rows did I get?
I got 2 rows put in. You may only need one row depending on your length and how thick your hair already is. I have fine hair so need all the hair I can get! I have 4 oz of hair.
Q: Do they damage your natural hair?
This method is one that is less likely to damage your hair. Comparing them to tape ins, these are way less damaging to your hair.
Q: Are NBR the same as Kacey Welch Method?
No they are not. They are similar though. They both use beads, but they are placed differently in the hair.
Q: How often can/do you wash your hair?
You can wash them as often as you want, but for me, I try to wash it just once a week. I used to wash it every other day when I didn't have extensions.
Q: How long does it take to style?
When my hair is washed, it takes about an hour to dry it and style it. Once styled after the wash though, I just need to touch up my curls each day. Getting ready in the morning is so easy now!
Q: What hair care products should I avoid while having these extensions?
Avoid anything that may be damaging to the extensions. Ask your extension stylist first to be sure you're taking great care of your extensions. If it's good extension hair, it should last long and be able to be used with most good quality products. Amanda will also suggest a certain brush to use on your hair.


My Review
I have been loving my extensions so far! I love being able to wake up and just touch up my curls and be out the door. It looks like I took an hour on them when really I only took a few minutes. I wash them 1-2 times a week and it does take a bit for them to dry, but honestly not as long as I thought. I timed myself and it takes a little under an hour from out of the shower to completely styled. I am going to continue wearing them and see how long I can get these extensions to last! Hoping for a full year's wear out of them!
If you're in the Madison area, check out
Amanda on her Instagram
. Even if you're just interested in extensions or her color package, you can fill out her form
HERE
. It's free to fill out the form and doesn't mean you're stuck paying anything. You can decide after the consultation if you want to move forward.
Extensions are an investment for sure, however I think they are well worth it and give me so much more confidence! I highly recommend giving them a try if you're interested!
Don't forget to use my codes: KELSIE200 for $200 off the extension package or KELSIE30 for $30 off a hair color package.
If you have any more questions, leave them in the comments below and I would love to help answer them!
Thanks for reading!