It's been exactly a month since we got back from our trip to Europe! It was one of the best trips ever. As I've mentioned before, this was my first time out of the country. We went to Hawaii for our honeymoon and that was the furthest we've been from inland U.S., so it was almost like going to another country. We had the best time on our trip and I wanted to recap the trip. Since it was a long one, I broke it up by location. First I will be sharing our days in Athens, Greece. 
When this post goes live, we will be on another trip, this time to Utah. Be sure to follow along on Instagram.
Athens
After a long day and a half of travel, we arrived in Athens. We got in pretty late and met my cousins at the VRBO. We went out for a late night drink before heading off to bed. We essentially had just one full day in Athens, so we wanted to make the most of it. We got up early (as early as we could at least) and headed off for some breakfast around Syntagma Square. We spent the afternoon sight seeing and exploring. We saw a ton in that one day and it was the perfect amount. A couple more days in Athens would've been great, but we made due with the time we had! Below, I'm sharing what we saw in that one day in Athens and what was worth it and what was okay to skip.
See Athens in One Day
We had a lot of sight seeing to do in one day and honestly, I thought it worked out perfectly and we saw all that we wanted to see. Although we walked and hiked a ton, we weren't tired at all! It was crazy!
Athens is full of old buildings and amazing architecture. It also has a ton of shops and cute little places to eat. It rained for about a half hour one of the days so we were able to sneak into a little cafe to grab a snack and a few drinks before heading to the Acropolis. It worked out super well with the rain because when we got to the Acropolis, it was not busy at all! So, I guess PRO TIP: go to the Acropolis immediately after it rains to avoid the crowd. Yes, that's not really an ideal tip haha but it worked out well for us! 
Syntagma Square
This is where my cousin (the one who got married in Santorini) suggested we stay near! It is within walking distance to most places in Athens. Within Syntagma Square is the Parliament building, where you can watch the changing of the Guards. The Guards are called Evzones. They are full-time soldiers who guard the Tomb of the Unknown Soldier in front of the Parliament. You can watch the changing of the Guards every hour, on the hour. We tried watching from a far and there were too many people around, but definitely not something we HAD to see!
We had breakfast at one of the cafes in the square. I got an omelette with sausage and feta. Feta was one of the most popular and best tasting foods in Greece. 
Feta & Sausage Omelette
Baklava
Greek Coffee
We also got Baklava, because you HAVE TO when you're in Greece! Baklava is one of my favorites! One thing we had to be weary of in Athens was the beggars and thieves. My uncle had his phone stolen out of his hand while he was in Athens. We held our belongings close the whole time, but while eating breakfast we had little kids coming up to us begging for money. Do not give them money because they will come back for more, and bring friends.
Hadrian's Library
Hadrian's Library was created by Roman Emperor Hadrian in AD 132 on the north side of the Acropolis of Athens. We stopped here before the rain started. The library was seriously damaged by the Herulian invasion of 267 and was repaired in AD 407-412. During Byzantine times, three churches were built at the site, the remains of which are preserved: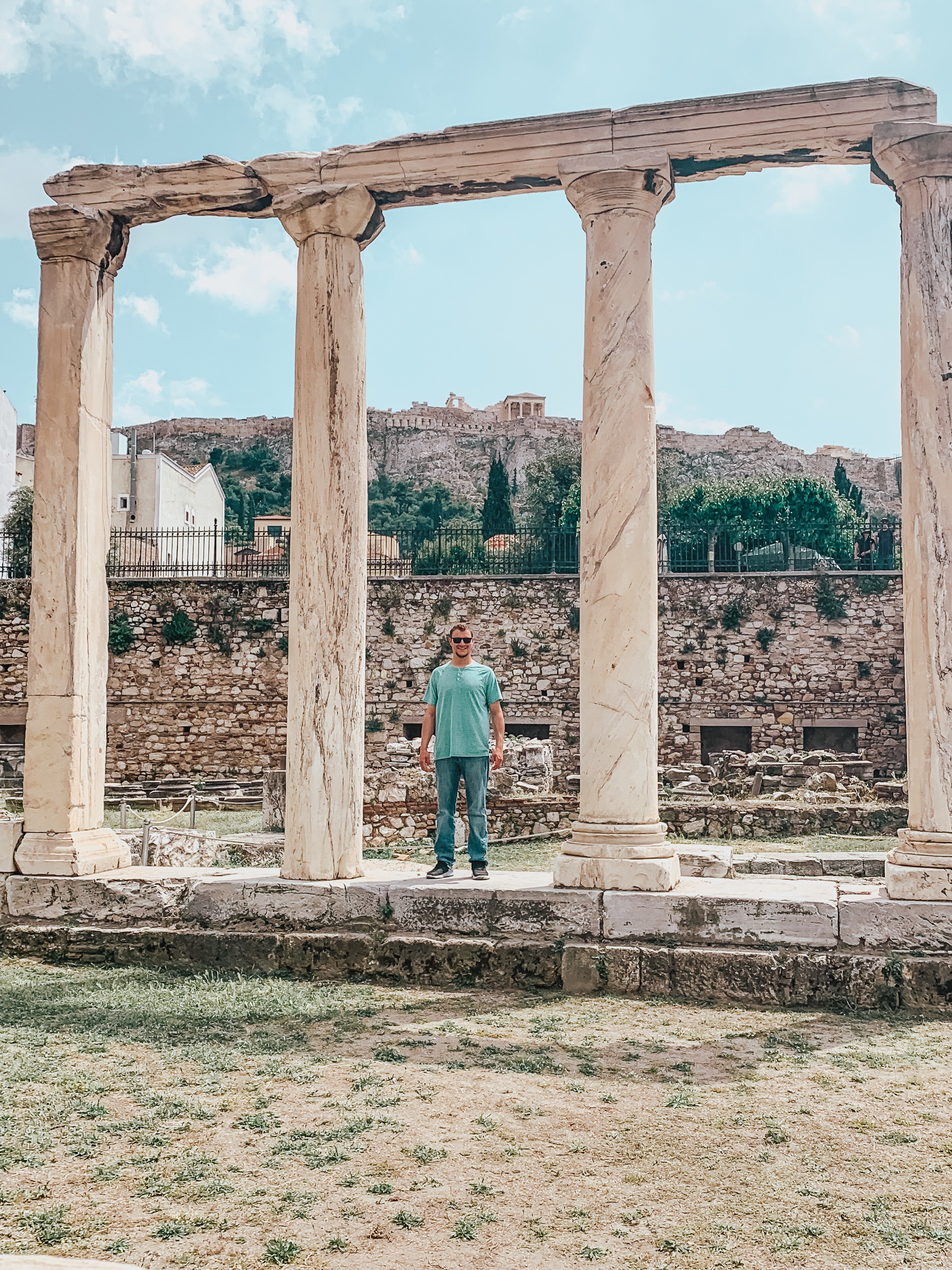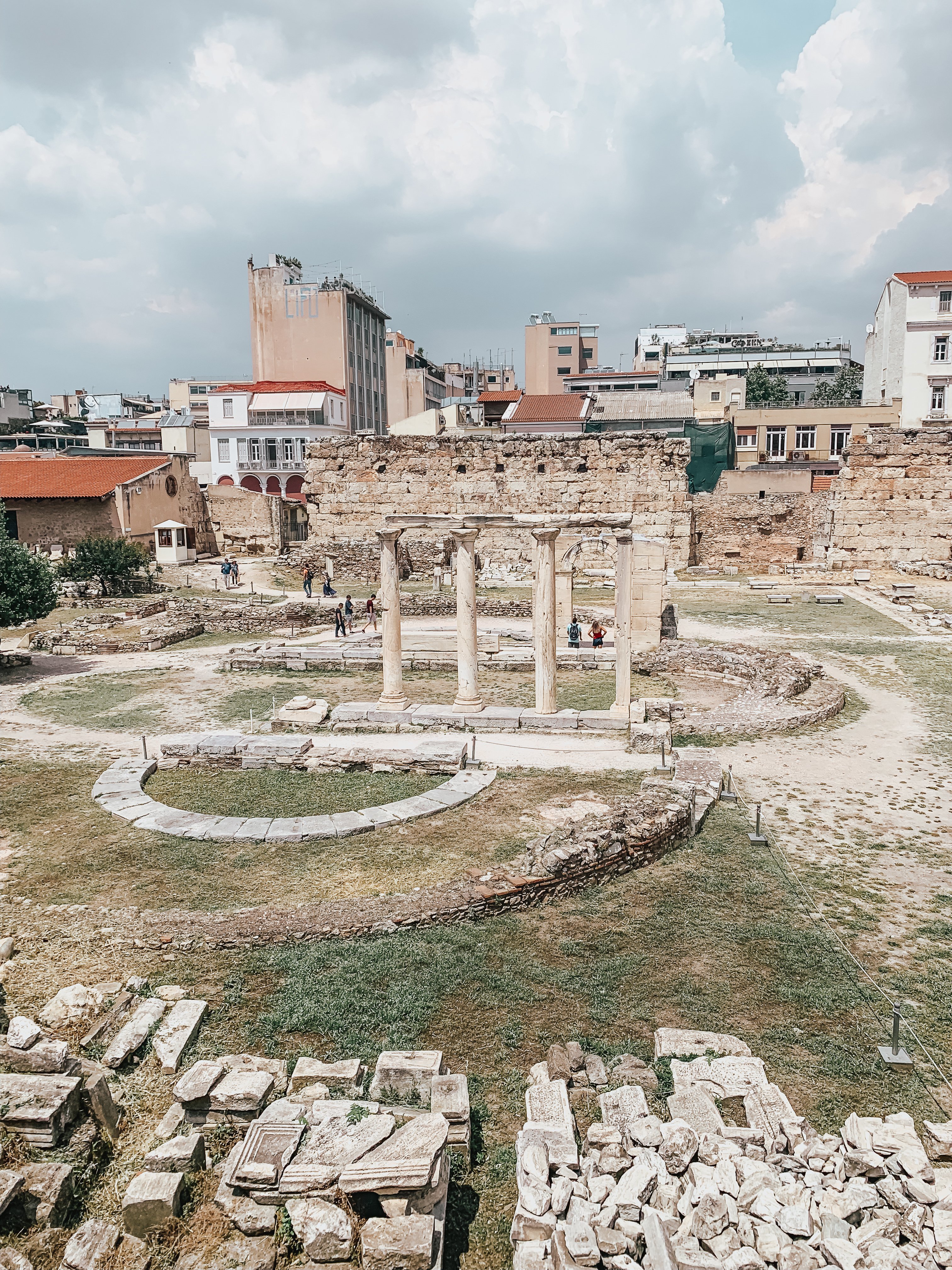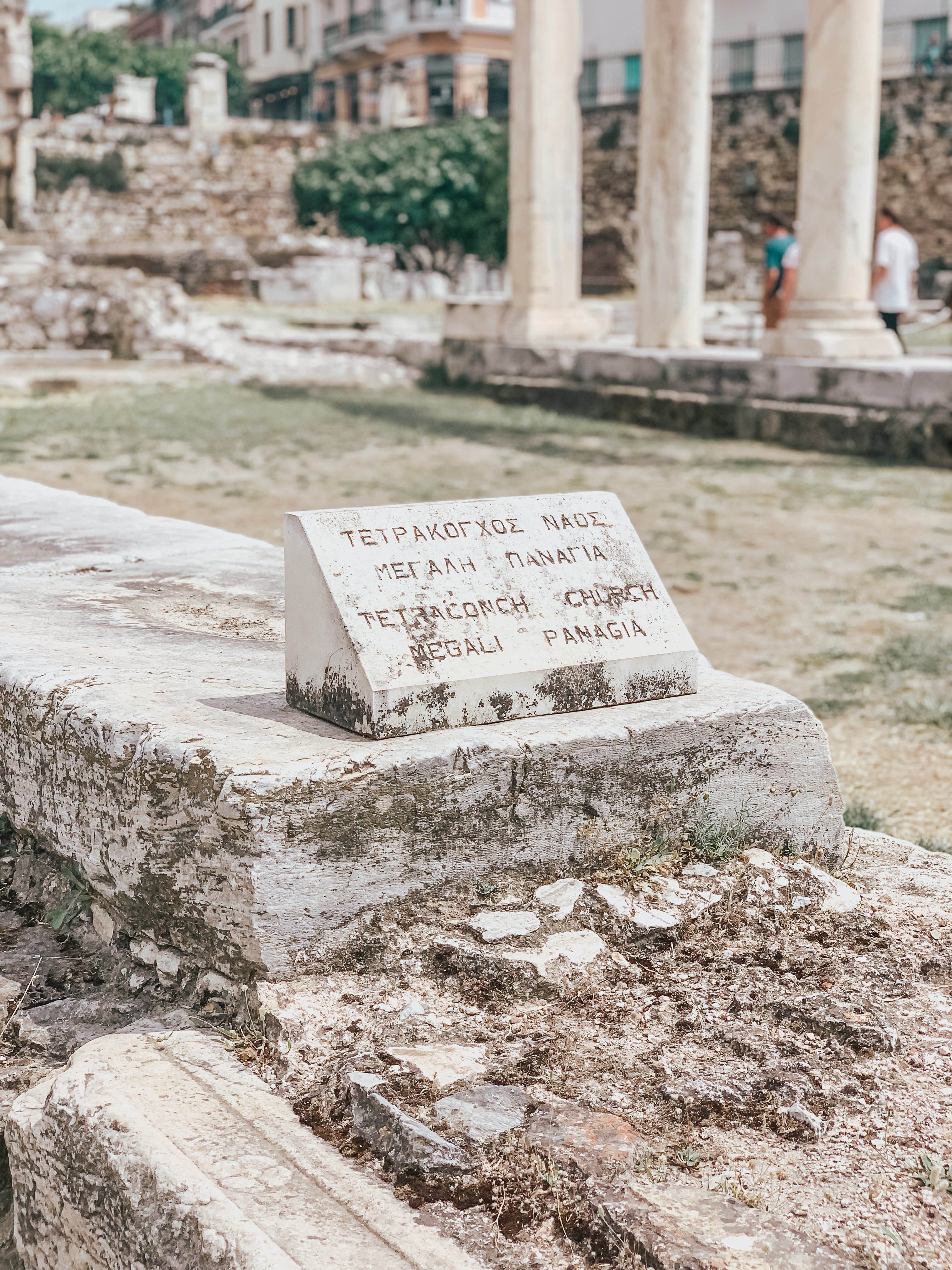 The Acropolis
You can't go to Athens without seeing the Acropolis. Acropolis means "high city" in Greek. It sits atop a hill and overlooks all of Athens. You can see the Acropolis from almost anywhere in Athens. Within the Acropolis are several temples, with the most famous being the Parthenon, dedicated to the Goddess Athena. Everything in the Acropolis was stunning! Conor is a huge history buff so he loved it all! He says this was his favorite part of Athens!
Romper – Get 15% off with code itsmekelsie15 | Sunglasses | Backpack | Sandals – So perfect for walking
I have to give huge credit to my cousin Lindsey and her husband Anith, who did way more research on what to see in Athens! We traveled with them in Athens and Santorini and had so much fun! 
The Parthenon was obviously a must-see! It has been undergoing some construction to help sustain the structure, but it was still amazing to see!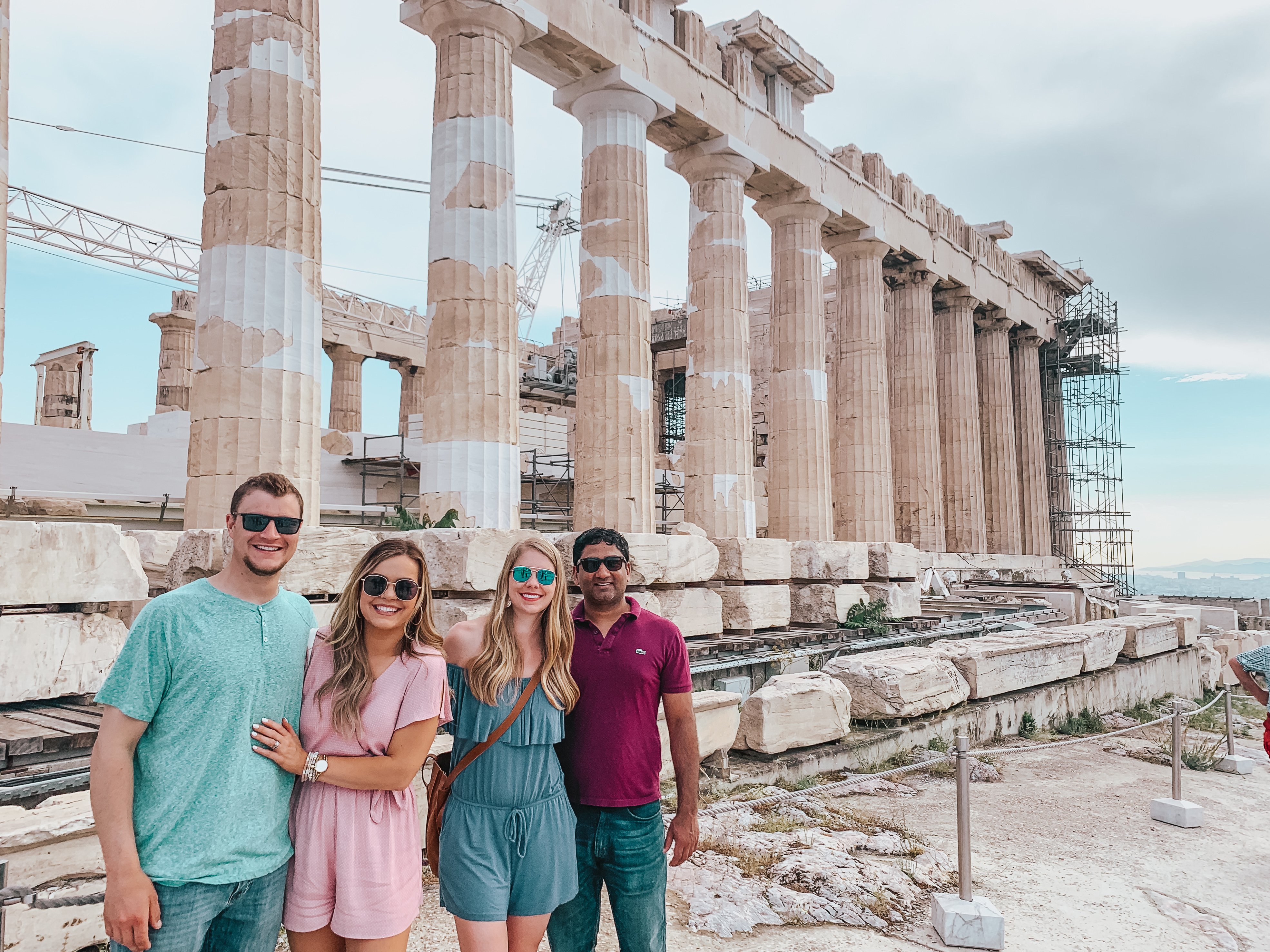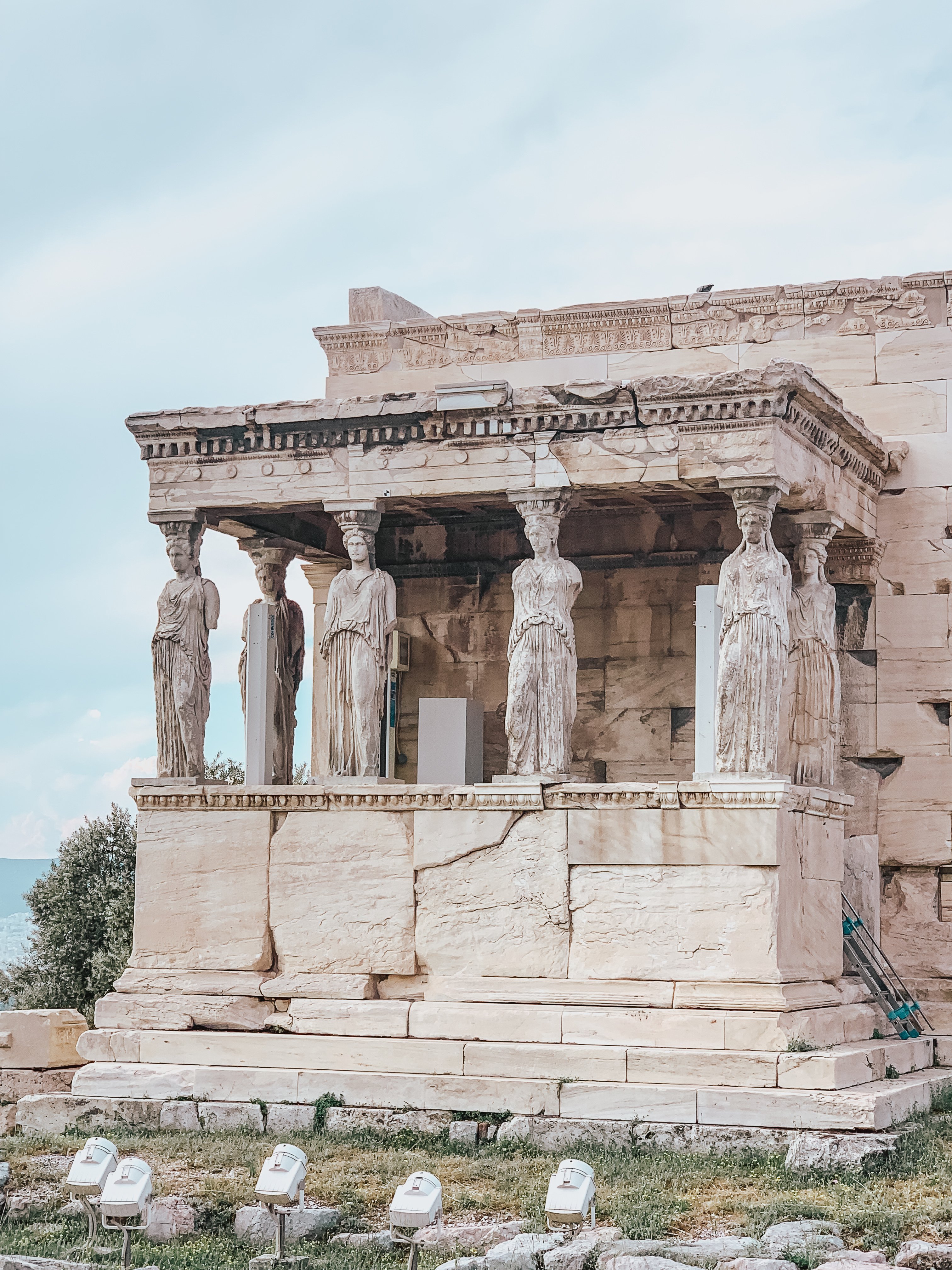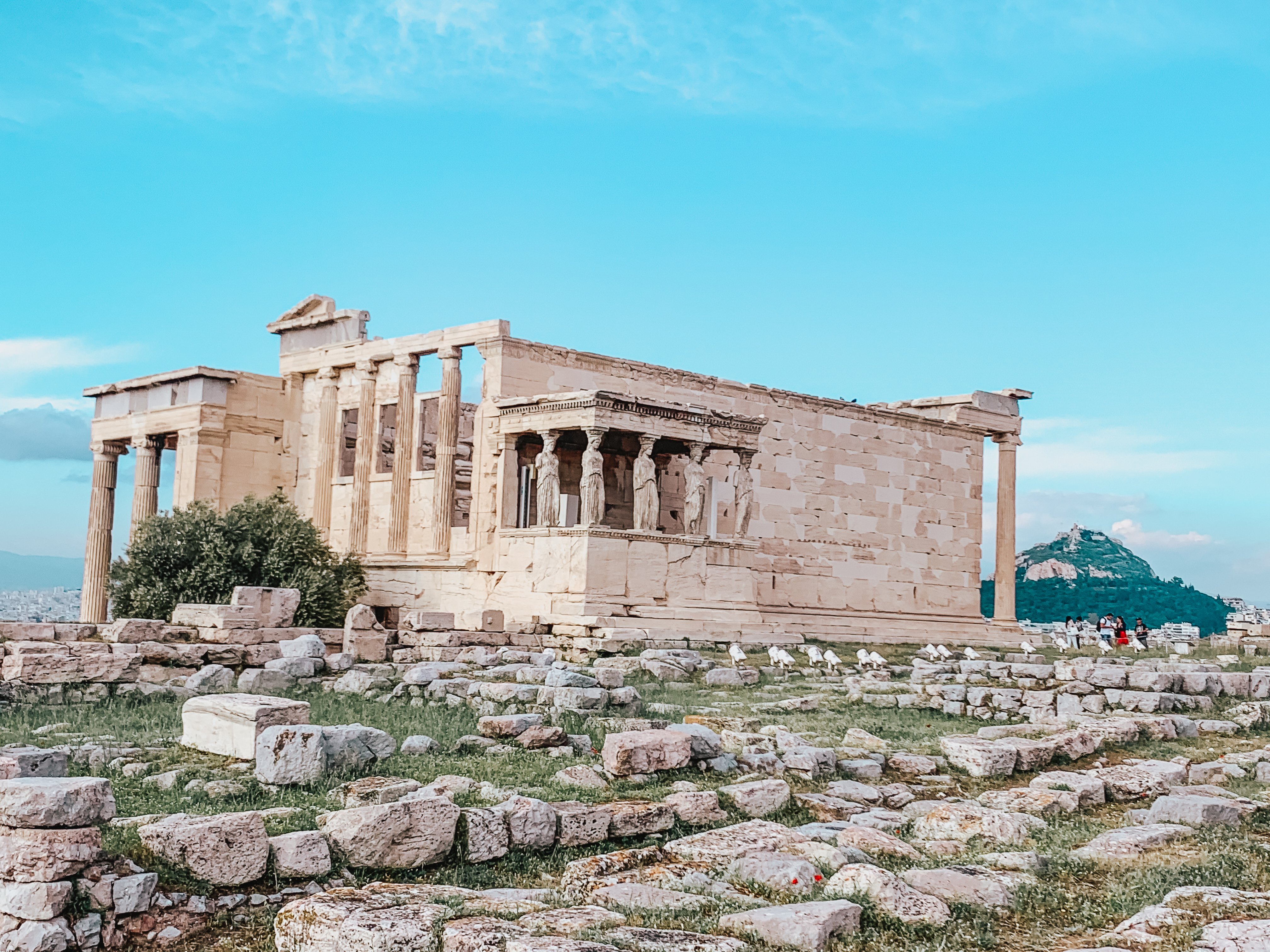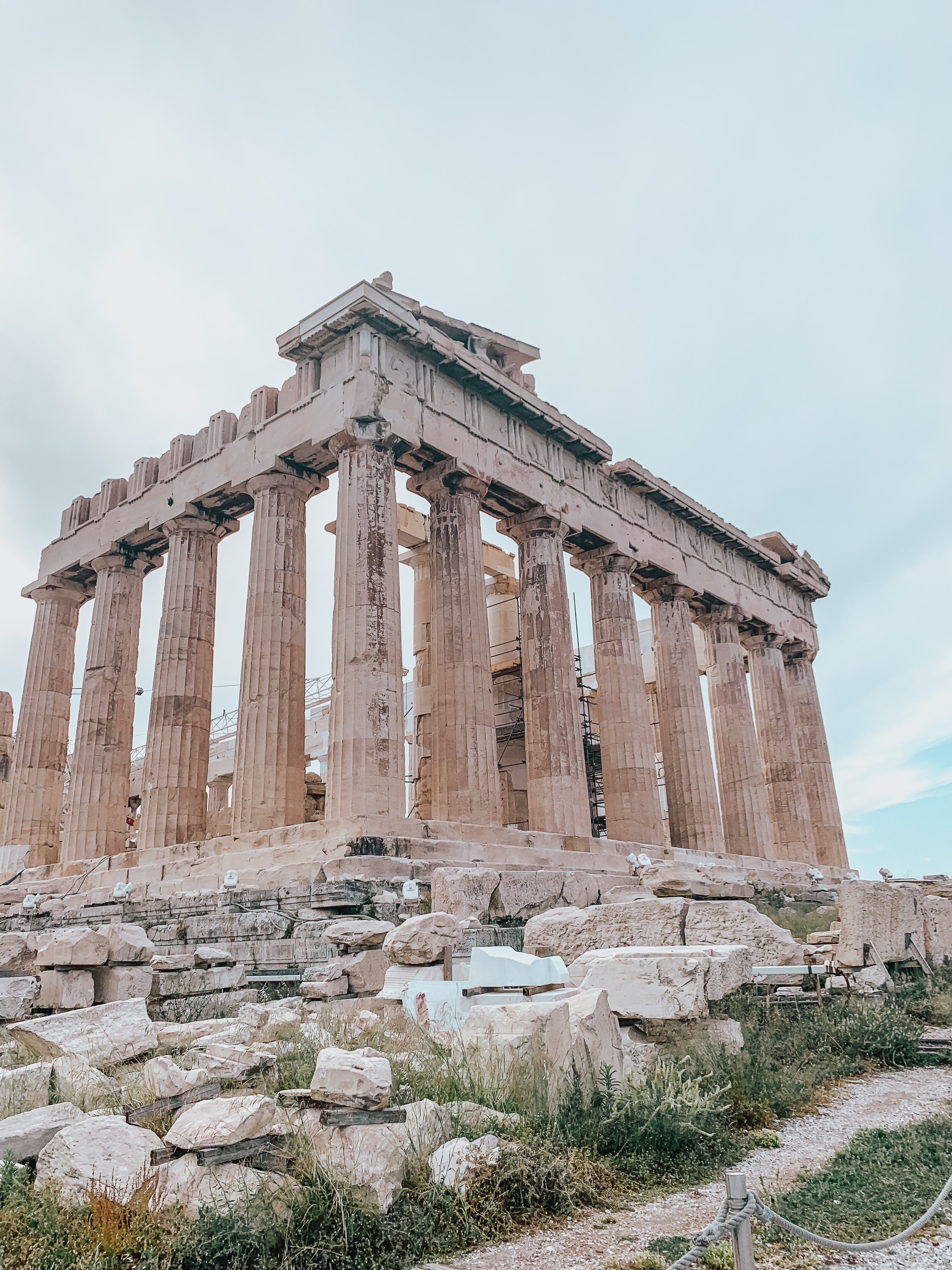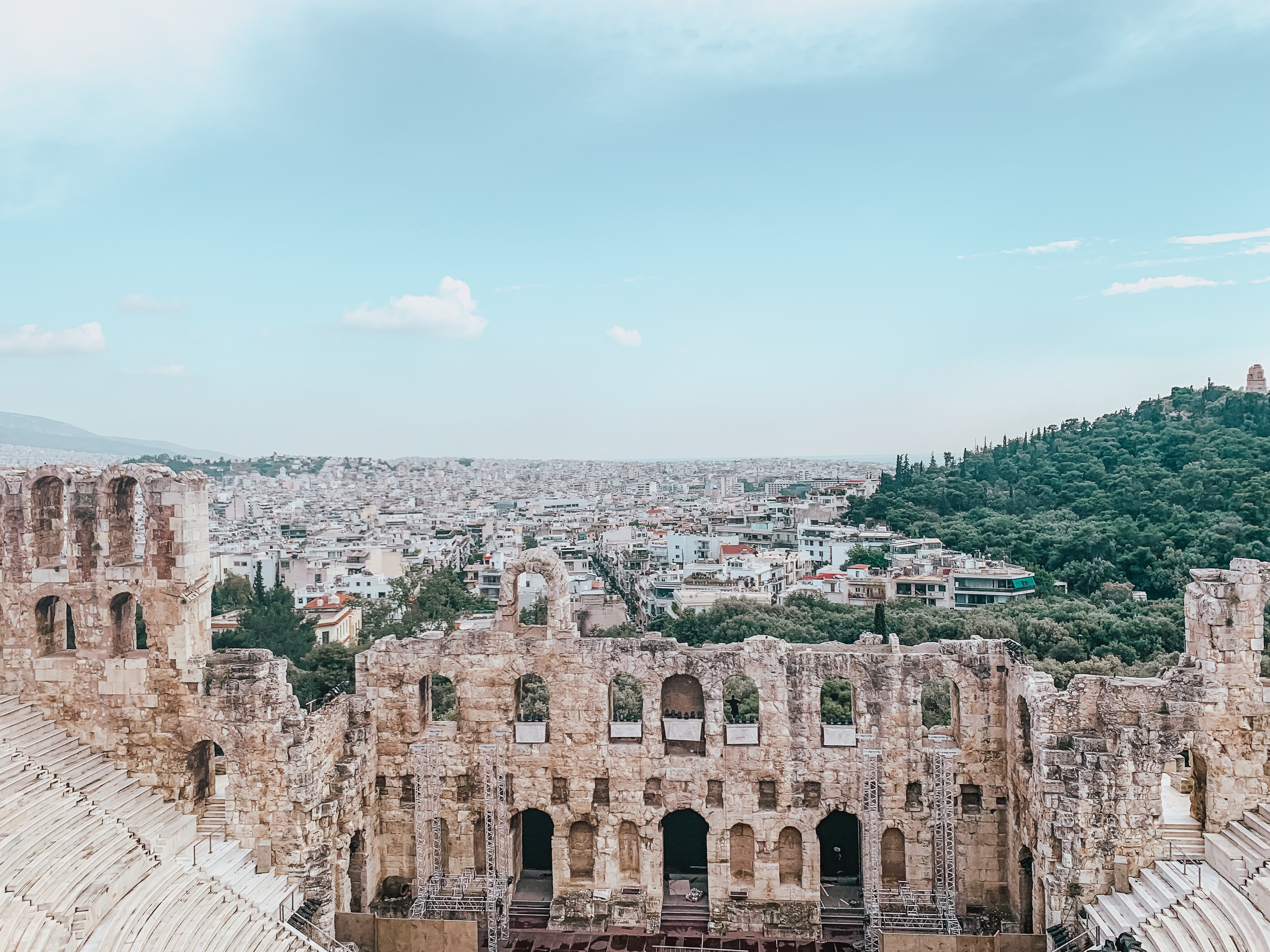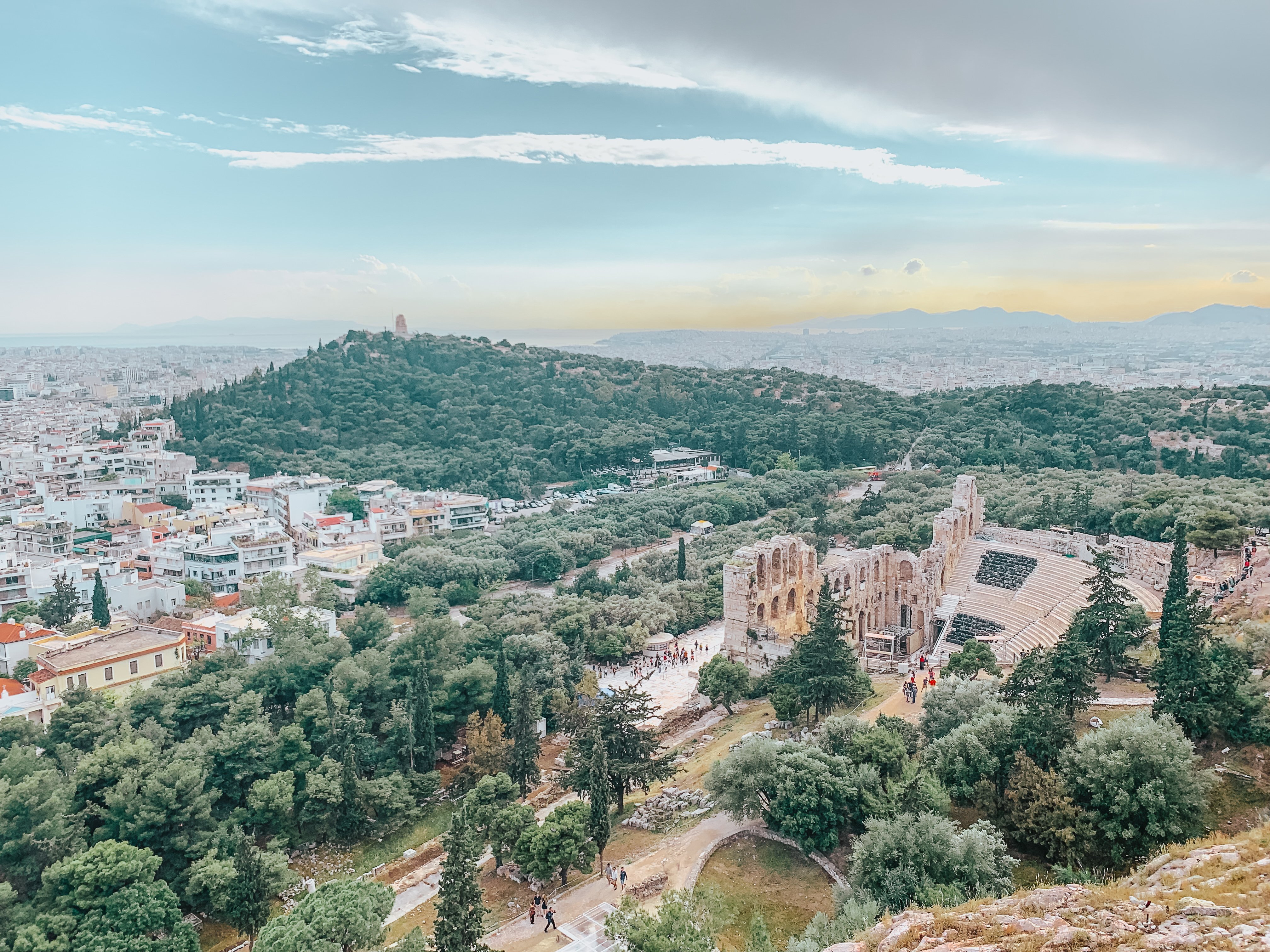 Acropolis Museum + the HIDDEN GEM
After leaving the Acropolis, we stopped at the Acropolis Museum. You can't take photos inside so I don't have any, but it was definitely worth seeing. You can learn all about the Parthenon and how it was built. The museum was very affordable too!
After browsing the museum, we stopped at the cafe inside the building to grab a few drinks on the terrace. We ended up sticking around for the sunset and we are so glad we did. We had a perfect view of the Acropolis, especially the Parthenon. The sunset view from the terrace was also stunning. Most of the restaurants nearby are full at sunset, and there were hardly any people on the cafe terrace at the museum, so we think we found a hidden gem!
Our Favorite Food Spot – Scholarchio
My cousin was recommended to go to Scholarchio for food while in Athens. The reviews online were mixed, but we gave it a shot. And man, am I glad we did! Scholarchio is a traditional family restaurant in Athens that is more of a family style dining. They have a menu for 2 for 30 Euro where you pick 5 dishes out of their 20 options, plus one drink each is included, along with bread and mineral water. Water is not drinkable in Greece, so you need to get bottled water everywhere you go. Mineral water is typically what is served at restaurants (for a price). We ended up doing the menu for 4 (basically double what the menu for 2 has) and split it between us all. All of the food was amazing! Find their menu HERE. We all highly recommend trying out this restaurant while in Athens.
Travel Shoes
I wanted to briefly touch on the travel shoes I lived in while in Athens (as seen in the photos above). The blue sandals from Aerosoles were honestly the most comfortable sandal I've ever walked in. We did so much walking and they didn't give me any blisters and were so great for my feet! I will be sharing the other shoes I traveled with in upcoming posts, but these were noteworthy! They also come in black and a bone color!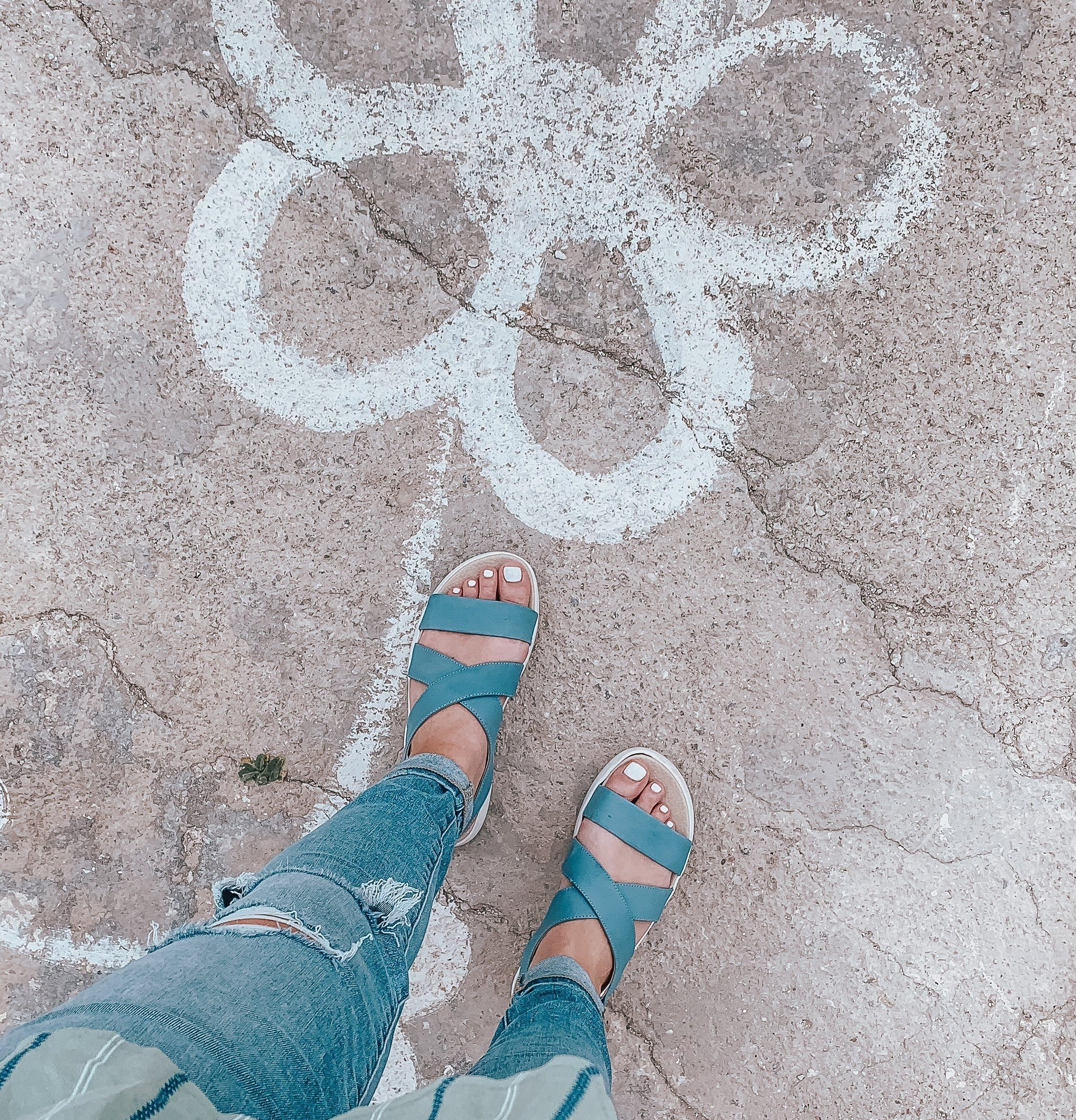 We had so much fun in Athens, even just on that one day! There are a few things we would go see if we ever go back, but what we saw in the one full day was great! Have you ever been to Athens? If so, what was your favorite part?
Hope you enjoyed another travel guide. Thank you so much for reading,