Happy Friday babes! I'm writing this while on the way to CHI TOWN. We leave this evening for EUROPE, and we will already be there by the time this post goes live!! We are so excited. I have never been outside of the U.S. and neither my husband or I have been to Europe so it will be a culture shock for sure, but we cannot wait. Today on the blog I wanted to share my travel outfit and another fun Spotify playlist. Hoping you still love when I share playlists.
Keep an eye out on my Instagram stories as I will be showing you what I have in my travel bag. I will most likely do a video and post once I am back too so I can share what I learned and what worked best for my trip overseas.
My Travel Outfit: One Jumpsuit, 3 Ways
I am all about cute, yet comfy ANY DAY, but especially when traveling. We are traveling overnight, so I wanted my outfit to be something I would feel comfortable in while sleeping too! I recently got this adorable crop jumpsuit. It is sleeveless with a criss-cross back and elastic waistband. There is also a tie on the waist, however it is not functional, it's just for looks. This is from The Pink Lily Boutique, and I also have a coupon code for you to get an additional 15% off your order – use code "itsmekelsie15" at checkout. You can use this with sales too!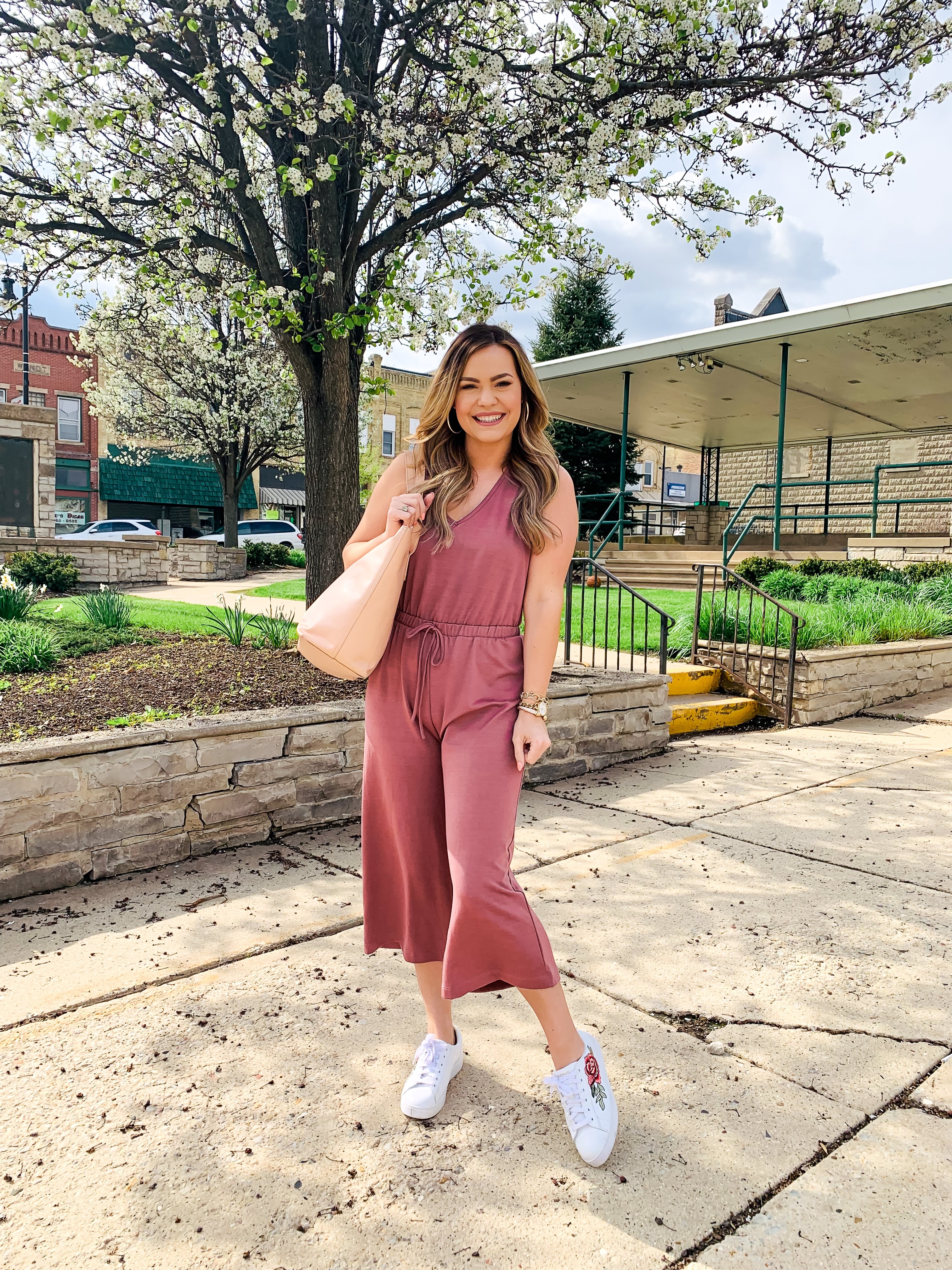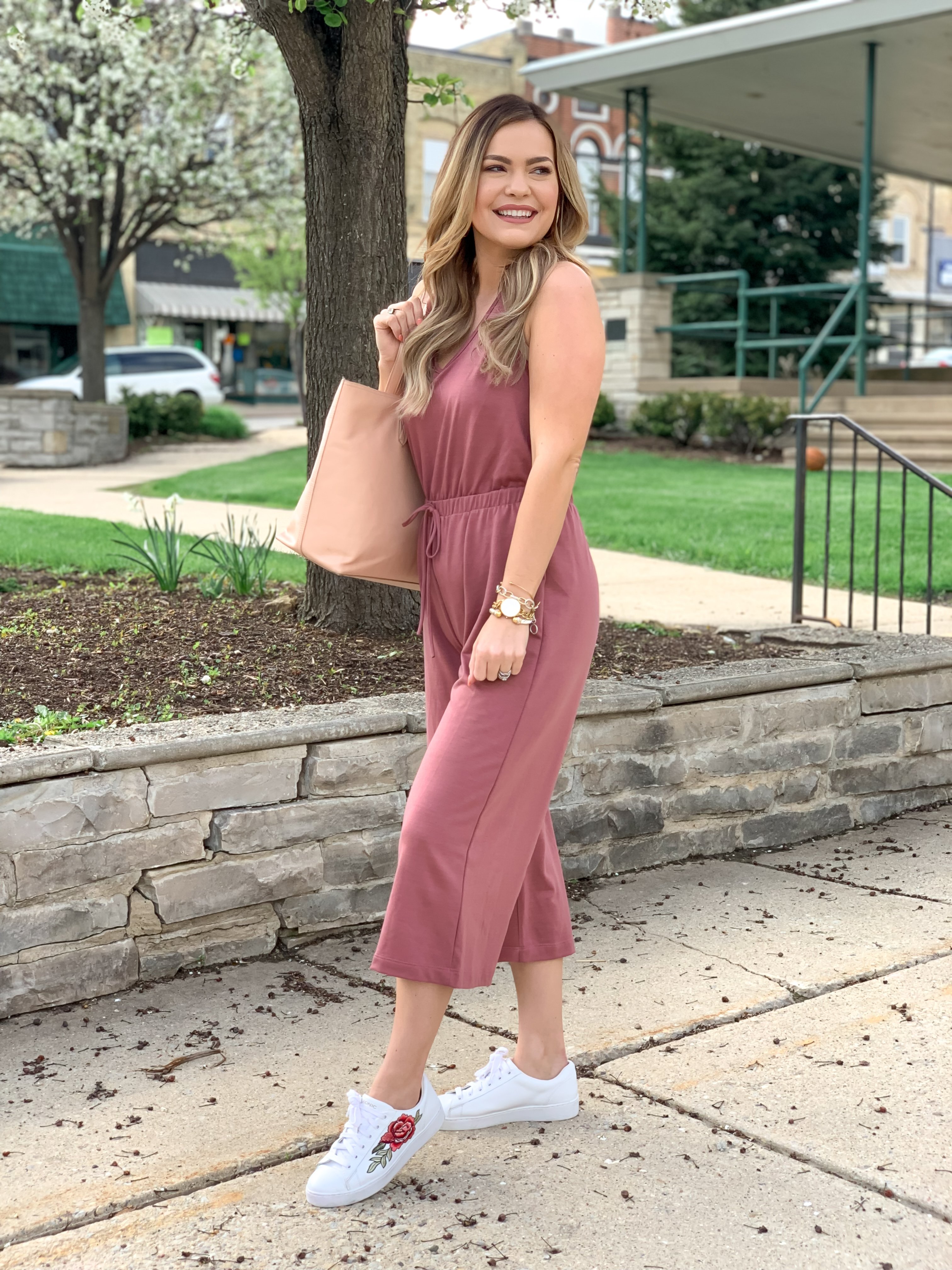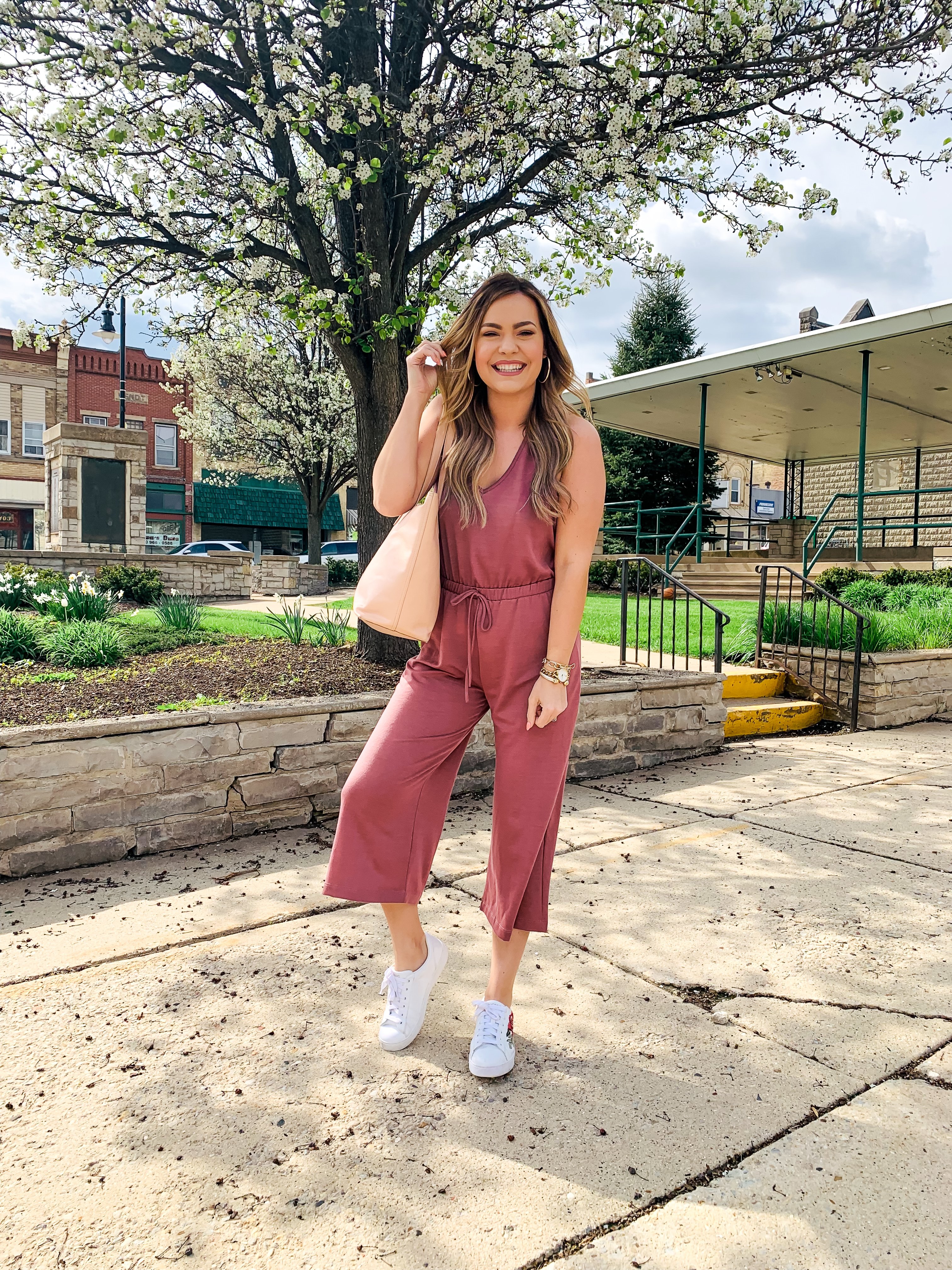 Overtop of the jumpsuit, I am showing 2 options that are great for travel – a denim jacket and a white cardigan. The denim jacket is cute and casual if you're going on a shorter flight and the white cardigan is perfect for being more cozy and warm (with the option of taking off if you get too hot).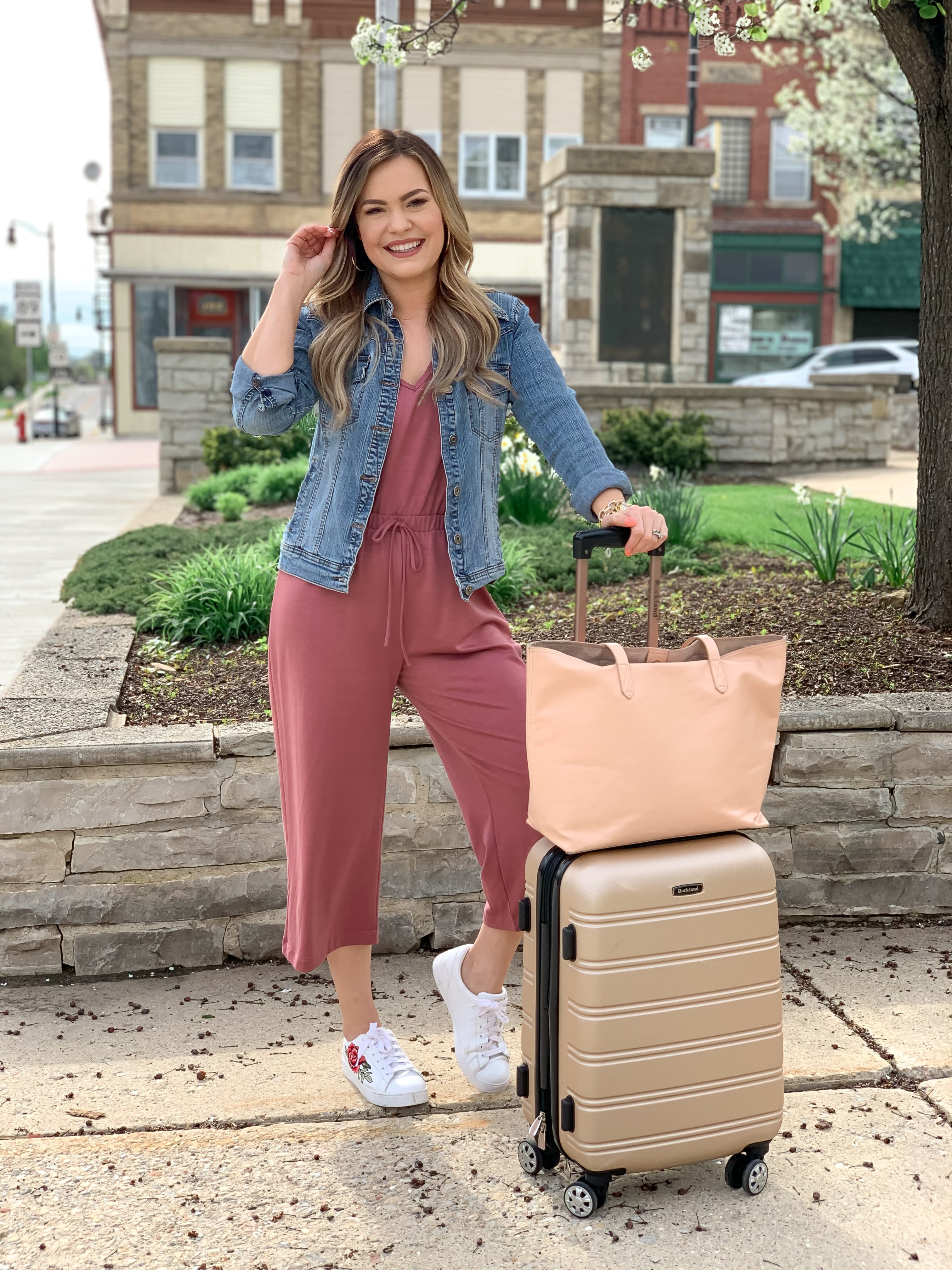 Any great tennis shoes or sneakers would go great with this look, or even some driving mules/moccasins would work. I am wearing my embroidered white sneakers from Vionic. They have the best support and are so comfortable. I don't see that they're available online anymore, but I found a great alternative on Amazon. A great loafer alternative option would be these Rose Gold ones from Aerosoles. They didn't quite go with a lot of my other outfits for Greece, so I opted for the white sneakers instead.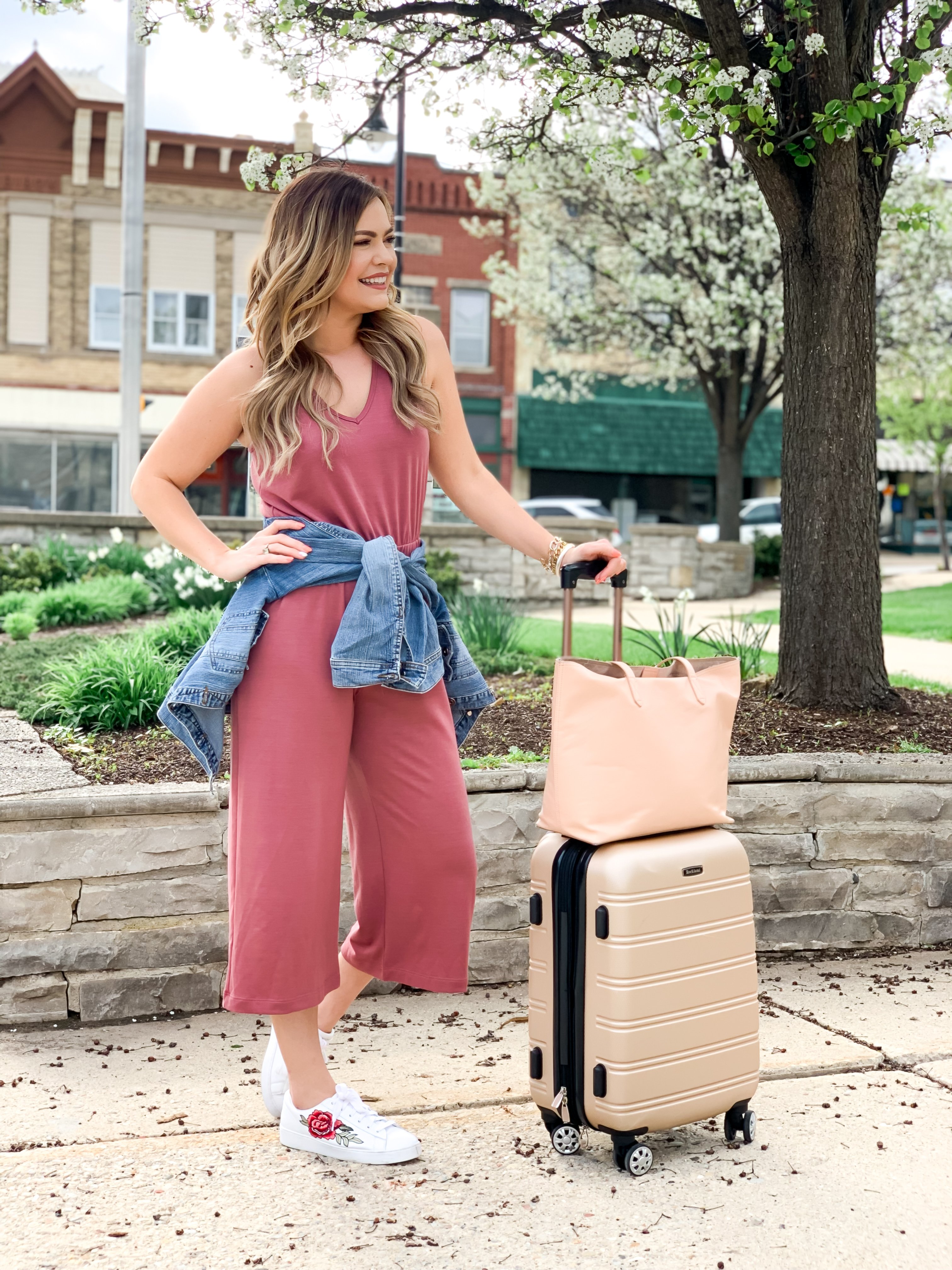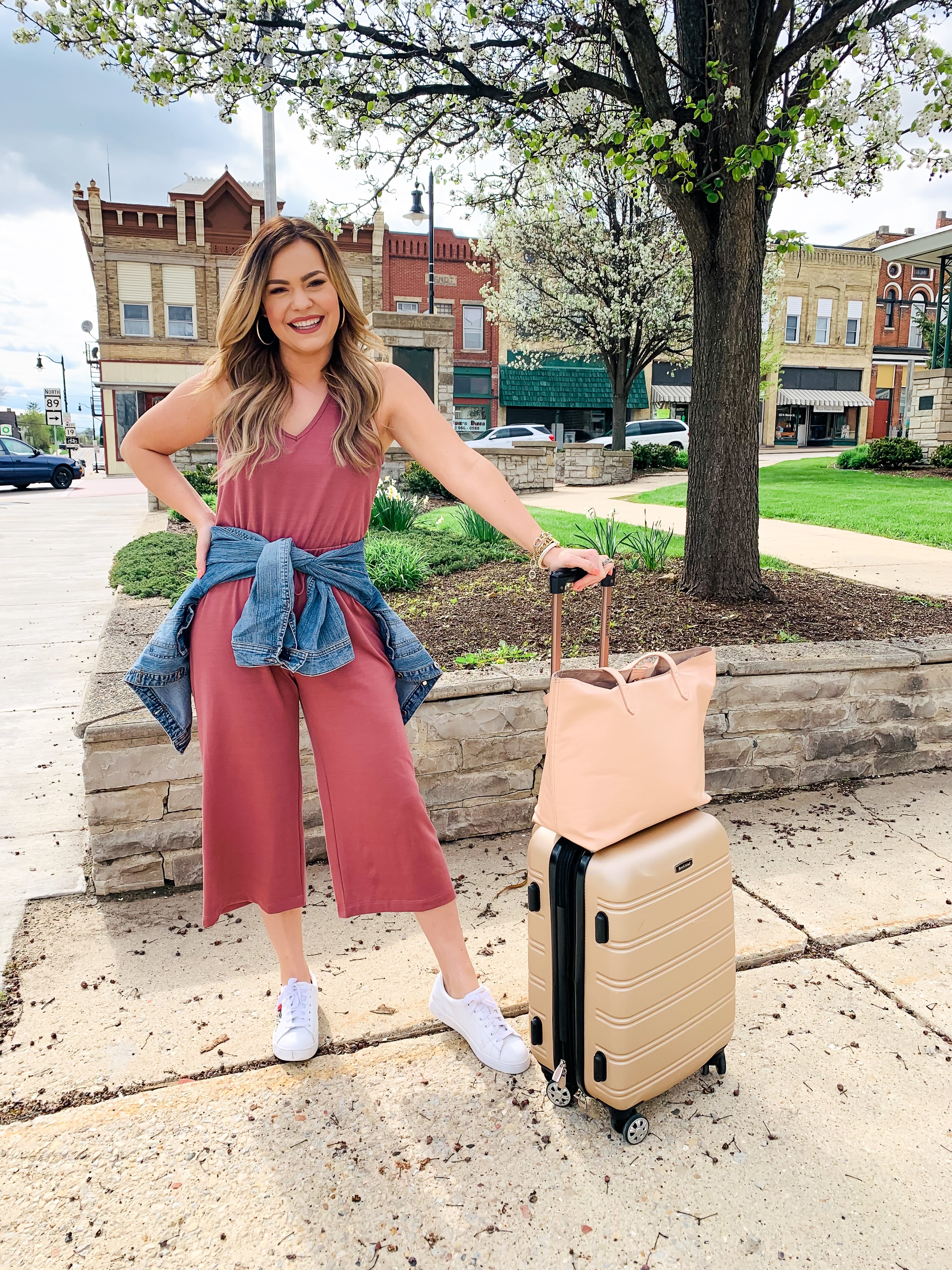 Jumpsuit | Denim Jacket | White Cardigan | Similar White Sneakers  | Loafer option | Luggage | Similar Tote Bag

My Travel Playlist
I love listening to podcasts and audiobooks while traveling. I have been loving the NPR Hidden Brain podcast, along with a ton of other influencer podcasts. I'm probably due to share an audiobook/podcast post soon, but you can find my previous posts here and here. As far as actual travel music, I put together a playlist of some of my favorite songs below. I like a bit of everything, so it's all over the board, but I think they are fun songs! If you like more of a calm playlist for traveling, I like this one here. If you don't have a Spotify account, you should totally get one! I think it's so worth it and I love it more than Pandora. I love that you can follow other peoples music playlists. All you have to do is hit the follow button if you have an account! Enjoy
That's all for today's post! If you end up on Pink Lily's site, don't forget to use my code "itsmekelsie15" for 15% off (in addition to sales) Be sure to follow along on my Instagram while I'm in Europe!
Until next time,

---