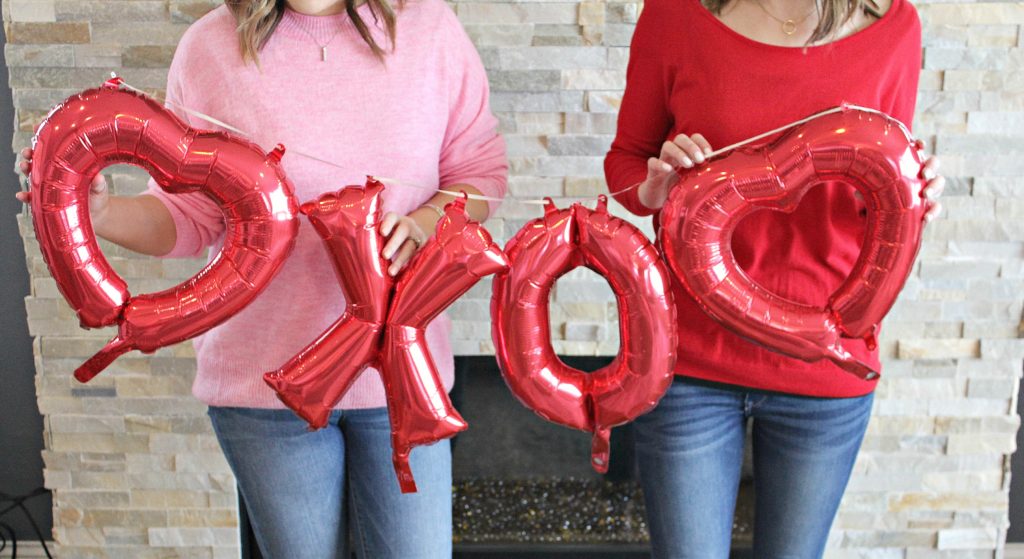 Happy Friday everyone! Valentine's Day will be here before we know it, and today on the blog I am collaborating with my bestie, Ashley from Style608 to bring you a post on how to host the perfect GALentine's Day get-together!!
Galentine's Day is typically celebrated the day before Valentine's Day, on February 13th, but it can be celebrated anytime around the holiday! No matter the day, or whether you're single or taken, Galentine's Day is the perfect time to get together with some girlies and host a fun afternoon or night in, drinks included, of course! 😉
*Disclaimer-Â This post contains affiliate links, which means that some clicks/purchases may result in a small commission to keeping my blog running at no additional cost to you.*
What you NEED:
Flowers
When I think of Valentine's Day, I think of flowers first! There's nothing like the smell of fresh flowers! I like to have fresh flowers at my house whenever I can. They can brighten anyone's mood and they just make me so happy!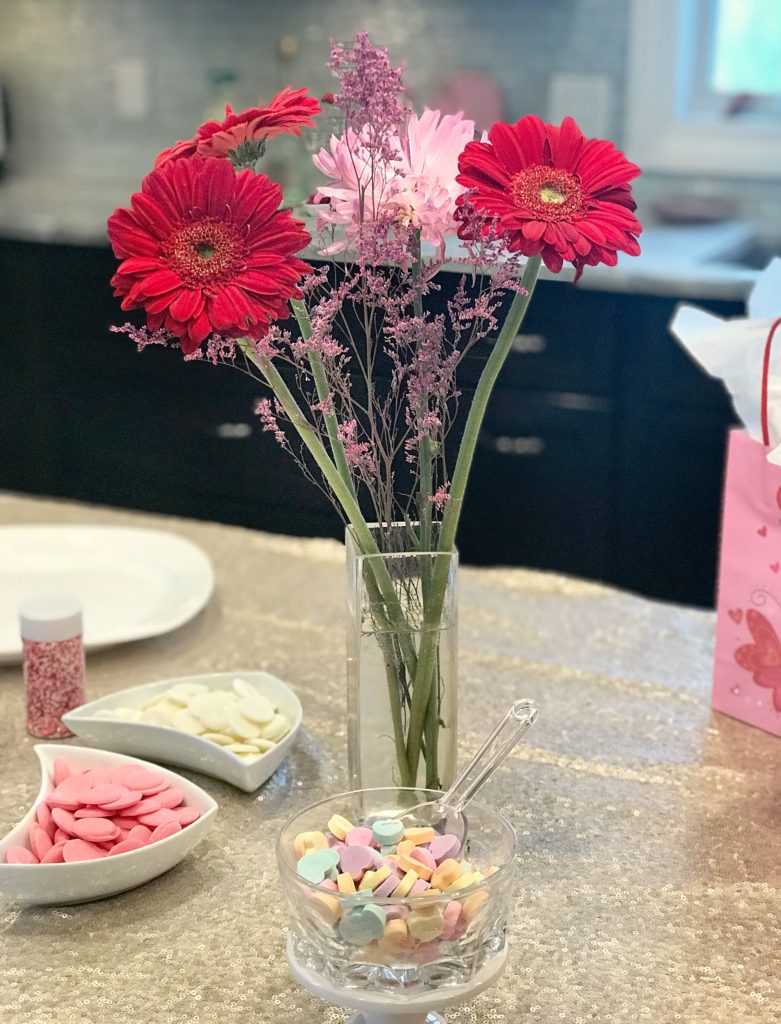 Decorations: Balloons, Banners & Sequin Tablecloths
Whether it be pink and red balloons or blown up letters, balloons are a must and are the perfect accent/background piece for your party! Plus, you can also use them as a backdrop for some awesome photos! Valentine's Day banners and cute tablecloths are also great! The rose gold sequin tablecloth used here is actually a backdrop for some of my YouTube beauty videos that I purchased on Amazon. It worked so perfectly as a tablecloth.
Another cute decor item that doubles as a snack are conversation hearts! We placed them in this super cute glass dish and put it on this mini cupcake stand!

Drinks: GALentine's Day Pink Drink
We love a little bit of wine or some bubbly at a girls get-together! I'm sharing this super yummy drink recipe that we made for our GALentine's Day get-together! It's super tasty, cute, and very easy to make!


Recipe
Champagne – We used Verdi Spumante – any bubbly will work
Lemonade -  Simply Lemonade – any regular lemonade will work
Red Rock Candy on a Stick
Strawberries – I cut them into heart shapes! 🙂
Raspberries – a small pack will do
Cute Straws
Fill the champagne flute halfway with champagne
Add lemonade until it's about an inch from the top of the glass
Place one red rock candy stick in the glass. Watch as it turns pink…this was my favorite part!!!
Add raspberries to the drink!
Garnish with strawberries and/or raspberries.
Add a cute straw
Drink up & enjoy!!
This makes about 8 – 10 glasses.  This drink turned out so yummy and was such a hit! Be careful, because they taste like juice and go down easy! 😉 If you try out the recipe, let me know in the comments below what you think!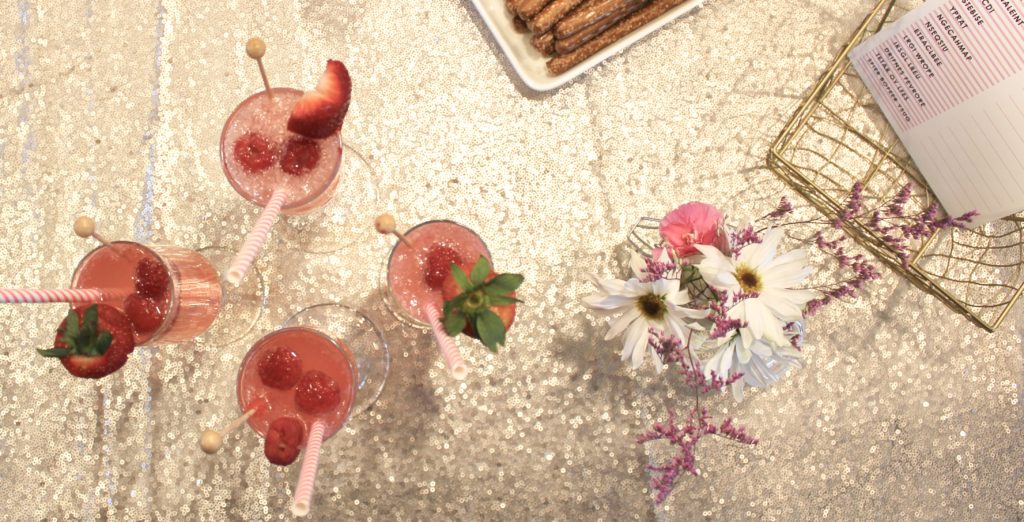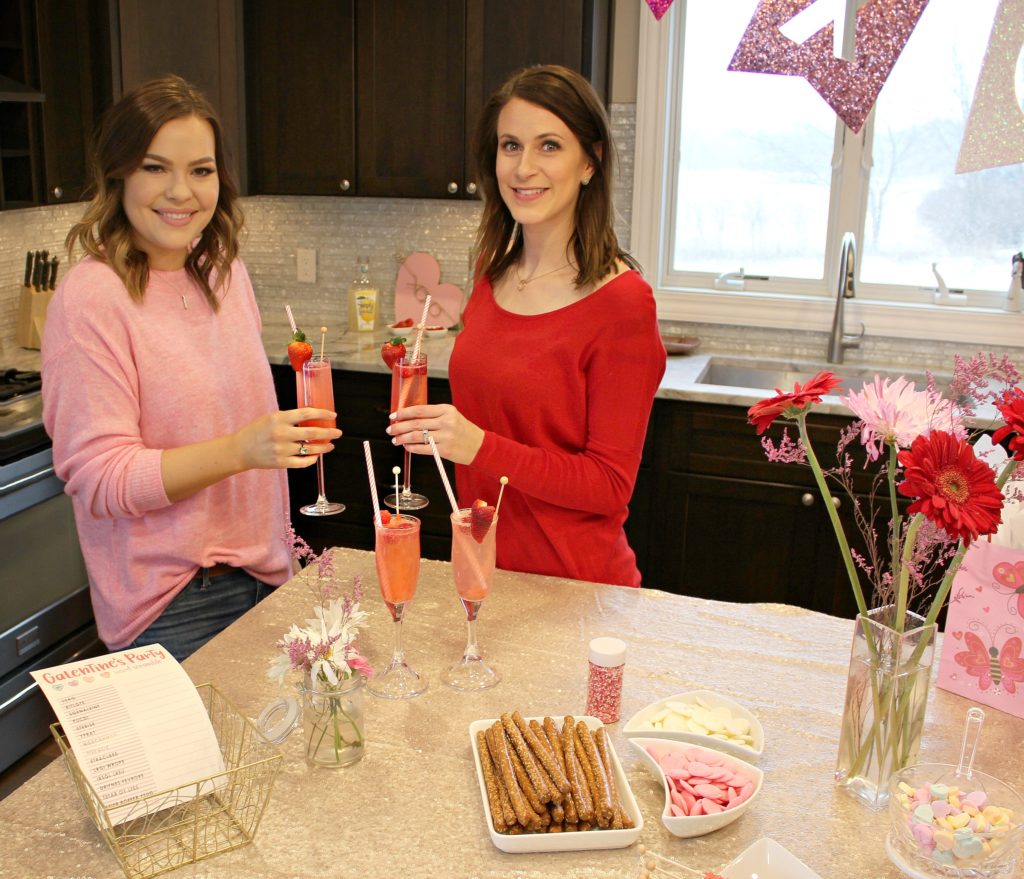 Desert: Chocolate Covered Pretzels with Sprinkles
A GALentine's Day wouldn't be the same without some chocolate, am I right?! These chocolate covered pretzels are perfect and oh, so cute! We did a little DIY pretzel making bar so we could make our own! See the recipe below!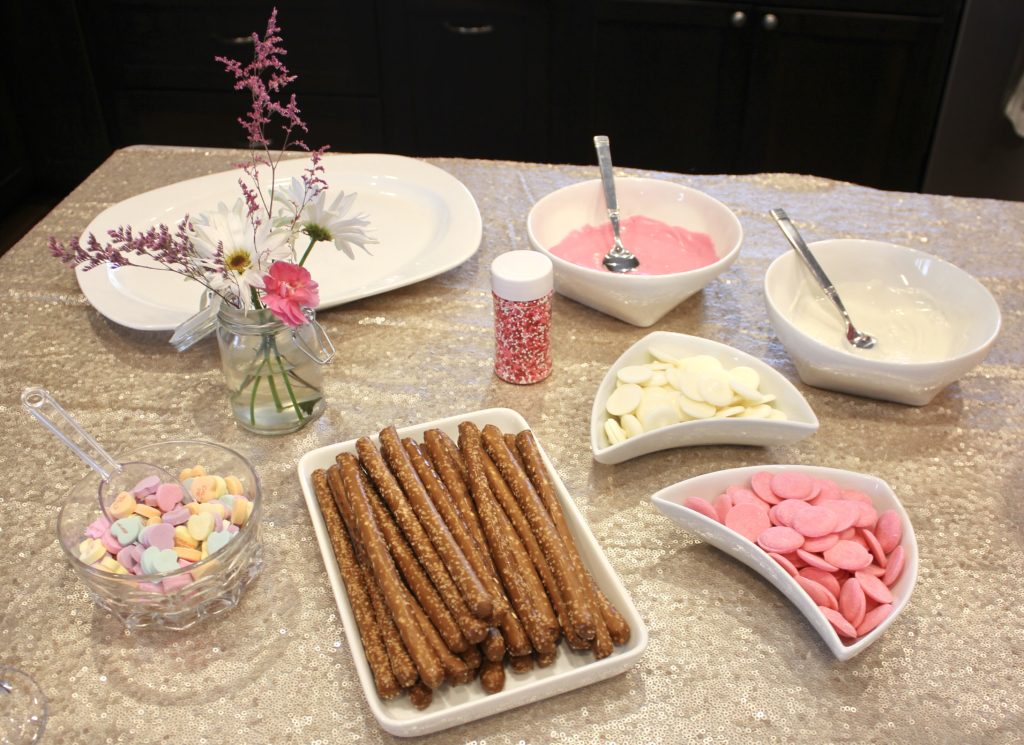 Recipe
Yield: 30 Pretzels
1 pack of pretzel rods
1-2 packs of meltable chocolate. We used pink and white chocolate. The Wilton brand worked great and we also placed the unmelted candies on the table as a little treat that anyone could grab!
Valentine's Day themed sprinkles – we went with a mix
Clear pretzel bags and twist ties
Pan and parchment paper
Set out pan lined with parchment paper
Melt chocolate in bowl(s) 30 seconds at a time so you don't burn the chocolate, stirring between
Drizzle or dip pretzel rods into chocolate – we used spoons to pour the chocolate onto the pretzels
Scrape the chocolate off the bottom portion so it doesn't make a mess on the parchment paper
Sprinkle with desired toppings – we used a mix of pink, red and white sprinkles
Place chocolate covered pretzels on parchment paper and allow chocolate to harden
Once chocolate is hardened you can enjoy, or place them in the clear bags and tie the top to enjoy later!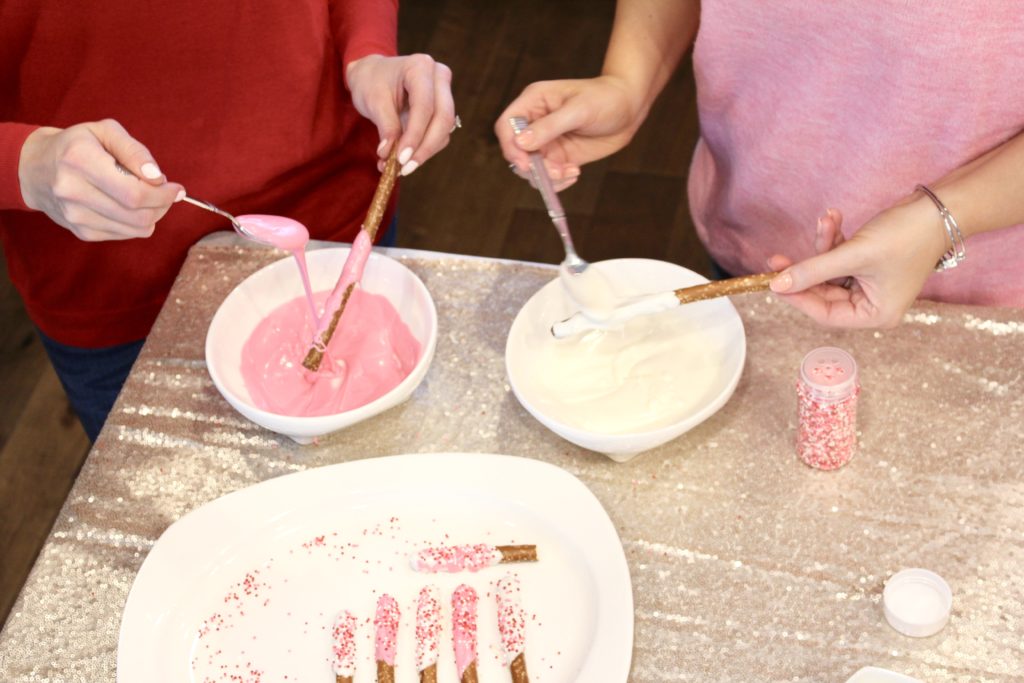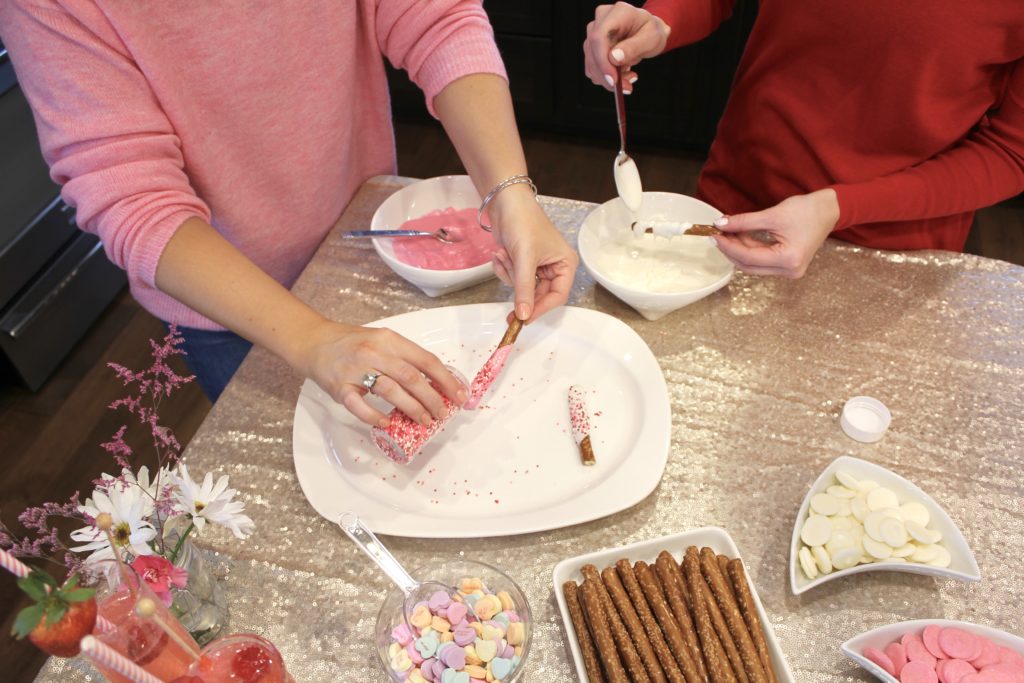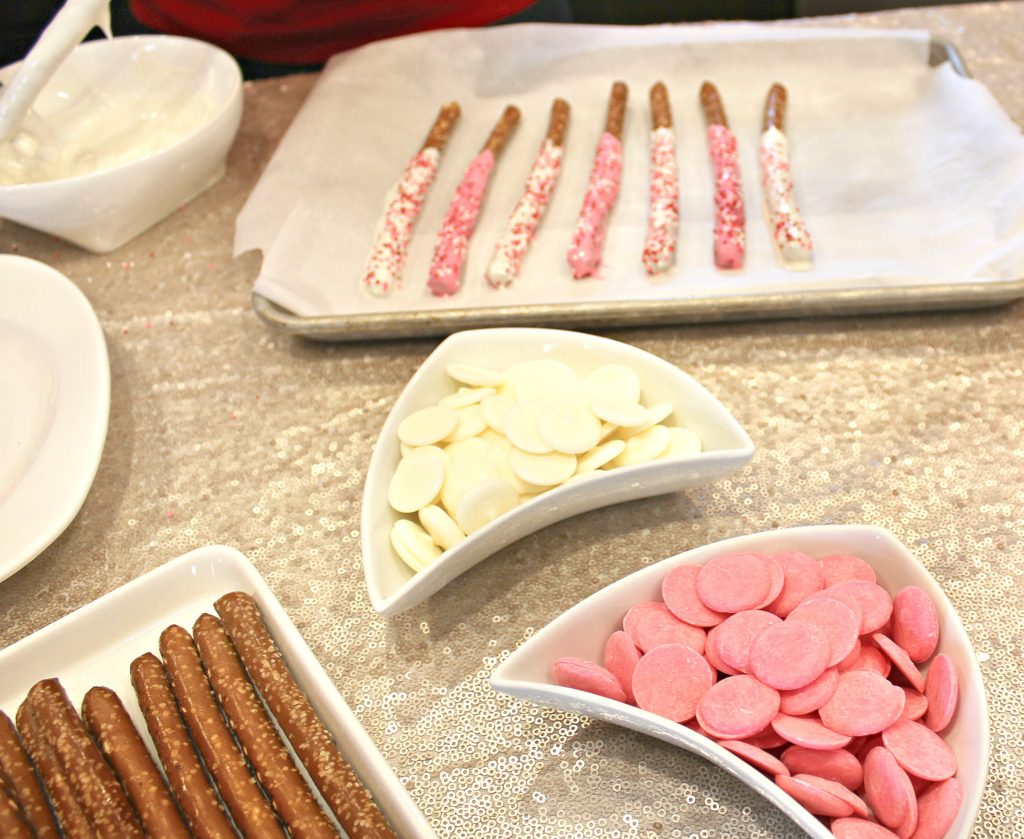 Gift Bags/Party Favors
Girly party favors are perfect for your get-together. Head over to Ashley's blog, Style608 to get the details on her super adorable gift bag ideas for your GALentines day! She chose such cute gifts for inside the bags!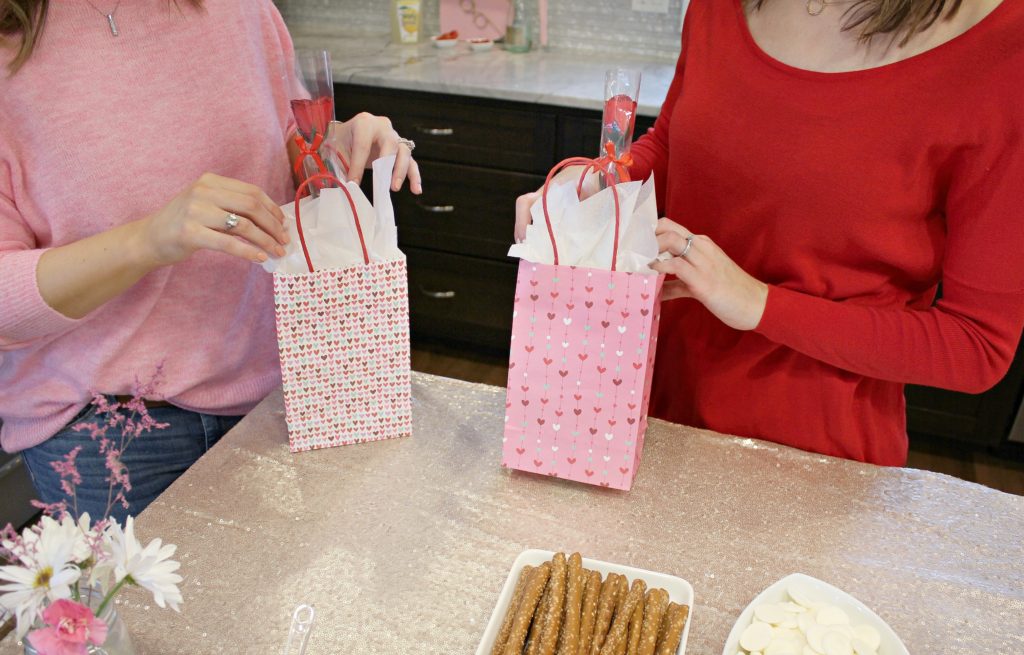 FUN
Lastly, it wouldn't be a party without some fun & games, right?! We found this super cute and inexpensive Galentine's Party word scramble in the dollar aisle at Target! Other fun ideas would be to grab some popcorn and watch some girly movies! A new game that both Ashley and I love to play is "What Do You MEME?", which would also be so much fun to play with your girlfriends!! Whatever you decide to do, have fun with it and have a great GALentine's Day!

Don't forget to check out Ashley's gift bag ideas and full post at Style608 !
If you have any other fun GALentine's Day activities, drink or desert recipes or other suggestions, let us know in the comments below!
HAPPY GALENTINE'S DAY Loves!!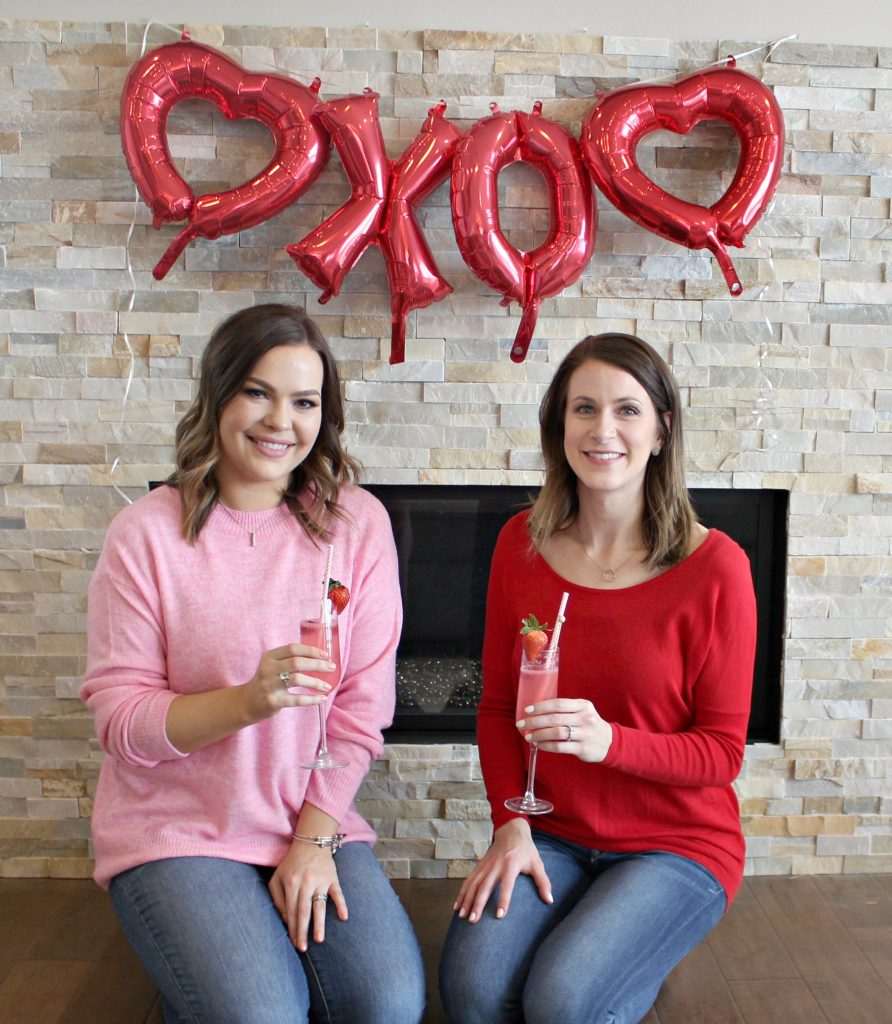 Other Valentine's Day Posts:
Valentine's Day Date Night Outfit: Casual vs. Dressy
Valentine's Day Gift Guide for HER – Under $50
Valentine's Day Gift Guide for HER – SPLURGE List
Valentine's Day Gift Guide for HIM