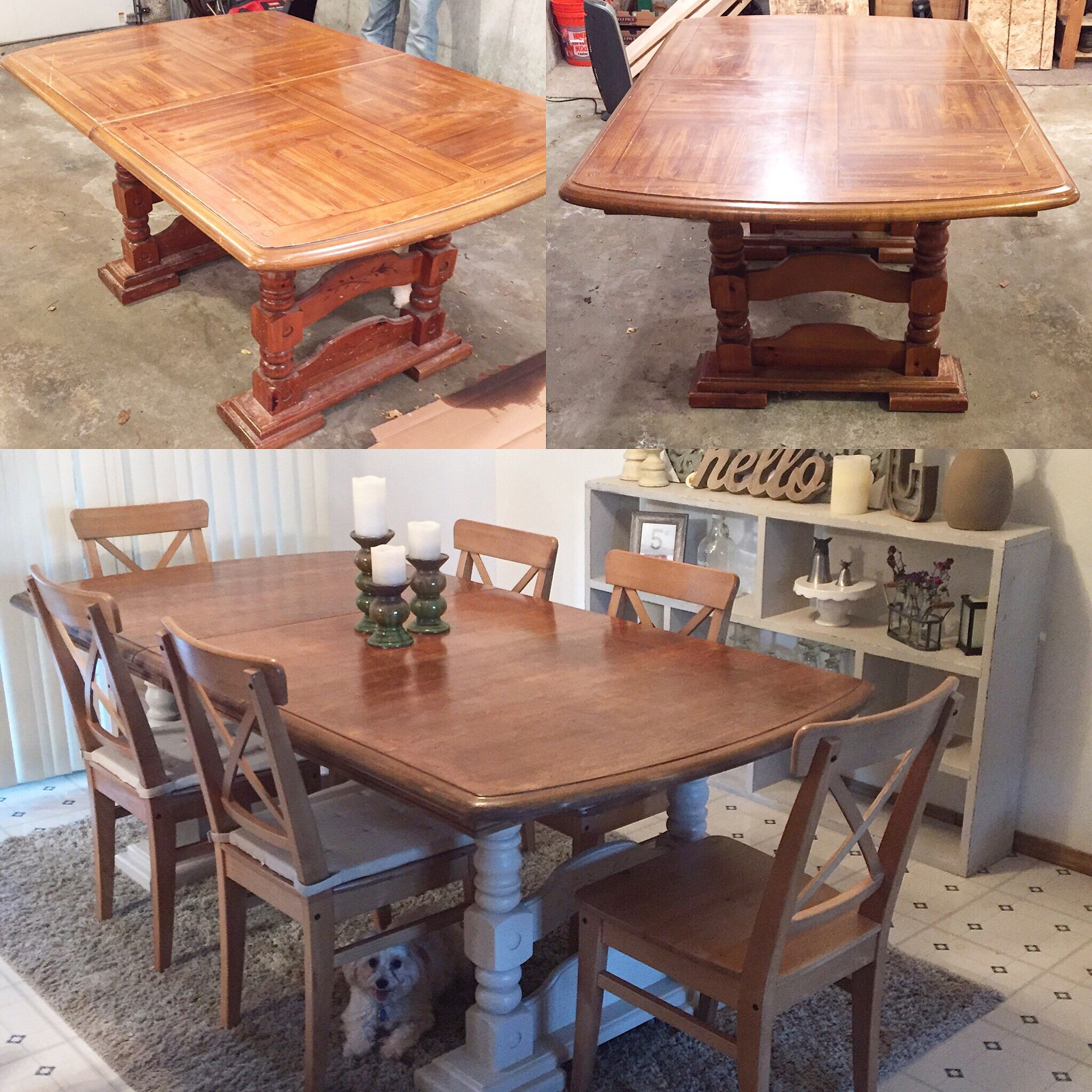 My fiance and I found this table on Craigslist last Fall for $10 !! It had some minor scrapes and scratches on the top and sides, but it was perfect for what we were looking for in our new home!
The top was a parquet type wood pattern and Conor sanded down the entire thing, legs and all, leaving just a few spots on the legs unsanded. Â I knew a general idea of what we wanted as far as the look of the table. Â I found lots of inspiration on Pinterest. Â We bought several stain samples, but ended up going with the first one we opened, which was Early American from Minwax. Â We stained the top of the table and the sides of the top as well and then applied a polyurethane coat to the top, using steel wool between coats to smooth it out. Â Some parts of the table did not take the stain well, but I think it gives it a bit of character. We wanted a light cream or white color for the legs, and we ended up using a cream color that was used on our walls and another furniture piece in our dining room (shown in the background of some of the photos).
It took me awhile to find chairs that I wanted to use, and for a low price. Â Buying single dining room chairs can get costly, fast! Â I found our chairs at IKEA, as well as the seat cushions. Â The color of the chairs slightly differs from the table, but I think it goes together nicely. Â Without the leaf, 4 chairs fit comfortably. Â Adding in the leaf allows the table to hold 6 chairs comfortably! Â We are so in love with the way it turned out and are excited to finally have a large dining table in our new home!
Next is finding a replacement for the awful looking ceiling light fixture in the dining room!
P.S.– can you spy our dog hiding in one of the photos? 😉