This is my first post to start out My Wedding Series! I am so excited to share with you my journey of wedding planning, from start to finish.  First up, THE ENGAGEMENT.
You're ENGAGED! Now what?
After all of the excitement dies down from celebrating your engagement with family, friends and coworkers, you start to think, now what?  What's first in the wedding planning process?  It's different for everyone and although I read millions (that's a little bit of exaggeration) of articles on the step-by-steps of wedding planning, I still felt like I wanted to start where I felt most comfortable.  For me, finding my wedding venue was NUMBER 1 on the list, and my fiance agreed.
The Wedding Checklist
Before chatting about the wedding venue, let's talk about where you can find these "step-by-step" lists of what to do when you are engaged.  Many magazines have checklists in them, but I looked on Amazon.com and found the perfect wedding planner book from theknot.com
. This helped me so much throughout my planning.  As much as I love doing things online, I also love to see them in person and like to physically write notes down.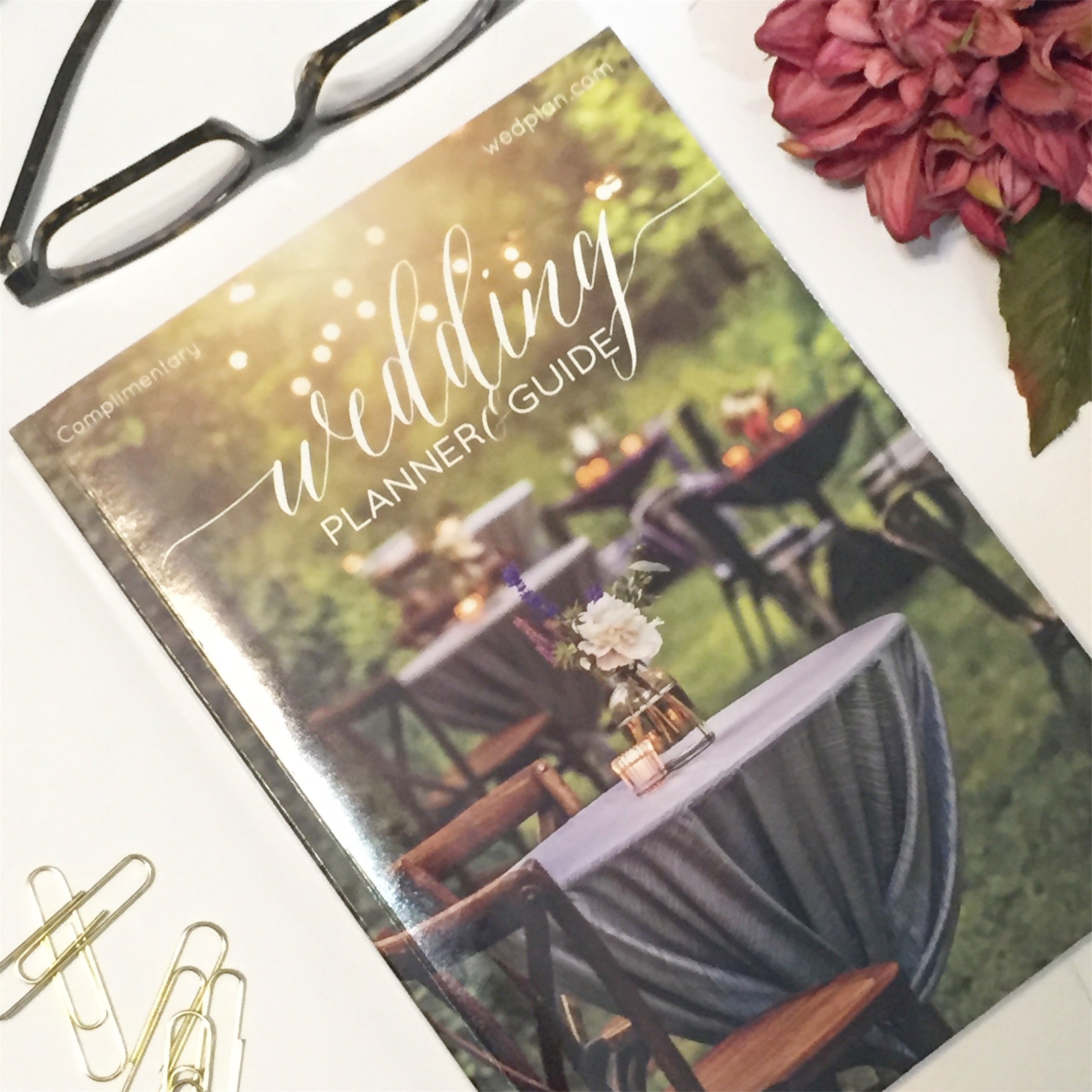 I then chose a wedding website online.  Weddingwire.com and theknot.com were the 2 sites that stuck out to me the most.  I like Weddingwire's budget list better than the theknot.com's, however I like the overall website of theknot.com better. I chose to go with theknot.com for our checklist and wedding website, but still have an account with Weddingwire for the budget side of things.  There are always tons of wedding shows and bridal expos in the Madison area that have handouts with checklists as well, such as the Wedding Planner & Guide one shown here. Choose what suits you best and go with it.
Wedding Blogs
Wedding blogs have been so helpful during this process.  There is so much inspriation and they're really helpful to read about weddings and/or vendors that are in the same state.  My 2 favorites are LoveMadisonWeddings and WisconsinBride.
The Budget
Before looking at ANYTHING wedding related, be sure to talk with your fiance about your budget. This is very important, unless budget is not an issue.  The checklist on the wedding websites can help you with this.
Searching for the Venue
Now, onto the wedding venue talk. When we got engaged, we had just bought a house and wanted to wait a bit for the wedding, so we have had a long engagement prior to the wedding.  We didn't want to do too much planning, so we decided to focus solely on finding a wedding venue and then we would take a break from planning for a bit.
When searching for venues, we knew it did not matter the location, as long as it was close to Madison. We were open to many different types of venues, but the main thing we were looking for was a venue that we could have the ceremony and the reception at the same place.  This was not hard to find in the Madison area, which was great!
We started by looking at one or two wedding venues a weekend.  We started by looking at a golf course in the area, The Oaks Golf Course, which has a permanent tent for weddings on site.  The tent is beautiful, however the main thing we did not like is the place where the ceremony would take place.  It would be half inside the tent and half outside of the tent.  I wasn't a fan of that, but loved everything else.  The person who showed us was also very nice.
Next, we looked at Lake Windsor Country Club, which was beautiful and a bit tight for our budget, but we could've made it work.  They have an outdoor ceremony space, which is beautiful, but the backup space if it were to rain, was not so beautiful.
We went to a few barn style wedding venues, including Bridle Barn & Gardens and Century Barn.  Both of which were beautiful, but too small for the amount of people we would be having.
Finding OUR Venue
The entire time we were looking at these venues, I was trying to reach someone at a new venue that had just popped up in Stoughton, WI.  Since it was so new, it was hard to reach anyone, but then finally, when we thought we were out of luck, they contacted me and we set up a showing.  We were so excited to tour this new place because from what we saw in the very few photos online, it was just what we wanted, an industrial, yet classy feel.
I was so desperate to view this place, that the first appointment available, my fiance was not able to go.  I asked one of my best friends, Ashley to come with me for support. Upon arrival at The Lageret, we were already in love just from the outside. The venue is an old Tobacco warehouse, and now has white washed brick walls, exposed wood beamed ceilings, and a large open space for every part of the wedding.  I knew the moment we walked in that I would be bringing my fiance back here to view it again.
Once Conor and I were able to see it again, we decided that this was going to be the wedding venue for us.  Since it was so early (we looked at it in 2015), and we wanted to book for a 2017 wedding, we had to wait until January of 2016 to book, but we were able to be put on a list for the date we wanted.
That was when we decided that we would be getting married on a Friday in September, 2017! When January of 2016 came, it was officially booked.  We couldn't be happier that we found OUR venue!  #meetthecorbetts2017
See the next post in My Wedding Series here:  Finding the Perfect Bridal Gown
Follow me on Social:
Snapchat:  @itsmekelsie22