1. Try a PSL for the millionth time, hate it and go get my favorite drink instead, a Dirty Chai Latte with almond milk!
(already checked this one off the list)
2. Tailgate a college football game. (On Wisconsin!)
3. Attend a Fall Festival.
4. Go to a haunted house.
5. Find my way through a corn maze.
6. Go to a pumpkin patch.
7. Pumpkin patch photoshoot, it's a must.
8. Carve pumpkins.
9. Make fresh apple cider & spike it.
10. Go apple picking.
11. Visit an Oktoberfest & drink some German beers.
12. Rake some leaves…& then jump in them!
13. Have a Halloween movie marathon.
14. Plan a couples Halloween costume.
15. Host a bonfire.
16. Take a road trip anywhere.
17. Go to a professional football game.
18. Cook a new recipe.
19. Successfully bake a pie without burning it.
20. Go Black Friday shopping.
Alright, that's all of them! There are so many more things I can think of, but I can't wait to get moving on at least these ones for now! What is on your Fall bucket list this year?! Let me know in the comments below! I'd love to add some cool ideas to here! Also, my friend Jasmine created a Fall bucket list for her and her kids – check that out here. She included it in her Fall Favorites post where she and I collaborated, as well as 2 other beautiful ladies – check that post out here.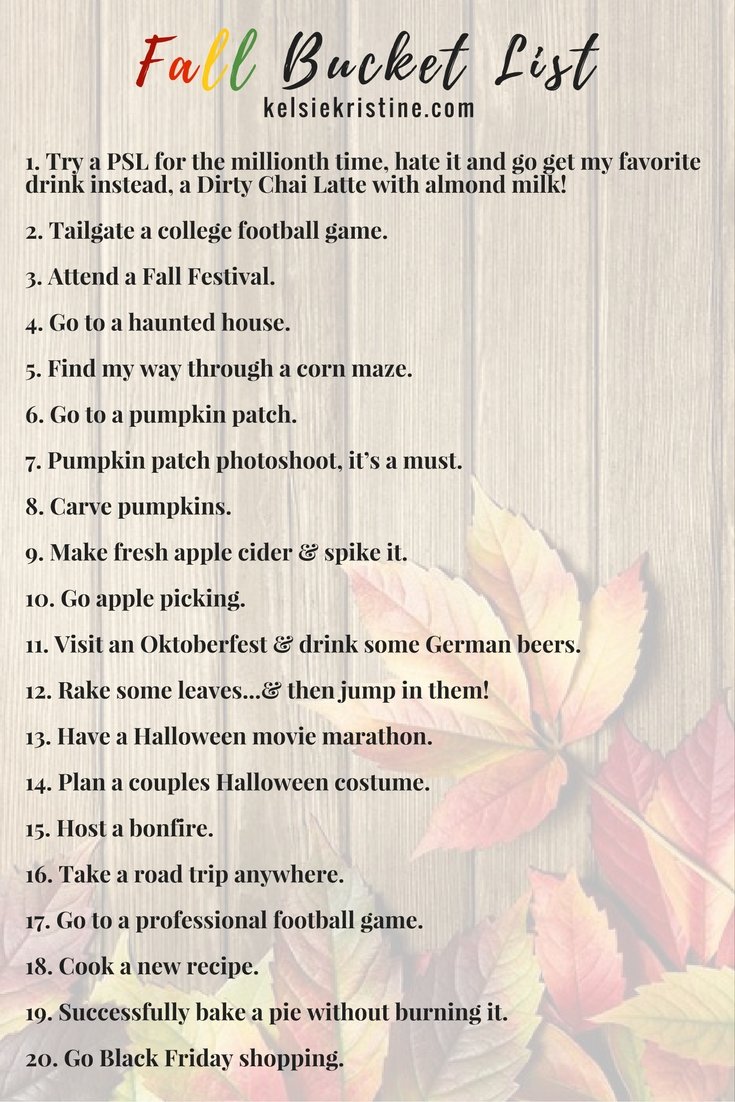 Until next time,