I shared my Men's Gift Guide last week, so this week I am sharing my Women's Gift Guide! Ladies, send this to your men and they'll be set this holiday! Now, if you're like me, you like to buy your own clothing items, and I am so hesitant to spend money on accessories. This is why the holidays are the perfect time to have your loved ones buy you those accessories you want! Again, I am sticking to mainly items under $100 (at least they are under $100 when I am posting this), but there are a few splurge items on here that I just couldn't leave out. Hope you enjoy!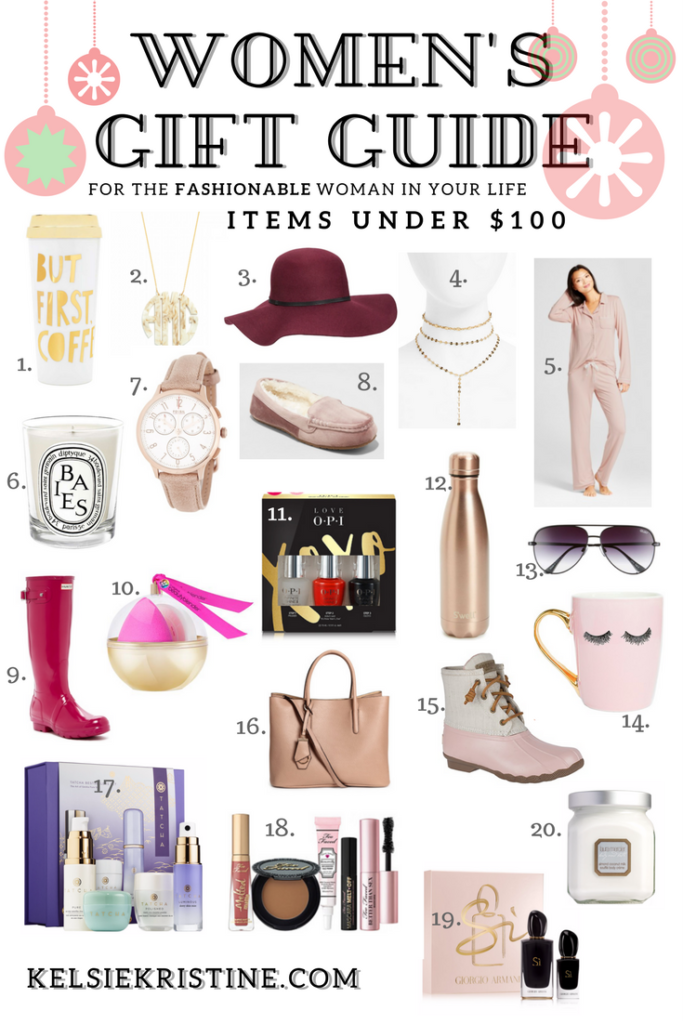 Now, here is a list of everything pictured above, but below that goes into more details on each type of item in the photo above, along with lots of different options for your lady! Have a hard time deciding? Stick with the options in the photo above. If you know your lady a little better and want to make sure the gift is perfect, check out the categories below!
1. Ban.do 'But First Coffee' Thermal Travel Mug
2. Extra Large Acrylic Block Monogram Necklace • BaubleBar
3. FOREVER 21 Wool Fedora • Forever 21
4. Women's Baublebar Aimee Y-Choker • BaubleBar
5. Gilligan & O Women's Pajama Set – Gilligan & O'Malley Palm Beach Pink
6. Diptyque Baies Scented Candle • Diptyque
7. Fossil Women's Abilene Chronograph Leather Strap Watch • Fossil
8. Mossimo Supply Co. Women's Gemma Velvet Driving Slippers – Mossimo Supply Co. • Mossimo
9. Hunter Original Glossy Waterproof Boot
10. beautyblender Midas Touch Holiday Gift Set
11. OPI Love OPI XOXO Infinite Shine Trio Set – Holiday 2017 • OPI
12. S'Well Gem Collection – Pink Diamond Stainless Steel Water Bottle • Swell
13. Women's Quay Australia X Desi Perkins 'High Key' 62Mm Aviator Sunglasses – Black Fade To Clear or get them in the MINI version– a little smaller, but just as cute!
14. MINI version
15. Sperry Saltwater Duck Boot(no longer under $100Â  but so worth it)
16. H&M Handbag with Key Ring • H&M
17. TATCHA Tatcha Bestsellers Set • Tatcha – no longer available
18. Too Faced Is My Life! • Too Faced
19. Giorgio Armani Si Intense Holiday Set – Giorgio Armani
20. Laura Mercier Almond Coconut Body Creme/12 oz. • Laura Mercier
Bags
Give me all of the accessories! I LOVE purses, totes, wallets, etc. I just can't get enough! Stick to a nude for a more versatile piece or go for bold with a pop of color! The H&M Weekender Bag is a great bag to get someone who travels a lot! Click the right arrow for more bag options!

 Jewelry/ Key Chain Accessories
Next up is jewelry and keychain accessories. If she likes bold statement pieces, go with those. If she's more simple and elegant, go with a thinner chain necklace like the one from Bauble Bar. Add a special touch with a monogrammed key chain or necklace. Click the right arrow for more options.

Hats, Scarves, Sunglasses
These accessories are perfect for the holidays. I don't even know if I could pick a favorite from here as they are all going to be great gifts for her! If she's a football lover, go with the Packer scarf or a Packer beanie. If she's more of a trendy fashionista, go with a cute floppy hat, some quay sunnies and this scarf. Click the right arrow for more options!

Shoes – Sneakers and Boots
Let her buy her fashionable ankle booties, flats and over-the-knee boots. What you can get her are a cute pair of sneakers, some Sperry boots, or even some super cute rain boots! There's a huge sale on the Hunter boots below and I do have 2 styles that are a "splurge". I told you I would have just a few and here they are! If you like the style of the originals, go with those, but if you want something a little more stylish and sleek, go with these Hunter boots.

Relaxing & Cozy
Give her something to feel cozy and relaxed in like these cute pajamas, some fuzzy slippers and some relaxing lotions and bath salts.

For the Coffee Lover…
Whether it be coffee, tea, water, etc. these are sure to be the gift she wants! If she travels a lot, get her a to go mug.

Beauty
Last, but certainly not least are the beauty items! The best makeup, beauty and nail gift sets that she'll love!

This was a long one, so if you're still with me, hooray! Now whether your shopping for your woman or you need to share this with someone in your life, get to sharing or get to shopping! Be prepared and on top of your shopping this year! Happy Holidays!
Don't forget to subscribe for updates right to your inbox!

Until next time,


 
 

FOLLOW ME ON SOCIAL:
Snapchat: @itsmekelsie22 |Â 
Facebook: Kelsie Kristine
Instagram: @itsmkelsie22
  |  
Twitter: @itsmekelsie22
YouTube
  | 
Become an Influenster
 |
Join FabFitFun