Happy Sunday loves! I hope everyone is having a fantastic weekend! It's pretty chilly here in Wisconsin so we've just been cozying up at home watching movies and cleaning around the house! Today I will be visiting my 2 nephews that I have not met yet! I cannot be more excited! They are twin boys and they were born just after my wedding and were in the hospital until we got back from our honeymoon last month. I have been busy with work and have also been sick, so I, unfortunately, have not been able to see them. I cannot wait to meet the little stinkers today!
Today I am bringing you a little fashion post that I have been meaning to do for quite some time now and just haven't gotten around to it! I'm sharing 4 ways to wear a blanket scarf! I am also collaborating with one of my best friends and fashion blogger, Ashley at Style608. She will be sharing her ways to wear a thick scarf on her blog, so make sure to head over to her post after this!
*Disclaimer – some links are affiliate links.
If you don't know what a blanket scarf is, it is a large, usually square, thick scarf as shown below.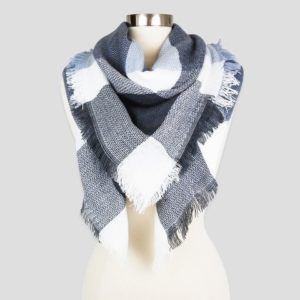 4 Ways to Wear a Blanket Scarf
Classic Blanket Scarf
First up is, in my opinion, the best way to wear a blanket scarf! All you do is fold the scarf once over into a triangle. Then you take the top part of the triangle and leave it in front of your body, while wrapping both ends of the scarf around your neck. Both ends will come back around and line right up with the point on the top of the triangle. You can either tie the 2 ends together and hide them under the point, or you can leave them hanging. Either way is cute to me!

Infinity Scarf
Next up is the Infinity scarf. Fold your scarf once over into a triangle, then take both ends and tie them in a small knot. Then, put the knot behind your neck. You can leave the scarf like this for a loose infinity scarf look or you can wrap it around once for a more standard infinity scarf look, as pictured below. I tucked the corners underneath for a cleaner look!

Standard Hang
No triangles this time. Fold the scarf in half and make a long rectangle. Wrap the scarf around the neck and just let it hang for this look! Most infinity scarves are not able to be knotted when worn this way, so hanging works perfectly!


Shawl
Keep your scarf folded in a triangle and drape it over your shoulders, having the 2 ends fall in front. Leave it like this, or choose to belt it (like below) for an even cuter look! I just love how classy and chic this looks, especially paired with my over-the-knee boots.

Easy peasy, right? I absolutely love blanket scarves and have so many in my scarf collection! I love how warm they are and how versatile they can be! I did a VLOGMAS video last year that showed a super cool and convenient way to store a lot of scarves in a little space- you can watch that video here. If you don't own a blanket scarf, you definitely need one! Take a look at some of my favorites down below, plus you can shop them by clicking on the photo!
SHOP MY FAVORITE BLANKET SCARVES
SHOP My Favorite Over-the-Knee Boots below! The first ones on the left are the boots I'm wearing in this post! They are so cute and the perfect height! They also come in Taupe and are both under $50!!

Don't forget to head over to Style608.com to check out Ashley's post.



Thanks for reading! Don't forget to subscribe for updates!

Until next time,


Snapchat: @itsmekelsie22 |Â Facebook: Kelsie Kristine
Instagram: @itsmkelsie22Â  |Â Â Twitter: @itsmekelsie22
YouTube  | Become an Influenster