Happy Friday Beauties! Welcome back to another Beauty Mix Series post! If you're new here, I am collaborating with three beautiful ladies, Jasmine, Ashleigh and Lily to bring you a new makeup look every Friday! Make sure you're subscribed for the latest updates & goodies right to your inbox! You can see all of my past looks here. This week's look is a BOLD look.
I chose to do a more simple eye with a nice bold RED lip for this week's look! I have never been a fan of red lips on me, but I have always loved them on others, so that's why I went out of my box this week and went for it! I wore this look to work and received lots of compliments on it, which definitely came as a shock to me! The lip color also lasted most of the day, through drinking and eating!
*Disclaimer – some links are affiliate links*
I am sharing a video again this week! I did a "Get Ready with Me" style video this time, so I can't wait to share it with you all!

What do you think?!!?! Do you like this style of video?
The Look
…and one goofy look because, why not?!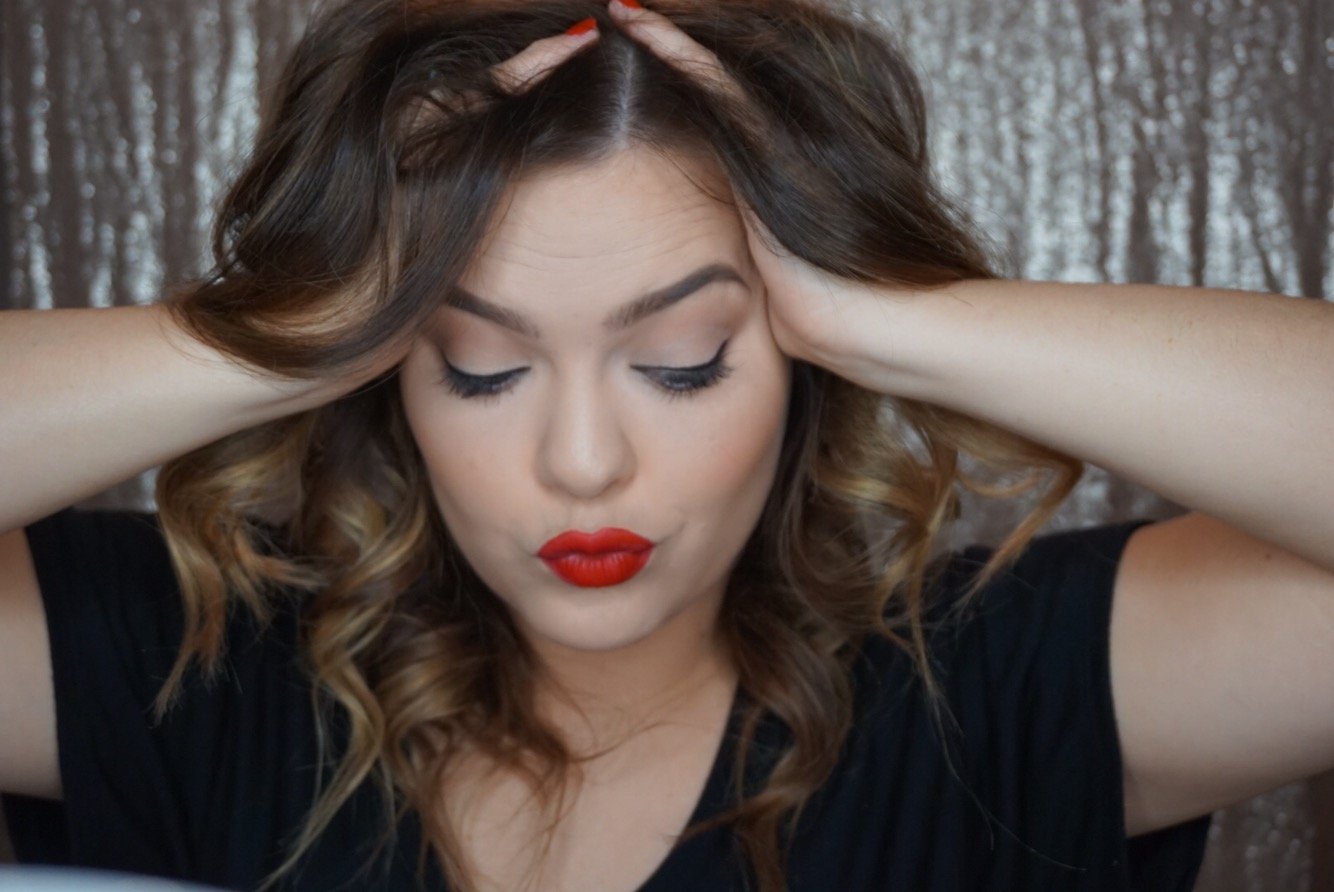 Products used for this look:
Face:
Maybelline Blur + Smooth Primer
Marc Jacobs Genius Gel Super-Charged Oil-Free Foundation (currently on sale) – Bisque Light
Tarte Shape Tape Concealer – light
Laura Mercier Translucent setting powder
Anastasia Beverly Hills Contour Kit – Medium/Light
Becca Champagne Pop
Milani Baked Blush – Luminoso
 Eyebrows:
Anastasia Beverly Hills Dipbrow pomade – Taupe
Maybelline Brow Drama


Eyes:
Tarte ClayPlay Face Shaping Palette – shades Journey and Stone
Tarte Shape Tape Concealer – light (for eye lid)
Tarte Rainforest of the Sea Volume II palette – Sunset, Conch, Pearl under the crease, Siren and Breezy for under eye.
Maybelline Curvitude liner – blackest black
L'Oreal Voluminous Lash Paradise
Lashes – Lash Extensions from Glimpse Lash in Middleton, WI
Lips:
Liner – Rimmel Exxagerate Lip Liner – Ravish
Maybelline Creamy Matte Lipstick – Siren in Scarlet
Outfit in Get Ready with Me video: You've probably seen outfits just like this all over Pinterest and I've worn it in the past, but it's been a hot minute, so this is what inspired the bold red lip- stripes, leopard print and red! I just love mixing prints, patterns and colors! My red nails are from Impress – they are stick on nails and last so long! I just love them! Impress just sent me some super cute Fall nails that I shared on my Instagram Stories, so I'll be sure to share them with you all soon! I did a quick video a while back showing how to put impress nails on- you can check that out –> here <–.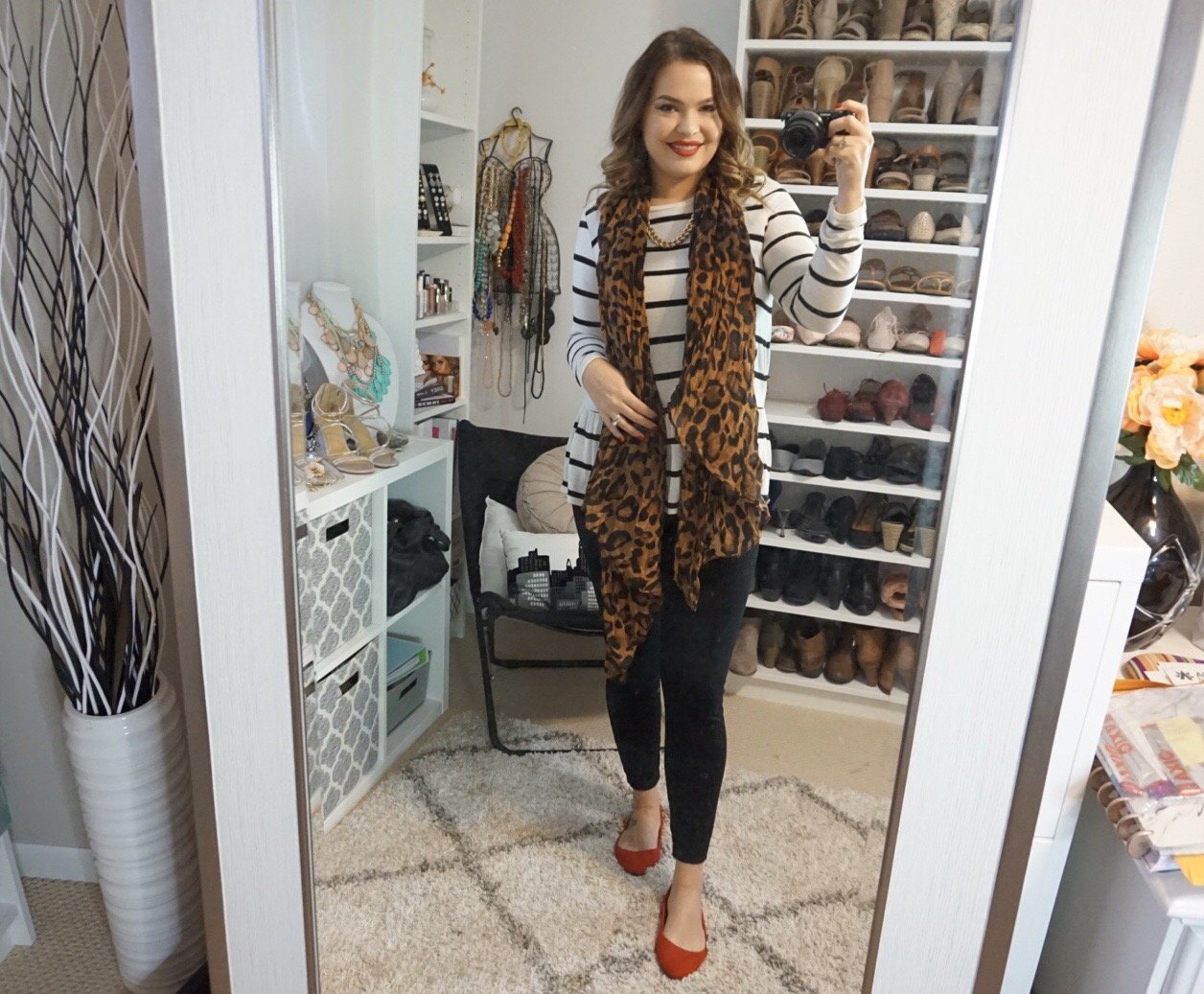 Be sure to check out the other ladies posts & their looks!
Jasmine's Look | Ashleigh's Look | Lily's Look



Thanks for reading! Until next time,


Snapchat: @itsmekelsie22 |Â Facebook: Kelsie Kristine
Instagram: @itsmkelsie22Â  |Â Â Twitter: @itsmekelsie22
YouTube  | Become an Influenster  |  Join FabFitFun

Follow our looks on Pinterest here.