Happy Tuesday loves! I shared an adorable sweater over my dress on my Instagram stories a few weeks ago and everyone loved it, so I figured it warranted a full blog post on a few ways to style a sweater over a dress.
How to Style a Sweater Over a Dress
There are a ton of different ways to style a sweater over a dress, but I want to share 3 of the most common with you! First of all, you need a dress- any dress will do – pattern, solid color, ruffle, midi, etc. As far as the sweater goes, you'll want a more oversized or looser fit sweater. As you'll see below, crop sweaters work too!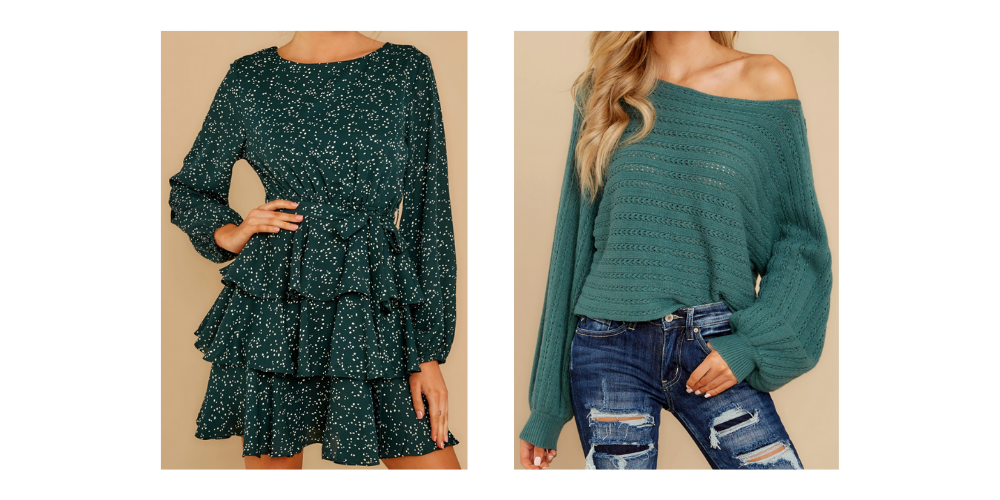 TUCK UNDER A BELT – if your dress already has a built in belt (like the dress above), utilize it. If you're using a non built-in belt, use a slimmer belt that fits around your waist (not hips) and leave it a little loose. Take your sweater & tuck it under the belt all around. Then pull out the sweater enough until it sits where you like it.

USE A BELT OVER A SWEATER – this one is easy- put the sweater on and use a slim belt around the waist. This brings the waist in, accentuating the waist line. You'll have layers, but it will still be flattering. On another note, if you like the tucked in version from #1, you can do the same thing here, but instead of tucking it in, untuck the sweater with the belt on top.

KNOT THE SWEATER OR USE A HAIR TIE – depending on the size of the sweater, you can either knot it, or go the easy route and use a hair tie. Fold the sweater up in back, grab all of the fabric at the bottom of the sweater in front. Gather it and make into a small pony. Then, tuck the knot under. Loosen as needed. You can do this with the knot in front or in back, whichever way you prefer.

IGTV Video with 8 Looks
I put together a quick tutorial video on IGTV that shows you all the ways to style a sweater over a dress. SAVE the video, or pin this blog post below and share it with friends!
View this post on Instagram
Thanks so much for reading/watching. I hope this helps you utilize the dresses in your closet during these colder winter months. Don't forget to subscribe below so you're notified each time a new post goes live!