This post is sponsored by Clarisonic and Her Campus Media. All opinions are my own.
Thank you for supporting the brands that make my blog possible!
With the change in seasons, the sun sets earlier, the weather gets colder, and along with the weather, your skin starts changing.  Today on the blog, I want to share with you my current morning skincare routine, featuring one of my new favorite products, the Clarisonic Mia.
I have heard about the Clarisonic Mia so much over the past few years and I have always wanted to try it, so I'm so excited to share my thoughts with you, along with a step-by-step of my morning skincare.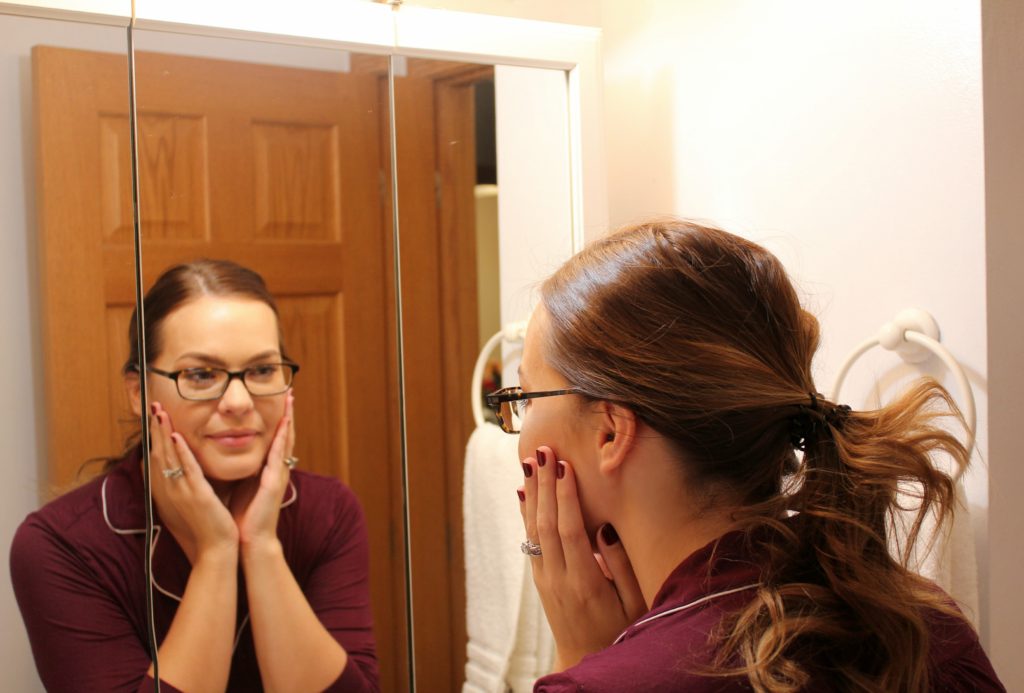 Washing the Face
First up, to wake myself up in the morning, I wash my face. I will either do this in the shower or if I'm not washing my hair, I will rinse off in the shower and then wash my face out of the shower. I start out by wetting my face and my Clarisonic Mia 1 with warm water. I use the Clarisonic Pore & Blemish Gel Cleanser on the Clarisonic Mia's brush head and turn the Mia on.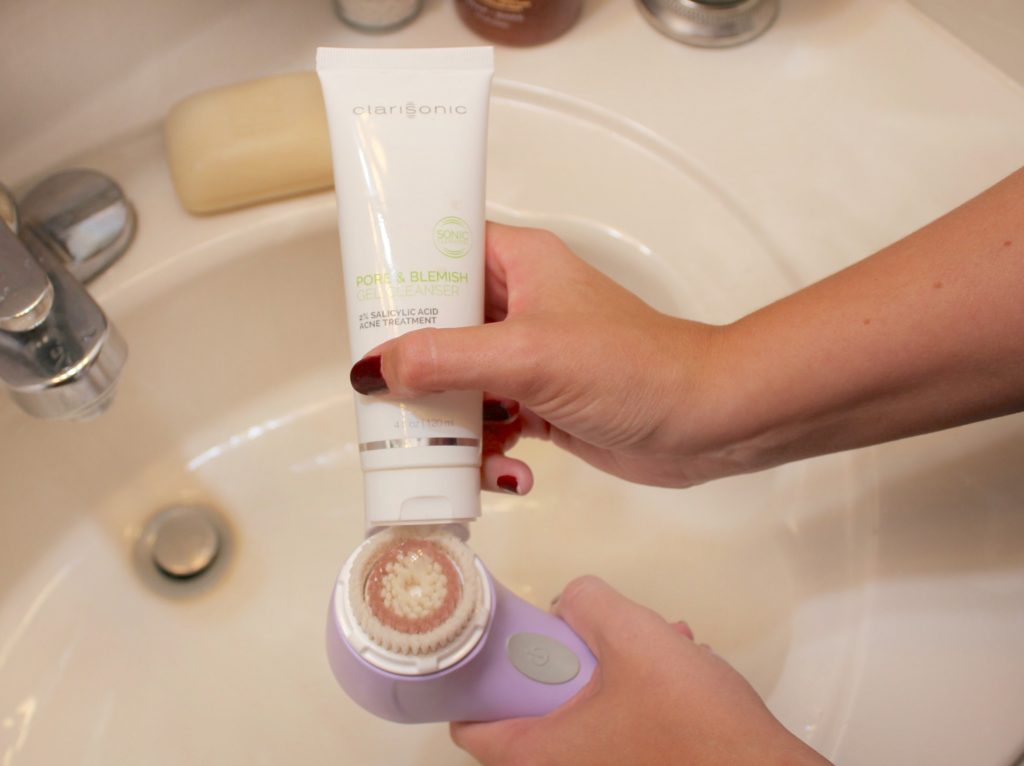 The oscillating brush head on the Mia, along with the Pore & Blemish Gel Cleanser works to get deep down into pores and remove all of that extra dirt and oil on your skin from overnight. I have been using the Clarisonic Mia 1 for about a month and a half now (morning and night) & am loving it so far! The improvements in the texture of my skin are amazing! The Pore & Blemish Gel Cleanser has 2% salicylic acid to help with breakouts and the brush head is gentle on the skin, so you can use it multiple times a day without irritating your skin.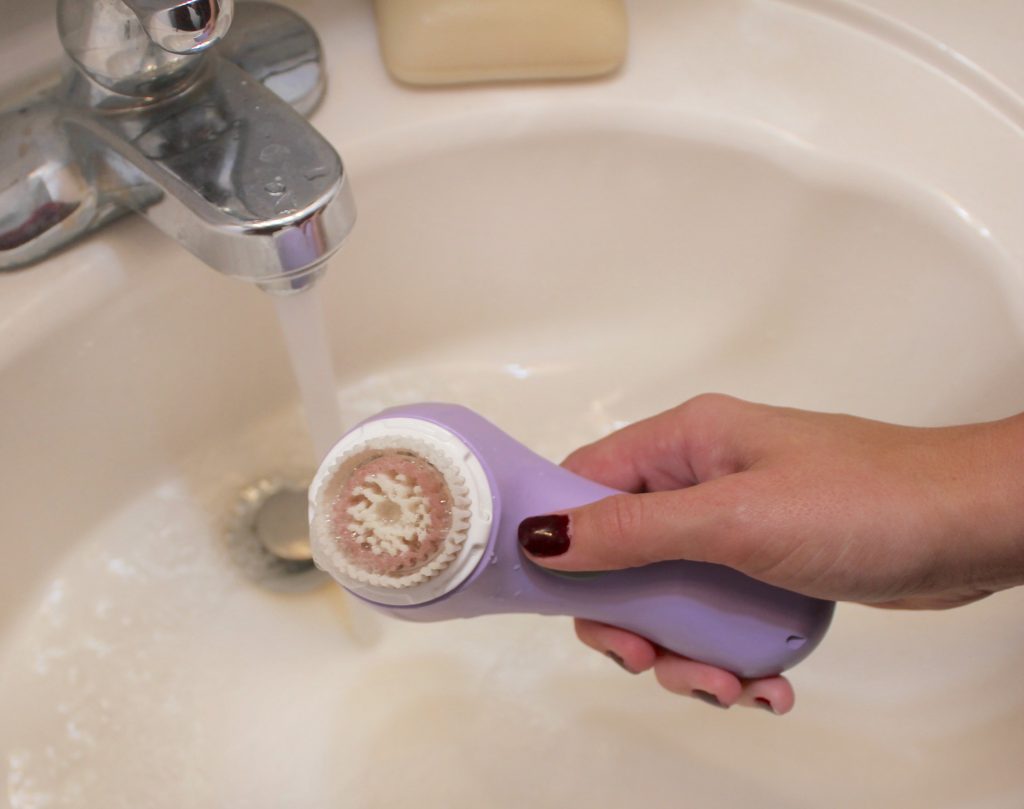 The brush head that comes with the Clarisonic Mia 1 is the Radiance Brush Head, which is ideal for all skin types. Along with the Radiance Brush Head, I was sent the Deep Pore Brush Head, and the Deep Pore Brush Head. I have switched back and forth from all of the brush heads and I really like the acne brush head and the radiance brush head. I like using the deep pore cleansing brush head once a week to really get in those pores and clean them out.
Toner
After cleaning my face with the Clarisonic Mia and the cleanser, I rinse my face and pat it dry. I then use a cotton round with my favorite Witch Hazel from Dickinson's, it'a pore perfecting toner. It works to get that last little bit of dirt off and has hyaluronic acid for hydration.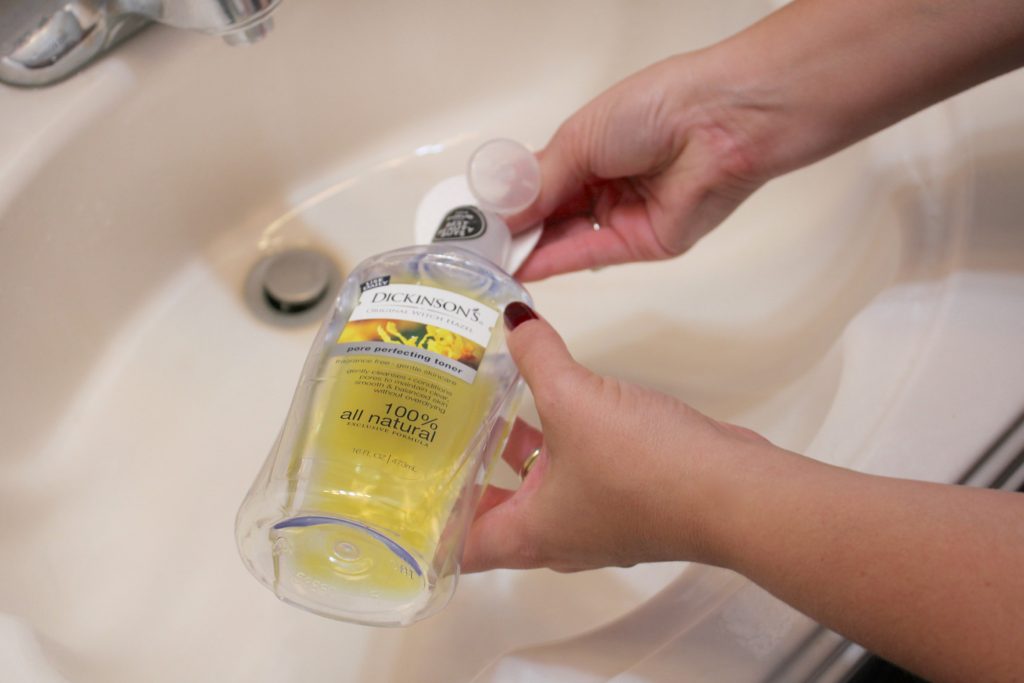 After toner, I use my Zapzyt on any breakouts (as needed), but lately, I have not needed it too much. I mainly use it at night.
Moisturizers
After toner and any spot treatment, I use my Murad Acne Clearing Solution and finish it off with the Murad Skin Perfecting Lotion. The Skin Perfecting Lotion is perfect for the dry weather coming up and is super moisturizing! It's the perfect way to lock in moisture after the cleansing of the Clarisonic.
Lips
When talking skincare, you can't forget about the lips! The last step of my morning skincare is to lock in that moisture on the lips. I switch it up each day with one of my 2 favorite products, either the Best Damn Beauty Lip Mask (by Nicole Guerriero) or the Aquaphor Lip Repair + Protect.
That completes my current morning skincare routine. My evening skincare is a little more extensive, but includes some of the same products. If you're interested in a nighttime skincare routine post, let me know in the comments below and I'd be happy to do one for you!
As far as the Clarisonic Mia goes, I'm so happy with it! I highly recommend trying one out. I've tried devices like it, but nothing compares! You can also get 15% off all devices HERE using the code "HERCAMPUS". Clarisonic also offers monthly payment plans upon credit approval. See terms for details. Get your Clarisonic for les than a latte a week and you can have great looking, clear skin for life!
Until next time,


Don't forget to SUBSCRIBE for updates!