Happy Monday beauties!! Jasmine, Lily, Ashleigh and I thought it was about time to share another Beauty Mix post with you all! If you don't know what the Beauty Mix Series is, it's where us ladies teamed up to create makeup looks based off of a certain theme. What's great about these posts is that we all have similar looks, but they're also so different! I love it!! So, our first beauty mix post of 2018 is all about that drugstore makeup! I don't know about you, but I LOVE me some good drugstore products, and although some higher-end products may look and feel better, there are still a lot of drugstore products that perform the same, if not better than others!
You May Also Like | My Favorite Drugstore False Lashes
The Look
I loved creating this look because it was somewhat of a challenge for me. I use majority drugstore products in my everyday makeup routine, but when it comes to using all drugstore items, there are a few holy grail products that I ALWAYS use. I had to find alternatives for those items, which led me back to drugstore items that I had used prior to finding the high-end alternative.
[bctt tweet="Full Face Makeup Look Using ALL Drugstore Products" username="itsmekelsie22″]
When it comes to the makeup brushes, I did use some Morphe brushes, which I consider to be drugstore because you can now buy them at ULTA and they are such great prices.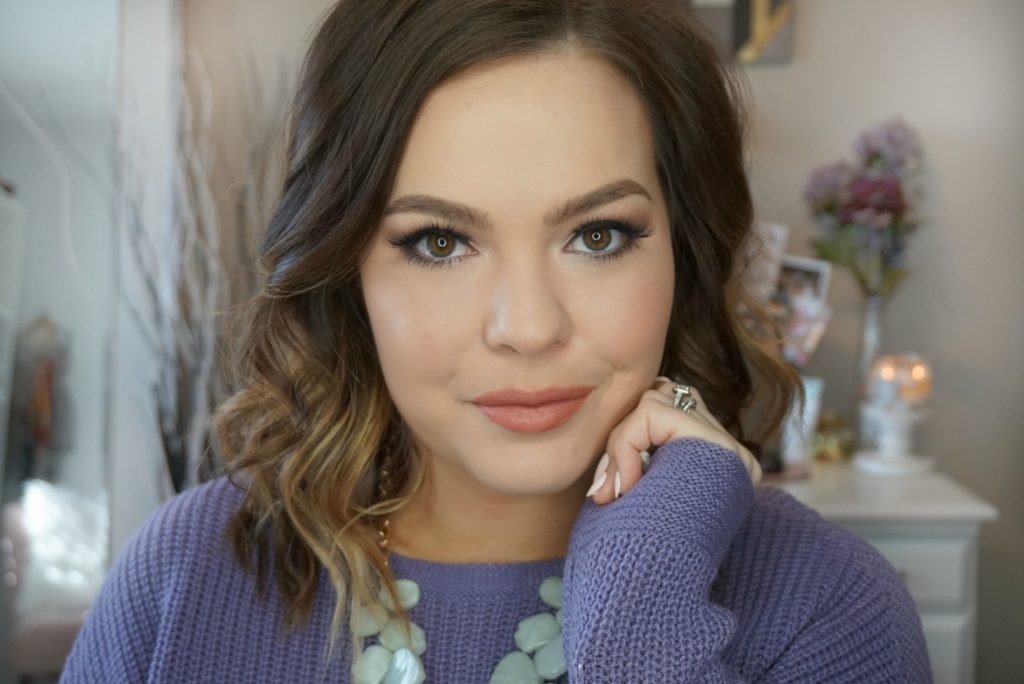 Products Used
Face + Lips
Primer – Maybelline Blur + Smooth Primer
Foundation – I mixed Covergirl Vitalist Healthy Elixir and NYX Total Control Drops
Undereye Concealer – Maybelline Instant Age Rewind Dark Circle Corrector
Spot Corrector – Neutrogena Hydro Boost Concealer
Setting Powder – Maybelline Fit Me Powder
Bronzer – Physician's Formula Butter Bronzer
Highlighter – Maybelline highlighter – part of the Maybelline Face Studio Master Contour Kit
Blush – Neutrogena Healthy Skin Blush in Rosy
Setting Spray – NYX Matte Setting Spray
Lipstick – Maybelline Color Sensation Vivid Matte Liquid Lip Color in Nude Flush
Eyes + Brows
Eyebrows – Nyx Tame & Frame and Maybelline Brow Drama Gel
Eyeshadow – Maybelline Blushed Nudes Palette
Eyeliner – Maybelline Curvitude Liner
Waterline Liner – Rimmel ScandalEyes Liner
Mascara – L'Oreal Voluminous Mascara
Lashes – Kiss Lily Lashes + DUO Lash glue
(see my post on my favorite drugstore lashes)
Brushes Used:
Eco Tools EcoTools Ecofoam Facial Sponge
Morphe M441 Firm Blending Brush
Morphe M518 Crease Fluff Brush 
Morphe M510 Pro Round Blender Brush
Ulta Blush Brush
Real Techniques Brush – Highlighter
Shop This Look

---
Don't forget to check out the other beautiful ladies' posts below!
Jasmine's Sultry Purple Look | Lily's Matte Look | Ashleigh's Affordable Look



Jasmine's YouTube Channel | Lily's Drugstore Matte Video | Ashleigh's Affordable Drugstore Video
---
I hope you enjoyed another beauty mix post! If you like these posts and would love to see more, let us know by commenting below with looks you would like to see!
Until next time beauties,