Happy Monday! I hope you all had a great weekend! I recently received the Covergirl 'I Am What I Make Up" Melting Pout Box from Influenster! If you don't know what Influenster is, it is a platform that influencers can go and review products they've already used, as well as receive products in exchange for an honest review! As I said in the video, there haven't really been many products that I have received from Influenster that I haven't liked, but as always my opinions are 100% my own and I will always tell you how I feel about products! If I don't like something, I won't go and bash it, I just won't share about it, but I will always share what I love with you guys!! That is why I started this blog after all!
What I got in my Influenster Covergirl Box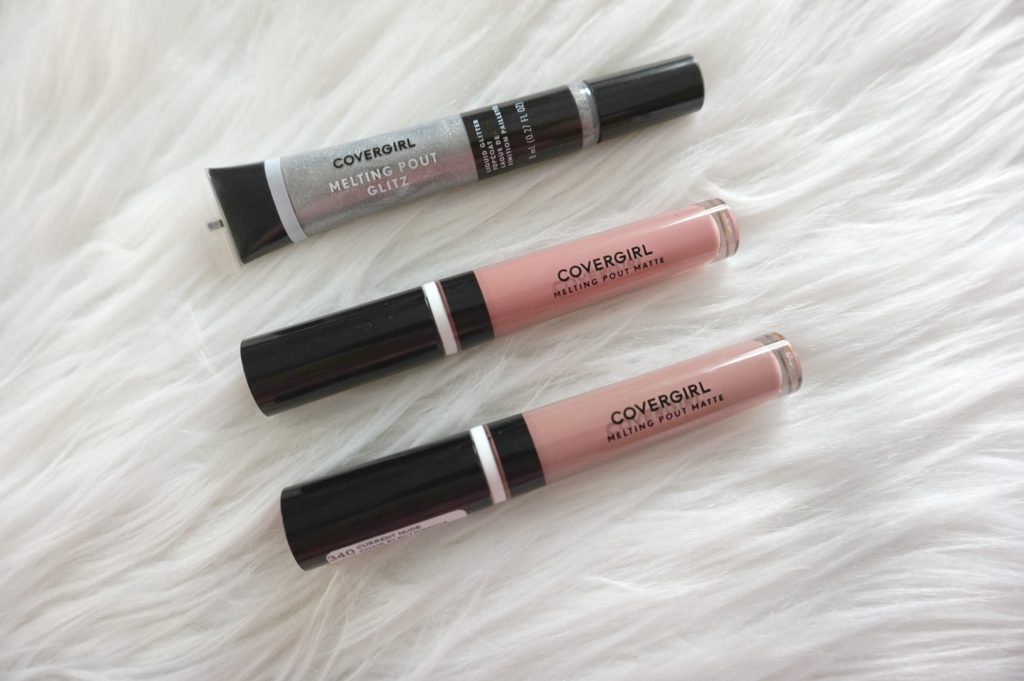 Covergirl Melting Pout Matte Liquid Lipstick in the shades Current Nude and Ballerina
Covergirl Melting Pout Glitz Top Coat in the shade 405 Double Platinum
My Review
Matte Liquid Lipsticks
I was super excited to get 2 of the matte liquid lipsticks! If you know me, you know I am ALL about those liquid lipsticks!! If you watch the video, you will also see that the shade Current Nude is almost an exact dupe to the shade I am wearing in the beginning of the video, Dose of Colors Liquid Lipstick in Stone! I have been wearing both the matte liquid lipsticks since I received the box! The formula is a little dry, but not to the point where it looks flaky or bad on the lips. The lipstick does last all day. I wore the lipstick the rest of the day after filming this video, even to dinner and it lasted through eating and drinking. It's lasted most of the days that I've worn it since as well! I would definitely recommend trying these out! Especially because they are very inexpensive for what you get!
Unboxing the Covergirl Melting Pout Liquid Lipsticks and Glitz Top Coat!
Click To Tweet
Glitz Top Coat
I have not worn the lip topper since this video! The lip topper may have to be saved for a special occasion, but as I said in the video if I had the lip topper in the champagne shade, I would probably wear it! The champagne shade seems to be similar to the Jouer Lip Topper in Skinny Dip that I already own, so I most likely won't be purchasing it!
Have you tried any Covergirl Melting Pout products? Let me know in the comments!
As always, thank you so much for supporting my blog and YouTube channel! I appreciate each and every one of you! If you're not already subscribed, be sure to so you never miss a post/video!
Until next time,