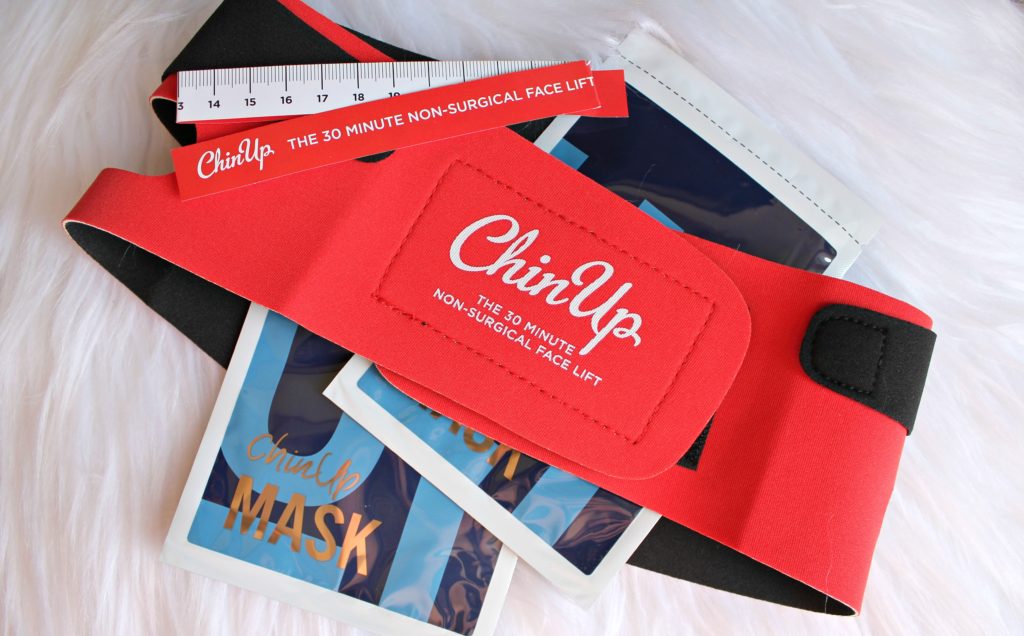 Hey everyone! Welcome back! Today I wanted to share with you a quick review on a recent product I tried out! I was sent the ChinUp Mask, which is a 30-minute mask that is supposed to improve the appearance of a double chin, saggy jowls, or a turkey neck. That may sound hilarious to some, but I have had somewhat of a double chin most of my life, even at my skinniest. So, when ChinUp reached out to see if I wanted to try this out in exchange for an honest review, I said of course!! 
What is the ChinUp Mask
The ChinUp Mask is a non-surgical face lifting mask that can improve the appearance of a double chin by over an inch in only one 30 minute treatment that can be done in the comfort of your own home!
The 30 Minute Non-Surgical Face Lift with ChinUp
Click To Tweet
Inside My Trial Kit
I received the Trial Kit, which comes with 1 x ChinUp Slimming Band (reusable),2 x ChinUp Facemask Treatments, and 1 x Tape Measure.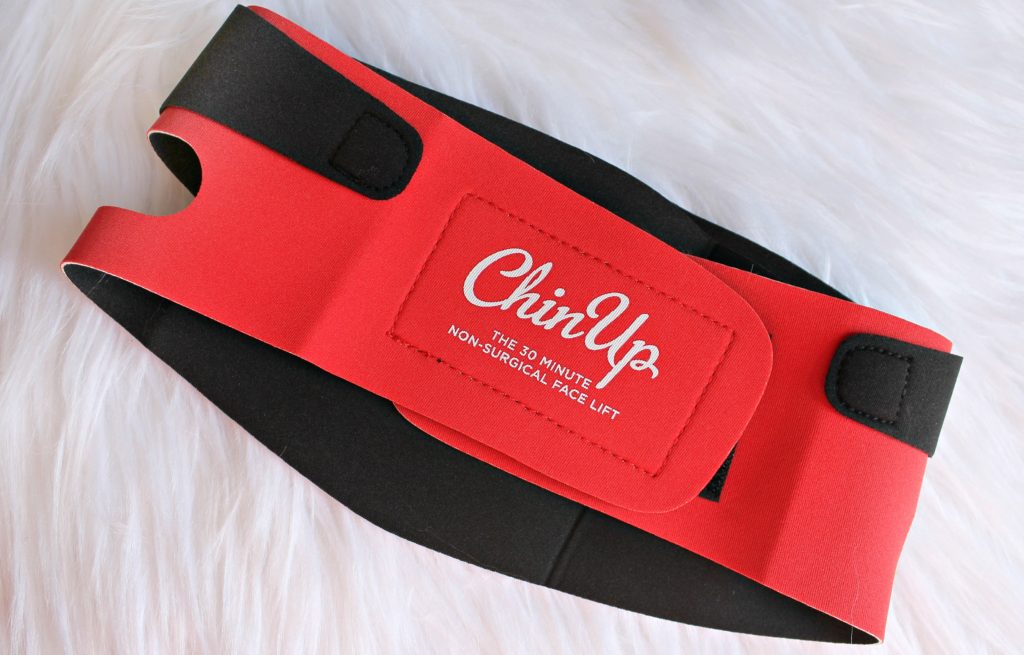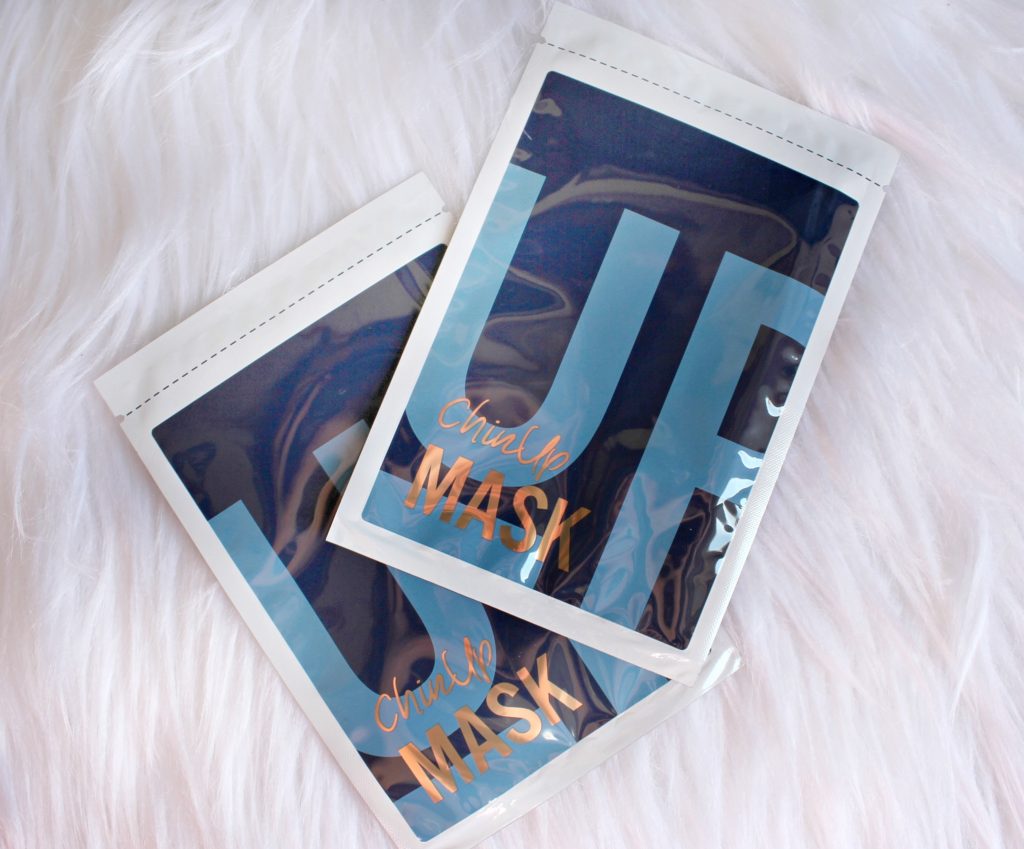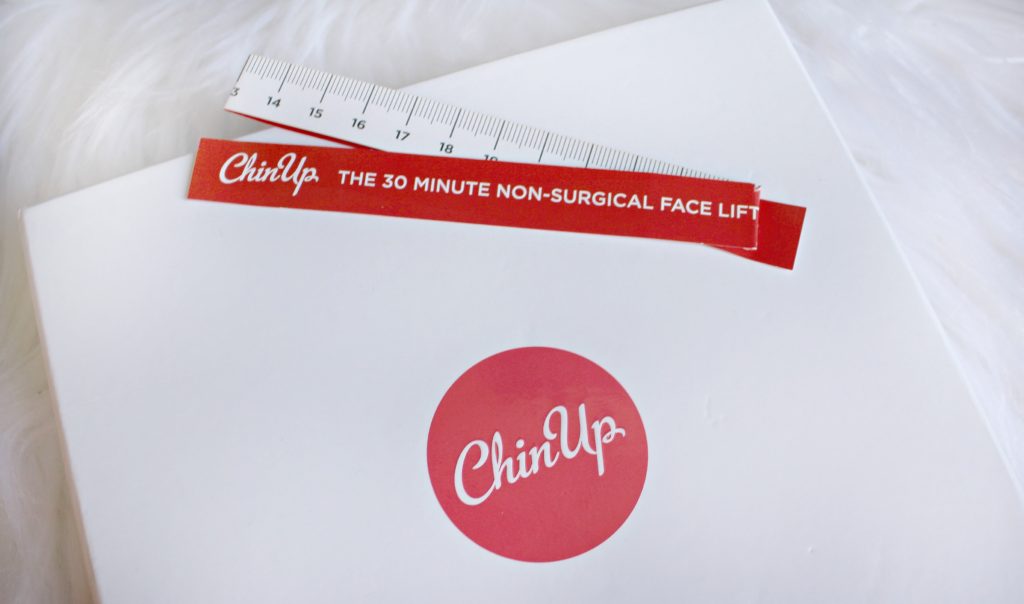 My Results + Review
First off, let me say that yes, this can be done at home, but you DO NOT want to be seen wearing this mask. At least this is my opinion. My head is a little big and when I put the velcro Slimming Band on, my cheeks squished out of it and boy, did I look a hot mess!! It's not pretty to say the least! LOL but who cares what you look like, as long as you get good results, right?!
So, when using the ChinUp Mask, you first put the sheet mask on your chin, then place the slimming band on over it. It velcros on top of your head and has a little chin strap and ear holes to keep it in place. The mask did start to feel a little warm and a little it of a burning sensation after a few minutes, but that is normal. 30 minutes went by pretty quick and when I took the mask off, my neck was a bit red for about 15-20 minutes after. I used the measuring tape to measure before using the mask and right after as it said and below are my results after each mask. I'm not sure if I measured where I was supposed to, as there weren't any instructions about that in the box, but I made sure to measure in the exact spot both before and after to make sure it was accurate.
Before Mask 1 – 25cm ear to ear
After Mask  1 – 23.5 cm ear to ear (loss of 1.5cm)
Before Mask 2 – 23.5 cm – this was done 3 days after the first one, so I was surprised that it was the same measurement as after Mask 1!
After Mask 2Â -Â  23cm (loss of .5 cm)
I wish I would've watched this how-to video from their website before starting because the instructions on the packaging don't go too much into detail. It says in the video that you should measure in 2 spots, and I only measured in one spot! Other than that, it's pretty self-explanatory.
I also found out that the results only last up to 2-5 days, so obviously this is not a permanent fix, but can help you before a big event. You can also keep using the treatments to keep your results steady. They have a refill kit that has 10 masks in it! You can shop all of their items on their website here.
I took before and after photos, but with a total loss of 2cm, it wasn't too easy to tell in the photos. I can definitely see a more defined jawline though and can tell it's slimmer than it was before!
Would I Buy It:
The price is decent and for the results you get, if I had a big event coming up that I would want to really define my jawline, I would definitely use this! Would I use it every day to keep results up? Probably not. I love that it really made a difference, so it definitely does work, so if you're someone that really needs a nice lift, you should definitely give it a try! Watch the video on their site too and you can see the woman's results from the Rachel Ray show! They are amazing!
What are your thoughts on this product? Have you tried it before?
Thanks for reading! Until next time,