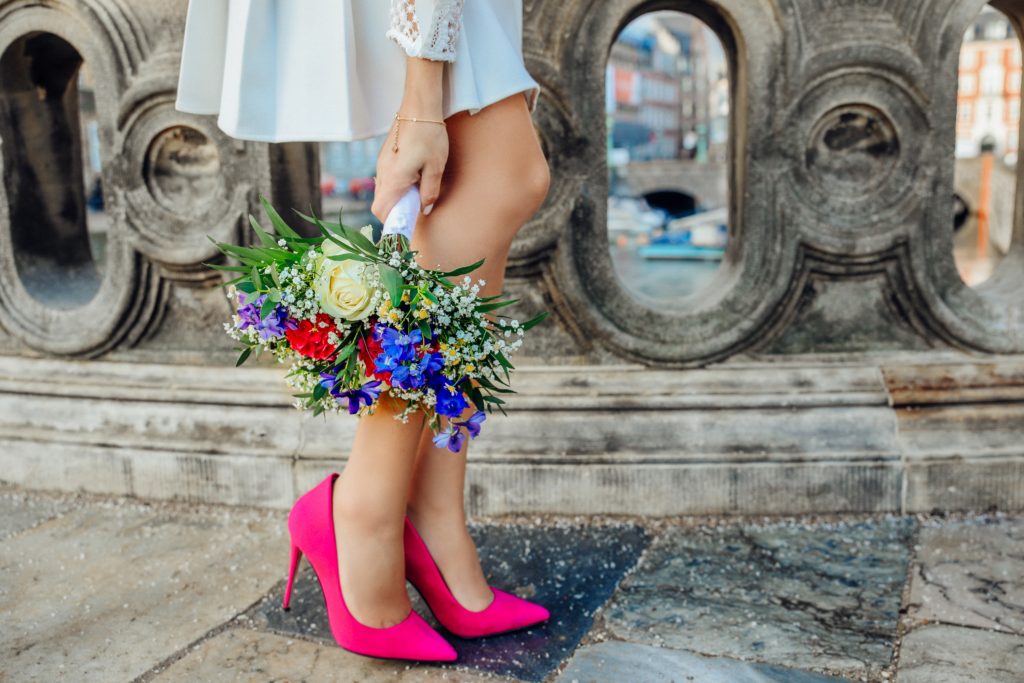 Happy St. Patty's Day!! This week's postings were all over the place, so I figured I would wait until today to post my Spring Fashion Series post of the week since it's also St. Patrick's Day! I also decided to do a quick #ootd in the post too since it's been awhile since I've done just a quick outfit look within a post!
With the last Spring Fashion Series post being sooo long, I figured I would break the accessories category into a few parts. I consider shoes an accessory, but there are so many kinds of shoes I bust out in the spring, so this deserves it's own post! I shared pretty much the same shoe types in last year's Spring Fashion Series post on accessories, but this will be updated with the new trends and some of my favs!! Next up in the Spring Fashion Series, I will be sharing the rest of my Spring must-have accessories.
*Disclaimer- This post contains affiliate links, which means that some clicks/purchases may result in a small commission to keeping my blog running at no additional cost to you.*
Flats/ Slides / Loafers
I used to wear flats year round, but it just gets so cold in the winter month's that even if I wear boots to work and change into flats, my feet are still freezing. When it hits above freezing in Wisconsin, that's when I love to bust out the flats!! Slides and Loafers are also a huge trend right now! I love my Vans slides and there are such great options for slides/loafers now too!

[bctt tweet="Spring shoe must-haves! Flats, block heels, espadrilles, loafers and more… all the best picks for this spring!!" username="itsmekelsie22″]
Block Heels
I shared these last year too and I think they'll continue to be a trend this year too!! My favorite heels are these from Target, but I also found some really cute ones last year at Burlington – linking some similar ones below!

Espadrilles
Whether they're flats, heels or wedges, I love the espadrille look! It screams warmer weather to me and makes me so happy!

Rain Boots
It wouldn't be spring without rain boots, am I right?! I shared some great trench coats and rain jackets in my Spring Clothing Must-Haves post, and rain boots always pair perfectly with them!  I am still waiting for these red Hunter boots to go on sale again!!! Once they are, they're mine!! haha

Hunter boots for sure!! Did you know these are coming to target for a limited time?!! From April 14 – June 16!! How exciting is that?!!!
White/Light Colored Sneakers
YES!! I love being able to bust out the sneakers and tennis shoes in the spring! No yucky brown snow to get them dirty! You still have to be careful when it's rainy and muddy, but they're just too cute! You know I loveee my casual looks!! I am obsessed with my Adidas NMD r2's that I got in fall last year, just before I couldn't wear them anymore so I'm so excited to get to wear them! I also love my Nike's that I got for Christmas – you may have seen them in my "What I Got for Christmas" post. I am more of an Adidas fan than nike, but still love to wear both! One pair of tennis shoes I don't have yet are a true white pair! My Nike's are a bone color and my adidas are a very light grey!

OTK Boots
Okay, so I had to at least mention these even though I wear them in fall and winter, but you can also rock over-the-knee boots in the spring! I especially love it with a cute flowy short dress! You still stay semi-warm and look cute! You can also dress up something that's not so dressy! If you follow Alex Garza, she wore OTK boots with a plain long sweatshirt as a dress with her boots and it was stunning!! So casual, yet so chic!!

---
#OOTD for St. Patty's day!!
Going along with the OTK boots above, here's a perfect example of how to wear them in the Spring! I love showing a little thigh, but not too much! 😉 This olive green dress is also on sale today for $36! Sadly, my DV boots are no longer available, but these Marc Fisher ones are just as cute and even a bit taller!! A bit more expensive, but so worth it, plus they're on sale too! I've linked another option below as well!
Side note-Â  yes, my lawn is brown and yes the plants are smashed. Welcome to spring in Wisconsin! haha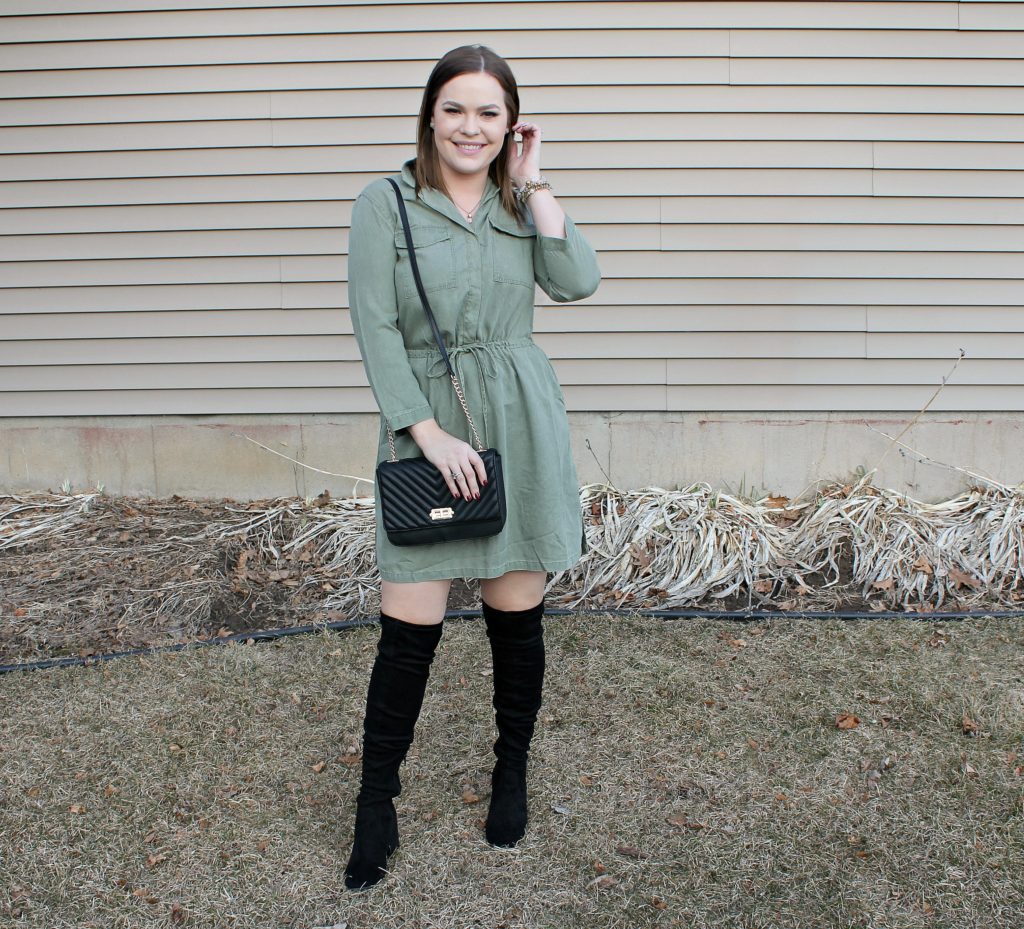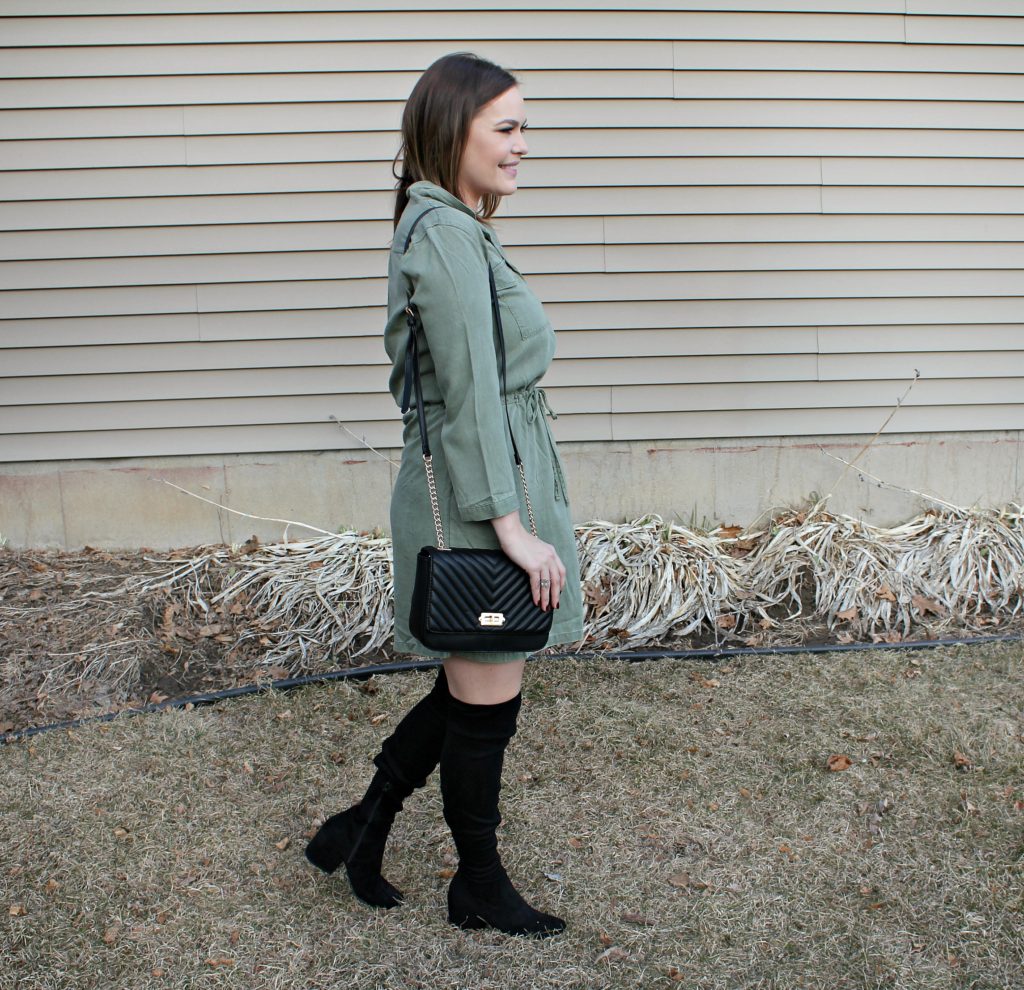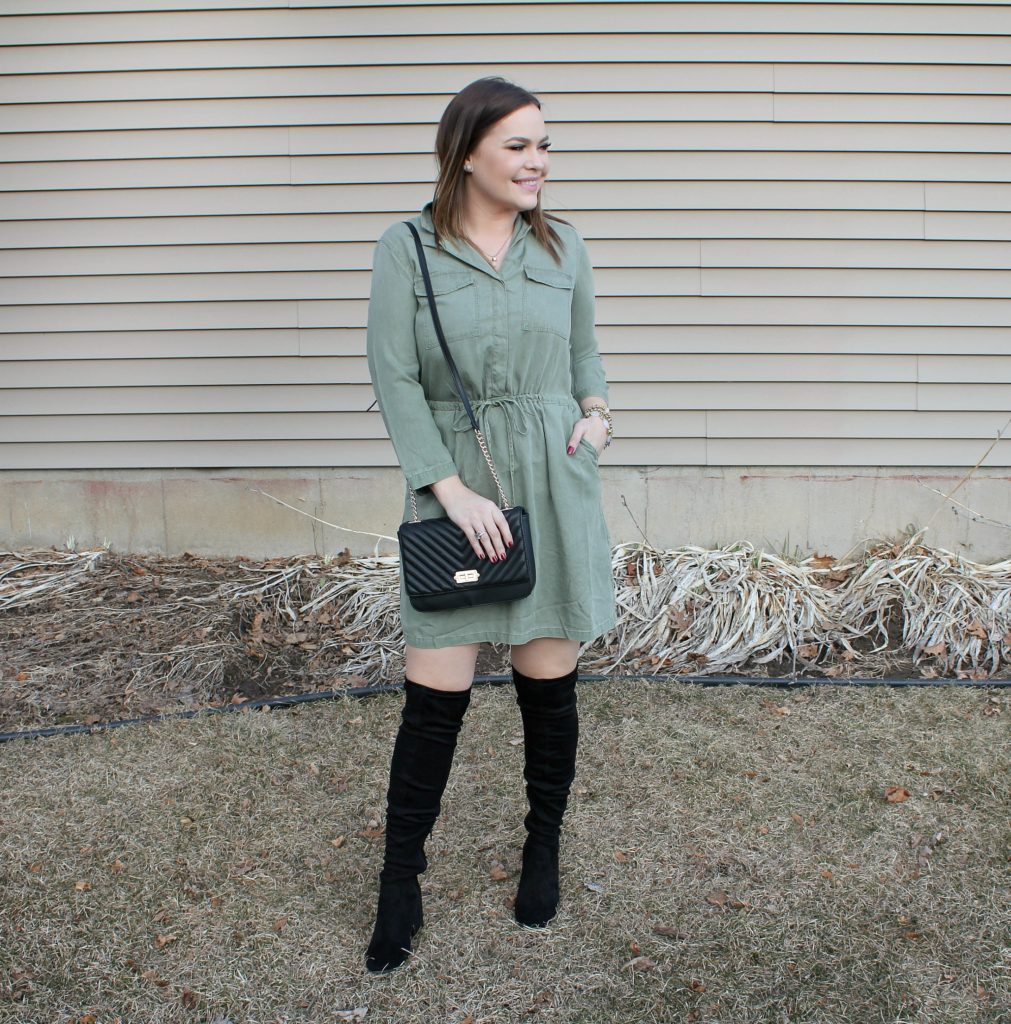 Olive Chambray Dress | Over-the-Knee Boots (Similar) – Similar for only $34 | Purse | Bracelets
That's all for todays post! Tell me what some of your favorite shoes are for spring! I'd love to hear it!!
Thanks for reading! Until next time beauties,