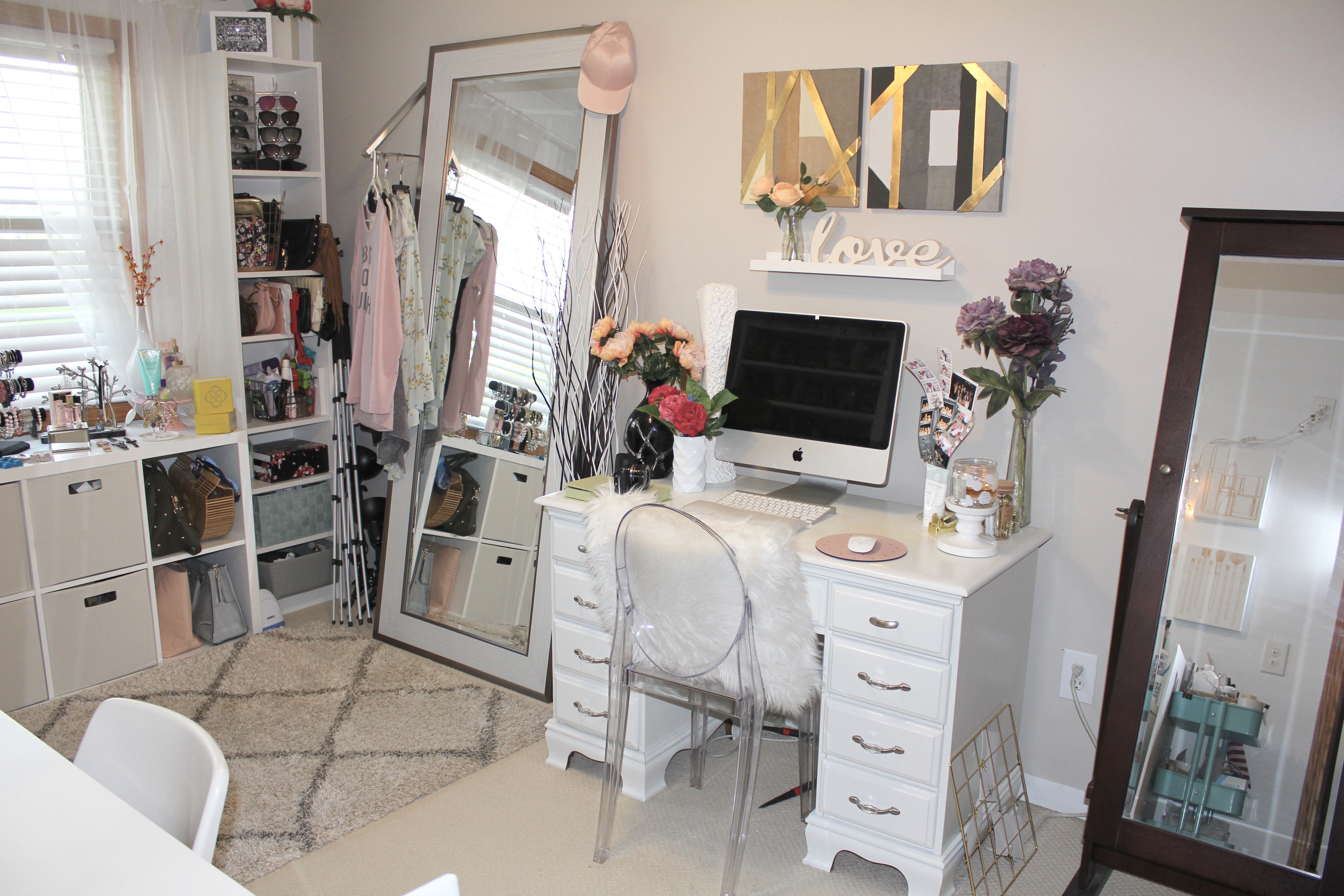 Hi beauties!! I know I've been saying for a long time now that I am going to share my beauty room with you guys, and the day has finally arrived!! I'm also collaborating with the beautiful Steffanie from Brighter Darling. Steffanie is sharing her eyeshadow palette collection and decluttering video! PLUS, we are doing a fun GIVEAWAY!! Read on for details!
Check out Steffanie's YOUTUBE / Steffanie from Brighter Darling
My OFFICE/BEAUTY ROOM
*Disclaimer- this page contains affiliate links which means some clicks/purchases may result in a small commission to me at no additional cost to you! Thank you for supporting Kelsie Kristine's blog!
Conor and I bought our house a little over 3 years ago now and I had always planned to have an extra room for my office/getting-ready room. The room has changed over the past few years, and will most likely change more in the future, but I figured I would share with you my current beauty room/office where all of the magic happens.
I create my videos, work on blog posts, take photos, pick out my outfits & accessories, and do my makeup all in this room! It's crazy how much stuff you can fit into one room, and how much you realize it's time to go through and clean out some stuff when you actually go through it all!
I will give you a little overview of the room, as well as a short video tour! I will link what I can too!
Did you know that I have a section in my blog where you can shop my home/outfits/etc? There's a SHOP tab right on my blog! I will try to keep it updated as much as I can for you all, so feel free to stop back any time and check for updates or new adds.
Go to // SHOP My Home | Beauty Room, Office & Home Decor
On to the tour!
This room took a lot of work to get it where it is today, and I put more into this room than any other room in the house so far. If you guys would like to see any other tours of the rooms in my house, let me know in the comments below. I can definitely share them with you guys if you're interested.
Desk
First up is my desk! Where the thoughts get put into writing and shared with you all! This is also where I edit my photos and videos, pay my bills and all that jazz. (Side note – I started writing this post last year before I got my laptop – some of my writing is done here, but most of it is now on the laptop either on this desk, out in my living room, or at a coffee shop) The desk was a craigslist find a few years ago that I had my husband sand down and we repainted with the white paint. I also added new drawer pulls- these were so hard to find, but they ended up turning out great! I plan to maybe change them out one day again since my tastes have changed over the years. Above the desk I put a cute little white shelf and added some accessories! The "love" wooden sign was from one of my best friends as a wedding gift! I love it there so much!
[bctt tweet="Beauty Room Tour – makeup, jewelry, clothing and more, plus an AMAZING giveaway!" username="itsmekelsie22″]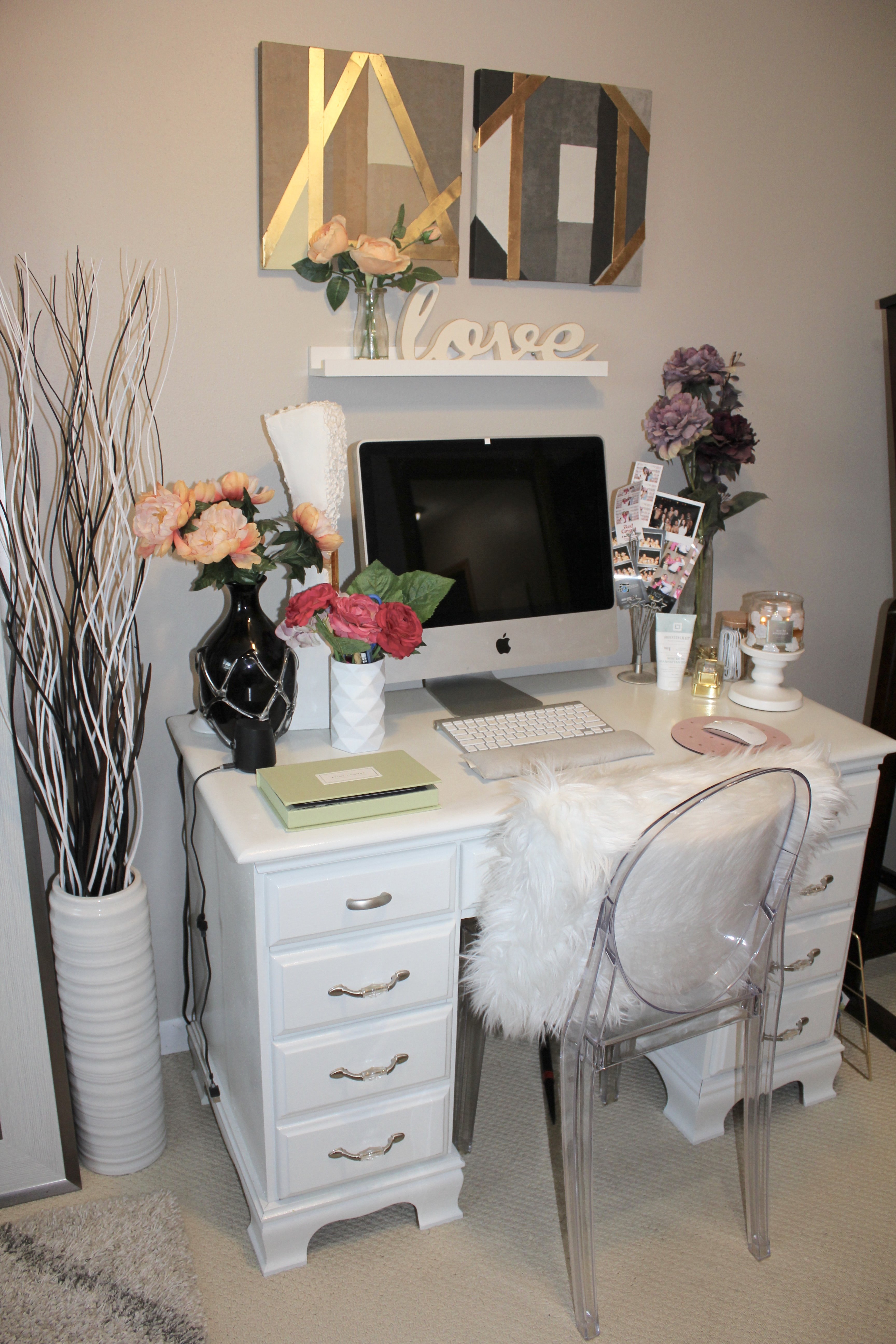 Clear "Ghost" Chair | Gold Clips | Gold Paperclips | Gold Tape Dispenser | Pencil Jar | Love sign (similar)
Vanity
This is where I get ready every morning! All of my makeup and hair products are in one place. You may not realize it, but this is where I film most of my videos as well! The ring light is where the camera goes and my desk is my backdrop. This dimmable ring light is a lifesaver too! If you want a more in depth look at my makeup and hair storage, let me know and I can film that in the future since this is more of a quick overview.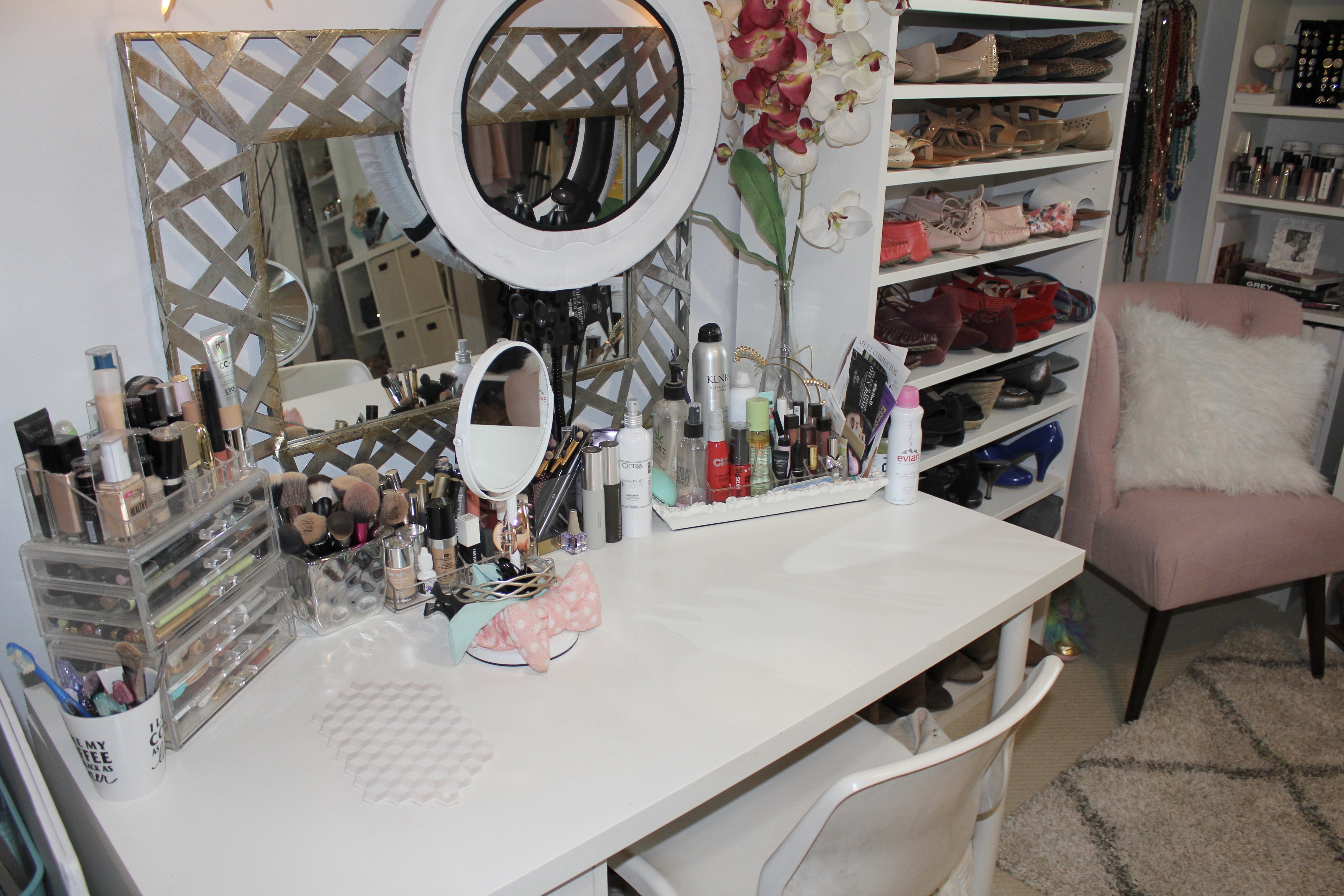 Alex Drawers | Ring Light | Acrylic Makeup Containers | Mirror (similar) | Marble Clock (similar)
Shoe Storage
Now, these aren't all of my shoes, but it's a good majority of them! My taller boots and off-season shoes are stored in our guest room because there really isn't much room for them here! I currently have a one in, one out rule with this shoe shelf. If I buy a new pair of shoes, I need to get rid of a pair from the shelf to replace it. This makes me really think when purchasing new shoes now. If there are shoes on there that I know I don't need and new ones would get more use, then I'm okay to purchase new!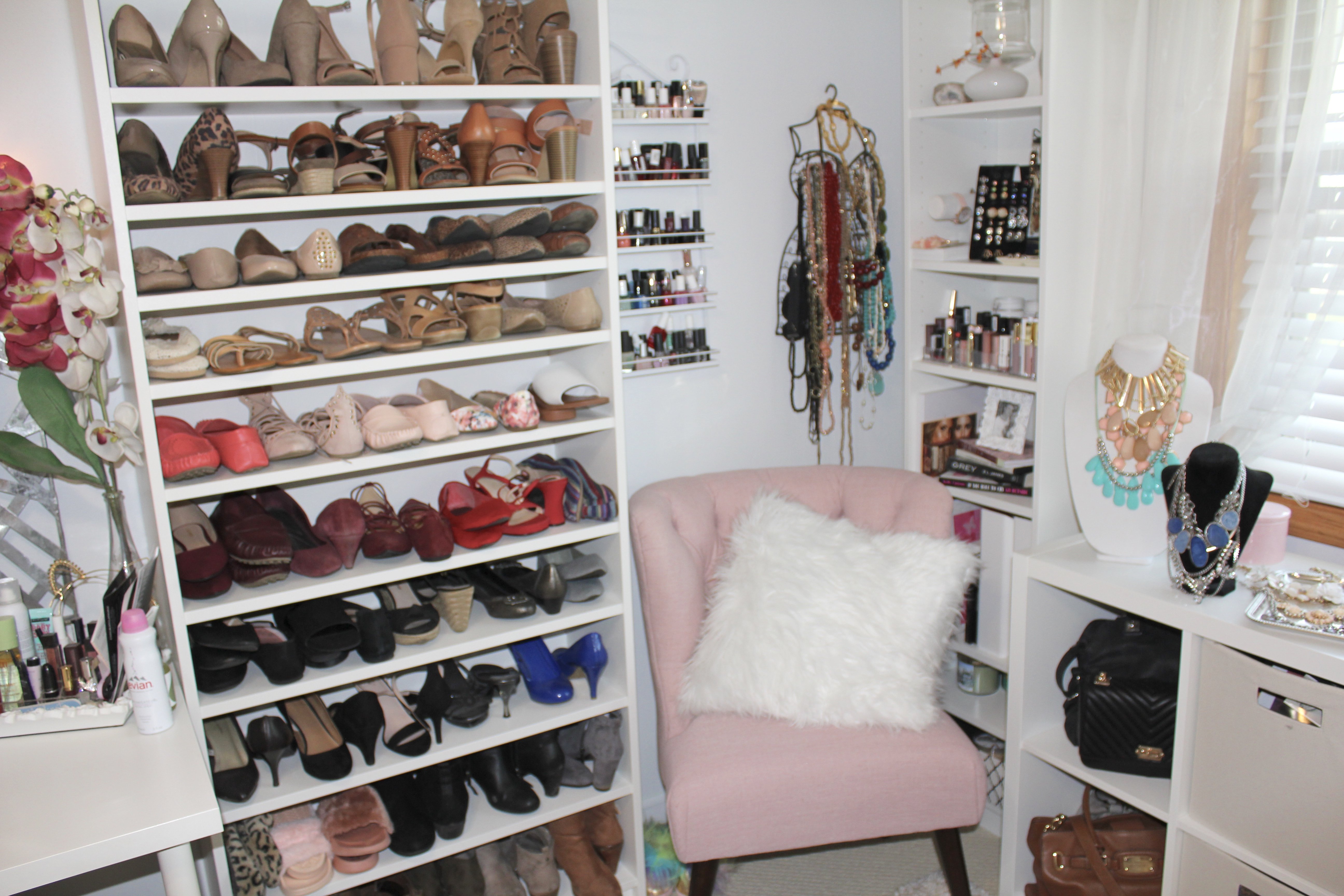 Chair – Similar Here | Nail Polish Rack
Other
Most of the other items will be linked on here: SHOP My Home | Beauty Room, Office & Home Decor
Sunglasses Stand | Acrylic Sunglasses Drawers | Metal Hideable Hanging Rack (shown in video) | Rug – Similar Here | Large Mirror (Similar) | Acrylic Lippies Holder | Mirror Jewelry Armoire | Scarf Rack Vlogmas Video
If you have questions about anything else in the room that I missed putting links out for, feel free to comment and I will do my best to find you a link for the items!
---
GIVEAWAY
Steffanie and I are giving away a TON of great beauty and makeup products! Head over to the video (or watch above) to see what is all included in the giveaway! Entering is going to be super easy for this one!! You should definitely subscribe to our blogs if you're not already so you don't miss out on future giveaways, but it's NOT necessary for this giveaway. All you have to do is subscribe to both of our YouTube channels, follow us on Instagram and then comment on the YouTube video.
¤TO ENTER¤
3. Subscribe to Steffanie Entralgo/Brighter Darling
4. Comment on Steffanie's video
6. Follow @BrighterDarling on Instagram
Thanks for reading/watching! Good luck to all of those who enter!!
Until next time beauties,