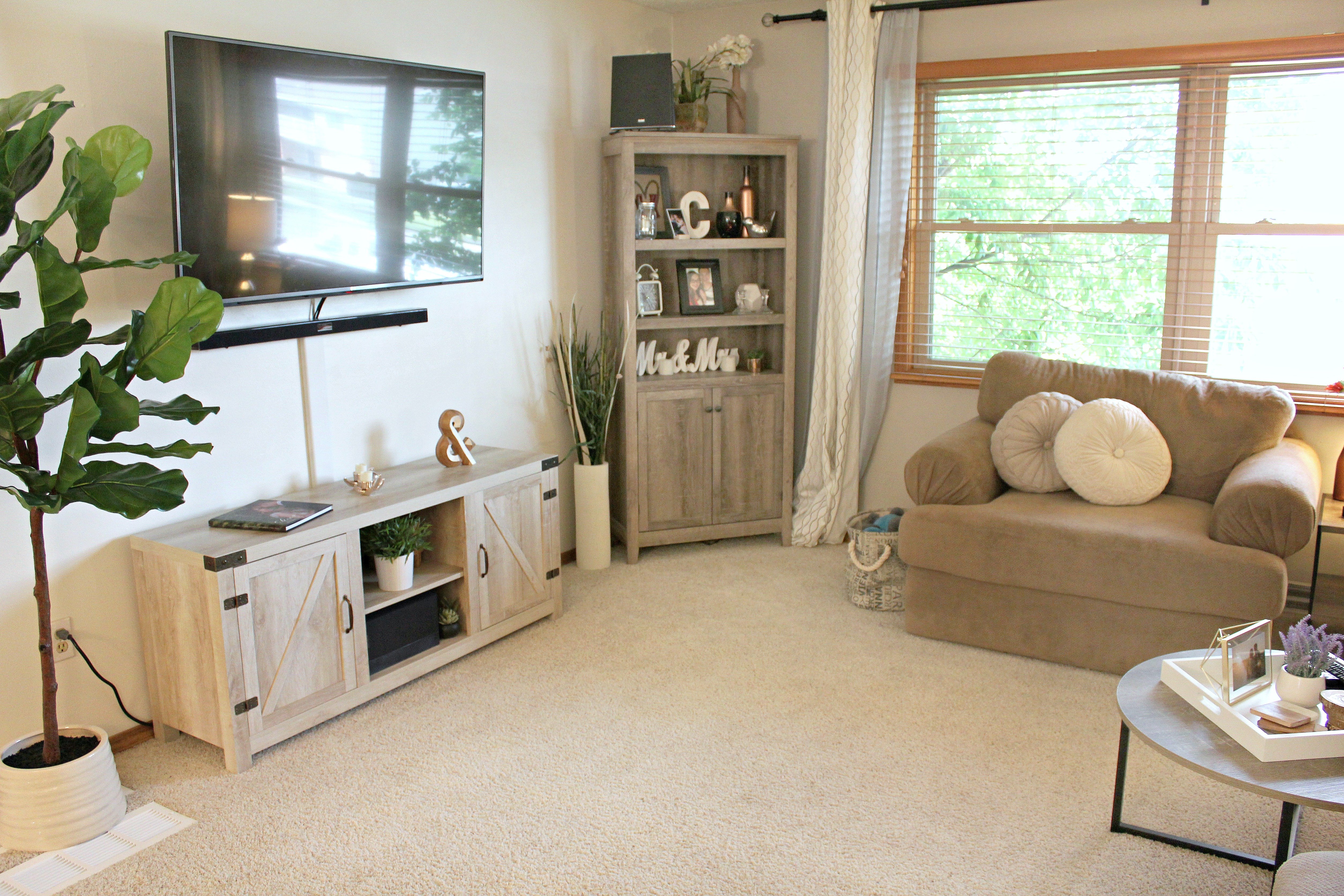 Happy Friday! The weekend is HERE! If you follow me on Instagram, you've probably seen some of the updates to our kitchen and living room lately. We are still in the process of working on the kitchen – we kind of put a hold on that when our little pup, Taze got sick. Lots of vet bills later, we still don't know what was wrong with him, but he's doing well now and did well on his check up last week! Fingers crossed nothing else happens! Since we added some new additions to the living room, and a lot of you loved seeing our adventure on Insta stories, I figured it was a good time to share our living room decor, plus the best spring/summer cleaning tip!
*Disclaimer: This post contains affiliate links. Some clicks/purchases may result in a small commission to keeping my blog running at no additional cost to you. Also, thank you to Zerorez Madison for collaborating with me on this post! All opinions are always my own! Thank you for supporting my blog.
The Living Room
Sectional/ Sofa Chair
One thing we splurged on when we first moved into our house was our sectional! We knew we wanted a sectional, but we couldn't find one facing the way we wanted it to (with the chaise on the right), so we opted for a custom order. The living room is where we spend a lot of time at, so we wanted the sofa to be something comfortable! We got ours through A1 Furniture in Madison, but the brand is England and the style is Abbie. You can choose the pieces you want to create your custom sectional, plus they have sooo many fabrics to choose from! We may end up adding one small piece to the sectional to make it a little wider, but we will see! We got a matching chair and a half for the room as well! We are still on the hunt for a fun accent chair to the left on the TV stand, but haven't found the perfect one just yet! Hopefully soon!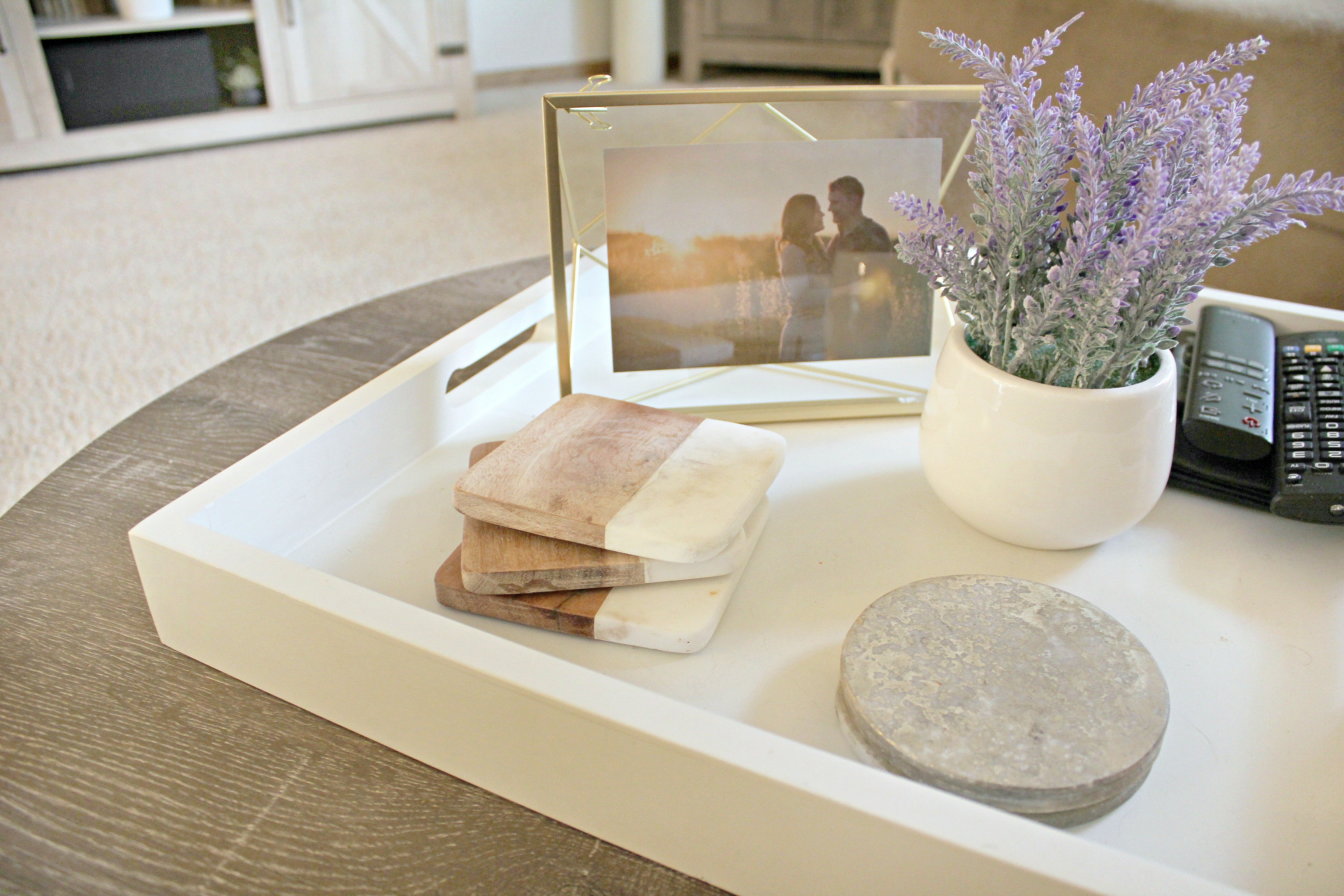 Coffee Table/ End Table
The coffee table and end table were from our wedding registry. When the coffee table arrived, we thought it might be too little for the space, but we actually don't mind it! The white serving tray, gold photo frame, and faux lavender plant were also wedding gifts! I love them so much!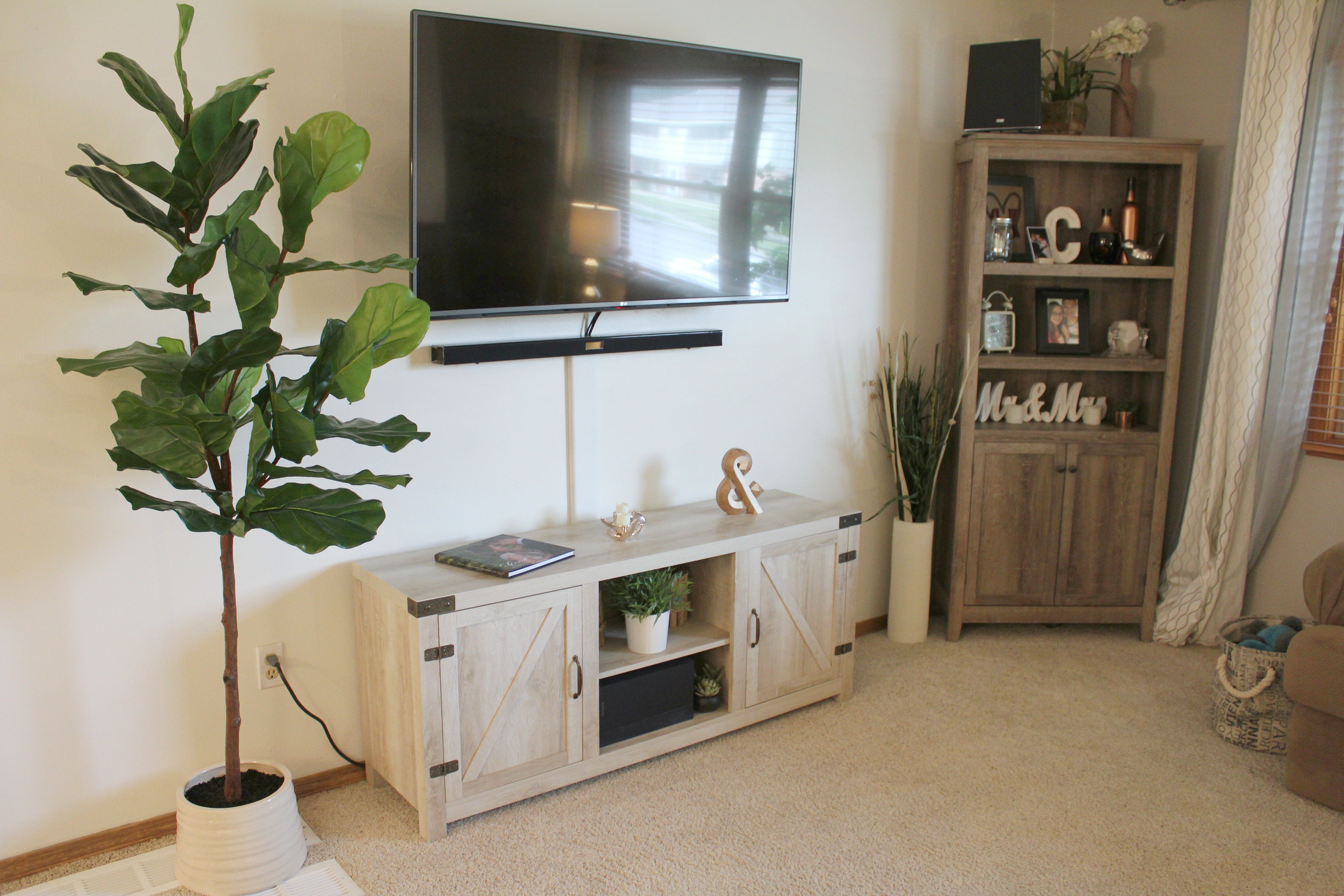 Bookcase/TV Stand
These are some of my favorite pieces in the space! We love the wood detail on the pieces! We first bought the bookcase a little after we moved into the house. It's become a bit cluttered with items, including the Mr. & Mrs. wood signs from our wedding, so my goal is to clean that up soon and make it a bit more minimal. We loved that the bookcase matched our sofa pretty well, but we knew we couldn't have all of the furniture in the space be the same color, so when searching for a TV stand, we were very picky! We searched and searched until one day, this one just popped right up for us! You probably saw my husband assembling it on Instagram, but the piece is super heavy and durable! I've never received so many dm's on Instagram about a story than when we posted about this!

Accents/Other Decor
Fiddle Leaf Fig – as much as I would love a real fiddle fig, my living room just doesn't get enough light for them so we opted for a faux tree. We had quite the adventure finding this guy, but it was so worth it! I love the way it fits in the space!

Magnolia Wreath/Wood & Iron Wall Decor – this was inspired by Joanna Gaines (Fixer Upper)! I wanted to recreate the look from a few of her episodes! I got this wreath from Magnolia Market, but I found a similar duper HERE. The iron and wood decor is from Hobby Lobby. I haven't seen it there for a bit, but I've linked a few other options below!

The Best Spring/Summer Cleaning Tip
One thing I LOVE to do every year is move everything in the rooms and dust and vacuum everything! In addition to dusting and vacuuming, the BEST thing you can do in your home in the spring/summer is clean your carpets!!!! With the previous home owner's pets, as well as our own, the carpet in our home is not in the best shape. We plan to replace it one day, but until then, shampooing or steam cleaning is the next best option. The past 2 years we have used a carpet shampooer from my work. It wasn't in the best shape, but it did the job and the carpets look so great for a few weeks before slowly going back to the "dingy"  look. This year, we decided to let the professionals handle it!
Zerorez has a carpet cleaning system that doesn't use any harsh soaps or detergents, they actually use a water-based cleaning agent that they call EMPOWERED WATERâ"¢.
They start by using a brush machine on your carpets. It's a high-powered rotating brush that get into the carpet and pulls up that dirt and dust and even pet hair from way down there! You GUYS…the amount of dust that came out of mine was repulsive!!! I wish I would've taken a photo of it, but sadly, I didn't realize what it was until after! OMG tho…thinking that THAT was in my carpet disgusted me! That's before they even started the pre-treatment and used the empowered water to clean.
Since my carpet had lots of pet stains, some from the old owners and I'm sure a few from our pups when they were younger, Zerorez pre-treated my carpet and also used a pet treatment (*extra cost) to help remove any odors and unwanted pet stains.


The Verdict
Now, our carpet is in pretty rough shape as it is, and after the carpet was finished, I was hoping to see some reduction in stains. I was AMAZED to see that not only was there a reduction in stains, ALL of the spots (other than one spot that I knew would never come up) were gone! I knew I had to give it a week or so to see what it looked like before really giving an honest review, and as I'm writing this, it's been a little over a week and the carpet still looks amazing! The high-traffic areas are always going to be a bit darker, but it's not noticeable at all! When I used the shampooer myself in the past, the stains would start to show back up as soon as we started walking on it again, and this time they appear to be gone!! I am so thankful!
One other side note, they also clean upholstry, air ducts, tile and grout, and area rugs! They did my rug from my beauty room (shown in the photos below) and it looks brand spanking new!
DISCOUNT
If you are in the Madison and surrounding areas, I highly recommend trying out Zerorez! Their current carpet cleaning special – Only $139 for 3 standard rooms, when you schedule online, plus get an additional 10% off using my code: "KELSIEKRISTINEBLOG". You won't regret it!
---
BEFORE/AFTER Photos
No filters or editing was done to these photos so you can see the true results!
---
---
---
Thank you so much to Zerorez for doing such a great job and collaborating with me on this post! Do you have an amazing spring cleaning tip? I would love to hear about it in the comments!
Until next time,