Spring Break is just around the corner & if you haven't thought about what you're bringing yet, now's the time! I shared a try on of a TON of affordable swimwear options on my Instagram stories a few weeks ago and you all LOVED it! I wanted to share the swim options on the blog too, as well as some other great affordable pieces.
If you missed my blog post all about Southwest Florida + my husband's surprise birthday trip, be sure to check it out! So much fun! I also have a shop page dedicated to all things spring break, so be sure to pop over there for some shopping ideas!
The swimsuits I shared on the try on were all one piece suits. I feel most comfortable and most secure in one piece suits, plus they make the cutest suits now! Does anyone remember when one piece suits starting coming back? Victoria's Secret sold them for $150+ and I remember wanting one so badly, but did NOT want to pay an arm and a leg for them! Now a days, they are so much more affordable and there are so many different styles to choose from!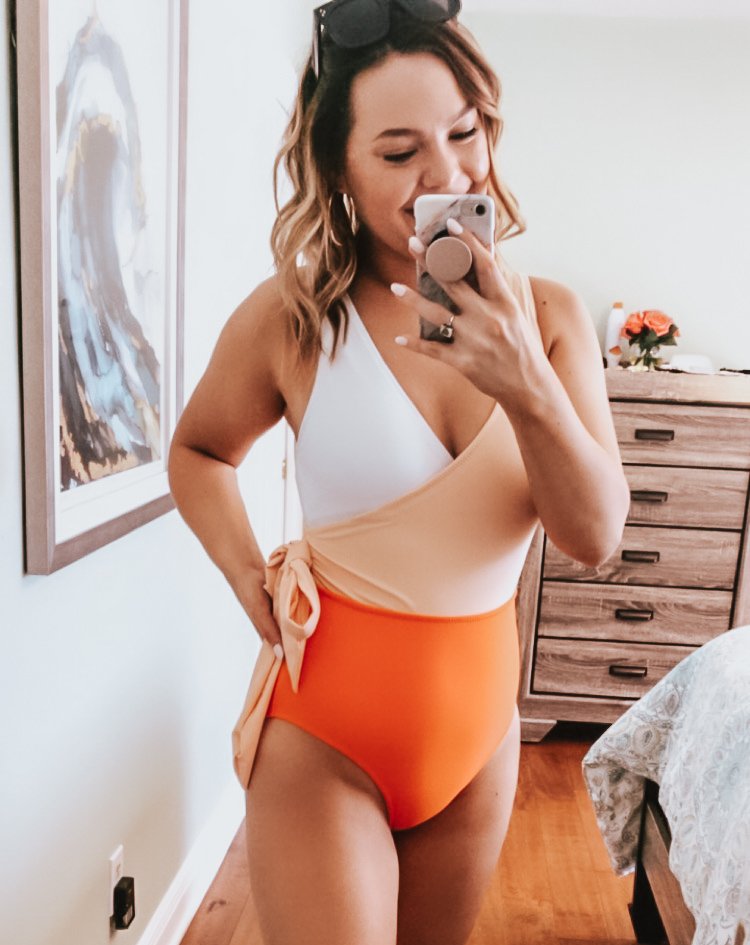 Instead of saving the best for last, I'm sharing the BEST first! This was my absolute FAVORITE suit from all of the suits I tried on! It was also the most sold item I have ever shared on my LiketoKnow.it! The color blocking is so cute! The one thing I will mention (which applies to all suits from this retailer) is that you need to take the cup inserts out. The shape of the inserts is not flattering. Maybe it works for some, but it looks much better without them! I am wearing a Medium here and am a size 6-8 (more towards a 6 now). Everyone I have talked to that has ordered from here before has said to size up in their suits. I did not size up and it fit really well, but I could've also been okay with a large.
Disclaimer- some links are affiliate links.
---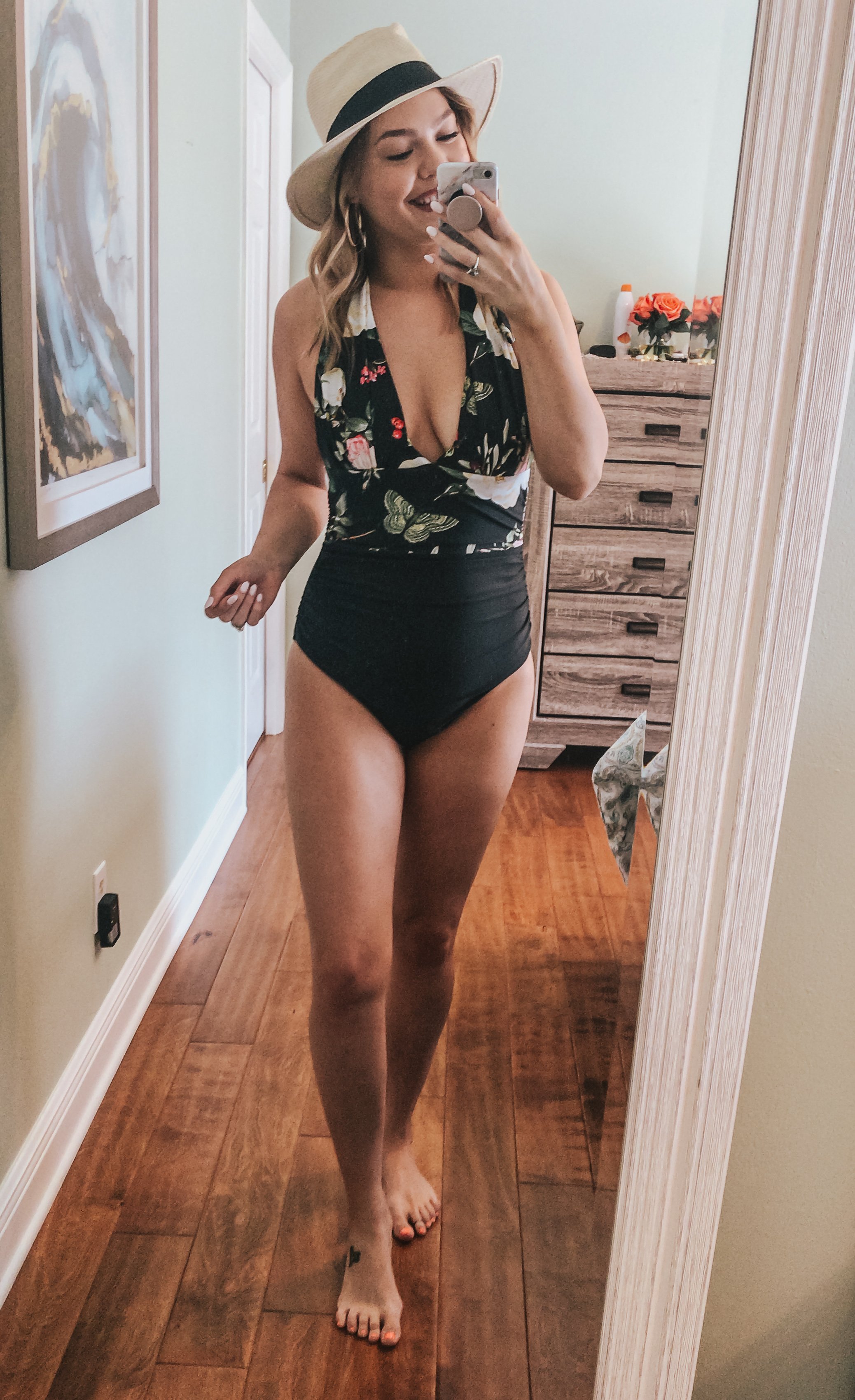 This one is my second favorite suit from the try on that I ended up wearing for the majority of the weekend! It has rouching on the side and is low v in front. It keeps the tatas secure and you can tie it as tight as you want around the neck. Wearing a medium here and it fits perfectly!
---


I LOVE the color of this suit! It's so rich and vibrant. I also love the fit of this suit EXCEPT it is a little loose in the chest area. Maybe I could've fit in it before I started Keto, but now, there's a little extra room in there. I would suggest this one if you are bigger chested. I am a 36C and wearing a medium here!

---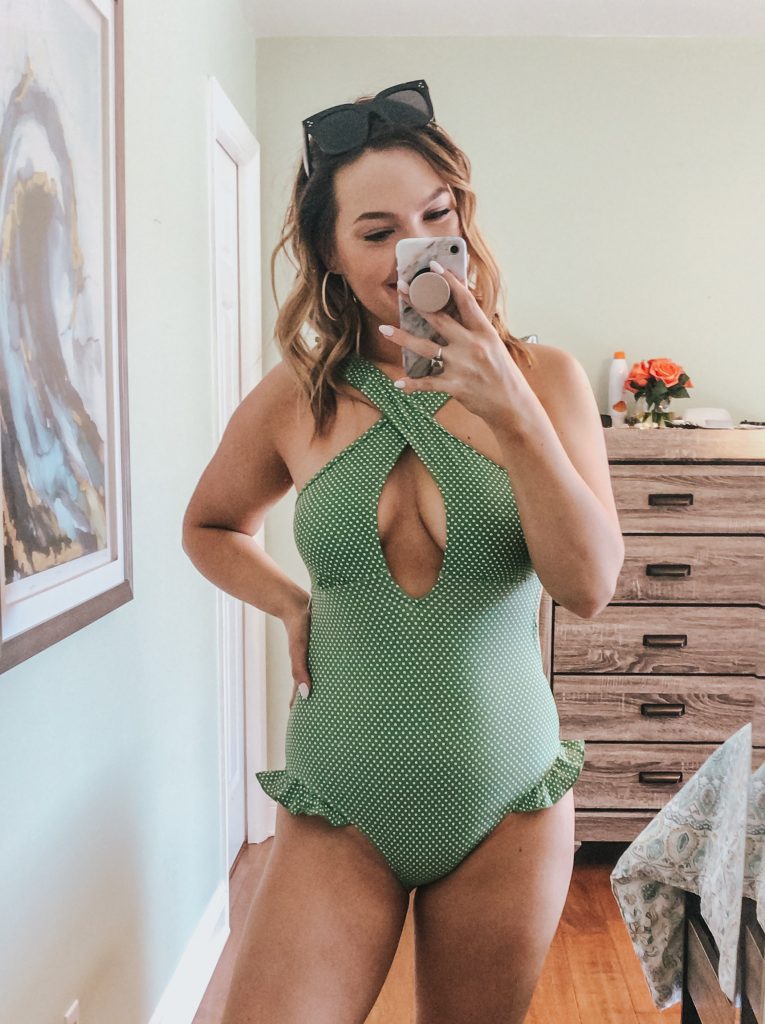 This suit is a bit opposite of the previous one. I would suggest this one for anyone with a smaller chest. Unless the cleavage is what you're going for. It's a bit too much for me, but other than that, the suit is adorable. The green color is super pretty and you all know I love me some polka dots. Wearing a medium here as well!
---


I LOVEEE the look of this suit, just not on me unfortunately. If I went one size up (wearing a M) I think it would look great, but this one cuts into my curves a bit much for me. The back looks so cool and I love that it's a ribbed material too! The white is also not see through, even with the cups taken out, so I love that about it!
---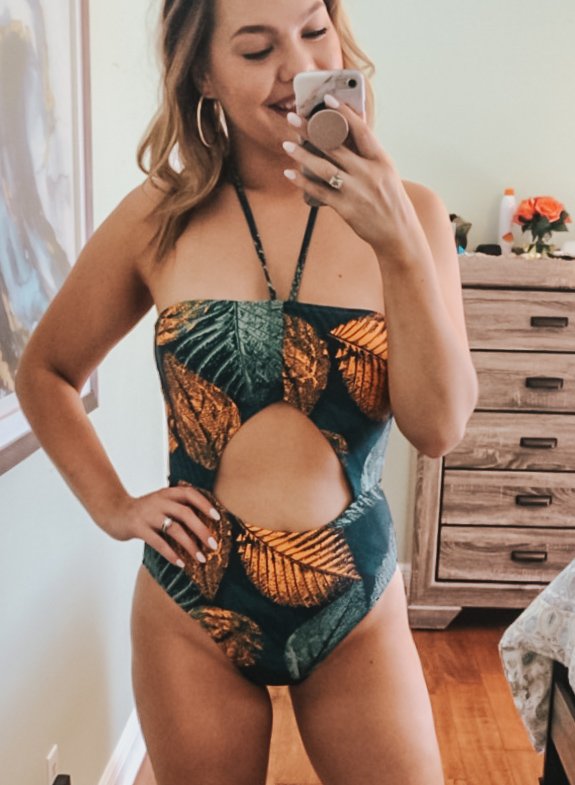 The print on this suit is amazing! I love the way it looks, but again, not for me! I think I would need one size up for this to look better, but I would also suggest this one if you are smaller chested – I feel like it would fit a lot better that way! Wearing a medium.
---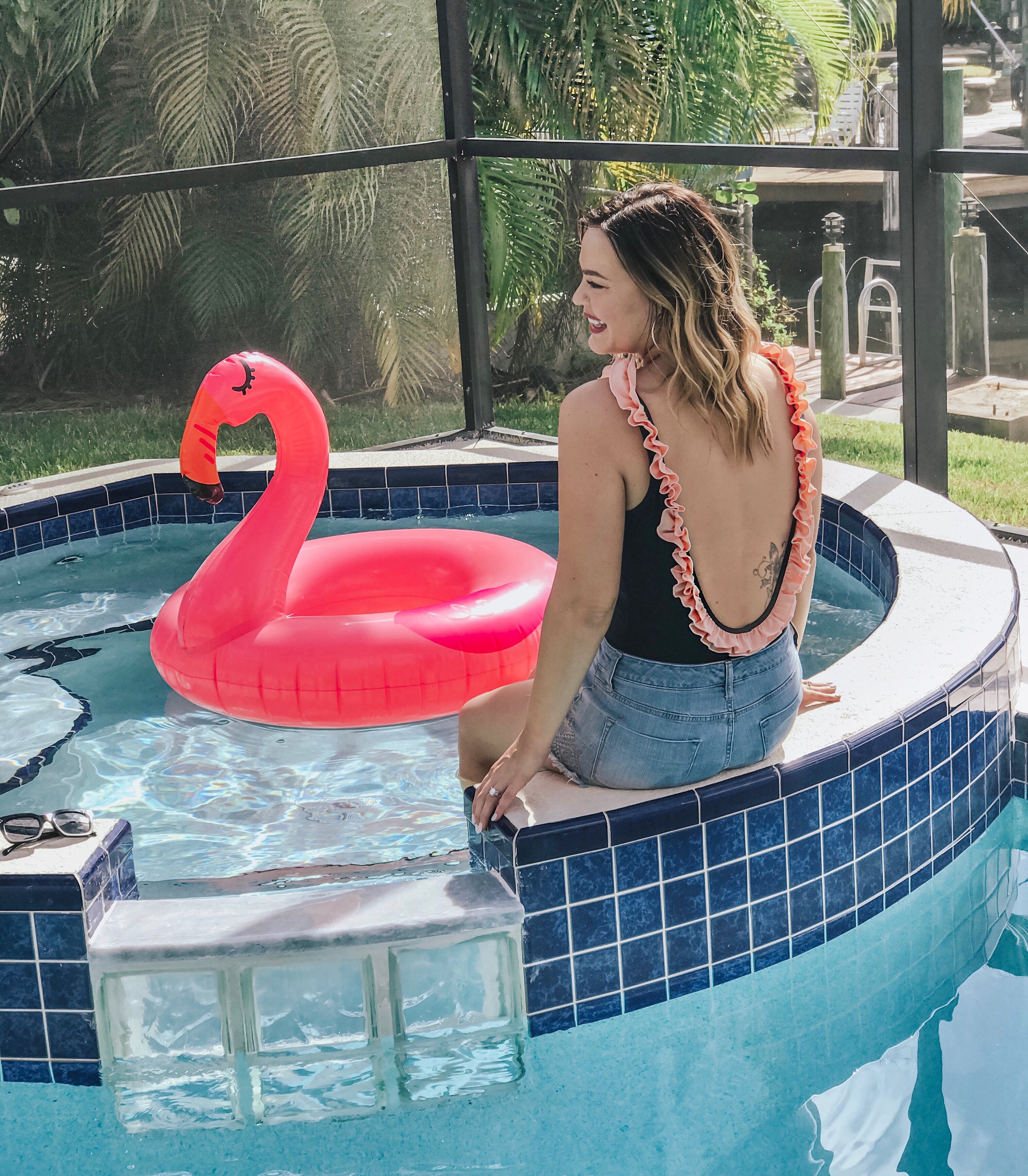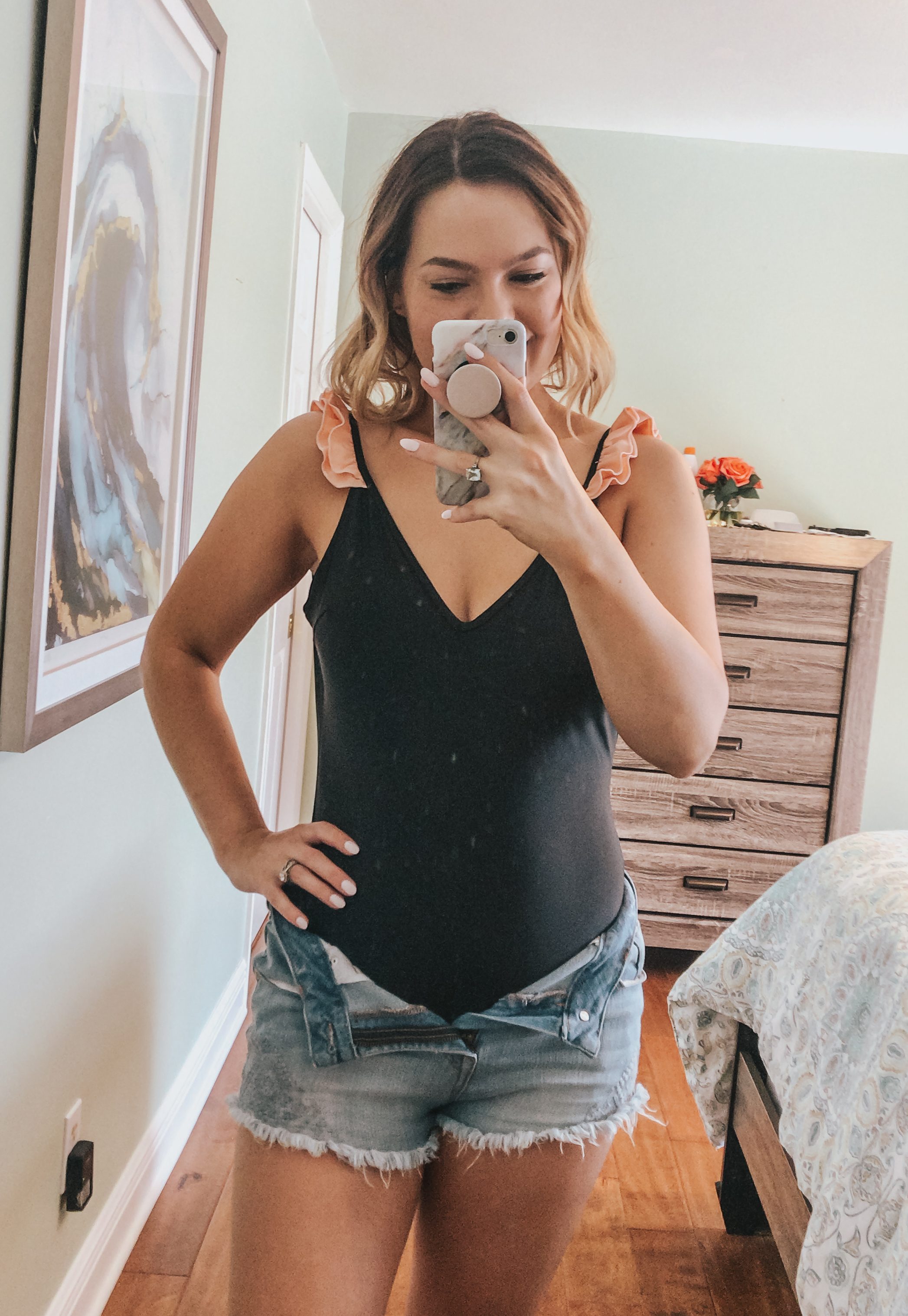 ---
That is all the suits I tried on! If you want to see them in action – check out my Swim Try On on my Instagram Profile under the Highlights! Below are some more swim options, mainly more one piece suits!
CupShe has a ton of super cute NEW ARRIVALS right now!
Target is currently having a sale on women's swimwear -buy one get one 50% off + free shipping and returns on swimwear!

Thanks for reading! & Happy Spring Break shopping!