Hi friends!! I took a week off posting on the blog because of my last minute trip to Chicago last week! It was a nice break, but it's crunch time before the holidays, so lots of posts are coming soon! While in Chicago, I was visiting my friend Brianna (@briannafoxmakeup) and we filmed a couple videos together for YouTube, one for her channel and one on my my channel, plus we are also doing a giveaway. I wanted to recap the video for today's post, since it's some of our favorite Winter Fashion Staples!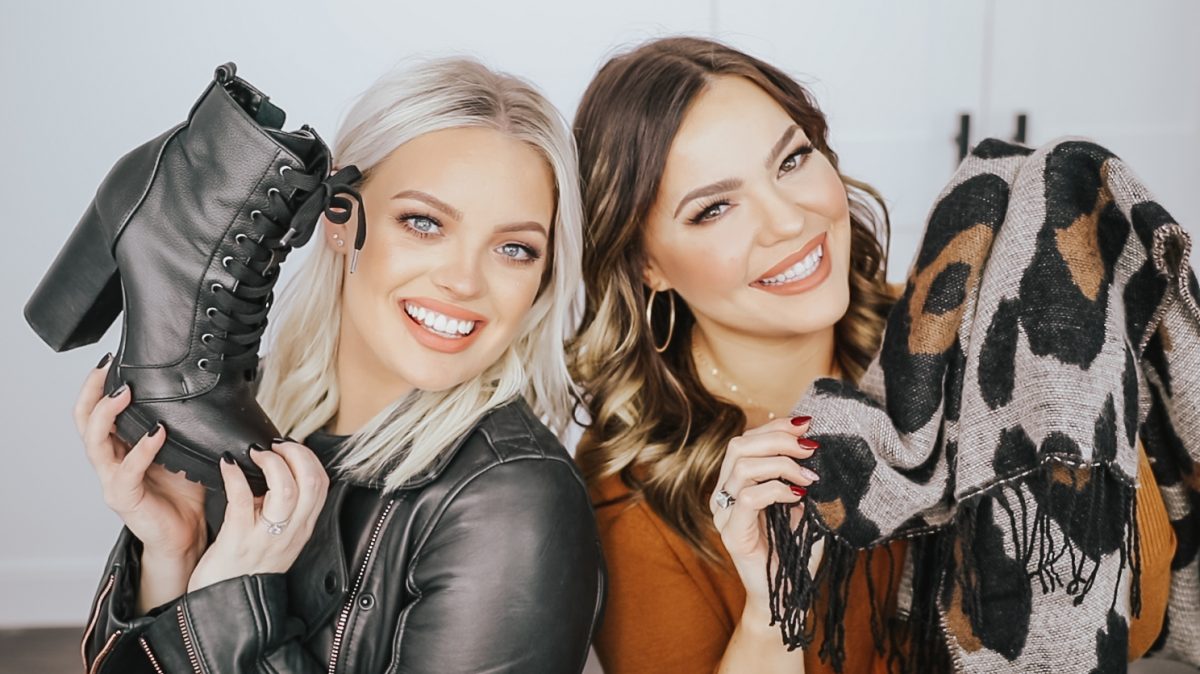 Winter Fashion Staples
Boots
My Fav: You know I had to pick my fav OTK boots – the Goodnight Macaroon ones are by far my fav of all the over the knee boots I've tried.
Bri's Fav: Bri chose the cutest Steve Madden combat boots that are perfect for the winter months!

Pants
My Fav: I originally picked my SPANX faux leather leggings, but when I packed, I accidentally grabbed the dupes I found from Aerie- the crackle leggings. You know they're a real dupe when you pack the wrong ones on accident. I will be living in the dupes, as well as the SPANX in the winter! I love pairing them with oversized sweaters.
Bri's Fav: Bri chose the AGOLDE jeans and they are so amazing on her! I bought my first pair of AGOLDE shorts this year and I never thought I would spend that much on a pair of shorts, but man were they worth it!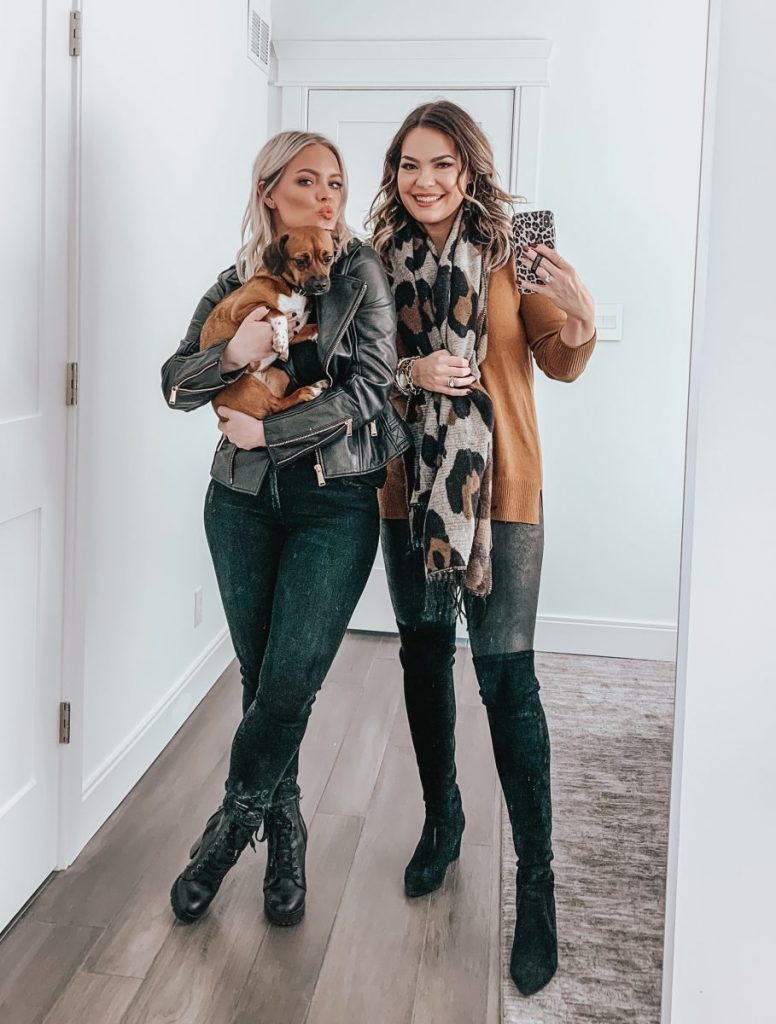 Jackets
My Fav: I LOVE my BlankNYC suede jacket that I added to my collection this year! It really adds a pop of color to a plain outfit and it can dress up a regular look or even a casual outfit.
Bri's Fav: Her leather jacket looks so flattering on her. It fits her shape and really elevates the look!

Cozy Cardigan
My Fav: Another new piece to my collection this year, but I have literally been LIVING in it! Currently wearing it while I write out this post. It's perfect to wear over your pjs, and even with a cute and casual outfit. It's so cozy and warm. Barefoot dreams is pricey, but if you find a good deal on it, TAKE advantage because it's so worth it.
Bri's Fav: Bri has the Barefoot dreams circle cardigan that is similar to mine and she loves it too!

Blanket Scarf
My Fav: I love a good blanket scarf and I found a new fav from Amazon recently. You know I love my animal print and it's the perfect price too!

---

Giveaway Details
Head over to the YouTube video to enter! We're giving away a huge box of beauty products to one lucky winner! All you have to do is follow us both on Instagram and YouTube, then comment on the YouTube video with your Instagram handle. There will also be a bonus entry over on our Instagram stories!
Brianna's YouTube | My YouTube | Brianna's Instagram | My Instagram
---
Hope you enjoyed today's post! Thanks for reading/watching!