Happy Tuesday friends! This past weekend we finally got some snow again in Wisconsin. It ended up being the perfect time to experience a new amenity at a local gathering spot in Madison at Robinia Courtyard. If you've been following me since the beginning of last year, I tried out some rooftop domes at a restaurant in Milwaukee. I was sad that we didn't have anything in the Madison area, UNTIL NOW! Robinia Courtyard now has domes to rent! I wanted to share a weekend OOTD (outfit of the day) post along with some photos from the domes.
Weekend OOTD
Since the domes are technically outside, but heated, LAYERS are key!! I love a good cozy beanie, cardigan, and blanket scarf. In hindsight, I would opt for different shoes than these booties. With all the snow we had in Madison, as well as the snow we walked through to get to the domes, my feet never quite thawed, even in the heated dome. I went very neutral with this outfit, along with pops of red with the bag and the pom beanie. Underneath the cardigan, I wore my new white ribbed bodysuit (I also have it in black) and it's so darn cute. (I always size up one in bodysuits with my longer torso) The jeans I wore were a recommendation from another blogger- they're like mom jeans, but better! They're from gap and they're a bit snug, but pretty darn close to true size. I finished off the look with a fun pair of statement earrings. I went back and forth on wearing the red/pink ones or the white ones. I loved the white best!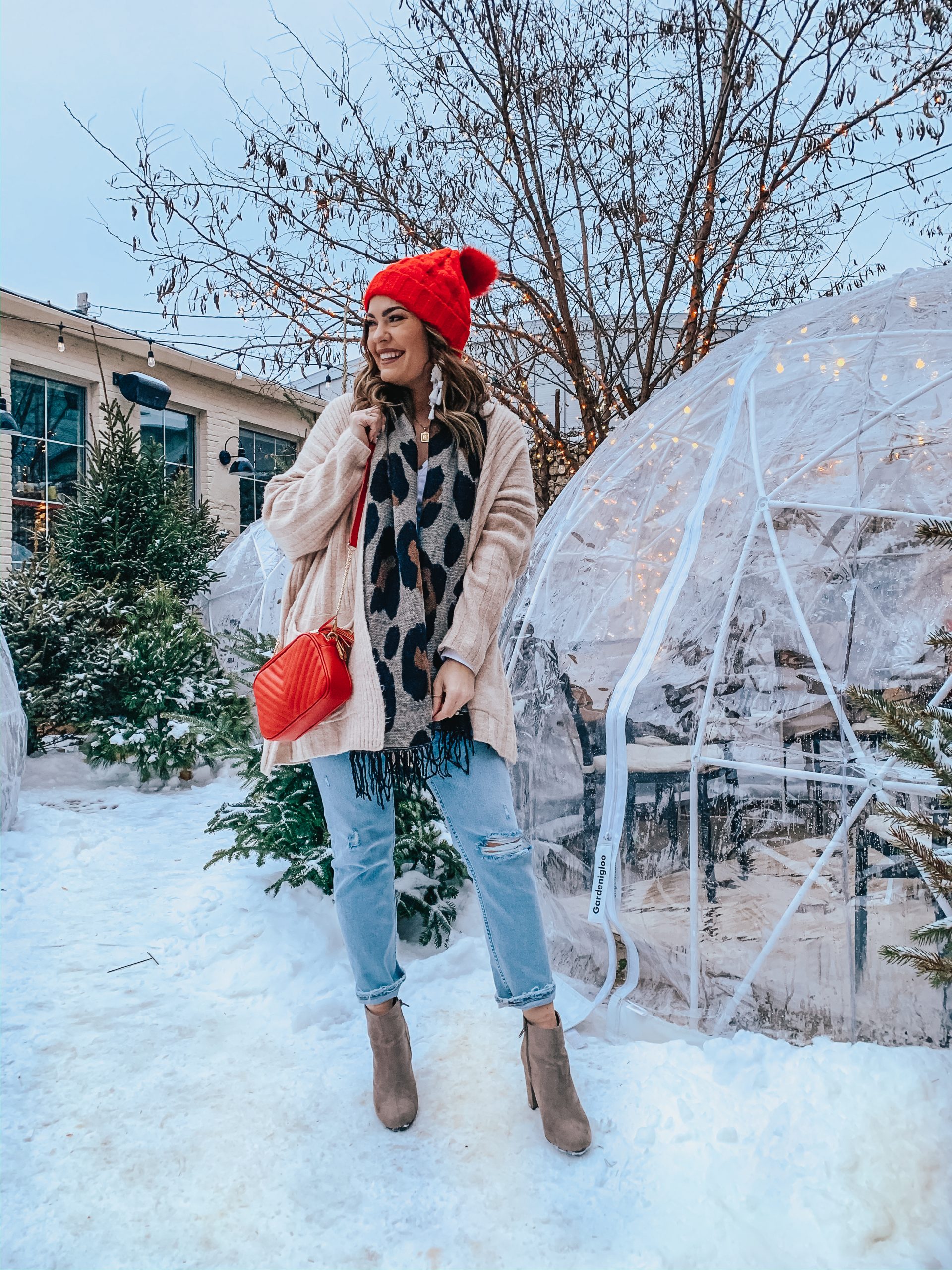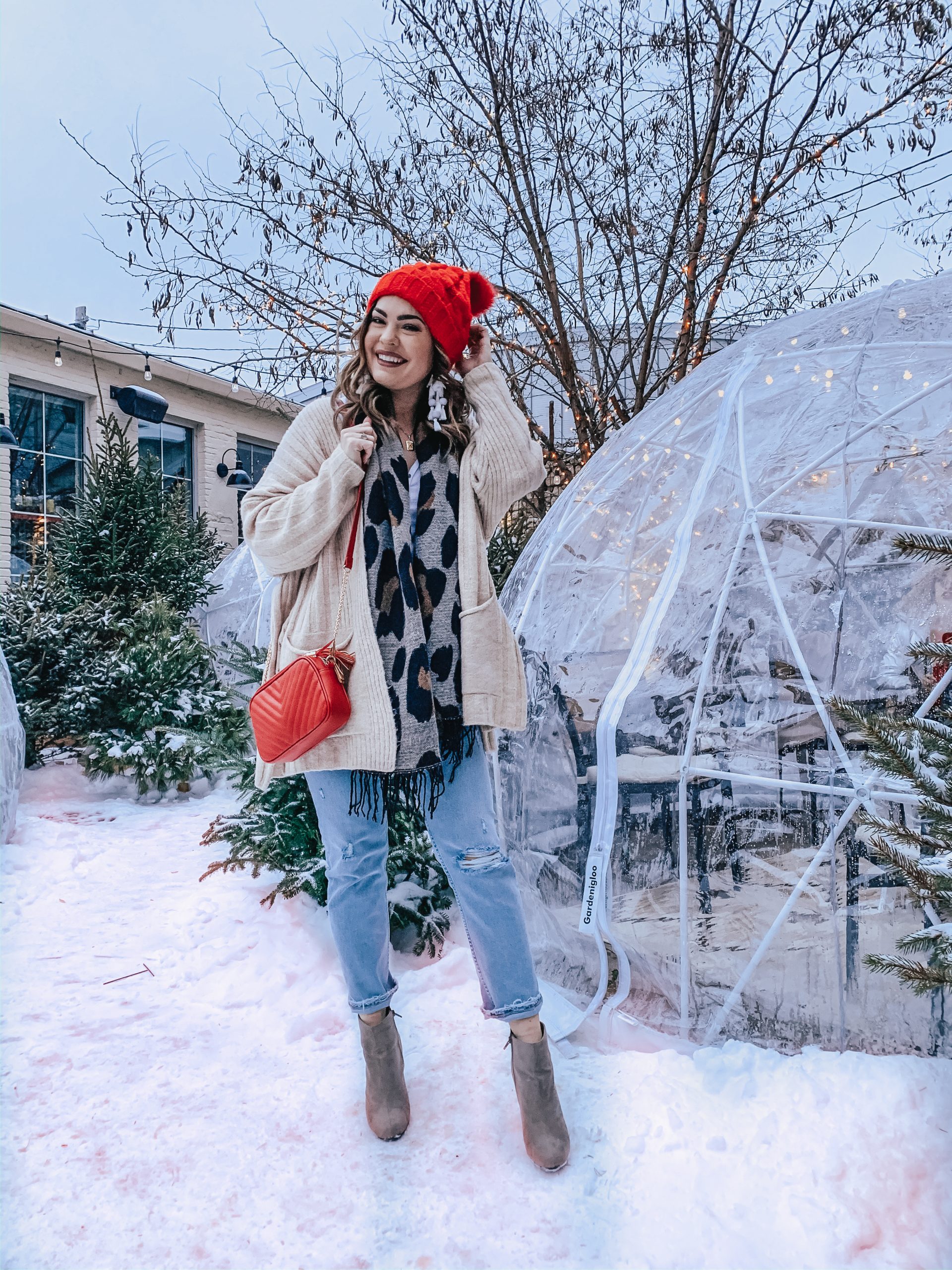 Pom Beanie (similar) | Bodysuit | Jeans | Cardigan
Blanket Scarf | Boots | Earrings | Red Bag | Necklace

Robinia Courtyard is a shared outdoor space between Black Locust Coffee, MadisonTap, and Jardin. In the summer, it's the perfect spot in downtown Madison to get away from all the noise, while still being where the action is. This year, they introduced the domes in the courtyard! It's such a cool concept and, as I said above, I've been to one other restaurant near Milwaukee that had rooftop domes, so I couldn't wait to experience these domes.
The domes are heated and fit up to 8 people in them, with enough chairs, as well as cozy blankets to go around! There are lights draped in the dome and have the coolest effect at night! It costs $200 to rent a dome for 1.5 hrs, which includes a keepsake mug (above) and a drink package.
When I experienced the domes, it was along with some fellow local bloggers and we really enjoyed the Robinia Hot Cider drink the best! Food is definitely an option in the domes, and in our opinion, a must! We tried the cheese and meat platters, along with the seafood platter! The oysters were phenomenal, and the white fish pate was delicious!
We had such a great time at the domes and are already talking about trying to go again soon. If you're local to the Madison area, or stopping in to visit, check out their website to book a spot to experience the domes yourself. With the snow we just got in Wisconsin, it's a dreamy winter wonderland!
Thank you so much for reading! Until next time,