Happy Wednesday my little fashionistas! Can you believe April is almost over already?! Mother's Day is on Sunday, May 13th and is fast approaching. It'll be here before you know it! Do you know what you're getting your mom, your wife, your dog's mom, mother, grandma, etc. yet?! If you do, that's so great, but if you're like most of us, you probably don't know what you're getting them yet! I have put together a gift guide that is sure to help you decide on the perfect gift(s). As always, the money saver in me is sharing a list of items under $50!
*Disclaimer- This post contains affiliate links, which means that some clicks/purchases may result in a small commission to keeping my blog running at no additional cost to you. Thank you for supporting my blog*
Mom's are amazing, hands down! You want to make sure to get something sentimental, but useful. Make sure you're thinking of them and what they would want, not just something you think they may want. If you really don't know, don't be afraid to ask! Ask someone that's around them more often or just ask them straight up! Most of the time they'll say they don't need anything, but ask them if there is something they've been wanting, but haven't bought for themselves. Things like that!
MOM, if you're reading this… now's the time to "X" out and stop reading! There may just be something on here for you. 😉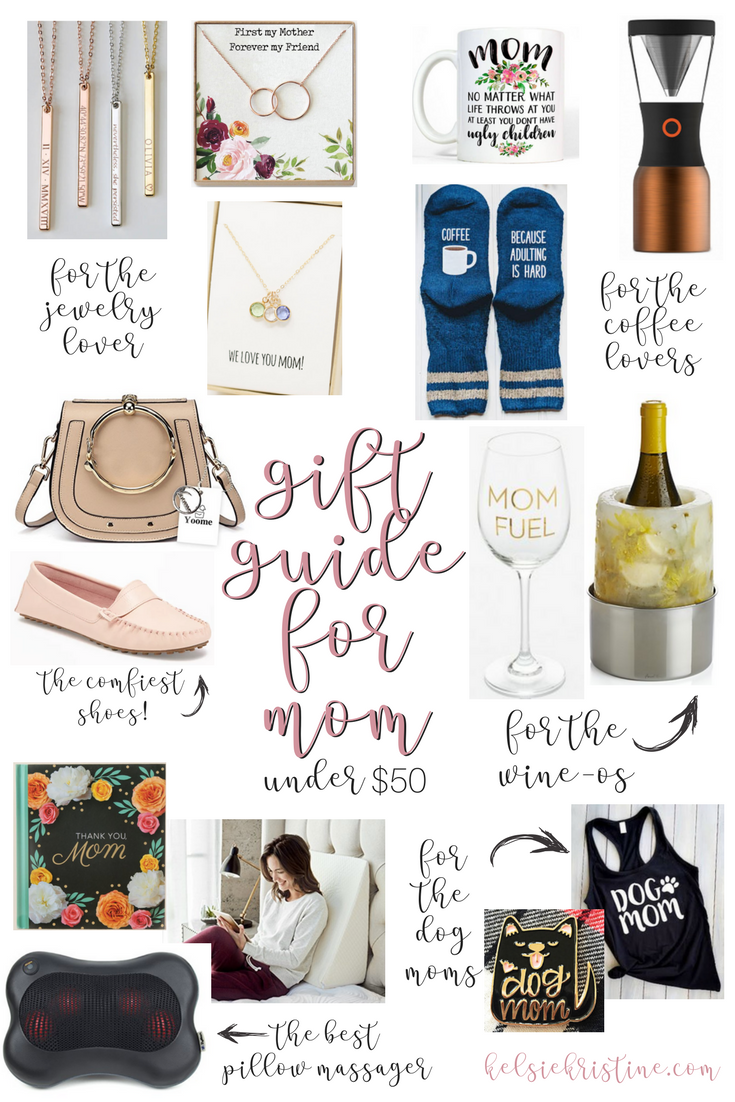 Birthstone Charm Necklace $18
Coffee Because Adulting is Hard Socks $13Â (Also "If You Can Read This Bring Me Coffee" Socks)
Portable Cold Brew Coffee Maker $49
Pink Driving Loafers (Come in other colors & SO comfy) $23
Ice Mold/Wine Bottle Chiller $40
Shiatsu Pillow Massager with Heat for Back, Neck, Shoulders $40 (or Neck Massager HERE for $40)
Therapeutic Foam Bed Wedge Pillow $47
Dog Mom Pin – the cutest!! $11
Dog Mom Tank $17Â (similar Dog Mom Tee $21)

There are so many more great gift ideas that I did not put on here and I will probably be sharing more soon, but in the meantime, I have ALL of the gift ideas for Mom conveniently all on one page for you! You can find it under the SHOP tab on my blog menu, or go HERE to check them all out!!
---
Mother's Day Gift Guide | Under $50 - for the coffee-lovers, fashionistas, dog-moms, comfy mamas, wine-os & more...
Click To Tweet
Have any other great gift ideas for Mom under $50?? Let us know in the comments below!!
Thanks for reading!
Until next time loves,