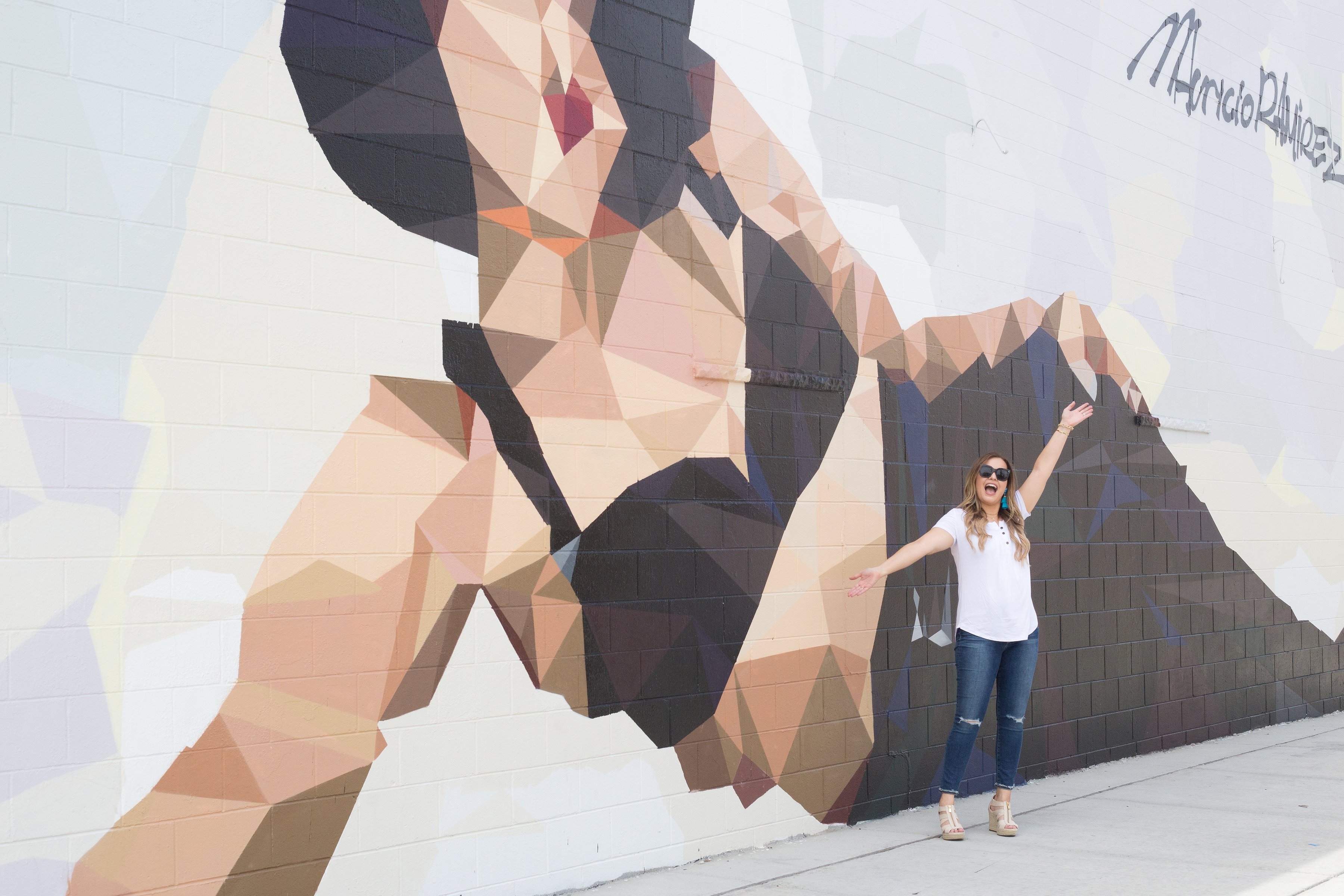 HAPPY PRIME DAY!!!! Yes, the Nordstrom Sale is still going on and that's probably all you're hearing about, but TODAY is Prime Day and we can't forget about that! Some of you, like me, may have mixed feelings about Prime Day. It is always hyped up to be this AMAZING sale, but then when the day comes, you're disappointed because it doesn't seem like the deals are that great! As long as you know how to shop the sale, that's the key, and you can snag some great deals!  Plus, the sale lasts a day and a half this year instead of just one day.
Prime Day sales start July 16 at 12PM PT/2PM CST/3PM ET
Did you know I have a SHOP tab on the blog dedicated to my Favorite Amazon Finds and Purchases?
Here are a few of my picks from the sale. Some prices may change throughout the sale.

About Amazon Prime
*Disclaimer: this post contains affiliate links. Amazon gifted me some items of my choice for this post, but as always all thoughts and opinions are my own*
If you've never heard of Amazon prime, you've probably been living under a rock, but basically it is a membership where you get free 2 day shipping (sometimes free same day or 1 day shipping too if you're in the right area) if the item is available through Prime. I have used Amazon Prime for everything from beauty products, toiletries, to furniture and much, much more! They basically have everything you need and I take FULL advantage of 2 day shipping! Another plus is that items are either the same price or even cheaper than in stores. Crazy, right?
If you're not a Prime Member, you can try it FREE for 30 days. In addition to the quick shipping, you also have movies, music and more included in your membership. My husband and I watch so many movies and shows from the Amazon Prime TV! They really have it all! As far as the paid membership, it is $99 for the year or you can do monthly payments of $12.99 and cancel anytime! It's worth it even if you just use it for a few months while ordering a bunch of items.
Pro Tip: If you know someone in your household that has Amazon Prime – they can share their account with one other person!
How to Shop on Prime Day
Use the App – The Amazon App ensures you don't miss a deal! You can track and shop limited time lightning deals while on the go using deal alerts on the app. The app is also going to give you some sneak peeks at the sale before it goes live.
Know What You're Looking For – You can search all deals based off category. For example, if you're really wanted some electronics, be sure to explore the deals by category (so electronics).
Spotlight + Lightning Deals – Spotlight Deals feature deep discounts on top brands and popular items, while Lightning Deals run for a limited time with limited quantities.
Alexa Shopping – If you have Alexa on any Amazon device like the Echo, you can just ask, "Alexa, what are my Prime Day deals?" You can also track your shipments by asking Alexa too!
Amazon Fashion- See the deals live under the Amazon Fashion page.
Amazon Fashion
I wanted to talk more about Amazon Fashion. If you haven't shopped for clothing or accessories on Amazon, you are missing out! They have the best deals, plus, if you're a Prime member, you get them in 1-2 days! How can it get any  better than that? I got a TON of pieces that I'm sharing below ALL FOR UNDER $100 on Amazon, plus I got them in 2 days! Most of the time, you can find super great deals on clothing (from places like SheIn), but they take FOREVER to ship! I feel like I sound like ad, but I'm so serious you guys, Amazon is the way to go and I can't recommend it enough!!
Photos by Amanda Vick Creative
*All of these clothing items are true to size unless otherwise noted. I wear size M*


Striped Top | Jeans | Bag | Earrings | Cuff Bracelet | Chain Link Bracelet
This top is soo cute! I love the sleeve detail and the knot front! If you know me, you know I have always been all about stripes. I love black and white because you can wear a pop of color with it or just as it is. This bag is also a newbie – I love the black detail on the edging and the gold detail. I'll show more photos of another way to wear this bag below.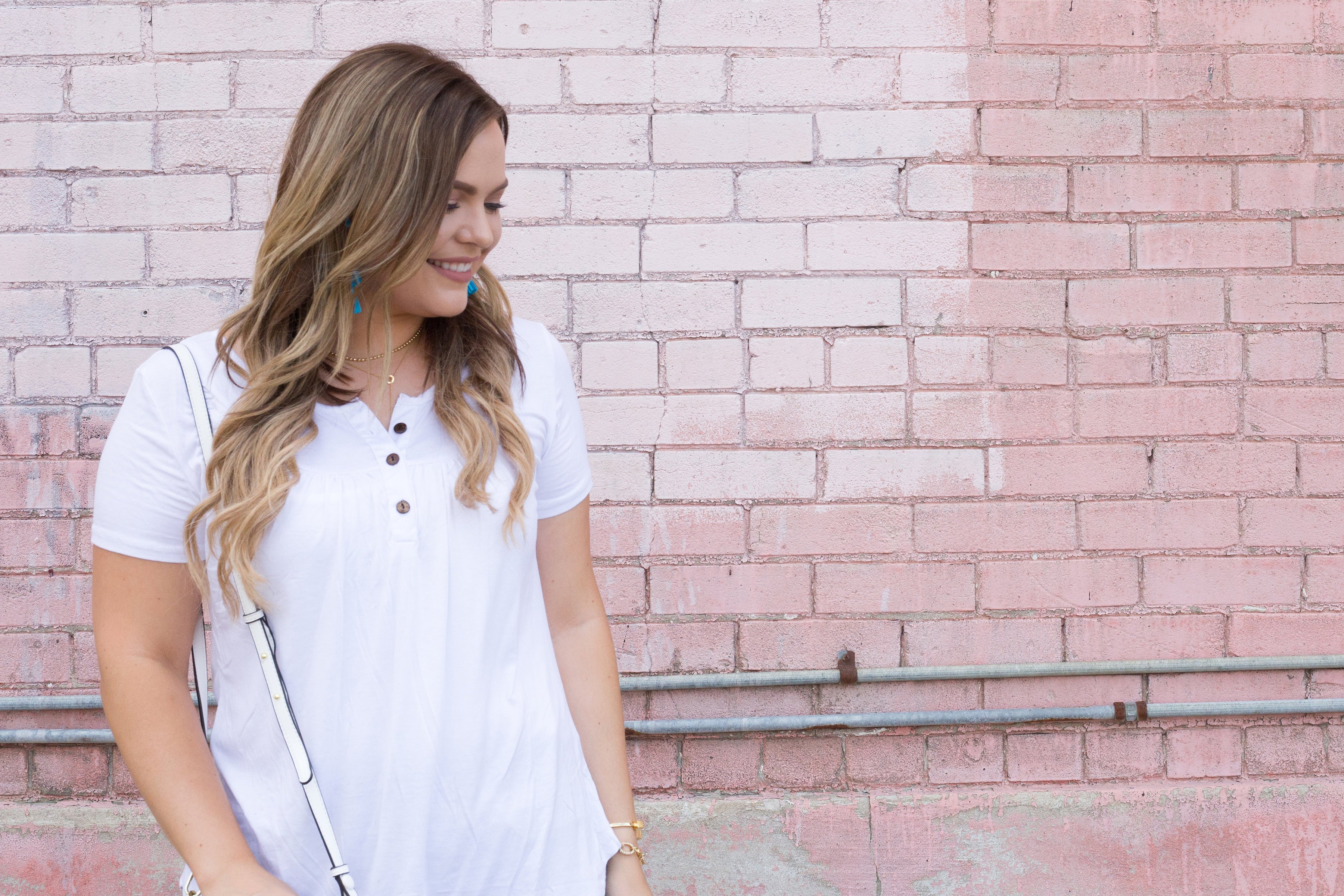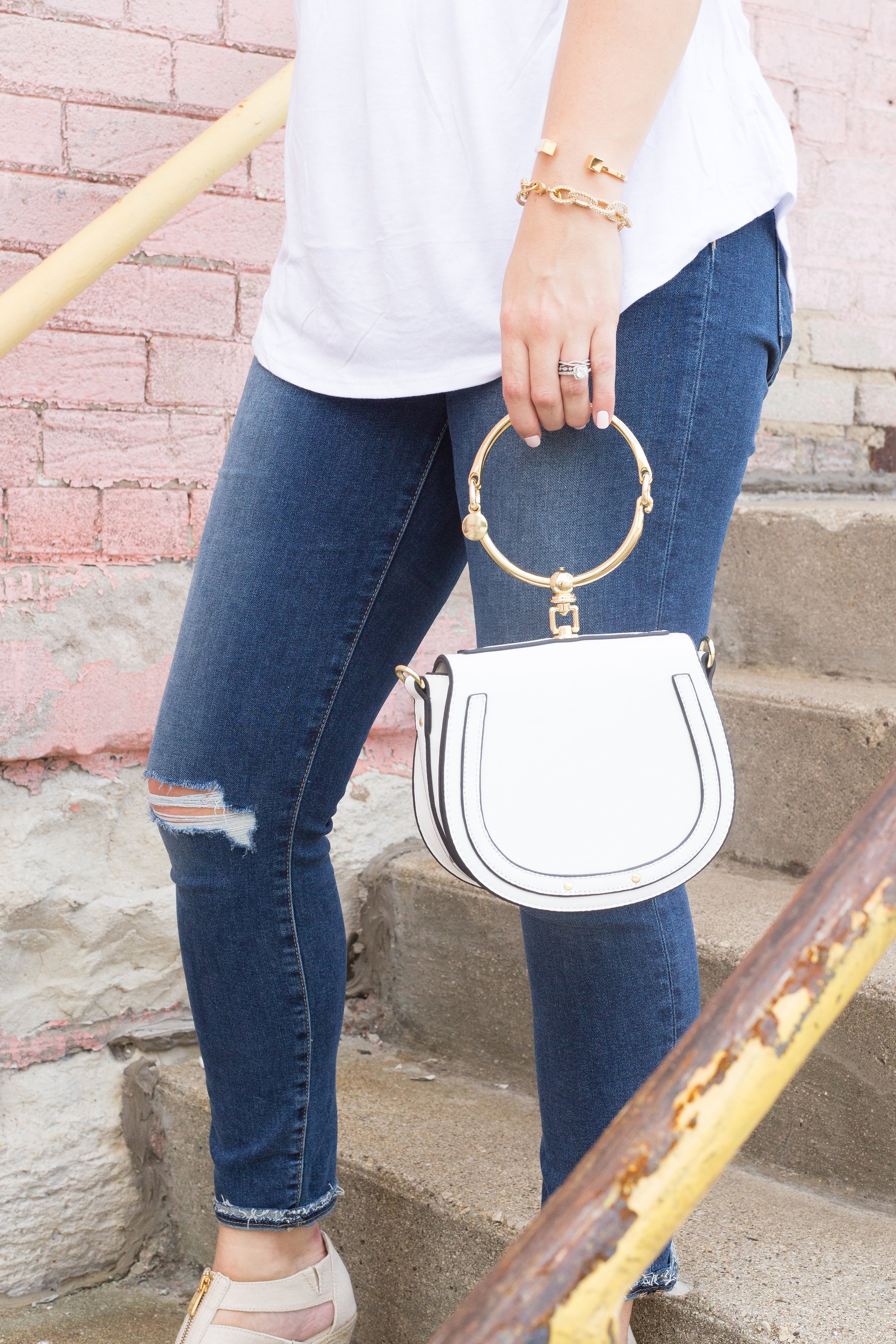 White Tunic Top | Jeans | Shoes | Bag | Blue Tassel Earrings | Sunnies
I love a great white tee and this one has the cutest wooden button detail and I love the fit! I love adding a pop of color with plain white too. You can also see here where I took the handle off of that bag and used the gold ring as the handle!! It takes the bag from casual to dressy in one step and I LOVE it! These sunnies are the best Chloe dupe and are under $10 from Amazon! Score!


Pink Top | Jeans | Shoes | Sunnies | Chain Necklace | London Choker Necklace
Another tie front top! I love how this buttons all the way up! It's similar to one I've been wanting, but much more affordable! I unbuttoned the top button for just a peek of skin too and I love it! You can even buy one size up for a more looser fit too!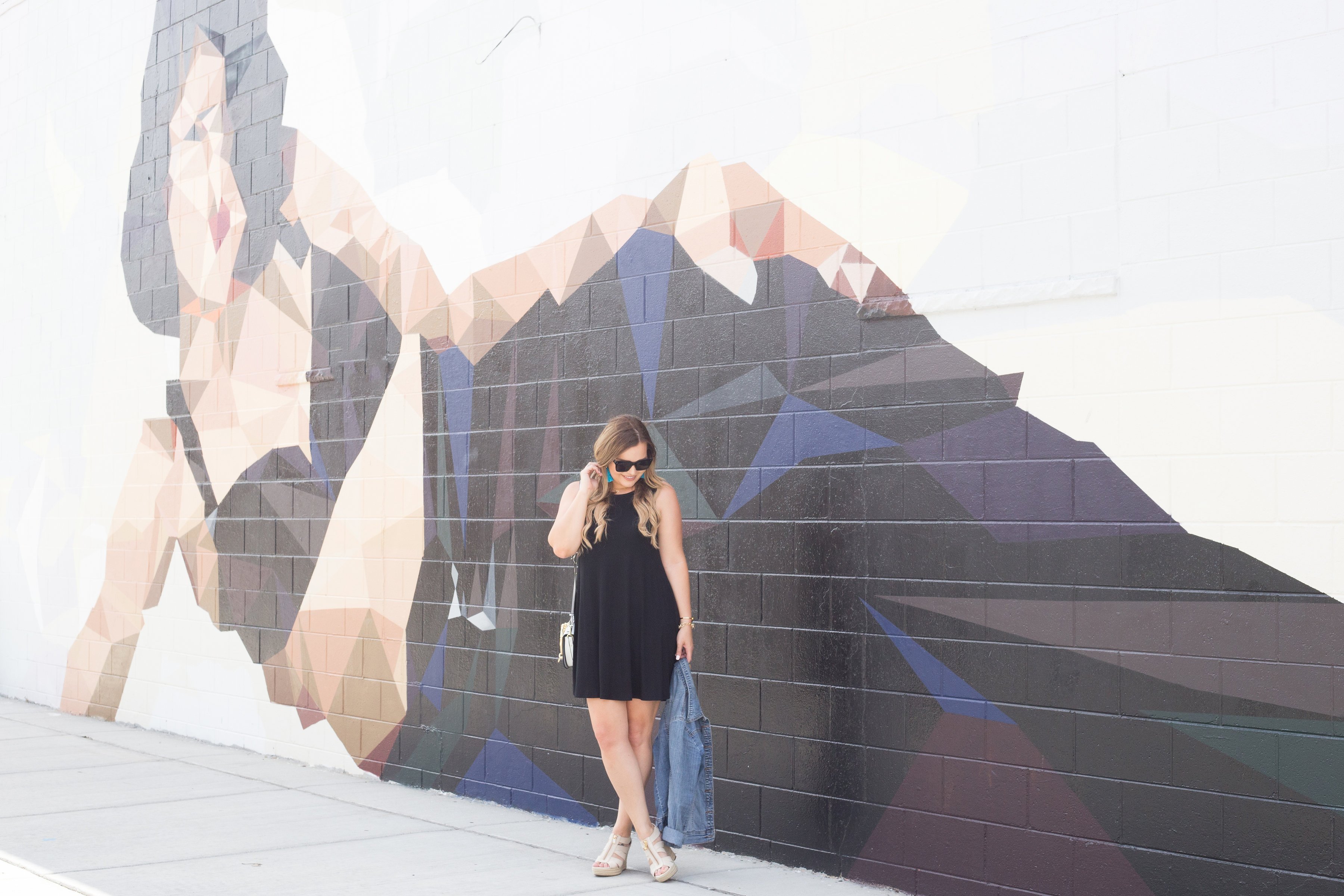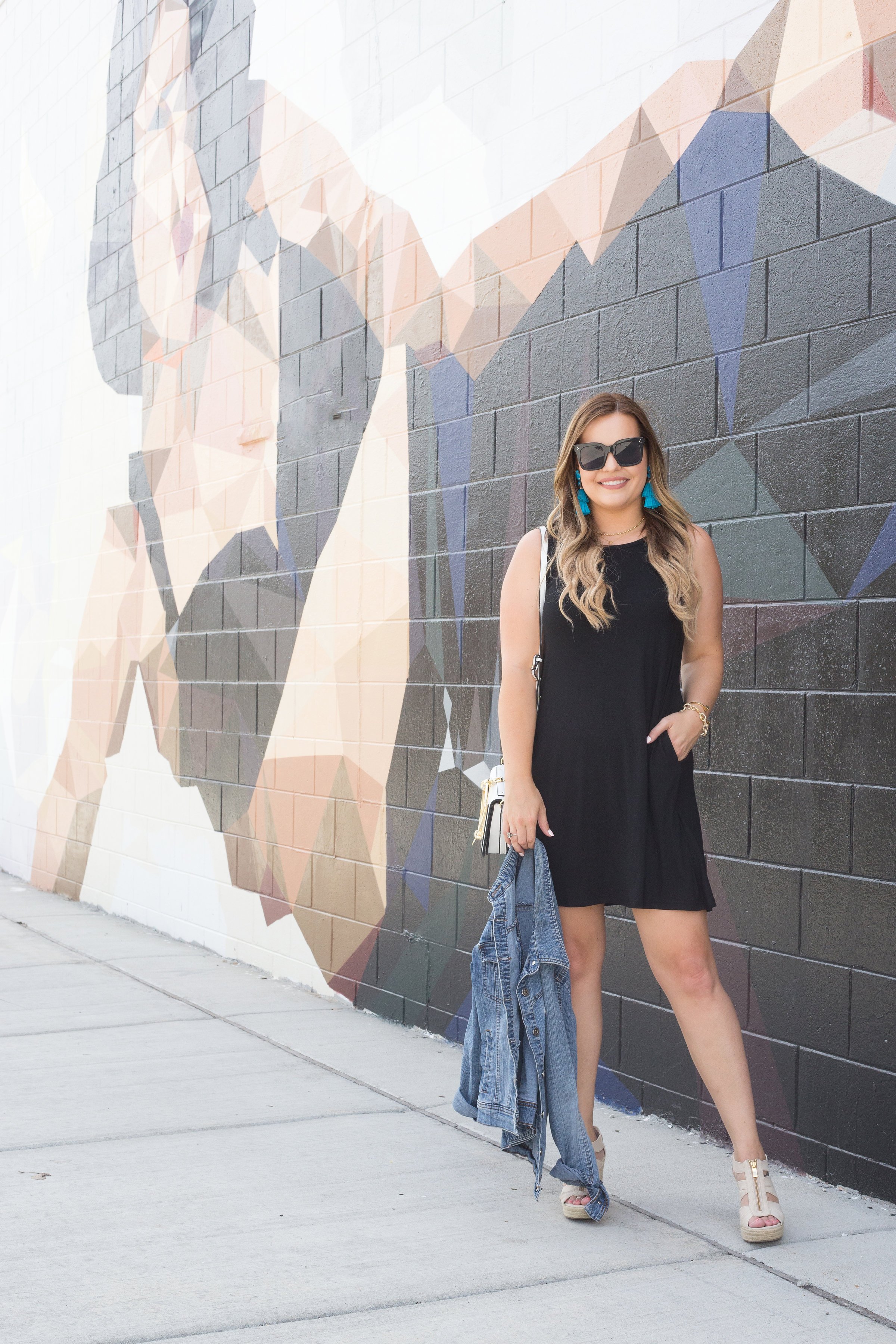 Black Dress | Jean Jacket | Blue Tassel Earrings | Sunnies | Bag | Shoes
The BEST and most casual and comfy LBD! I love a great shift dress, especially if it has POCKETS!! Pockets honestly make a dress much better!! This dresss was also under $20 you guys!! Amazing!
Shop the Outfits

So, the bag, two knot tops, white tee, and black dress totaled at UNDER $100!! You can't beat that, am I right? With Prime Day, I'm sure sales will be even better! Good Luck shopping & tell me what you're most excited for this Prime Day!
As always, thanks for reading loves,