Happy Monday!! It's been a while since I shared a blog post on a Monday, but with Valentine's Day being this week, I wanted to share a last minute outfit idea for VDay!
With planning my husband's birthday surprise for last weekend, I slacked on getting a Valentine's Day gift guide up on the blog this year. I've shared ideas throughout the month on my Instagram stories, but that's it! Sorry guys!
Last Minute Valentine's Day Dress + Accessories
You all know I LOVE Amazon and I've been building up my Amazon clothing and accessory pieces for an upcoming Amazon haul video + post, but this dress is one that I found on Amazon and I could not wait any longer to share it! (See previous Amazon hauls here)
My blogger friend Sandy (@Sandyalamode) shared this dress a few months ago and I had to snag it! It's affordable, which you all know is right up my alley, and it has polka dots!! YESSS!!!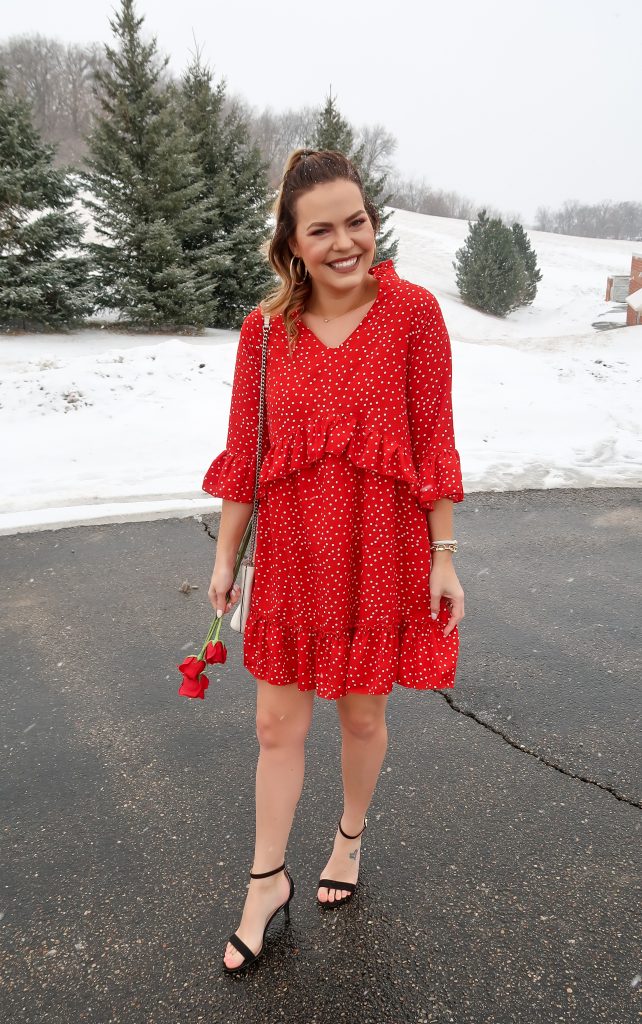 This dress is super flowy and fits nicely! I would say it might run a little large, so you can size down for a tighter fit! I'm wearing my true size, a medium, here! The ruffles hit in a v pattern in the front, making it very flattering and it's a little longer in the back too! I paired it with my favorite bracelets that go with everything, and some gold hoop earrings.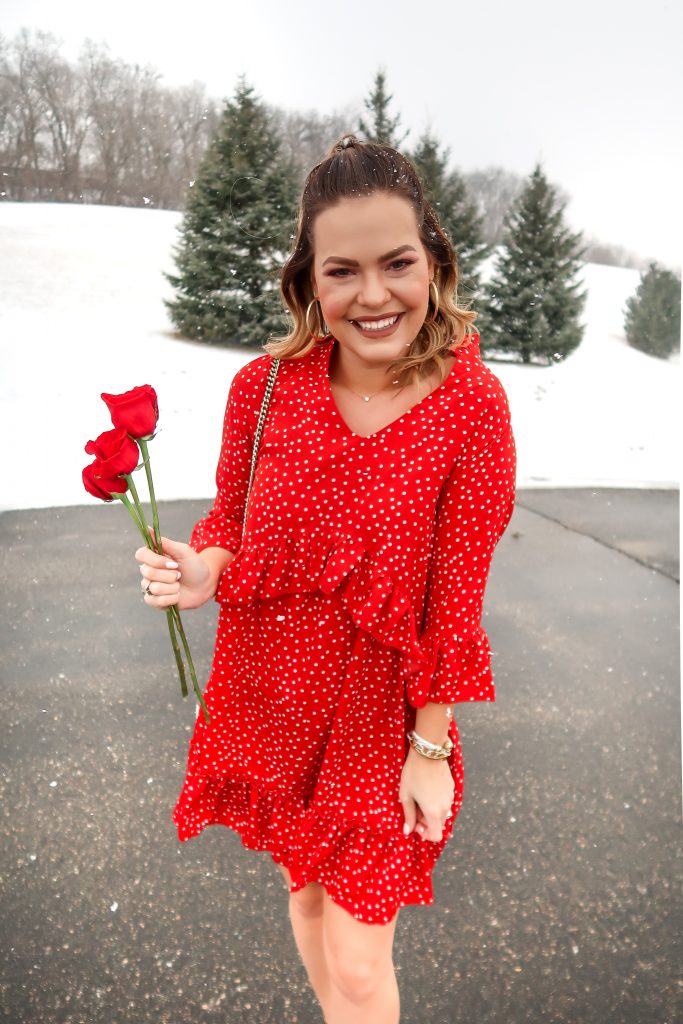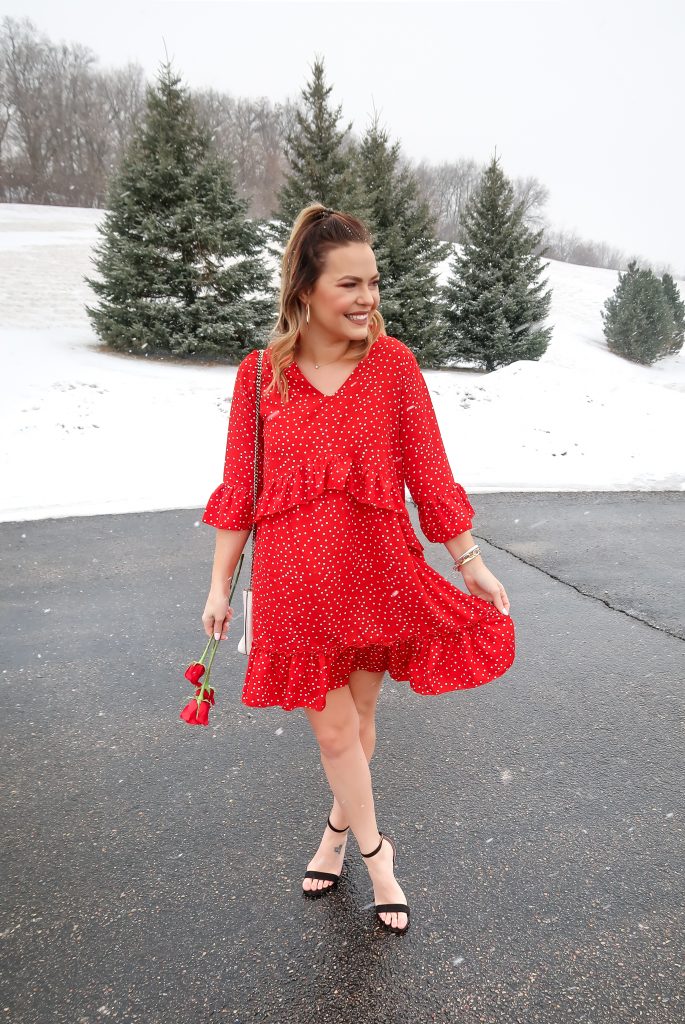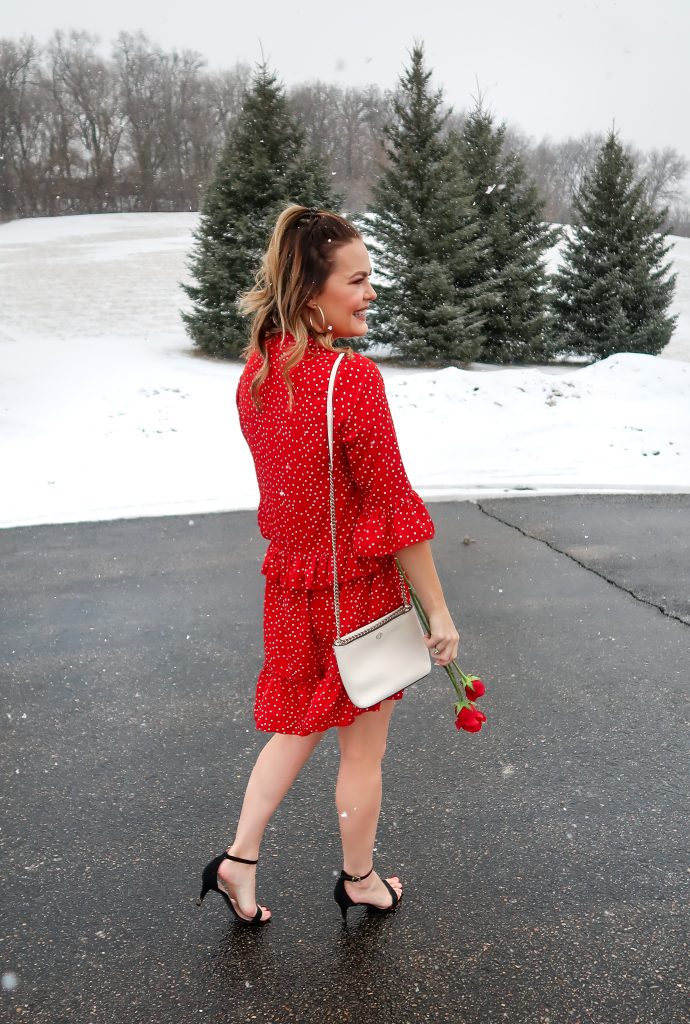 I love these black heels from Charlotte Russe. I'm so sad to hear that they are closing a lot of stores, including the one near me. These heels are still available and I LOVE how comfortable they are! They're the perfect height too! I wore them this Spring in California for several blocks and normally I wouldn't be able to make it a block in heels like those!
My bag is from Kate Spade's Spring collection, but it's only available in stores. I have not seen it online yet, but once I do, I will share more about it!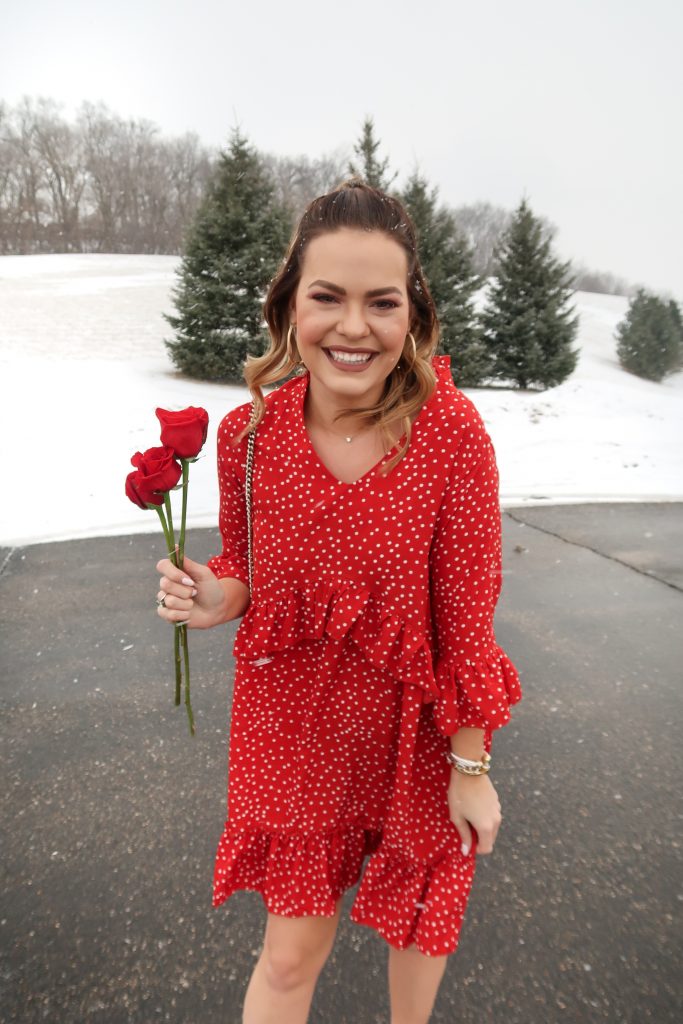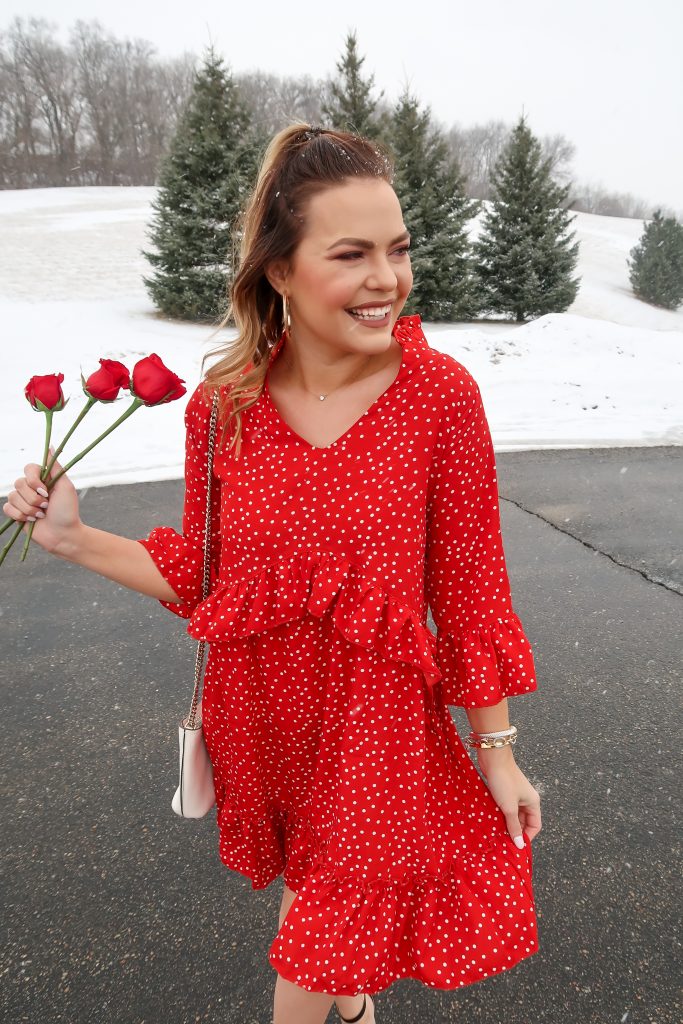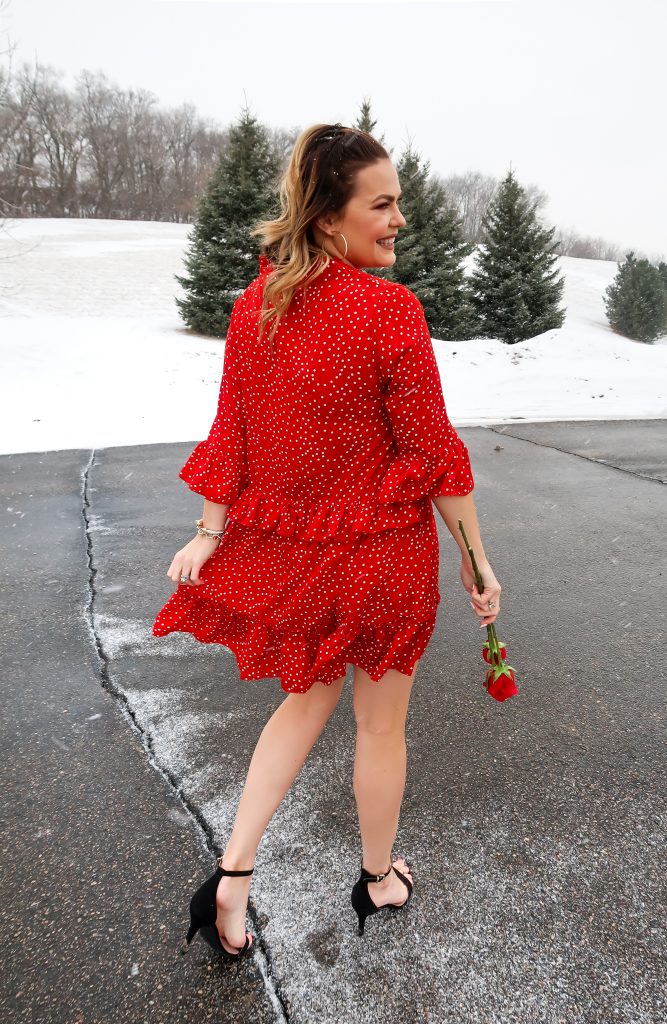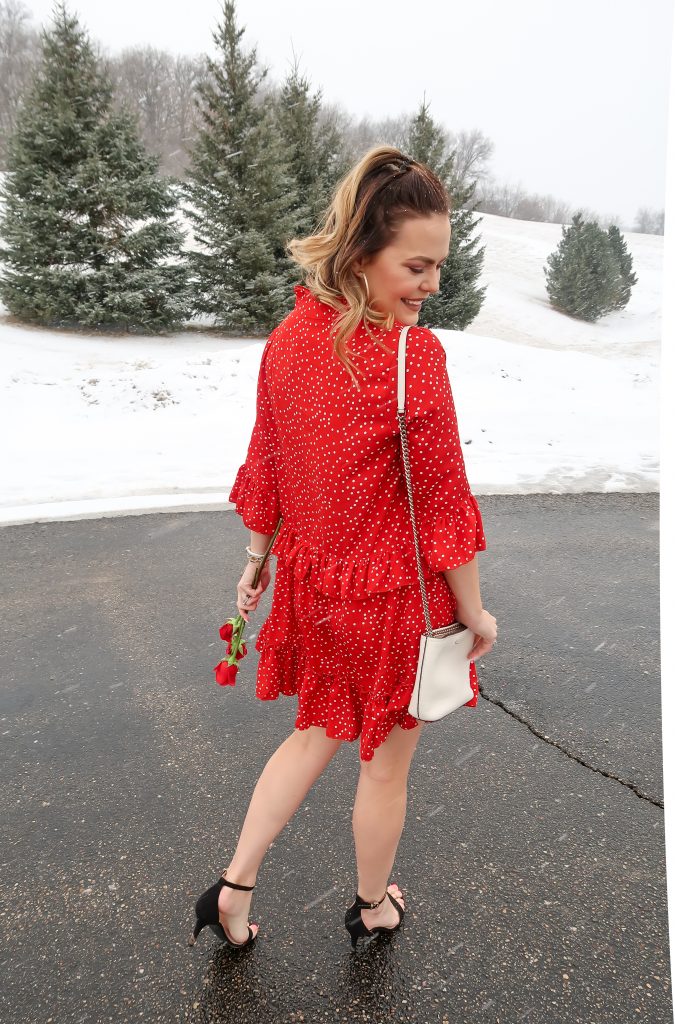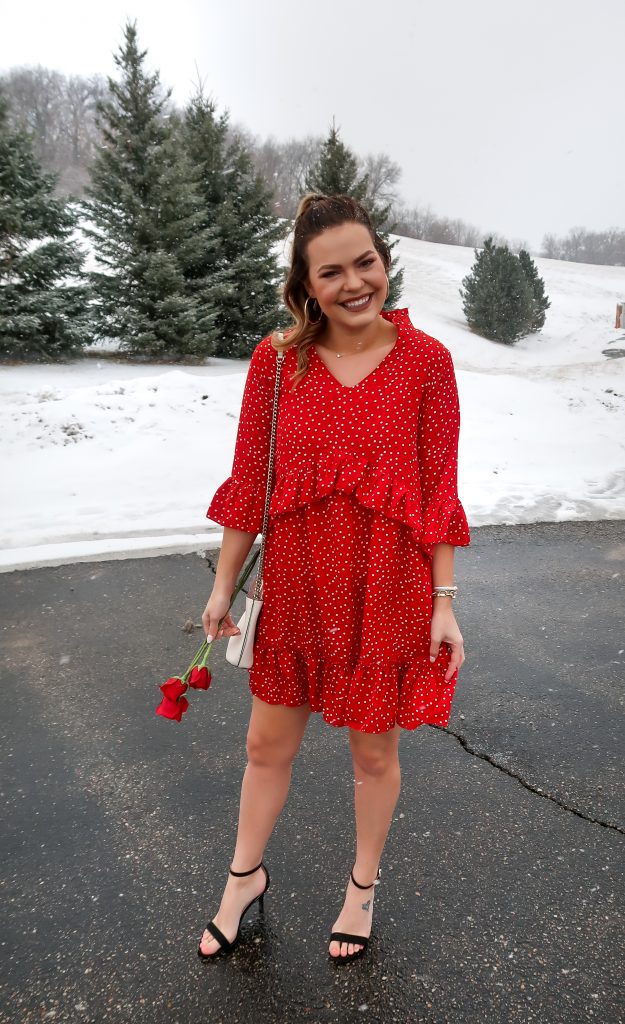 Red Dress | Black Heels | Similar Bag | Earrings | Necklace | Bracelets
Use "KELSIE" to get 10% off + FREE US shipping at Miranda Frye
If you're in a colder area, you can change up the shoes for a closed toe boot or ankle bootie and add some thicker tights. Be sure to bundle up with a cute coat too! I love my shawl collar coat from Boohoo – it's my go-to coat to wear with any dresses or a fancier evening out! I wore this last weekend for a work event and got so many questions on it! Boohoo Shopping tip: Don't order any of the OS sizes unless you are petite and an XS- find a coat that has actual sizes. They tend to run small, so you'll be fine if you're smaller, but I purchased a grey one a few years ago that was OS and it barely fit my 15 year old neighbor.
If you are in an area with snowstorms, shipping may be delayed, so check for a local Amazon pick up options or be sure to check your delivery date before ordering. If you're not going out until the weekend, it should be plenty of time to get your order! Don't forget the accessories too!

Thanks for reading! I hope you have a great Valentine's Day!