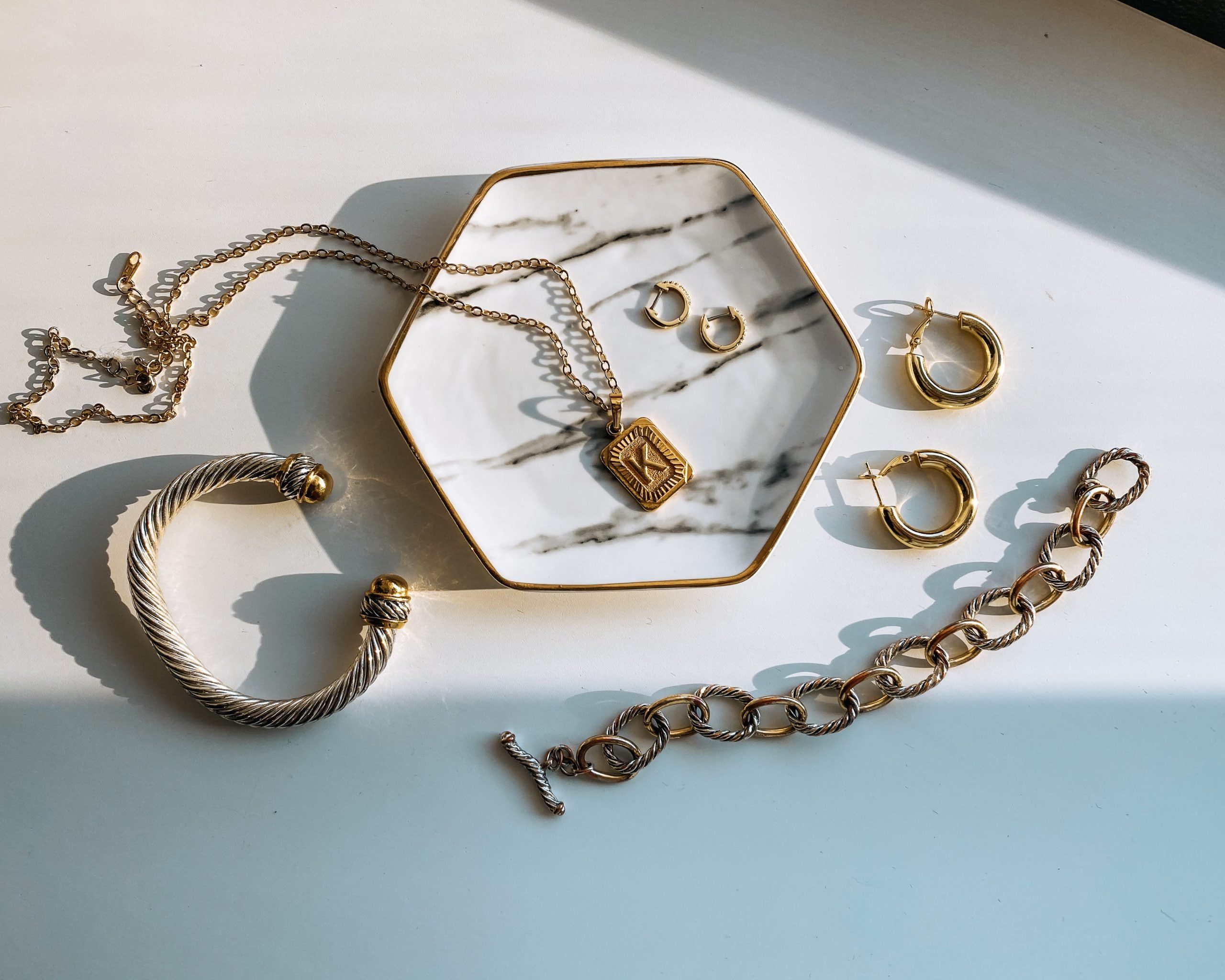 Last year I shared a blog post on my favorite jewelry pieces that I wear everyday, and although not much has changed from that, I wanted to share a quick post with my 5 favorite jewelry items from Amazon that are under $20. These pieces are not only affordable, but good quality and have lasted long for me!
If you follow me on Instagram or TikTok, you may have seen a video on there with all of these pieces too!
Pave Huggies – earlier this year I added another piercing to each of my ears. Once the new holes were healed, I switched them out to these guys! I have never taken them out since and I love the way they look! I should add, I don't usually have issues with cheaper jewelry in my ears, but these are 14k gold plated too!
Gold Hoops – my friend Ashley originally shared these with me and I had to snag them! They've been worn more daily than my other fav Amazon hoops. They're perfect to wear with casual outfits or when you're more dressed up.
Initial Pendant Necklace – I have had this guy for a year and a half now and wear it almost everyday. It's been in water, on the beach, sweat on and all. It has not tarnished one bit and I'm shocked!! You also can't beat the price!
Cuff Bracelet – I originally shared my pearl cuff, but it is sadly not available anymore, but I'm linking the one with the gold instead.
Chain Link Bracelet – this guy is getting pretty worn and I'm due for a new one, but it's lasted so long wearing it on the daily! I have larger wrists and it still had enough room to fit mine and can adjust to most wrist sizes.

That's all of them! Be sure to check out my Amazon Jewelry and Accessories page for more of my Amazon favs! I hope you found some new and fun staple jewelry pieces to add to your collection!
If you like this post, be sure to share it! If you're not subscribed, be sure to do that as well – I'd love to add you to my blog FAM! Thanks so much for reading.